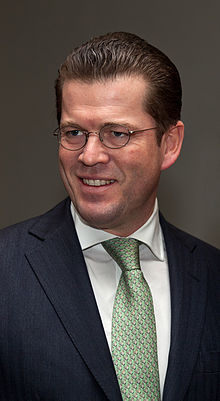 Karl-Theodor zu Guttenberg
The Der Speigel of Germany published an article today about Karl-Theodor zu Guttenberg.  As I do not read/speak German, the following was machine translated by Google:
22 October 2012

"Bavaria is the best that there is in Europe," has Horst Seehofer at the weekend when the party CSU said. Although "not a paradise, but a precursor thereof." And since you say the CSU can be equated with Bayern, so it must also be the CSU is a little paradise. It is in any case hard. And so you now want to correct a small flaw and bring back a man who them in christian social idyll miss her so much – Karl-Theodor zu Guttenberg.
Horst Seehofer played with this idea at the edge of the CSU party congress. You have to be formulated as follows: He was playing with it. He will strive to Guttenberg after the parliamentary elections next year take over a "significant" job in the CSU, Seehofer said, the players, and he himself was certainly a treat. Guttenberg as yet very top of all the surveys, he was the one who wanted to send her political Austragshäusel Seehofer.The announcement of the party leaders would in many of the CSU. And many of them not at all pleased.  http://www.spiegel.de/politik/deutschland/csu-chef-seehofer-will-karl-theodor-zu-guttenberg-zurueckholen-a-862610.html
So in this article, at least one CSU leader is currently promoting Baron Guttenberg's comeback.
As regular readers know, I have wondered if former German Defense Minister Baron Karl-Theodor zu Guttenberg was a candidate to possibly be the final King of the North of Daniel 11 and Beast of Revelation.
He, in my view, remains one to watch.
Of course, Karl-Theodor zu Guttenberg could simply be a somewhat politician with many ups and downs. And all his intentions could be fine. We will see.
Some articles of possibly related interest may include:
Europa, the Beast, and Revelation Where did Europe get its name? What might Europe have to do with the Book of Revelation? What about "the Beast"?
Who is the King of the North? Is there one? Do biblical and Roman Catholic prophecies point to the same leader? Should he be followed? Who will be the King of the North discussed in Daniel 11? Is a nuclear attack prophesied to happen to the English-speaking peoples of the United States, Great Britain, Canada, Australia, and New Zealand? When do the 1335 days, 1290 days, and 1260 days (the time, times, and half a time) of Daniel 12 begin? What MUST happen BEFORE the Great Tribulation?
Might German Baron Karl-Theodor zu Guttenberg become the King of the North? Is the German Defense Minister one to watch? What do Catholic, Byzantine, and biblical prophecies suggest?