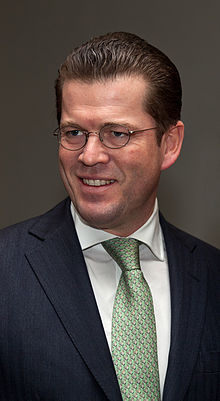 Karl-Theodor zu Guttenberg
Today's TW New & Prophecy from the Living Church of God has the following:
Baron zu Guttenberg's Return from Exile

EU Vice President Neelie Kroes invited Karl-Theodor zu Guttenberg to Brussels "to advise on how to provide ongoing support to Internet users, bloggers and cyber-activists living under authoritarian regimes." He has been living in the U.S. for the last several months in a type of self-imposed exile, while working with a major political think tank. Baron zu Guttenberg acted as a former "Federal Minister of Defence, and of Economics and Technology, in Germany," and was thought by many to be in the running to be the next German chancellor, prior to the revealing that he had plagiarized large portions of his doctoral dissertation (Europa.eu, December 12, 2011).

Baron zu Guttenberg's relatively quiet return to Europe has not gone without notice. Some have accused him of attempting a political comeback─something the Baron has denied. However many believe that public opinion will be forgiving of his editorial misdeeds given the proper amount of time. This sentiment was reflected by the EU Vice President when she was pressed about zu Guttenberg's checkered past: "Kroes insisted it was she who approached zu Guttenberg and not the other way around. 'I am looking for talents, I am not looking for saints'" (Financial Times, December 12, 2011).

Scripture does reveal that at the time of the end, a "strong man" will come onto the scene to lead Europe. This man will have the power and charisma to lead Europe in some amazing ways (see Daniel 9:27, 11:21-23; Revelation 13:1-10). Although we do not yet know the future role of zu Guttenberg, he is descended from royalty, he is highly educated and well connected, and he is ambitious. He is definitely one person to watch, as even members of the mainstream press recognize.
As regular readers know, I have long had my eye on former German Defense Minister Baron Karl-Theodor zu Guttenberg as one to watch as a possible candidate to be the final King of the North of Daniel 11 and Beast of Revelation.
I have warned for some time that he would return to politics if he is the one.  Others still want him as a news item from today shows:
'Baron Cut-and-Paste' may return to politics

Bavaria's state premier Horst Seehofer said on Friday he would do his best to bring disgraced former Defence Minister Karl-Theodor zu Guttenberg back into German politics in 2012.
Baron Guttenberg (former Economics and Defense Minister for Germany) has displayed confirming characteristics for that personality. Of course, he could simply be a normal politician with ups and downs.
Yet, his actions show that he is one we all should watch (cf. Mark 13:37).
Some articles of possibly related interest may include:
Europa, the Beast, and Revelation Where did Europe get its name? What might Europe have to do with the Book of Revelation? What about "the Beast"?
Who is the King of the North? Is there one? Do biblical and Roman Catholic prophecies point to the same leader? Should he be followed? Who will be the King of the North discussed in Daniel 11? Is a nuclear attack prophesied to happen to the English-speaking peoples of the United States, Great Britain, Canada, Australia, and New Zealand? When do the 1335 days, 1290 days, and 1260 days (the time, times, and half a time) of Daniel 12 begin? What MUST happen BEFORE the Great Tribulation?
Might German Baron Karl-Theodor zu Guttenberg become the King of the North? Is the German Defense Minister one to watch? What do Catholic, Byzantine, and biblical prophecies suggest?
Anglo – America in Prophecy & the Lost Tribes of Israel Are the Americans, Canadians, British, Scottish, Welsh, Australians, Anglo (non-Dutch) Southern Africans, and New Zealanders descendants of Joseph? Where are the lost ten-tribes of Israel? Who are the lost tribes of Israel? What will happen to Jerusalem and the Jews in Israel? Will God punish the U.S.A., Canada, United Kingdom, and other Anglo nations? Why might God allow them to be punished first? How will Europeans be involved in this?
2012 and the Rise of the Secret Sect This is a link related to a book by Bob Thiel (COGwriter). This link also has YouTube videos. This book documents and explains hundreds of prophecies. And since it was published, world events have aligned with at least 18 predictions in the book and many more will to come to pass.
2012 und das Auftreten der geheimen Sekte (German Edition) 2012 Buch von Dr. Thiel in deutscher Sprache. 2012 und das Auftreten der geheimen Sekte (German Kindle Edition)