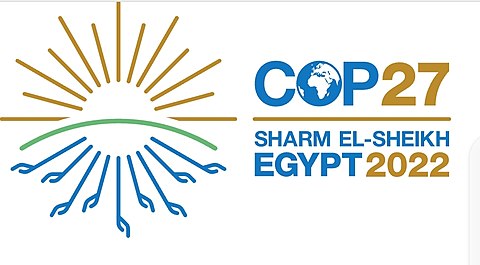 UN's COP27 logo (Raafat)
COP 27 is going on. It is a United Nations sponsored event on 'climate change' that many world leaders are attending.
Leaders from the world's religions are planning on doing something today during COP 27 which is being put on the Interfaith Center for Sustainable Development and the Elijah Interfaith Institute:
"Returning to Sinai" — A Prophetic Call for Climate Justice and Ceremony of Repentance
Sunday, November 13th, 2022, Mount Sinai

In parallel with the COP 27 UN Climate Conference

Between November 6th and 18th, 2022, the UN climate conference COP 27 will take place on the Sinai Peninsula, in Sharm El Sheikh, Egypt. Religious communities and religious leaders have a key role to play in addressing climate change and climate justice, which requires deep transformation within society. The knowledge of what changes are critically needed to diminish longterm harm to the planet is readily available. However, bringing about change in action demands deeper changes in attitude, a change of heart.

This has been the domain of religions for millennia. Religions are sources of inspiration for the transformation of heart and the ensuing changes of attitude.

To support, challenge and inspire discussions during COP 27 at Sharm El Sheikh, a weekend event will be held at Mount Sinai that will be heart-stirring, transformative and a moment of inspiration for religious communities and for humanity. Never before has such an
interreligious Climate Repentance Ceremony been undertaken. From this moment and event, motivation for action emerges, calling for reexamination of deep-seated attitudes and for identifying ways to transform these attitudes for the wellbeing of Earth, our common home. https://interfaithsustain.com/returning-to-mt-sinai/
Yes, the Earth is our common home.
Yes, the world's religions wish to affect attitudes.
However, the religions of the world often overlook truth.
There is a solution to 'climate change,' but the political and religious leaders of this world will not heed it–and the interreligious ceremony they are doing is not the answer.
We have put together the following video on our Bible News Prophecy YouTube channel, the audio portion of which was sent also for broadcast on WRMI shortwave at 5850 kHz at 0130 UTC Monday (which is 8:30 pm Eastern Standard Time on Sunday) as well as the European Gospel Radio station AM 1323 kHz Monday  21:30-21:45 CET (European Central Time):
The dates for the United Nations Climate Change meeting called COP 27 are November 6th through 18th, 2022. During that time, on November 13, 2022, a 'Chrislam' type group composed of leaders from the Roman Catholic, Eastern Orthodox, Protestant, Islamic, Buddhist, Hindu, and other faiths associated with the Interfaith Center for Sustainable Development and the Elijah Interfaith Institute are making what they titled 'A Prophetic Call for Climate Justice' and are having a 'Ceremony of Repentance' on what is referred to as Mount Sinai, in Egypt. Do this sound Gaia, mother goddess worship? Are Christians supposed to have religious ceremonies with pagans? What did the Apostle Paul write? What did Jesus say would happen to the earth? Are humans, apart from God, going to solve climate problems before Jesus returns? Is there any type of false gospel associated with aspects of the climate change movement? Would obeying God solve the issues of pollution and climate change? What about the good news, the gospel of the Kingdom of God? Does the Bible have the solution to pollution? Does the Bible have the answer to solving climate change? Dr Thiel and Steve Dupuie discuss these issues.
Here is a link to our video: COP 27 and Solving Climate Change.
The Bible does reveal that there is a solution to pollution and 'climate change.'
Disobedience to God is the cause and obeying and turning to the true God is the solution.
But that is not one that COP 27, the interreligious ceremony of repentance, nor YouTube are advocating.
Some items of related interest may include:
United Nations: Humankind's Last Hope or New World Order? Is the UN the last hope for humanity? Or might its goals end up with sinister results? Two related videos include UN's 'New Universal Agenda' is a False Gospel! and United Nations and Vatican Are Planning the New World Order.
Islands and Bible Prophecy What's ahead for islands? What does the Bible prophesy about them?
Laudato Si: Pope's Agenda or Kingdom of God? Pope Francis' 2nd encyclical is titled 'Laudato Si.' In it, he goes over his views related to environmental, economic, social, moral, agricultural, and spiritual issues. He advocates international cooperation to solve various problems he believes are affecting humanity. Is that Pope's agenda the solution? What about the Kingdom of God? does the Bible teach? Two related articles include Laudato Si: Will Pope Francis' economic actions match his words? and Laudato Si: A call for a one-world government?
Weather Blessings and Sorrows Are weather problems a warning? What should be done? What does the Bible teach about weather? What about floods, droughts, heat, earthquakes, tornadoes, and solar storms? Here is a related YouTube video Does God Use Weather? A related item in the Spanish language would be Bendiciones y maldiciones del clima.
Hurricanes and Prophecy Hurricane Harvey dropped the greatest amount of rainfall in any USA storm. Hurricane Irma was the strongest hurricane ever in the Atlantic. Hurricane Irma wiped out most of the island of Barbuda, caused a million to lose power in Puerto Rico, devastated St. Martin's, hit Cuba, and hit Florida. A news headline stated " 'Nature's gone crazy': Winds, fire, floods and quakes plague North America." Is there any tie to prophecy? Are heavy winds and rains discussed in the Bible? Any ties to homosexuality and other forms of immorality? What about Donald Trump and Jennifer Lawrence? Does God control the weather? What does God want people to do? Dr. Thiel addresses these issues and more. This is a video.
The Bible, Christians, and the Environment How should Christians view the environment? Does the Bible give any clues? What are some of the effects of air, water, and land pollution? Is environmental pollution a factor in autism and death? Do pollutants seem to double the autism risk? What will Jesus do? Here is a link to a related sermon: Christians and the Environment (there is also a YouTube video available titled Air Pollution, Autism, and Prophecy, one titled Will Pollution lead to the End?, and one called COP 27 and Solving Climate Change).
The Gospel of the Kingdom of God This free online pdf booklet has answers many questions people have about the Gospel of the Kingdom of God and explains why it is the solution to the issues the world is facing. Here are links to four related sermons: The Fantastic Gospel of the Kingdom of God!, The World's False Gospel, The Gospel of the Kingdom: From the New and Old Testaments, and The Kingdom of God is the Solution.
Christian Repentance Do you know what repentance is? Is it really necessary for salvation? Two related sermons about this are also available: Real Repentance and Real Christian Repentance.
Europa, the Beast, and the Book of Revelation discusses the largest church since the second/third century, which in a real sense is the eighth church mentioned in the Book of Revelation (it also endorses "eighth day" worship). What church would support the Beast? Here is a link to a video titled: Can You Prove that the Beast to Come is European?
Biden-Harris: Prophecies and Destruction Can the USA survive two full presidential terms? In what ways are Joe Biden and Kamala Harris apocalyptic? This book has hundreds of prophecies and scriptures to provide details. A Kindle version is also available and you do not need an actual Kindle device to read it. Why? Amazon will allow you to download it to almost any device: Please click HERE to download one of Amazon s Free Reader Apps. After you go to your free Kindle reader app (or if you already have one or a Kindle), you can go to: Biden-Harris: Prophecies and Destruction (Kindle) to get the book in seconds.