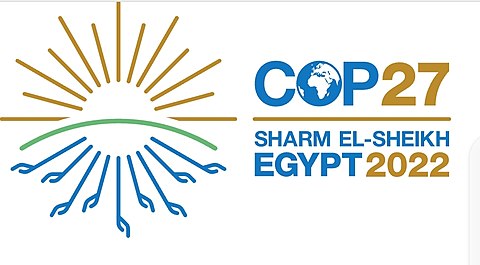 UN's COP27 logo (Raafat)
Another Climate Change summit has ended. This one took place in Egypt and many appear disappointed about it:
What Came Out Of COP27?

November 21, 2022

Grueling debates forced negotiations to drag on …

The deliberations culminated in one key breakthrough: the agreement to set up a "loss and damage" fund, which would offer vulnerable nations financial assistance in grappling with the climate crisis. But countries failed to commit to phasing out, or even phasing down, all fossil fuels, alarming climate scientists and experts who warn that stronger action and sharper cuts are necessary to limit warming. …

Outside of the "loss and damage" fund, progress was mixed, especially as oil-producing countries foiled efforts to include language on phasing out fossil fuel use. Last year's pact was notably the first to single out coal power, although the language referencing it was weakened in a last-minute revision. https://foreignpolicy.com/2022/11/21/cop27-climate-change-united-nations/

EU: COP27 agreement 'not enough' for the planet

November 20, 2022

The EU and other critics were frustrated by the lack of progress to cut emissions that cause climate change. Germany's Foreign Minister Annalena Baerbock blamed "a number of large emitters and oil producers." … critics say the COP27 UN summit did not go far enough on cutting planet-heating emissions that cause climate change."What we have in front of us is not enough of a step forward for people and planet," European Commission Vice President Frans Timmermans said.

He said the EU was "disappointed" …

Commitment to limit global heating to 1.5C not addressed

The final COP27 statement maintains the commitment to limit global heating warming to 1.5C above pre-industrial levels.

But instead of calling for a phase of all polluting fossil fuels, the deal only reiterates language from last year's pact in Glasgow calling for a "phasedown of unabated coal power and phase-out of inefficient fossil fuel subsidies."

Even if all the pledges made so far are delivered, it is still on track for an average rise of 2.7C this century, a UN report said. It would cause widespread drought, water scarcity, hunger and coastal flooding. https://www.dw.com/en/eu-cop27-agreement-not-enough-for-the-planet/a-63823609
So, the planet is expected to get warmer, with increased drought and flooding also expected.
And that is true.
The Bible shows, for example, that higher heat is coming:
8 Then the fourth angel poured out his bowl on the sun, and power was given to him to scorch men with fire. 9 And men were scorched with great heat, and they blasphemed the name of God who has power over these plagues; and they did not repent and give Him glory. (Revelation 16:8-9)
But, the above prophecy is for several years into the future–we are not too near that yet. But I believe that this will happen in the 21st century.
As far as flooding goes, the impact on islands and coastal regions will be much worse than those at COP 27 seem to realize–cf. Revelation 16:20 (see also Islands and Bible Prophecy).
The Bible shows:
30 God … commands all men everywhere to repent (Acts 17:30)
And weather problems are one tool that God uses to urge people to repent (cf. Haggai 2:17; Amos 4:7-12). But most will not. Nor will most Christians as they should (cf. Revelation 3:14-18; see also The Laodicean Church Era).
Most will ignore weather changes and simply believe that weather changes all the time and the changes do not have to do with God or disobeying His laws.
As it turned out, during the time of COP 27, the Interfaith Center for Sustainable Development and the Elijah Interfaith Institute: held a Climate Repentance ceremony. They also put out 'Ten Principles' at the base of the Egyptian Mt. Sinai that were supposed to somewhat mimic the Ten Commandments.
Related to that, we produced our latest video:
On November 13, 2022, the Interfaith Center for Sustainable Development had a ceremony in Egypt where they laid out 'Ten Principles for Climate Repentance.' Then two tablets were tossed down and broken in the traditional area that Moses broke the tablets of the Ten Commandments at the base of Mt. Sinai. The 'breaker' had also given Newsweek a set of climate 'Ten Commandments' in August of 2022. Furthermore, in the Spring of 2022, Ecumenical News and the World Council of Churches reported about a set of digital 'Ten Commandments,' which, while a mixture of good and evil, condoned sin. Are these actions helping to set the stage for the Beast who will change times and law (Daniel 7:25)? Will the coming Beast and Antichrist promote the breaking God's Ten Commandments? Are the ecumenical and interfaith movements moving in that direction? Would actually keeping God's Ten Commandments solve weather matters that are blamed on 'climate change'? Steve Dupuie and Dr. Thiel address these matters.
Here is a link to our video: Interfaith Beast Commandments?
The ceremony of worldly repentance did not attain what the religious leaders involved wanted to happen.
In many respects, they and other religious leaders have been pushing a false gospel related to the climate. We made a video about that some time ago:
While there have been a variety of false gospels since at least the time of Simon Magus and the Gnostics, there is a relatively new one being pushed by major leaders of the world's churches. Essentially, leaders are teaching that 'climate change' is related to salvation, the unpardonable sin, and something called the 'social gospel.' This is being pushed by leaders including Pope Francis of the Church of Rome, Ecumenical Patriarch Bartholomew of the Eastern Orthodox Church, and Olav Tveit of the World Council of Churches. Is this a false gospel consistent with Galatians 1:6-11? Are these angels of light or something else (cf. 2 Corinthians 11:13-15 )? While it is good to not pollute, will the ecumenical climate change agenda work according to the Bible? Dr. Thiel address these issues and more.
Here is a link: A Different False Gospel.
This false gospel is one that does not involve repentance towards God, does not require accepting Jesus as the only name under heaven by which we can be saved (Acts 4:12), nor does it embrace "the faith once delivered to the saints."
Many are promoting a worldly view, that without repentance but through international cooperation of unconverted leaders, the world will be able to improve itself and solve its problems.
The Bible says that will not work.
Twice the Bible warns:
There is a way that seems right to a man, But its end is the way of death. (Proverbs 14:12, 16:25)
The Bible teaches:
1 Unless the Lord builds the house, They labor in vain who build it; (Psalm 127:1)
While the WORLD'S churches and many politicians are involved in "Climate Action," they, most often, have not have sought to go about it God's way. They are laboring in vain. This does not mean that humans should waste resources or pollute, and some steps should be taken, but the thrust of the agenda is not to be proper biblical stewards of the earth. Instead, the details tend to focus on various controlling methods that are often not consistent with biblical morals.
There is a solution to pollution.
If the world's religious leaders want to actually succeed, they need to repent and obey the true God. Notice the words of Moses:
19 I call heaven and earth as witnesses today against you, that I have set before you life and death, blessing and cursing; therefore choose life, that both you and your descendants may live; 20 that you may love the Lord your God, that you may obey His voice, and that you may cling to Him, for He is your life and the length of your days; (Deuteronomy 30:19-20)
Yes, for life we need to OBEY the God of the Bible. Not conduct interreligious ceremonies with hints of paganism.
It will take God to truly fix the polluting and warring disasters that humans are causing through sin. Having the true God's involvement is something that those leading the UN, interfaith movement, WCC, and Vatican do not believe or understand.
Jesus's kingdom will be the solution to pollution. Notice what will happen:
3 For the Lord will comfort Zion,
He will comfort all her waste places;
He will make her wilderness like Eden,
And her desert like the garden of the Lord;
Joy and gladness will be found in it,
Thanksgiving and the voice of melody.

4 "Listen to Me, My people;
And give ear to Me, O My nation:
For law will proceed from Me,
And I will make My justice rest
As a light of the peoples.
5 My righteousness is near,
My salvation has gone forth,
And My arms will judge the peoples;
The coastlands will wait upon Me,
And on My arm they will trust. (Isaiah 51:3-5)
Yes, a better world is coming. The gospel of the kingdom of God brings hope.
The Bible shows that God uses weather matters, including high heat (Revelation 16:8-9) and what is often called climate change today (Amos 4:4-9) to encourage repentance and obedience to Him (Haggai 2:17).
Furthermore, the Bible shows how to resolve climate change:
3 'If you walk in My statutes and keep My commandments, and perform them,
4 then I will give you rain in its season, the land shall yield its produce, and the trees of the field shall yield their fruit.
5 Your threshing shall last till the time of vintage, and the vintage shall last till the time of sowing;
you shall eat your bread to the full, and dwell in your land safely.
6 I will give peace in the land, and you shall lie down, and none will make you afraid;
I will rid the land of evil beasts,
and the sword will not go through your land. (Leviticus 26:3-6)
Yes, there is a biblical solution to climate change, but COP27 and the associated religious ceremony have overlooked that.
But, people will heed God and His ways during the millennial Kingdom of God.
Until the arrival of that Kingdom, all human beings should strive to obey God while being careful about waste and pollution. And all should also pray for God's kingdom to come (Matthew 6:10).
We also have a video on our Bible News Prophecy YouTube channel that talks about COG27 matters as well as the biblical solution to climate change:
The dates for the United Nations Climate Change meeting called COP 27 are November 6th through 18th, 2022. During that time, on November 13, 2022, a 'Chrislam' type group composed of leaders from the Roman Catholic, Eastern Orthodox, Protestant, Islamic, Buddhist, Hindu, and other faiths associated with the Interfaith Center for Sustainable Development and the Elijah Interfaith Institute are making what they titled 'A Prophetic Call for Climate Justice' and are having a 'Ceremony of Repentance' on what is referred to as Mount Sinai, in Egypt. Do this sound Gaia, mother goddess worship? Are Christians supposed to have religious ceremonies with pagans? What did the Apostle Paul write? What did Jesus say would happen to the earth? Are humans, apart from God, going to solve climate problems before Jesus returns? Is there any type of false gospel associated with aspects of the climate change movement? Would obeying God solve the issues of pollution and climate change? What about the good news, the gospel of the Kingdom of God? Does the Bible have the solution to pollution? Does the Bible have the answer to solving climate change? Dr Thiel and Steve Dupuie discuss these issues.
Here is a link to our video: COP 27 and Solving Climate Change.
The Bible does reveal that there is a solution to pollution and 'climate change.'
Some items of related interest may include:
United Nations: Humankind's Last Hope or New World Order? Is the UN the last hope for humanity? Or might its goals end up with sinister results? Two related videos include UN's 'New Universal Agenda' is a False Gospel! and United Nations and Vatican Are Planning the New World Order.
Islands and Bible Prophecy What's ahead for islands? What does the Bible prophesy about them? Here is a link to a related video: Islands and Biblical Prophecies. Here is a version in Spanish: Las islas en profecia.
The Ten Commandments: The Decalogue, Christianity, and the Beast This is a free pdf book explaining the what the Ten Commandments are, where they came from, how early professors of Christ viewed them, and how various ones, including the Beast of Revelation, will oppose them. A related sermon is titled: The Ten Commandments and the Beast of Revelation.
Laudato Si: Pope's Agenda or Kingdom of God? Pope Francis' 2nd encyclical is titled 'Laudato Si.' In it, he goes over his views related to environmental, economic, social, moral, agricultural, and spiritual issues. He advocates international cooperation to solve various problems he believes are affecting humanity. Is that Pope's agenda the solution? What about the Kingdom of God? does the Bible teach? Two related articles include Laudato Si: Will Pope Francis' economic actions match his words? and Laudato Si: A call for a one-world government?
Weather Blessings and Sorrows Are weather problems a warning? What should be done? What does the Bible teach about weather? What about floods, droughts, heat, earthquakes, tornadoes, and solar storms? Here is a related YouTube video Does God Use Weather? A related item in the Spanish language would be Bendiciones y maldiciones del clima.
Hurricanes and Prophecy Hurricane Harvey dropped the greatest amount of rainfall in any USA storm. Hurricane Irma was the strongest hurricane ever in the Atlantic. Hurricane Irma wiped out most of the island of Barbuda, caused a million to lose power in Puerto Rico, devastated St. Martin's, hit Cuba, and hit Florida. A news headline stated " 'Nature's gone crazy': Winds, fire, floods and quakes plague North America." Is there any tie to prophecy? Are heavy winds and rains discussed in the Bible? Any ties to homosexuality and other forms of immorality? What about Donald Trump and Jennifer Lawrence? Does God control the weather? What does God want people to do? Dr. Thiel addresses these issues and more. This is a video.
The Bible, Christians, and the Environment How should Christians view the environment? Does the Bible give any clues? What are some of the effects of air, water, and land pollution? Is environmental pollution a factor in autism and death? Do pollutants seem to double the autism risk? What will Jesus do? Here is a link to a related sermon: Christians and the Environment (there is also a YouTube video available titled Air Pollution, Autism, and Prophecy, one titled Will Pollution lead to the End?, and one called COP 27 and Solving Climate Change).
The Gospel of the Kingdom of God This free online pdf booklet has answers many questions people have about the Gospel of the Kingdom of God and explains why it is the solution to the issues the world is facing. Here are links to four related sermons: The Fantastic Gospel of the Kingdom of God!, The World's False Gospel, The Gospel of the Kingdom: From the New and Old Testaments, and The Kingdom of God is the Solution.
Christian Repentance Do you know what repentance is? Is it really necessary for salvation? Two related sermons about this are also available: Real Repentance and Real Christian Repentance.
The Ten Commandments: The Decalogue, Christianity, and the Beast This is a free pdf book explaining the what the Ten Commandments are, where they came from, how early professors of Christ viewed them, and how various ones, including the Beast of Revelation, will oppose them. A related sermon is titled: The Ten Commandments and the Beast of Revelation.