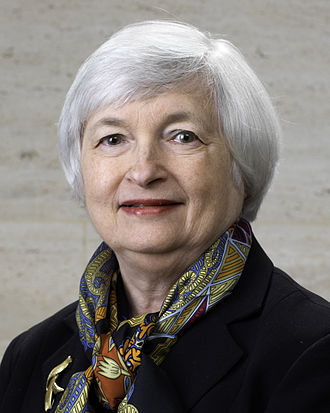 Janet Yellen

Here is some information related to the updated results  of the USA midterm elections:
Democrats retain control of Senate with victory in Nevada

November 13, 2022
Democrats will continue to control the Senate following the 2022 midterm elections, after Nevada Sen. Catherine Cortez Masto on Saturday was projected by CBS News to win a tight reelection race against Republican Adam Laxalt.

Her victory gives Democrats 50 seats in the 118th Congress. Vice President Kamala Harris' tie-breaking vote, should it be needed, gives them the majority, regardless of the outcome of the Georgia runoff election in December between Sen. Raphael Warnock and Republican challenger Herschel Walker.  …

Republicans could still take control of the House, where a handful of races remain unresolved. … A Democratic Senate also makes it much easier for Mr. Biden to win approval for judicial nominations and appoint his desired candidates to positions across the government over the last two years of his term. https://www.cbsnews.com/news/2022-election-democrats-senate-nevada-catherine-cortez-masto-adam-laxalt/
It should be noted that most pundits have suggested that the Republican party will get control of the US House of Representatives. Apparently, US Secretary of Treasury Janet Yellen also believes that as the following suggests:
Yellen Says US Debt Ceiling Hike by Lame-Duck Congress Would Be 'Great'

November 13, 2022

The U.S. Treasury Secretary Janet Yellen on Sunday said that the Democrats' clinching of U.S. Senate control makes things easier for the Biden administration, but she would still like to see a debt ceiling increase approved before year-end in Congress's post-election "lame duck" session. … "We want to see the debt ceiling get done. If it got done in the lame duck, that would be great, as far as I'm concerned," Yellen said. https://www.newsmax.com/newsfront/yellen-debt-ceiling/2022/11/13/id/1096121/
The "lame duck" session of Congress runs from election day until a new Congress begins in January. Currently, the Democratic party controls both Senate and House of Representatives.
Janet Yellen is seemingly concerned if the Republicans take control of the US House of Representatives, which would be effective in January, that they may NOT easily agree to support increases in USA federal debt.
Politics aside, increasing the debt of the USA is NOT "great" as Janet Yellen says.
As far as how much official debt that the federal government of the USA now holds, the latest figure online from the USA Treasury is $31,243,642,975,784.19 (https://fiscaldata.treasury.gov/datasets/debt-to-the-penny/debt-to-the-penny accessed 11/13/22)
For a biblical perspective of that type of debt, consider an end-time prophecy given to the prophet Habakkuk by God over 2600 years ago:
2 And the Lord answered me:

"Write the vision;
make it plain on tablets,
so he may run who reads it.
3 For still the vision awaits its appointed time;
it hastens to the end—it will not lie.
If it seems slow, wait for it;
it will surely come; it will not delay.

4 "Behold, his soul is puffed up; it is not upright within him,
but the righteous shall live by his faith.

5 "Moreover, wine is a traitor,
an arrogant man who is never at rest.
His greed is as wide as Sheol;
like death he has never enough.
He gathers for himself all nations
and collects as his own all peoples."

6 Shall not all these take up their taunt against him, with scoffing and riddles for him, and say,

"Woe to him who heaps up what is not his own—
for how long?—
and loads himself with pledges!"
7 Will not your debtors suddenly arise,
and those awake who will make you tremble?
Then you will be spoil for them.
8 Because you have plundered many nations,
all the remnant of the peoples shall plunder you,
for the blood of man and violence to the earth,
to cities and all who dwell in them. (Habakkuk 2:2-8; English Standard Version)
The USA is the most indebted nation in the history of humanity and those in it should try to understand this prophecy–and its UK ally is proportionally in a similar indebted situation.
Instead of dealing with it, many American politicians–Republican and Democratic–continue to support debt increases.
The Anglo-American world order will come to an end. Accumulation of debt, and then having to pay historically 'normal' interest rates will strain the national economies of the USA and UK more than almost anyone will believe. It will be a financial crisis beyond what Janet Yellen would consider possible.
Those who think the current world order with the USA's dollar on top will last several decades are in error.
Those who will believe the Bible will take the words that God spoke to the prophet Habakkuk seriously.
Notice something I wrote in my book Biden-Harris: Prophecies and Destruction:
Debt is a prophesied problem (cf. Habakkuk 2:6-8). But many in the media as well as politically-inclined economists do not see it that way—but that is too short sighted (cf. Ecclesiastes 8:11).

The time will come when the U.S.A. government will no longer be able to borrow at low interest rates and/or it will create more money electronically and/or via the printing press to try to continue.

Make no mistake about it — massive inflation is coming.

The U.S.A. dollar will ultimately crash and be worthless. That "pride" of American power will be broken (cf. Leviticus 26:19). …

When the time comes when the Federal Reserve is no longer able to keep interest rates artificially low, the U.S.A. will continue past the point of no return. That will become one of the final factors that will cause creditors to rise up and destroy the U.S.A. …

The debt situation of the U.S.A. is putting it at risk of being unable to recover should it be hit by weather problems, terrorist acts, war, riots, solar flares, severe earthquakes, civil unrest, devastation of their genetically-modified food supplies, food shortages, and/or various pestilences–an intensity of "sorrows" such as Jesus discussed in Matthew 24:4-8 leading up to the time of the Great Tribulation. Political issues, climate change, trade policies, communication's deals, and other events are pushing the U.S.A. to a position that will encourage its takeover someday. (Thiel B. Biden-Harris: Prophecies and Destruction. Nazarene Books, 2021)
Neither the Federal Reserve nor the US government can stop weather problems, earthquakes, or the prophecies in Matthew 24:4-8 that will lead up to the time of the Great Tribulation.
Do not believe that the USA will continue indefinitely and that its debt can continue to rise.
Repentance is needed. The USA and its Anglo-Saxon allies will not last to the end of this century.
Some items of possibly related interest include the following:
Might the U.S.A. Be Gone by 2028? Could the USA be gone by the end of 2028 or earlier? There is a tradition attributed to the Hebrew prophet Elijah that humanity had 6,000 years to live before being replaced by God's Kingdom. There are scriptures, writings in the Talmud, early Christian teachings that support this. Also, even certain Hindu writings support it. Here is a link to a related video: Is the USA prophesied to be destroyed by 2028? In Spanish: Seran los Estados Unidos Destruidos en el 2028?
The End of US Dollar Dominance Is the USA losing its economic status? What about the petro-gold-yuan? A related video is also available: US Dollar being challenged by Gold-Petro-Yuan.
End of the Anglo-American Order In mid-2017, BBC ran an article under the headline of "End of the Anglo-American order?" Is that really a question or the biblical reality? After the Brexit vote, the election of US President Donald Trump, and US rejection of the Paris accords on climate change, is the world really going to put in a different order? Some are claiming that Europe or Germany will head up this new world order–an order that sounds eerily similar to one essentially proposed and approved by the United Nation in 2015. Is the UN's "Agenda 2030" a false gospel? How will this end for the USA, UK, Australia, Canada, and New Zealand? Will there later be something better to replace it? Dr. Thiel addresses these issues and more. This is a video.
22 items to prophetically watch in 2022 Much is happening. Dr. Thiel points to 22 items to watch (cf. Mark 13:37) in this article. Here is a link a related video: 22 items to watch in 2022.
Is God Calling You? This booklet discusses topics including calling, election, and selection. If God is calling you, how will you respond? Here is are links to related sermons: Christian Election: Is God Calling YOU? and Predestination and Your Selection; here is a message in Spanish: Me Está Llamando Dios Hoy? A short animation is also available: Is God Calling You?
Christian Repentance Do you know what repentance is? Is it really necessary for salvation? Two related sermons about this are also available: Real Repentance and Real Christian Repentance.
Anglo – America in Prophecy & the Lost Tribes of Israel Are the Americans, Canadians, English, Scottish, Welsh, Australians, Anglo-Saxon (non-Dutch) Southern Africans, and New Zealanders descendants of Joseph? Where are the lost ten-tribes of Israel? Who are the lost tribes of Israel? What will happen to Jerusalem and the Jews in Israel? Will God punish the U.S.A., Canada, United Kingdom, and other Anglo-Saxon nations? Why might God allow them to be punished first? Here is a link to the Spanish version of this article: Anglo-América & las Tribus Perdidas de Israel. Information is also in the YouTube sermons titled Where are the Ten Lost Tribes? Why does it matter? and British are the Covenant People. A short YouTube of prophetic interest may be: Are Chinese threats against Australia for real?
Will the Anglo-Saxon Nations be Divided and Have People Taken as Slaves? Will the lands of the United States, United Kingdom, Canada, Australia, and New Zealand be divided? What about Jerusalem? What does Bible prophecy teach? Are there non-biblical prophecies that support this idea? Who will divide those lands? Who will end up with the lands and the people? Here is a link to a video titled Will the USA and other Anglo-nations be Divided and Their People Made Slaves? Here is a related item in the Spanish language ¿Serán divididas las naciones anglosajonas?
British are the Covenant People What do 'British' and 'Britain' mean in Hebrew? Are the descendants of the Anglo-Saxons people of the covenant? Does the British royal family connect to the throne of David? What does the Bible teach? What does history show us? Is there any DNA evidence related to British-Israelism? When did Christianity make it to the British Isles? Could Jeremiah have made it to the British Isles? What type of Christians made it to the British Isles? Did the last King of England believe in British Israelism?USA in Prophecy: The Strongest Fortresses Can you point to scriptures, like Daniel 11:39, that point to the USA in the 21st century? This article does. Two related sermon are available: Identifying the USA and its Destruction in Prophecy and Do these 7 prophesies point to the end of the USA?
Who is the King of the West? Why is there no Final End-Time King of the West in Bible Prophecy? Is the United States the King of the West? Here is a version in the Spanish language: ¿Quién es el Rey del Occidente? ¿Por qué no hay un Rey del Occidente en la profecía del tiempo del fin? A related sermon is also available: The Bible, the USA, and the King of the West.
Who is the King of the North? Is there one? Do biblical and Roman Catholic prophecies for the Great Monarch point to the same leader? Should he be followed? Who will be the King of the North discussed in Daniel 11? Is a nuclear attack prophesied to happen to the English-speaking peoples of the United States, Great Britain, Canada, Australia, and New Zealand? When do the 1335 days, 1290 days, and 1260 days (the time, times, and half a time) of Daniel 12 begin? When does the Bible show that economic collapse will affect the United States? In the Spanish language check out ¿Quién es el Rey del Norte? Here are links to two related videos: The King of the North is Alive: What to Look Out For and The Future King of the North.
When Will the Great Tribulation Begin? 2022, 2023, or 2024? Can the Great Tribulation begin today? What happens before the Great Tribulation in the "beginning of sorrows"? What happens in the Great Tribulation and the Day of the Lord? Is this the time of the Gentiles? When is the earliest that the Great Tribulation can begin? What is the Day of the Lord? Who are the 144,000? Here is a version of the article in the Spanish language: ¿Puede la Gran Tribulación comenzar en el 2020 o 2021? ¿Es el Tiempo de los Gentiles? A related video is: Great Tribulation: 2026 or 2027? A shorter video is: Can the Great Tribulation start in 2022 or 2023? Here is a video in the Spanish language: Es El 2021 el año  de La Gran Tribulación o el Grande Reseteo Financiero.
Physical Preparation Scriptures for Christians. We all know the Bible prophecies famines. Should we do something? Here is a version in the Spanish language Escrituras sobre Preparación física para los Cristianos. Here is a link to a related sermon: Physical preparedness for Christians.
Biden-Harris: Prophecies and Destruction Can the USA survive two full presidential terms? In what ways are Joe Biden and Kamala Harris apocalyptic? This book has hundreds of prophecies and scriptures to provide details.  A Kindle version is also available and you do not need an actual Kindle device to read it. Why? Amazon will allow you to download it to almost any device: Please click HERE to download one of Amazon s Free Reader Apps. After you go to your free Kindle reader app (or if you already have one or a Kindle),  you can go to: Biden-Harris: Prophecies and Destruction (Kindle) to get the book in seconds.