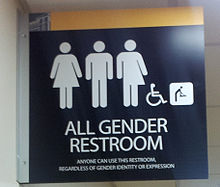 Well, the transgender agenda is alive and flourishing in Canada. Some wonder what a new law will mean:
June 21, 2017
In the latest episode of the completely psychotic breakdown of Western values, Canada's government has just passed a law that champions sexual identity over science…

It's called C-16, "An Act to Amend the Canadian Human Rights Act and the Criminal Code".

But as usual there are some problems with the law. Not just the new law, in fact, but with Canada's entire Human Rights Act.

I found a number of articles online stating that this new law "criminalizes the incorrect use of gender pronouns," i.e. if someone born a "he" chooses to be "she", and you say "Mr." instead of "Ms.," you're going to jail.

To be clear, that's NOT what this new law says. But the danger lies in the incredible ambiguity of the entire Human Rights code.

Section (14)(1), for example, states that "it is a discriminatory practice . . . to harass an individual on a prohibited ground of discrimination. . ." which includes race, religion, etc. and now sexual identity.

This is where things start to become unglued.

Because if your brain is wired anything like mine, you're probably thinking, "OK, fine, but what constitutes 'harassment' ?"

I'm glad you asked. Because Canada's Human Rights Commission gives us a rather ominous definition:

 "[Harassment] involves any unwanted physical or verbal behaviour that offends or humiliates you."

So in theory, yes, using incorrect gender pronouns could constitute harassment if it offends somebody, and this is a violation of Canada's Human Rights and Criminal codes.

I'm unclear when 'not being offended' became an inalienable human right.

I'm a prolific student of history, but I'm afraid I must have missed that chapter in the development of Western Civilization.
The Canadian government has long had issues ignoring biblical morality–this law is another step in that direction.
The Bible warns against not only sexual immorality, but approving it:
20 For since the creation of the world His invisible attributes are clearly seen, being understood by the things that are made, even His eternal power and Godhead, so that they are without excuse, 21 because, although they knew God, they did not glorify Him as God, nor were thankful, but became futile in their thoughts, and their foolish hearts were darkened. 22 Professing to be wise, they became fools, 23 and changed the glory of the incorruptible God into an image made like corruptible man — and birds and four-footed animals and creeping things.

24 Therefore God also gave them up to uncleanness, in the lusts of their hearts, to dishonor their bodies among themselves, 25 who exchanged the truth of God for the lie, and worshiped and served the creature rather than the Creator, who is blessed forever. Amen.

26 For this reason God gave them up to vile passions. For even their women exchanged the natural use for what is against nature. 27 Likewise also the men, leaving the natural use of the woman, burned in their lust for one another, men with men committing what is shameful, and receiving in themselves the penalty of their error which was due.

28 And even as they did not like to retain God in their knowledge, God gave them over to a debased mind, to do those things which are not fitting; 29 being filled with all unrighteousness, sexual immorality, wickedness, covetousness, maliciousness; full of envy, murder, strife, deceit, evil-mindedness; they are whisperers, 30 backbiters, haters of God, violent, proud, boasters, inventors of evil things, disobedient to parents, 31 undiscerning, untrustworthy, unloving, unforgiving, unmerciful; 32 who, knowing the righteous judgment of God, that those who practice such things are deserving of death, not only do the same but also approve of those who practice them. (Romans 1:20-32)
Canada is not benefiting from homosexuality or the transgender agenda.
God made humans male and female:
27 So God created man in His own image; in the image of God He created him; male and female He created them. (Genesis 1:27)
Nowhere in the Bible is any human considered to be any sex/gender other than male and female. And those who act otherwise are warned against (Deuteronomy 22:5; 1 Corinthians 6:10-12; Romans 1:18-32). One is not a different gender than that of their original genitalia.
But Canada seems to want people to think otherwise. And it is not the only country doing so.
Some items of possibly related interest may include:
Canada in Prophecy: What Does Bible Prophecy, Catholic Prophecy, and other Predictions Suggest About the Future of Canada? There are prophecies that suggest involvement with Canada. And many are not positive about its future.
USA pushing gender confusion On May 13, 2016, the Obama Administration sent notices to school districts around the USA on how it wants them to deal with toilets, lockers, sports, and other issues of interest to the LGBT crowd. The Obama Administration has redefined the word 'sex' as written in the 1964 Civil Rights Act as expanded in 1972. Does the Bible teach transgenderism? Are accommodations for those considering themselves transgendered helpful or evil? What does the Bible teach about cross-dressing and other transgender issues? Does the Bible warn of terrible consequences for those who merely approve the LBGT agenda? This is a video.
Cross-dressing and other assaults against your children. What should you do? Is there an agenda to turn your children and/or grandchildren away from biblical morality and towards practices promoted by homosexuals? What does the Bible teach about cross-dressing? What should parents do? If there is an agenda, what has been going on? There are also two YouTube videos related to this, titled Transgender 'Woe to those who call evil good' and Cross dressing and Other Assaults Against Your Children.
Pornography: A scourge on society Is pornography harmless fun? Does the Bible teach anything about it? What are the views of some involved with it? A related sermons is titled: Pornography, False Comfort, and False Religion. Here a shorter YouTube video Pornography: Harmless Fun or a Scourge on Society?
The Bible Condemns Homosexuality "Same-sex marriage" for "gays" and lesbians is becoming more acceptable to many. What does the Bible teach about homosexuality? Can homosexuals change? A related video sermon is titled: What Does the Bible Really Teach about Homosexuality?
Making Your Marriage Work Marriage is not always easy, but it pictures a divine relationship. How can you make your marriage work? Here is a link to the video sermon: You Can Make YOUR Marriage Work.
Love, Marriage, and Sex It is important to get them in the right order.
Husbands Love Your Wives An article written by the late Selmer Hegvold.
Preparing for the 'Short Work' and The Famine of the Word What is the 'short work' of Romans 9:28? Who is preparing for it? Here is a link to a related video sermon titled: The Short Work.
The Final Phase of the Work What is the final phase of the work? Who will lead it? Do you have the courage to support it? Here is a related YouTube video titled The Final Phase of the Work. The written article has been translated into Spanish La Fase Final de la Obra.
When Will the Great Tribulation Begin? 2017, 2018, or 2019? Can the Great Tribulation begin today? What happens before the Great Tribulation in the "beginning of sorrows"? What happens in the Great Tribulation and the Day of the Lord? Is this the time of the Gentiles? When is the earliest that the Great Tribulation can begin? What is the Day of the Lord? Who are the 144,000? Here is a version of the article in the Spanish language: ¿Puede comenzar la Gran Tribulación en 2016 o 2017? ¿Es el Tiempo de los Gentiles? You can also see the English language sermon videos: The Great Tribulation from the Mount of Olives and Can the Great Tribulation begin before 2020? A shorter video is: Will the Great Tribulation Start in 2017?
Anglo – America in Prophecy & the Lost Tribes of Israel Are the Americans, Canadians, English, Scottish, Welsh, Australians, Anglo-Saxon (non-Dutch) Southern Africans, and New Zealanders descendants of Joseph? Where are the lost ten-tribes of Israel? Who are the lost tribes of Israel? What will happen to Jerusalem and the Jews in Israel? Will God punish the U.S.A., Canada, United Kingdom, and other Anglo-Saxon nations? Why might God allow them to be punished first? Here is a link to the Spanish version of this article: Anglo-América & las Tribus Perdidas de Israel. Information is also in the YouTube sermons titled Where are the Ten Lost Tribes? Why does it matter? and British are the Covenant People. A short YouTube of prophetic interest may be Barack Obama and the State of the Apocalypse.
Will the Anglo-Saxon Nations be Divided and Have People Taken as Slaves? Will the lands of the United States, United Kingdom, Canada, Australia, and New Zealand be divided? What about Jerusalem? What does Bible prophecy teach? Are there non-biblical prophecies that support this idea? Who will divide those lands? Who will end up with the lands and the people? Here is a link to a video titled Will the USA and other Anglo-nations be Divided and Their People Made Slaves? Here is a related item in the Spanish language ¿Serán divididas las naciones anglosajonas?
Who is the King of the West? Why is there no End-Time King of the West in Bible Prophecy? Is the United States the King of the West?
The Ten Commandments: The Decalogue, Christianity, and the Beast This is a free draft/unedited pdf book explaining the what the Ten Commandments are, where they came from, how early professors of Christ viewed them, and how various ones, including the Beast of Revelation, will oppose them. A related sermon is titled: The Ten Commandments and the Beast of Revelation.