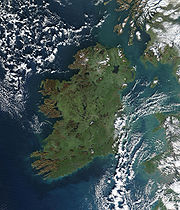 Ireland as Seen From Space
A bishop in Ireland (Noel Treanor) is offering his apologies for the rampant sexual abuse of children (mainly boys) by Catholic institutions in Ireland:
24 May 2009 13:00 UK
Bishop apology for 'evil' abuse

The Bishop of Down and Connor has apologised to all victims of child sex abuse by the Catholic church.

Dr Noel Treanor was speaking after a report last week said thousands had been abused over 60 years.

He said the report was "heartbreaking" and had recorded cruelty and abuses which were "criminal and sinful."

But Dr Treanor said the church was addressing the "evil", adding that the Down and Connor diocese now had robust child protection measures in place.

"I state my sorrow, shame and visceral pain in the face of these and all abuses inflicted on children and vulnerable adults, whenever they took place, wherever they are perpetrated," he told a congregation in Carryduff on Sunday.

"I apologise on behalf of the church to all who are victims of abuse on the part of those who professed to care for them, or minister to them, in the name of Christ.

"I apologise, too, for the failure of those in positions of leadership in the Church to deal with the abusers."

The victims of child abuse by religious orders were among 35,000 children who were placed in a network of reformatories, industrial schools and workhouses until the early 1990s.

More than 2,000 people told the Commission to Inquire Into Child Abuse they suffered physical and sexual abuse as children in the institutions.

The commission found that sexual abuse was "endemic" in boys' institutions, and church leaders knew what was going on. http://news.bbc.co.uk/2/hi/uk_news/northern_ireland/8065797.stm
The fact that leaders of the Catholic Church knew what was going on and tolerated strongly demonstrates that they did not love their neighbors as themselves (amongst other things).
A significant factor in this type of abuse is a change that the Church of Rome adopted centuries ago requiring celibacy for its priesthood. This is a documented CHANGE of doctrine as even the Church of Rome realizes that the Apostle Peter was married.
Celibacy is one of the many changes that the Church of Rome has adopted that the true Church of God has not.
The fruits of this change for the Church of Rome have not been good (cf. Matthew 7:13-20).
Some articles of possibly related interest may include:
Celibacy for Bishops/Presbyters/Elders was not a requirement in the early Church.
Which Is Faithful: The Roman Catholic Church or the Living Church of God? Do you know that both groups shared a lot of the earliest teachings? Do you know which church changed? Do you know which group is most faithful to the teachings of the apostolic church? Which group best represents true Christianity? This documented article answers those questions. Português: Qual é fiel: A igreja católica romana ou a igreja viva do deus? Tambien Español: Cuál es fiel: ¿La iglesia católica romana o La Iglesia del Dios Viviente? Auch: Deutsch: Welches zuverlässig ist: Die Römisch-katholische Kirche oder die lebende Kirche von Gott?
The History of Early Christianity Are you aware that what most people believe is not what truly happened to the true Christian church? Do you know where the early church was based? Do you know what were the doctrines of the early church? Is your faith really based upon the truth or compromise?