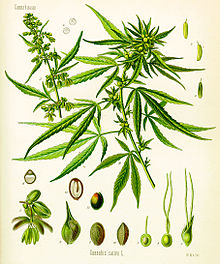 Marijuana, Cannibis sativa
A five year study found more problems associated with marijuana:
By Melissa Healy

April 23, 2014

Over a five-year period, a government-mandated tracking system in France showed that physicians in that country treated 1,979 patients for serious health problems associated with the use of marijuana, and nearly 2% of those encounters were with patients suffering from cardiovascular problems, including heart attack, cardiac arrhythmia and stroke, and circulation problems in the arms and legs. In roughly a quarter of those cases, the study found, the patient died.

In the United States, when young and otherwise healthy patients show up in emergency departments with symptoms of heart attack, stroke, cardiomyopathy and cardiac arrhythmia, physicians have frequently noted in case reports that these unusual patients are regular marijuana users.

Such reporting is hardly the basis for declaring marijuana use an outright cause of cardiovascular disease. But on Wednesday, cardiologists writing in the Journal of the American Heart Assn. warned that "clinical evidence … suggests the potential for serious cardiovascular risks associated with marijuana use." And with a growing movement to decriminalize marijuana use, they called for data-collection efforts capable of detecting and measuring marijuana's cardiovascular impact among American users of cannibis setiva.

"There is now compelling evidence on the growing risk of marijuana-associated adverse cardiovascular effects, especially in young people," said Emilie Jouanjus, lead author of the French study, which was also published in the Journal of the American Heart Assn.  http://www.latimes.com/science/sciencenow/la-sci-sn-heart-attack-stroke-marijuana-20140423,0,3208786.story
Marijuana use is dangerous.
Although most realize that heavy marijuana use causes brain problems, a recent study also found that casual use messes with the brain:
April 15, 2014

For the first time, researchers at Northwestern University have analyzed the relationship between casual use of marijuana and brain changes – and found that young adults who used cannabis just once or twice a week showed significant abnormalities in two important brain structures…

"There were abnormalities in their working memory, which is fundamental to everything you do," Breiter, a professor of psychiatry and behavioral sciences at Northwestern University Feinberg School of Medicine, told FoxNews.com.  "When you make judgments or decisions, plan things, do mathematics – anything you do always involves working memory.  It's one of the core fundamental aspects of our brains that we use every day.  So given those findings, we decided we need to look at casual, recreational use."

For their most recent study, Breiter and his team analyzed a very small sample of patients between the ages of 18 and 25: 20 marijuana users and 20 well-matched control subjects.  The marijuana users had a wide range of usage routines, with some using the drug just once or twice a week and others using it every single day.

Utilizing magnetic resonance imaging (MRI), the researchers analyzed the participants' brains, focusing on the nucleus accumbens (NAC) and the amygdala – two key brain regions responsible for processing emotions, making decisions and motivation.  They looked at these brain structures in three different ways, measuring their density, volume and shape.

According to Breiter, all three were abnormal in the casual marijuana users.

"For the NAC, all three measures were abnormal, and they were abnormal in a dose-dependent way, meaning the changes were greater with the amount of marijuana used," Breiter said.  "The amygdala had abnormalities for shape and density, and only volume correlated with use.  But if you looked at all three types of measures, it showed the relationships between them were quite abnormal in the marijuana users, compared to the normal controls."

Because these brain regions are central for motivation, the findings from Northwestern help support the well-known theory that marijuana use leads to a condition called amotivation. Also called amotivational syndrome, this psychological condition causes people to become less oriented towards their goals and purposes in life, as well as seem less focused in general. (Grush L. Casual marijuana use linked with brain abnormalities, study finds. Fox News, April 15, 2014. http://www.foxnews.com/health/2014/04/15/casual-marijuana-use-linked-with-brain-abnormalities-study-finds/)
Smoking marijuana is not good for you.
Getting high on marijuana is not good for Christians nor any nation. But its use is getting increasingly accepted. despite the health risks and warnings.
Some items of possibly related interest include:
Marijuana: Should a Christian Get High? There is increasing acceptance of the use of marijuana. How should Christians view this?
Should Christians Smoke? Is smoking a sin? What does the Bible teach? What have COG leaders written? Can smokers change? What about marijuana?
Just What Do You Mean — Repentance? Do you know what repentance is? Have you truly repented? Repented of what? Herbert W. Armstrong wrote this as a booklet on this important subject.
When You Sin: Do You Really Repent? This is an article by Charles F. Hunting. A related sermon is Confess to God and truly repent.
Living as a Christian: How and Why? In what ways do Christians live differently than others. What about praying, fasting, tithing, holy days, and the world? There is also a YouTube video related to that also called: Living as a Christian: How and Why?
Who Was Herbert W. Armstrong? How is He Viewed Today? Includes quotes from the 1973 edition of The Autobiography of Herbert W. Armstrong and explains how he is and should be viewed today.
Overcoming Sin What is sin? How are Christians suppose to overcome it? Here is also a link to a video titled How to Overcome Sin.
How to Prevent Sin This is an article by Herbert W. Armstrong.
Just What Do You Mean Conversion? Many think that they are converted Christians. But are they? Would you like to know more about conversion. Herbert W. Armstrong wrote this as a booklet on this important subject.
Barack Obama, Prophecy, and the Destruction of the United States-Second Edition for Second Obama Term This is a 160 page book for people truly interested in prophecies related to Barack Obama and the United States, including learning about many that have already been fulfilled (which the book documents in detail) and those that will be fulfilled in the future. It also has a chapter about a Republican choice. This book is available to order at www.barackobamaprophecy.com. The physical book can also be purchased at Amazon from the following link: Barack Obama, Prophecy, and the Destruction of the United States: Is Barack Obama Fulfilling Biblical, Islamic Catholic, Kenyan, and other America-Related Prophecies? What About Republican Leaders? Second Edition for Second Obama Term.
Barack Obama, Prophecy, and the Destruction of the United States-Second Term-Amazon Kindle edition. This electronic version is available for only US$2.99. And you do not need an actual Kindle device to read it. Why? Amazon will allow you to download it to almost any device: Please click HERE to download one of Amazon s Free Reader Apps. After you go to for your free Kindle reader and then go to Barack Obama, Prophecy, and the Destruction of the United States-Second Term-Amazon Kindle edition.