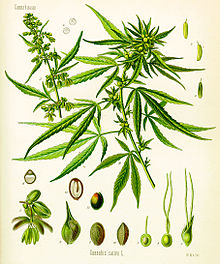 Marijuana, Cannibis sativa
The marijuana movement had much success in the latest US elections:
November 5, 2014

Voters in Washington, D.C., and the northwestern state of Oregon have approved measures to legalize marijuana.

The successful ballot initiatives were some of the separate questions on ballots Tuesday as Americans voted for members of the House of Representatives, one-third of the Senate and more than half of the nation's state governors.

Ballot initiatives give voters an opportunity to decide on matters such as whether local governments should borrow money to build more roads and schools or if a state should amend its laws on abortion or same-sex marriage.

Oregon's marijuana measure will allow adults to buy and possess the drugs similar to systems set up last year in neighboring Washington state and in Colorado.

In Washington, the U.S. capital, the initiative there allows people age 21 and older to possess and grow marijuana, but not buy it, and is subject to a Congressional review period before going into effect.

Proposal rejected

Meanwhile, voters in the southeastern state of Florida rejected a proposal to legalize marijuana for medical purposes. Medical marijuana is legal in 23 other states.  http://www.voanews.com/content/us-voters-approve-state-measures-on-marijuana-gun-control/2508930.html
Marijuana use is not good for the USA. Legalizing marijuana will not solve the financial problems of the USA.  While it was interesting that Florida did not provide that approval, it likely will be just a matter of time when all states in the USA will allow it.
The marijuana movement has had encouragement from former heavy marijuana user and now US President Barack Obama, as well as his Administration (see Obama and the real 'State of the Union' and Obama Administration relaxes financial restrictions for marijuana sellers).
Despite encouragement from users and politicians, marijuana is dangerous.
Although most realize that heavy marijuana use causes brain problems, a study that came out several months ago also found that casual use messes with the brain:
For the first time, researchers at Northwestern University have analyzed the relationship between casual use of marijuana and brain changes – and found that young adults who used cannabis just once or twice a week showed significant abnormalities in two important brain structures…

"There were abnormalities in their working memory, which is fundamental to everything you do," Breiter, a professor of psychiatry and behavioral sciences at Northwestern University Feinberg School of Medicine, told FoxNews.com.  "When you make judgments or decisions, plan things, do mathematics – anything you do always involves working memory.  It's one of the core fundamental aspects of our brains that we use every day.  So given those findings, we decided we need to look at casual, recreational use."

For their most recent study, Breiter and his team analyzed a very small sample of patients between the ages of 18 and 25: 20 marijuana users and 20 well-matched control subjects.  The marijuana users had a wide range of usage routines, with some using the drug just once or twice a week and others using it every single day.

Utilizing magnetic resonance imaging (MRI), the researchers analyzed the participants' brains, focusing on the nucleus accumbens (NAC) and the amygdala – two key brain regions responsible for processing emotions, making decisions and motivation.  They looked at these brain structures in three different ways, measuring their density, volume and shape.

According to Breiter, all three were abnormal in the casual marijuana users.

"For the NAC, all three measures were abnormal, and they were abnormal in a dose-dependent way, meaning the changes were greater with the amount of marijuana used," Breiter said.  "The amygdala had abnormalities for shape and density, and only volume correlated with use.  But if you looked at all three types of measures, it showed the relationships between them were quite abnormal in the marijuana users, compared to the normal controls."

Because these brain regions are central for motivation, the findings from Northwestern help support the well-known theory that marijuana use leads to a condition called amotivation. Also called amotivational syndrome, this psychological condition causes people to become less oriented towards their goals and purposes in life, as well as seem less focused in general. (Grush L. Casual marijuana use linked with brain abnormalities, study finds. Fox News, April 15, 2014. http://www.foxnews.com/health/2014/04/15/casual-marijuana-use-linked-with-brain-abnormalities-study-finds/)
The facts about marijuana are not good.
The Bible also warns against intoxication (for various scriptures, see the article Marijuana: Should a Christian Get High?) and marijuana is intoxicating.
As the USA moves further away from connections with the God of the Bible, it should not surprise us that it is increasing its acceptance of activities and actions that the Bible condemns. The USA needs repentance, not marijuana, to deal with its problems.
Getting high on marijuana is not good for Christians nor any nation. But its use is getting increasingly accepted. even though it is known to be harmful and addictive. This legalization movement is not good for the USA as it seems that it will encourage more to get high on marijuana more often.
Some items of possibly related interest include:
Marijuana: Should a Christian Get High? There is increasing acceptance of the use of marijuana. How should Christians view this? Here is a related video titled How Should a Christian View Marijuana?
Should Christians Smoke? Is smoking a sin? What does the Bible teach? What have COG leaders written? Can smokers change? What about marijuana?
Just What Do You Mean — Repentance? Do you know what repentance is? Have you truly repented? Repented of what? Herbert W. Armstrong wrote this as a booklet on this important subject.
When You Sin: Do You Really Repent? This is an article by Charles F. Hunting. A related sermon is Confess to God and truly repent.
Living as a Christian: How and Why? In what ways do Christians live differently than others. What about praying, fasting, tithing, holy days, and the world? There is also a YouTube video related to that also called: Living as a Christian: How and Why?
Who Was Herbert W. Armstrong? How is He Viewed Today? Includes quotes from the 1973 edition of The Autobiography of Herbert W. Armstrong and explains how he is and should be viewed today.
Overcoming Sin What is sin? How are Christians suppose to overcome it? Here is also a link to a video titled How to Overcome Sin.
How to Prevent Sin This is an article by Herbert W. Armstrong.
Just What Do You Mean Conversion? Many think that they are converted Christians. But are they? Would you like to know more about conversion. Herbert W. Armstrong wrote this as a booklet on this important subject.
Anglo – America in Prophecy & the Lost Tribes of Israel Are the Americans, Canadians, English, Scottish, Welsh, Australians, Anglo-Saxon (non-Dutch) Southern Africans, and New Zealanders descendants of Joseph? Where are the lost ten-tribes of Israel? Who are the lost tribes of Israel? What will happen to Jerusalem and the Jews in Israel? Will God punish the U.S.A., Canada, United Kingdom, and other Anglo-Saxon nations? Why might God allow them to be punished first? Here is a link to the Spanish version of this article: Anglo-América & las Tribus Perdidas de Israel. Information is also in the YouTube sermons titled Where are the Ten Lost Tribes? Why does it matter? and British are the Covenant People. A short YouTube of prophetic interest may be Barack Obama and the State of the Apocalypse.
Will the Anglo-Saxon Nations be Divided and Have People Taken as Slaves? Will the lands of the United States, United Kingdom, Canada, Australia, and New Zealand be divided? What about Jerusalem? What does Bible prophecy teach? Are there non-biblical prophecies that support this idea? Who will divide those lands? Who will end up with the lands and the people? Here is a link to a video titled Will the USA and other Anglo-nations be Divided and Their People Made Slaves? Here is a related item in the Spanish language ¿Serán divididas las naciones anglosajonas?
Barack Obama, Prophecy, and the Destruction of the United States-Second Edition for Second Obama Term This is a 160 page book for people truly interested in prophecies related to Barack Obama and the United States, including learning about many that have already been fulfilled (which the book documents in detail) and those that will be fulfilled in the future. It also has a chapter about a Republican choice. This book is available to order at www.barackobamaprophecy.com. The physical book can also be purchased at Amazon from the following link: Barack Obama, Prophecy, and the Destruction of the United States: Is Barack Obama Fulfilling Biblical, Islamic Catholic, Kenyan, and other America-Related Prophecies? What About Republican Leaders? Second Edition for Second Obama Term.
Barack Obama, Prophecy, and the Destruction of the United States-Second Term-Amazon Kindle edition. This electronic version is available for only US$2.99. And you do not need an actual Kindle device to read it. Why? Amazon will allow you to download it to almost any device: Please click HERE to download one of Amazon s Free Reader Apps. After you go to for your free Kindle reader and then go to Barack Obama, Prophecy, and the Destruction of the United States-Second Term-Amazon Kindle edition.