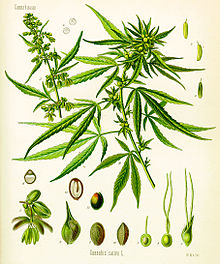 Marijuana, Cannibis sativa
Marijuana abuse is rising as a new study finds that it is frequently addictive:
Marijuana Use—and Abuse—in the U.S. Has Doubled in the Past Decade

October 21, 2015

Changing laws and attitudes surrounding medical and recreational marijuana use have made the drug more accessible. Currently, 23 states in the U.S. permit cannabis for medical purposes, and four of those states have decriminalized the drug for recreational use. As a result, more people are using marijuana, and according to a new study this may come with a serious expense: Marijuana use disorders are now a bigger problem than ever.

For the study, published Wednesday in JAMA Psychiatry, researchers analyzed data from the National Epidemiologic Survey on Alcohol and Related Conditions for 2001 to 2002 and 2012 to 2013. They found that three of every 10 Americans who used marijuana in the past year had a diagnosis of a marijuana use disorder, a condition in which a person becomes dependent on the drug and uses it daily in excess, sometimes at the expense of taking part in other activities. This adds up to approximately 6.8 million people. Between 2001 and 2013 overall marijuana use rose from 4.1 percent to 9.5 percent. So while the overall rate for addiction and dependence has gone down in the last decade—from 35.6 percent in 2001–2002 to 30.6 percent in 2013, there is a larger population of users who are now addicted to the drug, because of how many more people have access.  …

Marijuana is viewed by many people as a harmless and nonaddictive drug. … Dr. David Sack, chief medical officer of Elements Behavioral Health and Promises Addiction Treatment Center in Long Beach, California, says that the idea that marijuana dependency doesn't occur is a myth. "It has a very predictable set of withdrawal symptoms. It usually starts in 48 hours and peaks within 7 days," he says. These symptoms include dysphoria, insomnia, anxiety and cravings for the drug.  Those who try to quit frequently relapse, and sometimes a person who is misusing marijuana may also struggle with addiction to other substance. The drug also functions differently in the body than other substances. Marijuana is stored in fat tissue, which means it stays in the body for about 30 days, says Sack. To compare, heroin only maintains a presence in the body for about three minutes, while the liver processes one serving of alcohol in less than one hour. Sack says the notable personality differences in marijuana users are due to the fact that the drug remains in the system long after a joint has been smoked.  http://www.newsweek.com/marijuana-use-and-abuse-us-has-doubled-past-decade-385975
The study itself has the following conclusions:
Conclusions and Relevance  The prevalence of marijuana use more than doubled between 2001-2002 and 2012-2013, and there was a large increase in marijuana use disorders during that time. While not all marijuana users experience problems, nearly 3 of 10 marijuana users manifested a marijuana use disorder in 2012-2013. Because the risk for marijuana use disorder did not increase among users, the increase in prevalence of marijuana use disorder is owing to an increase in prevalence of users in the US adult population. Given changing laws and attitudes toward marijuana, a balanced presentation of the likelihood of adverse consequences of marijuana use to policy makers, professionals, and the public is needed. http://archpsyc.jamanetwork.com/article.aspx?articleid=2464591
Marijuana is not something that people should smoke.
Yet, more USA states are legalizing it (see 11 more states in USA considered likely to 'legalize' marijuana).  Also, the new Prime Minister of Canada wants to legalize it there (see Justin Trudeau wins–What's ahead for Canada?).  Because of changes by the current US President, the marijuana business has been able to expand more rapidly than it otherwise would have.
12 As for My people, children are their oppressors, And women rule over them. O My people! Those who lead you cause you to err, And destroy the way of your paths. (Isaiah 3:12)

16 For the leaders of this people cause them to err, And those who are led by them are destroyed (Isaiah 9:16).
The increased acceptance of marijuana is is not good.  There are more problems with marijuana than many wish to accept.
Some items of possibly related interest include:
Marijuana: Should a Christian Get High? There is increasing acceptance of the use of marijuana. How should Christians view this? Here is a related video titled How Should a Christian View Marijuana?
Should Christians Smoke? Is smoking a sin? What does the Bible teach? What have COG leaders written? Can smokers change? What about marijuana?
Just What Do You Mean — Repentance? Do you know what repentance is? Have you truly repented? Repented of what? Herbert W. Armstrong wrote this as a booklet on this important subject.
When You Sin: Do You Really Repent? This is an article by Charles F. Hunting. A related sermon is Confess to God and truly repent.
Living as a Christian: How and Why? In what ways do Christians live differently than others. What about praying, fasting, tithing, holy days, and the world? There is also a YouTube video related to that also called: Living as a Christian: How and Why?
Who Was Herbert W. Armstrong? How is He Viewed Today? Includes quotes from the 1973 edition of The Autobiography of Herbert W. Armstrong and explains how he is and should be viewed today.
Overcoming Sin What is sin? How are Christians suppose to overcome it? Here is also a link to a video titled How to Overcome Sin.
How to Prevent Sin This is an article by Herbert W. Armstrong.
Just What Do You Mean Conversion? Many think that they are converted Christians. But are they? Would you like to know more about conversion. Herbert W. Armstrong wrote this as a booklet on this important subject.
Anglo – America in Prophecy & the Lost Tribes of Israel Are the Americans, Canadians, English, Scottish, Welsh, Australians, Anglo-Saxon (non-Dutch) Southern Africans, and New Zealanders descendants of Joseph? Where are the lost ten-tribes of Israel? Who are the lost tribes of Israel? What will happen to Jerusalem and the Jews in Israel? Will God punish the U.S.A., Canada, United Kingdom, and other Anglo-Saxon nations? Why might God allow them to be punished first? Here is a link to the Spanish version of this article: Anglo-América & las Tribus Perdidas de Israel. Information is also in the YouTube sermons titled Where are the Ten Lost Tribes? Why does it matter? and British are the Covenant People. A short YouTube of prophetic interest may be Barack Obama and the State of the Apocalypse.
Will the Anglo-Saxon Nations be Divided and Have People Taken as Slaves? Will the lands of the United States, United Kingdom, Canada, Australia, and New Zealand be divided? What about Jerusalem? What does Bible prophecy teach? Are there non-biblical prophecies that support this idea? Who will divide those lands? Who will end up with the lands and the people? Here is a link to a video titled Will the USA and other Anglo-nations be Divided and Their People Made Slaves? Here is a related item in the Spanish language ¿Serán divididas las naciones anglosajonas?
Barack Obama, Prophecy, and the Destruction of the United States-Second Edition for Second Obama Term This is a 160 page book for people truly interested in prophecies related to Barack Obama and the United States, including learning about many that have already been fulfilled (which the book documents in detail) and those that will be fulfilled in the future. It also has a chapter about a Republican choice. This book is available to order at www.barackobamaprophecy.com. The physical book can also be purchased at Amazon from the following link: Barack Obama, Prophecy, and the Destruction of the United States: Is Barack Obama Fulfilling Biblical, Islamic Catholic, Kenyan, and other America-Related Prophecies? What About Republican Leaders? Second Edition for Second Obama Term.
Barack Obama, Prophecy, and the Destruction of the United States-Second Term-Amazon Kindle edition. This electronic version is available for only US$2.99. And you do not need an actual Kindle device to read it. Why? Amazon will allow you to download it to almost any device: Please click HERE to download one of Amazon s Free Reader Apps. After you go to for your free Kindle reader and then go to Barack Obama, Prophecy, and the Destruction of the United States-Second Term-Amazon Kindle edition.