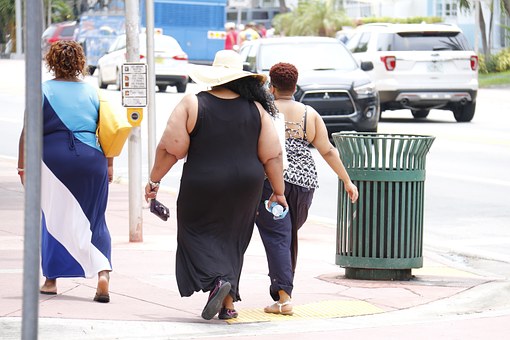 Obese females (Pixabay)

ZeroHedge reported the following;
August 8, 2022

Talk show host and comedian Bill Maher railed against the pro-obesity 'body positivity' movement, saying that not only is it pathetic, it's a national security risk.

"There is a disturbing trend going on in America these days," Maher began, adding that people are "rewriting science to fit ideology to just fit what you want reality to be."

"We've gone from fat acceptance to fat celebration. That's new. That is new," Maher said. "To view letting yourself go as a point of pride? We used to at least try and be fit and healthy and society praised those who succeeded"

"Now the term body positivity is used to mean, 'I'm perfect the way I am because I'm me,'" the HBO host continued, adding "It's Orwellian how often positivity is used to describe what's not healthy!"

"Of course, you can get away with anything bad for you when you're young," then said, adding "Let me ask you this: Have you ever seen a fat 90-year-old?"

Maher then noted that the military is having a harder time finding in-shape recruits, as well as how obese people have fared worse during COVID-19.

"At some point acceptance becomes enabling, and if you're in any way participating in this joyful celebration of gluttony that goes on now, you have blood on your hands," he said, adding "You can make believe you're fighting some great social justice battle for a besieged minority, but what you're really doing is enabling addicts – which I thought we decided was bad." https://www.zerohedge.com/medical/bill-maher-slams-fat-celebration-and-body-positivity
While I have seen many people in their 90s, no, I never recall seeing any who were fat (though there probably are some). But 'wokeness' wants people to say bad is good. The Bible warns:
20 Woe to those who call evil good, and good evil;
Who put darkness for light, and light for darkness;
Who put bitter for sweet, and sweet for bitter!

21 Woe to those who are wise in their own eyes,
And prudent in their own sight!  (Isaiah 5:20-21)
That said, yes, the USA is having trouble getting enough recruits now (see US Army pushes wokeness, cannot get enough acceptable recruits, cuts size, and punishes anti-vaccine troops)–and weight and health are factors. For several years it has been understood that obesity is affecting the military readiness of the USA (see 'Widespread Obesity Makes Trump's Military Recruitment Goals a Challenge').
Notice also the following related to obesity:
The Societal Cost of Obesity

According to researchers at Ball State University in Indiana, obesity is on the rise. Estimates based on their early research show that by 2030, in the absence of any intervening actions, a third of all children between the ages of six and eleven will be considered obese or overweight.

No doubt that is a shocking statistic. …

To measure whether or not you are overweight or obese, you must account for your Body Mass Index or BMI.

For adults, BMI consists of a person's weight divided by their height squared. …

For children, BMI is calculated using the same formula but is interpreted using the child's age and sex. Those results are then measured amongst a percentile. This method accounts for the difference in adolescent development for those between the ages of 2 and 19.

Health risks can occur in any individual, no matter their lifestyle or level of fitness. But for those who are obese, there is a far more heightened risk of experiencing serious health conditions. The list of potential health problems and complications is extensive and includes:

Type 2 diabetes
High blood pressure (Hypertension)
Risk for stroke
Sleep apnea
Difficulty breathing
Coronary heart disease
Problems regulating healthy cholesterol levels (high LDL, low HDL, high levels of triglycerides
Certain types of cancers including breast, colon, endometrial, gallbladder, kidney, liver, ovarian, or pancreatic
Gallbladder disease
Osteoarthritis (deterioration of bone and cartilage in joints)
Greater risk for mental illness including anxiety, clinical depression, and other psychiatric disorders
Reduced quality of life (excessive pain, limited mobility, problems performing everyday tasks, such as standing, walking, or using the restroom)

In practically all instances, obesity also enhances the risk of premature death. …

Based on several estimates, the US has spent anywhere from $150 billion to upwards of $190 billion each year on obesity-related costs. Some put that range even higher. This includes diagnosis and treatment, as well as prevention-related costs.

By 2030 – a little over a decade away – those numbers could increase by as much as $66 billion a year.

Those figures, though, only take into account direct costs. They do not account for lost work (either in lost employee wages or lost employer productivity), insurance costs, or lower overall wages. According to some of the most prevalent reports, these secondary financial consequences are an even larger burden that the direct medical costs of obesity.

At its most extreme, obesity may prove to be one of humankind's worst maladies. https://www.mbahealthcaremanagement.org/topics/the-societal-cost-of-obesity/ accessed 08/24/19
The USA is already massively in debt and future increases in health care costs and decreased productivity can be part of 'the straw that will break the camel's back' metaphorically.
Bible opposes obesity.
Here is what Moses and Jeremiah were inspired to write about obesity thousands of years ago:
15 You grew fat, you grew thick,
You are obese!
Then he forsook God who made him,
And scornfully esteemed the Rock of his salvation.
16 They provoked Him to jealousy with foreign gods;
With abominations they provoked Him to anger. (Deuteronomy 32:15-16)

11 "Because you were glad, because you rejoiced,
You destroyers of My heritage,
Because you have grown fat like a heifer threshing grain,
And you bellow like bulls,
12 Your mother shall be deeply ashamed;
She who bore you shall be ashamed.
Behold, the least of the nations shall be a wilderness,
A dry land and a desert. (Jeremiah 50:11-12)
The idea that one should not be obese is not a new one.
Furthermore, the Bible warns about gluttony as well as eating things that are not really food:
20 Do not mix with winebibbers, Or with gluttonous eaters of meat; 21 For the drunkard and the glutton will come to poverty (Proverbs 23:20-21)

2 Why do you spend money for what is not bread,
And your wages for what does not satisfy?
Listen carefully to Me, and eat what is good (Isaiah 55:2).
Do not overeat.
Most in Westernized areas consume too much overly process convenience foods, synthetic nutrients, chemical additives, and refined grains.
People should try to eat real, not artificial, foods. Soda consumption should be almost non-existent, essentially a very rare treat.
And while they do not like to believe this, almost all obese people also need to eat less.
Eight years ag0, the Continuing Church of God put out a video about concerns about eating to much on our YouTube channel called Bible New Prophecy.
Are there disadvantages to being overweight? Is junk food really bad for you? Does the Bible discuss overeating and/or obesity? Is overeating having an effect on the US military? What are the ramifications of personal and national health for overeating? What should you eat?
Here is a link to our video: Eating Right, Eating Too Much, and Prophecy.
That said, losing weight can be very, very difficult. But real Christians should believe the following:
13 I can do all things through Christ who strengthens me. (Philippians 4:13)
With prayer and proper determination, breaking away from being obese can happen.
The Bible teaches:
5 Trust in the Lord with all your heart,
And lean not on your own understanding;
6 In all your ways acknowledge Him,
And He shall direct your paths.

7 Do not be wise in your own eyes;
Fear the Lord and depart from evil.
8 It will be health to your flesh,
And strength to your bones. (Proverbs 3:5-8)
32 Do not fear, little flock, for it is your Father's good pleasure to give you the kingdom. (Luke 12:32)
Do not let fear stop you from moving ahead.
Take proper action (cf. Galatians 6:9-10; Revelation 3:7-13; Zephaniah 2:1-3).
Interested in a spiritual 'five second' rule?
Tell yourself and pray:
I will act on the truth and not put it off because I do not feel like it. Jesus help me.
Most people can quietly pray that in 5 or so seconds.
And physically if it will help, you can count backwards from five or use some other technique to motivate you to do what is right–including with your diet. But then pray for God's assistance.
We also have a related video:
Inc. magazine posted an article online titled 'How to Change Your Life in 5 Seconds.' In it, Mel Robbins explains how she developed a technique to be more productive. She observed that 95% of decisions are based on emotion instead of logic, and how and why adding a five-second countdown helped her life. She mentions that fear, anger, and other factors often interfere with our ability to be better people. In this video, Dr. Thiel quotes a lot from that article, including some of the science behind the technique. He also quotes Jesus as well as many passages from the Bible. He also teaches a 5 second statement to say and pray to use as a five second spiritual statement to help Christians change.
Here is a link to the video: 'How to Change Your Life in 5 Seconds'.
Of course, some things take longer than 5 seconds.
While it may not help your weight much, exercising is good for you and your innate immune system. Related to exercise, the Continuing Church of God (CCOG) put out the following video on our Bible News Prophecy YouTube channel:
A 2019 report shows that Americans are becoming sedentary. Since it is a physical thing, should Christians be concerned about exercise? Could not exercising possibly be a sin? What did the 'Plain Truth' magazine report about exercise? What is the US CDC reporting about exercise? Can exercise help prevent diabetes, heart disease, and obesity? Can exercise help sleep, endurance, and aging? Are there scriptures about exercise and health? What about laziness? What are some of the risks and benefits of exercise? Dr. Thiel addresses these subjects and more.
Here is a link to our video: The Plain Truth About Exercise.
That being said, the US is prophesied to lose militarily in the relatively near future (cf. Daniel 11:39).
It could be that health issues, including obesity, will end up being partial factors for the defeat.
Some items of possibly related interest may include:
Obesity, processed foods, health risks, and the Bible Does the Bible warn about the consequences of being obese? Is overeating dangerous? Is gluttony condemned? What diseases are associated with eating too much refined foods? A related video would be Eating Right, Eating Too Much, and Prophecy.
Should Christians Exercise? What does the Bible teach? What are some of the benefits and risks of exercise? Here is a link to a related video: The Plain Truth About Exercise.
Ten Simple Rules that Lead to Health Herbert Armstrong gives his opinions on this.
The New Testament Church, History, and Unclean Meats Are foods considered to have been unclean in the Old Testament considered to be food in the New Testament? This article discusses this from the perspective of the New Testament. It also has a list of clean and unclean animals. It also answers the question, is pork healthy or is pork dangerous? There is also a sermon-length video on this: Christians and Unclean Meats; a short video is also available: Did Jesus declare all animal flesh food?
Anglo – America in Prophecy & the Lost Tribes of Israel Are the Americans, Canadians, English, Scottish, Welsh, Australians, Anglo-Saxon (non-Dutch) Southern Africans, and New Zealanders descendants of Joseph? Where are the lost ten-tribes of Israel? Who are the lost tribes of Israel? What will happen to Jerusalem and the Jews in Israel? Will God punish the U.S.A., Canada, United Kingdom, and other Anglo-Saxon nations? Why might God allow them to be punished first? Here is a link to the Spanish version of this article: Anglo-América & las Tribus Perdidas de Israel. Information is also in the YouTube sermons titled Where are the Ten Lost Tribes? Why does it matter? and British are the Covenant People. A short YouTube of prophetic interest may be: Are Chinese threats against Australia for real?
Will the Anglo-Saxon-Celtic Nations be Divided and Have People Taken as Slaves? Will the lands of the United States, United Kingdom, Canada, Australia, and New Zealand be divided? What about Jerusalem? What does Bible prophecy teach? Are there non-biblical prophecies that support this idea? Who will divide those lands? Who will end up with the lands and the people? Here is a link to a video titled Will the USA and other Anglo-nations be Divided and Their People Made Slaves? Here is a related item in the Spanish language ¿Serán divididas las naciones anglosajonas?
British are the Covenant People What do 'British' and 'Britain' mean in Hebrew? Are the descendants of the Anglo-Saxons people of the covenant? Does the British royal family connect to the throne of David? What does the Bible teach? What does history show us? Is there any DNA evidence related to British-Israelism? When did Christianity make it to the British Isles? Could Jeremiah have made it to the British Isles? What type of Christians made it to the British Isles? Did the last King of England believe in British Israelism?
Canada in Prophecy: What Does Bible Prophecy, Catholic Prophecy, and other Predictions Suggest About the Future of Canada? There are prophecies that suggest involvement with Canada. And many are not positive about its future. A sermon of related interest is also available: Canada in Prophecy.
Australia and New Zealand in Prophecy Do biblical prophecies help explain the wealth blessings for Australia and New Zealand? Might cursings from disobedience come in the 21st century? Here is a link to a related sermon: Australia and New Zealand: Origins and Prophecy.
Is God Calling You? This booklet discusses topics including calling, election, and selection. If God is calling you, how will you respond? Here is a link to a related sermon: Could God be Calling You? A short animation is also available: Is God Calling You?
Christian Repentance Do you know what repentance is? Is it really necessary for salvation? A related sermon is also available titled: Real Christian Repentance.
USA in Prophecy: The Strongest Fortresses Can you point to scriptures, like Daniel 11:39, that point to the USA in the 21st century? This article does. Two related sermon are available: Identifying the USA and its Destruction in Prophecy and Do these 7 prophesies point to the end of the USA?
Who is the King of the West? Why is there no Final End-Time King of the West in Bible Prophecy? Is the United States the King of the West? Here is a version in the Spanish language: ¿Quién es el Rey del Occidente? ¿Por qué no hay un Rey del Occidente en la profecía del tiempo del fin? A related sermon is also available: The Bible, the USA, and the King of the West.