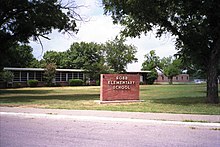 Robb Elementary School, Ulvade (Don Holloway)
CNN reported the following:
May 28, 2022

On Friday, Texas Department of Public Safety Director Steven McCraw laid out the most detailed breakdown the public has received to date about the horror that unfolded in Robb Elementary School on May 24 — and attempted to offer some answers about the way authorities responded. Among the details we know now are: that a school officer drove right past the shooter — 18-year-old

Salvador Ramos

— while Ramos fired at the school; that as many as 19 officers were inside the school more than 45 minutes before the suspect was killed; that the

school district police chief

decided not to breach the classroom where the shooter was; and that a young girl from the class called 911 several times asking for police while

authorities were right outside.  https://www.cnn.com/2022/05/27/us/uvalde-shooting-police-response-timeline/index.html
Newsmax reported the following:
Rep. Ronny Jackson to Newsmax: 'Moral Decline' Leading to Mass Shootings

May 24, 2022

Rep. Ronny Jackson, speaking about the deadly school shootings in his state of Texas, told Newsmax on Friday that he believes that a look must be taken at the "moral decline" in the United States as the root cause of such violent acts.

"I think that's a big part of what's going on here," the Republican said on "National Report." "We've gotten away from family and from God, community, and those are things that we must we have to embrace again. That's what made this country great and what made this country safe." …

"Things have changed now," Jackson said. "Our kids are exposed to a lot of stuff that is harmful to them with video games, these violent video games that they're exposed to at a very early age, and I've said before, some of the lyrics in the rap music and stuff that they listen to is not healthy, and we need to address this kind of stuff. This is what's causing a lot of these problems." https://www.newsmax.com/newsmax-tv/ronny-jackson-shootings-uvalde-guns/2022/05/27/id/1071867/
While I do not wish to get involved in the gun control debate, it is my understanding that decades ago there were more guns per family in the USA than there are now, there were not guards/security officers at schools, and there were almost never any incidents like the one at Robb Elementary school in Uvalde.
Notice also the following:
Friend of Salvador Ramos Says "He was NOT bullied!…He would hurt animals…He would pick on people and fail…and that would aggravate him!"

On May 24, 18-yr-old Salvador Ramos entered the Robb Elementary school in Uvalde, TX, and shot multiple students and teachers. As a result of the bloody massacre, 19 students and 2 teachers were killed. Ramos was shot and killed by police.

The next day, the mother of the 18-year-old who shot and killed 21 innocent people insisted that her son "wasn't a violent person." …

Ivan Arellano, whose good friend's sister was killed by Ramos told WFAA-TV in Dallas that Ramos "was not a good person" and had been a bully himself.

"I would like to get that out of the way," he said, adding, "He was not bullied!"

"He would try to pick on people but fail, and it would aggravate him," the high school senior said.

"He would hurt animals—and he was not a good person." 05/27/22 https://100percentfedup.com/friend-of-salvador-ramos-says-he-was-not-bullied-he-would-hurt-animals-he-would-pick-on-people-and-fail-and-that-would-aggravate-him-video/
This shooting and police response demonstrates a moral and societal problem.
Four years ago, related to mass school shootings, I posted:
The problem is moral decline and lack of proper fear of God.

This has impacted pretty much all of American society. …

National repentance is what the USA needs. But since that is not likely, the real solution is the Kingdom of God. (Thiel B. Texas school shooting followed by Georgia school shooting: The way of peace they do not know. COGwriter, May 19, 2008)
Since that post, other mass shootings have occurred.
There is less proper fear of God in the USA and this leads people to shed blood:
13

"Their throat is an open tomb; With their tongues they have practiced deceit"; "The poison of asps is under their lips";

14

"Whose mouth is full of cursing and bitterness."

15

"Their feet are swift to shed blood;

16

Destruction and misery are in their ways;

17

And the way of peace they have not known."

18

"There is no fear of God before their eyes." (Romans 3:13-18)

The problem with the media about these incidents is that they, too, do not have the fear of God nor know the way of peace.
After Parkland, there were several 'solutions' proposed to stop future shootings.
Related to many of them, the Continuing Church of God produced the following video on our Bible News Prophecy YouTube channel:
There have been many school shootings. The shooting at the Marjory Stoneman Douglas High School in Parkland, Florida, resulted in 17 deaths. But also has brought out various calls for change. In this video, Dr. Thiel explains why seven 'solutions' have not worked. These seven include involving the Federal Bureau of Investigation (FBI), school warnings, psychological counseling and medications, armed school guards, first responders, gun control, and boycotting the National Rifle Association (NRA). Dr. Thiel explains why we have seen more such shootings and why more violence is expected based upon biblical prophecies. He also explains the only real solution to bring peace.
Here is a link to our video: High School Shootings: 7 Failed Solutions.
None of the solutions proposed related to Parkland by the mainstream would have prevented the latest two shootings.
For example, while various gun bans have been proposed, there was not a proposed ban on shotguns, like the one that was used in Santa Fe, Texas.
To mention another 'solution', better background checks would not have stopped what happened in Santa Fe, Texas.
The problem is moral decline and lack of proper fear of God.
This has impacted pretty much all of American society.
Notice that terror for the corrupt was prophesied:
5 They have corrupted themselves; They are not His children, Because of their blemish: A perverse and crooked generation. … 25 The sword shall destroy outside; There shall be terror within (Deuteronomy 32:5,25)
We continue to see shootings and other terroristic acts.
The Bible teaches:
9 'Thus says the Lord God: "Enough, O princes of Israel! Remove violence and plundering, execute justice and righteousness (Ezekiel 45:9)

9…You shall love your neighbor as yourself." 10 Love does no harm to a neighbor; therefore love is the fulfillment of the law. (Romans 13:9-10)
The further that the USA moves away from biblical morality, the more violence we will see.
The Bible shows that immorality leads to violence and destruction:
28 And even as they did not like to retain God in their knowledge, God gave them over to a debased mind, to do those things which are not fitting; 29 being filled with all unrighteousness, sexual immorality…30…violent, proud, boasters,…31…unmerciful; 32 who, knowing the righteous judgment of God, that those who practice such things are deserving of death, not only do the same but also approve of those who practice them. (Romans 1:28-32)
Consider also the following prophecy for the last days:
1

But know this, that in the last days perilous times will come:

2

For men will be lovers of themselves, lovers of money, boasters, proud, blasphemers, disobedient to parents, unthankful, unholy,

3

unloving, unforgiving, slanderers, without self-control, brutal, despisers of good,

4

traitors, headstrong, haughty, lovers of pleasure rather than lovers of God,

(2 Timothy 3:1-4).
These mad murders are brutal. Many shooters are boasters, proud, without self-control. Many shooters also want publicity, like that is so important to murder for.
Jesus warned:
8 For nation will rise against nation, and kingdom against kingdom. And there will be earthquakes in various places, and there will be famines and troubles. These are the beginnings of sorrows. (Mark 13:8)
We are in a time of "troubles." We are in the "beginning of sorrows."
A worse time of 'tribulation' is coming (Mark 13:19) and is getting closer.
But, ultimately, there will be good news. Jesus will return and the millennial Kingdom of God will be established, and violent crime will be stopped.
The families of those affected by this shooting are in my prayers.
Some items of possibly related interest may include:
Crime can be stopped…here's how! This was a booklet that was edited with some updates by Dr. Thiel. Here is a link to a related sermon: Crime and How it Will be Stopped!
Why Terrorism? Is Terrorism Prophesied? What does the Bible teach? Which nations may be affected? Here is a link to a related sermon: Terrorism, Christianity, and Islam.
Does God Have a 6,000 Year Plan? What Year Does the 6,000 Years End? Was a 6000 year time allowed for humans to rule followed by a literal thousand year reign of Christ on Earth taught by the early Christians? Does God have 7,000 year plan? What year may the six thousand years of human rule end? When will Jesus return? 2029 or or 2031 or 20xx? There is also a video titled 6000 Years: When will God's Kingdom Come? Here is a link to the article in Spanish: ¿Tiene Dios un plan de 6,000 años?
Might the U.S.A. Be Gone by 2028? Are there prophetic reasons to believe that the USA will not last two complete presidential terms? Yes. There is a tradition attributed to the Hebrew prophet Elijah that humanity had 6,000 years to live before being replaced by God's Kingdom. There are scriptures, writings in the Talmud, early Christian teachings that support this. Also, even certain Hindu writings support it. Here is a link to a related video: Is the USA prophesied to be destroyed by 2028? In Spanish: Seran los Estados Unidos Destruidos en el 2028?
The Great Tribulation: What Happens First? What events have happened? What are some events that are now happening? And what events need to happen for the Great Tribulation to start? Here is a link to a related sermon video: Counting Down to the Great Tribulation. Here is a video in the Spanish language: Contando los eventos y el inicio de la Gran Tribulación.
When Will the Great Tribulation Begin? 2022, 2023, or 2024? Can the Great Tribulation begin today? What happens before the Great Tribulation in the "beginning of sorrows"? What happens in the Great Tribulation and the Day of the Lord? Is this the time of the Gentiles? When is the earliest that the Great Tribulation can begin? What is the Day of the Lord? Who are the 144,000? Here is a version of the article in the Spanish language: ¿Puede la Gran Tribulación comenzar en el 2020 o 2021? ¿Es el Tiempo de los Gentiles? A related video is: Great Tribulation: 2026 or 2027? A shorter video is: Can the Great Tribulation start in 2022 or 2023? Here is a video in the Spanish language: Es El 2021 el año de La Gran Tribulación o el Grande Reseteo Financiero.
Anglo – America in Prophecy & the Lost Tribes of Israel Are the Americans, Canadians, English, Scottish, Welsh, Australians, Anglo-Saxon (non-Dutch) Southern Africans, and New Zealanders descendants of Joseph? Where are the lost ten-tribes of Israel? Who are the lost tribes of Israel? What will happen to Jerusalem and the Jews in Israel? Will God punish the U.S.A., Canada, United Kingdom, and other Anglo-Saxon nations? Why might God allow them to be punished first? Here is a link to the Spanish version of this article: Anglo-América & las Tribus Perdidas de Israel. Information is also in the YouTube sermons titled Where are the Ten Lost Tribes? Why does it matter? and British are the Covenant People. A short YouTube of prophetic interest may be: Are Chinese threats against Australia for real?
Will the Anglo-Saxon-Celtic Nations be Divided and Have People Taken as Slaves? Will the lands of the United States, United Kingdom, Canada, Australia, and New Zealand be divided? What about Jerusalem? What does Bible prophecy teach? Are there non-biblical prophecies that support this idea? Who will divide those lands? Who will end up with the lands and the people? Here is a link to a video titled Will the USA and other Anglo-nations be Divided and Their People Made Slaves? Here is a related item in the Spanish language ¿Serán divididas las naciones anglosajonas?
British are the Covenant People What do 'British' and 'Britain' mean in Hebrew? Are the descendants of the Anglo-Saxons people of the covenant? Does the British royal family connect to the throne of David? What does the Bible teach? What does history show us? Is there any DNA evidence related to British-Israelism? When did Christianity make it to the British Isles? Could Jeremiah have made it to the British Isles? What type of Christians made it to the British Isles? Did the last King of England believe in British Israelism?
Canada in Prophecy: What Does Bible Prophecy, Catholic Prophecy, and other Predictions Suggest About the Future of Canada? There are prophecies that suggest involvement with Canada. And many are not positive about its future. A sermon of related interest is also available: Canada in Prophecy.
Australia and New Zealand in Prophecy Do biblical prophecies help explain the wealth blessings for Australia and New Zealand? Might cursings from disobedience come in the 21st century? Here is a link to a related sermon: Australia and New Zealand: Origins and Prophecy.
The Times of the Gentiles Has there been more than one time of the Gentiles? Are we in it now or in the time of Anglo-America? What will the final time of the Gentiles be like? A related sermon is available and is titled: The Times of the Gentiles.
Armageddon Who is involved and when will this gathering happen? Here is also a video from Dr. Thiel, from Tel Megiddo in Israel: Armageddon. Other videos include: Armageddon Will it come on Trump's watch?, Iraq, Armageddon, & Prophecy, Freemasonry, Armageddon, and Rome, Is China paving roads to Armageddon?, and Jordan, Petra, and Armageddon.
What About Romans 11:25 and the Full Number of the Gentiles? Some in the West discount God's calling of Gentiles, but the Apostle Paul wrote about the need for them to come to the truth before Jesus returns. Two somewhat related videos are available Gentiles and When Will Jesus Return? and Puerto Rico, Trials, and Triumphs.
God's Grace is For All Is being Jewish a hindrance to salvation? What about not being a descendant of Israel? What does the Bible really teach? Here is a link to a related sermon titled Race and Grace; Do you view race as God does? Watch also Mystery of Race.
The Ten Commandments: The Decalogue, Christianity, and the Beast This is a free draft/unedited pdf book explaining the what the Ten Commandments are, where they came from, how early professors of Christ viewed them, and how various ones, including the Beast of Revelation, will oppose them. A related sermon is titled: The Ten Commandments and the Beast of Revelation.
The Ten Commandments Reflect Love, Breaking them is Evil Some feel that the ten commandments are a burden. Is that what Jesus, Paul, Peter, James, and John taught? For a more detailed discussion of the first four commandments, please see the video The Ten Commandments: Loving God. For a more detailed discussion of the last six commandments, please see: The Ten Commandments: Loving Your Neighbor. Here is a link to a related article in Mandarin Chinese 十条诫命显示爱,违反诫命的就是邪恶的
The Gospel of the Kingdom of God This free online pdf booklet has answers many questions people have about the Gospel of the Kingdom of God and explains why it is the solution to the issues the world is facing. Here are links to three related sermons: The World's False Gospel, The Gospel of the Kingdom: From the New and Old Testaments, and The Kingdom of God is the Solution.