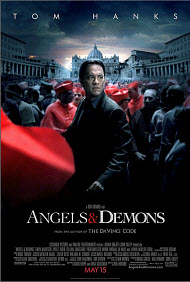 In his latest commentary, LCG's Wyatt Ciesielka writes:
Satan's secret society and true Christianity
There are groups with origins in WCG (CBCG comes to mind) that seem to be excessively into conspiracy theories, but the truth is that Jesus Himself taught the following to false religious leaders:
44 You are of your father the devil, and the desires of your father you want to do. He was a murderer from the beginning, and does not stand in the truth, because there is no truth in him. When he speaks a lie, he speaks from his own resources, for he is a liar and the father of it. 45 But because I tell the truth, you do not believe Me (John 8:44-45).
The reality is those that accept false religion are succumbing to Satan's society.
Those truly interested in the truth, but are not part of LCG, should prayerfully study the following articles:
The Da Vinci Code: Some Good, Most Bad Does The Da Vinci Code properly discuss Christianity? What does it have right and what does it have wrong about early Christianity and other gospel accounts?
Close Encounters of a 'Spirit' Kind discusses some experiences I believe were (demon) 'spirit' related.
Early Church History: Who Were the Two Major Groups Professed Christ in the Second and Third Centuries? Did you know that many in the second and third centuries felt that there were two major, and separate, professing Christian groups in the second century, but that those in the majority churches tend to now blend the groups together and claim "saints" from both? "Saints" that condemn some of their current beliefs. Who are the two groups?
Do Certain Catholic Prophecies About Antichrist Warn Against Jesus? Will the final "Anti-Christ" be Jewish, insist on Saturday, be opposed to the trinity, and bring in the millennium? Catholic writings indicate this, but what does the Bible show?
Catholic Prophecies: Do They Mirror, Highlight, or Contradict Biblical Prophecies? People of all faiths may be surprised to see what various Roman and Orthodox Catholic prophets have been predicting as many of their predictions will be looked to in the 21st century.
The History of Early Christianity Are you aware that what most people believe is not what truly happened to the true Christian church? Do you know where the early church was based? Do you know what were the doctrines of the early church? Is your faith really based upon the truth or compromise?