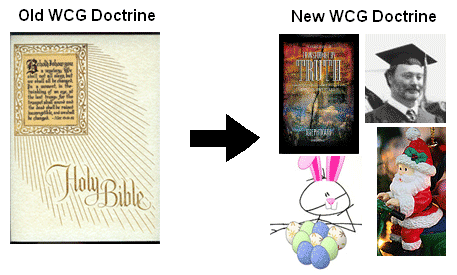 In his update today, WCG's J. Tkach wrote:
SpOL124  SATAN
Paul wrote in Colossians 1:13, We have been rescued "from the dominion of darkness and brought … into the kingdom of the Son he loves."
Hebrews 2:14 tells us, "Since the children have flesh and blood, he too shared in their humanity so that by his death he might destroy him who holds the power of death—that is, the devil…"
Because we are allied with Christ, we can be confident, as Paul wrote in 2 Timothy 4:18, that "the Lord will rescue me from every evil attack and will bring me safely to his heavenly kingdom."
Satan is a defeated enemy, and yet he is still an enemy. Peter describes the devil as a lion on the prowl in 1 Peter 5:8: "Your enemy the devil prowls around like a roaring lion looking for someone to devour."
So what should we do? Peter goes on to say in verses 9 and 10: "Resist him, standing firm in the faith, because you know that your brothers throughout the world are undergoing the same kind of sufferings. And the God of all grace, who called you to his eternal glory in Christ, after you have suffered a little while, will himself restore you and make you strong, firm and steadfast."
The strategy is simple: resist. How? By faith!
The Bible does not prescribe any secret words or rituals, special anointings or prayer formulas. We do not have to learn special names or go on special walks.
Neither Jesus nor the apostles went searching for demons to rout. They expelled demons when the problem was unavoidable, but they did not search for hidden demons or territorial spirits. Going after demons is not the key to spiritual growth or effective evangelism.
"Resist the devil, and he will flee from you," James 4:7 tells us. And in 2 Thessalonians 3:3, Paul wrote: "…the Lord is faithful, and he will strengthen and protect you from the evil one."
While I normally disagree with J. Tkach here, he and I would likely be able to agree on nearly all of the above.  Something that I would want to add, however, would be:
7 Therefore submit to God. Resist the devil and he will flee from you. 8 Draw near to God and He will draw near to you. Cleanse your hands, you sinners; and purify your hearts, you double-minded (James 4:7-8).
It is necessary to submit to God and repent of sin–this is what should be done to resist Satan.
A couple articles of possibly related interest may include:
Lies Where did they originate? What was really the first lie? What happens for lies?
A Short Article on Faith A subject that could fill many books.
Close Encounters of a 'Spirit' Kind discusses some experiences I believe were (demon) 'spirit' related.
Joyce's Photos of Rome and the Vatican Rome has been a major world city for centuries. Since the late second century, it has made claims of prominence over Christianity. There is even a photo of what has been described as "Satan's Throne"