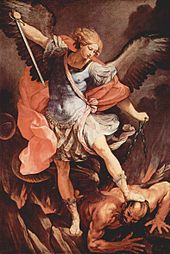 17th Century Depiction of Michael and Satan
Here is the latest recommended sermonette from the Continuing Church of God:
21:28

Steve Dupuie goes over Satan's techniques and information about some of his angels. Satan is cunning and seeks to destroy Christians. Satan continues to try to bring Christians down. What are ten methods the Bible shows to help Christians overcome Satan?
Some items of related interest may include the following:
Human Nature: Good or Evil? a Did God create humans evil or good? What is human nature? Where does it come from? Here is a link to a related sermon: Human Nature: Where Did it Come From?
Did God Create a Devil? If not, what happened? Herbert W. Armstrong wrote this as a booklet.
Satan's Plan Does Satan have a plan? What is it? Has it already been successful? Will it be successful in the future? Here is a link to a related video: Satan's Plan A Brief Introduction.
Is this Satan's Throne? Is the Cathedra Petri really Peter's seat or might it be something else? There is also a YouTube sermon about Vatican City, Peter, and this same throne shot in Rome and Vatican City: The Vatican, Peter, and 'Satan's Throne.'
ContinuingCOG channel. Dr. Thiel has produced YouTube video sermons for this channel. Note: Since these are sermon-length, they can take a little longer to load than other YouTube videos.