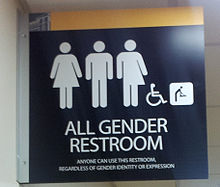 There is some positive news to report related to the Trump Administration:
WASHINGTON — The Trump administration is considering narrowly defining gender as a biological, immutable condition determined by genitalia at birth, the most drastic move yet in a government wide effort to roll back recognition and protections of transgender people under federal civil rights law.

A series of decisions by the Obama administration loosened the legal concept of gender in federal programs, including in education and health care, recognizing gender largely as an individual's choice and not determined by the sex assigned at birth. The policy prompted fights over bathrooms, dormitories, single-sex programs and other arenas where gender was once seen as a simple concept. Conservatives, especially evangelical Christians, were incensed.

Now the Department of Health and Human Services is spearheading an effort to establish a legal definition of sex under Title IX, the federal civil rights law that bans gender discrimination in education programs that receive government financial assistance, according to a memo obtained by The New York Times.

The department argued in its memo that key government agencies needed to adopt an explicit and uniform definition of gender as determined "on a biological basis that is clear, grounded in science, objective and administrable." The agency's proposed definition would define sex as either male or female, unchangeable, and determined by the genitals that a person is born with, according to a draft reviewed by The Times. Any dispute about one's sex would have to be clarified using genetic testing.

"Sex means a person's status as male or female based on immutable biological traits identifiable by or before birth," the department proposed in the memo, which was drafted and has been circulating since last spring. "The sex listed on a person's birth certificate, as originally issued, shall constitute definitive proof of a person's sex unless rebutted by reliable genetic evidence."

The new definition would essentially eradicate federal recognition of the estimated 1.4 million Americans who have opted to recognize themselves — surgically or otherwise — as a gender other than the one they were born into. https://www.nytimes.com/2018/10/21/us/politics/transgender-trump-administration-sex-definition.html
This was a bold and politically risky move for the Trump Administration to make just before the mid-term elections.
Despite the criticism he will likely face for years because of it, it was the right decision for both biological and biblical reasons.
The headline in the following article has it right:
Finally. HHS moves to reestablish a scientific definition of sex and gender

I first learned of this welcome news via a frantic tweet from the Gray Lady's Deputy Washington Editor, Jonathan Weisman.

Whoa, a WOW story — the Trump Admin has a new definition of sex that would render 1.4 million transgendered people legally nonexistent: sex is "a person's status as male or female based on immutable biological traits identifiable by or before birth." https://t.co/tGgtA2wGZO

— (((JonathanWeisman))) (@jonathanweisman) October 21, 2018

Aside from properly identifying who is in the White House right now, there's virtually nothing in that tweet which is correct, making it all the more remarkable. Notice how Weisman claims that this is "a new definition of sex," when talking about the definition of sex that's been in use for all of recorded history until the recent cultist movement convinced the previous administration to begin muddying the waters. Also, nobody becomes "legally nonexistent" if their ID correctly reflects their gender.

But let's look at this "new definition" which has Weisman rending his garments on the public square. According to the draft of the HHS memo, the government would need to "adopt an explicit and uniform definition of gender as determined on a biological basis that is clear, grounded in science, objective and administrable." No wonder the New York Times is so upset! …, you wouldn't want the government using concepts that are grounded in objective, biological science, would you? What's next? Believing in gravity? https://hotair.com/archives/2018/10/21/finally-hhs-moves-reestablish-scientific-definition-sex-gender/
Theologically, the Bible teaches that there are two genders, not transgenders.
God made humans male and female:
27 So God created man in His own image; in the image of God He created him; male and female He created them. (Genesis 1:27)
Jesus similarly taught:
6 But from the beginning of the creation, God 'made them male and female.' (Mark 10:6)
Many, if not most, transgender people 'cross-dress,' yet that is condemned as an abomination in the Bible:
5 A woman shall not wear anything that pertains to a man, nor shall a man put on a woman's garment, for all who do so are an abomination to the Lord your God. (Deuteronomy 22:5)
The Bible clearly condemns cross-dressing. The Bible also condemns males acting effeminate:
9 Know ye not that the unrighteous shall not inherit the kingdom of God? Be not deceived: neither fornicators, nor idolaters, nor adulterers, nor effeminate, nor abusers of themselves with mankind, 10 Nor thieves, nor covetous, nor drunkards, nor revilers, nor extortioners, shall inherit the kingdom of God. (1 Corinthians 6:9-10, KJV)
Males are not to act like they are female. Nor females like males.
The Bible warns against not only sexual immorality, but approving it:
20 For since the creation of the world His invisible attributes are clearly seen, being understood by the things that are made, even His eternal power and Godhead, so that they are without excuse, 21 because, although they knew God, they did not glorify Him as God, nor were thankful, but became futile in their thoughts, and their foolish hearts were darkened. 22 Professing to be wise, they became fools, 23 and changed the glory of the incorruptible God into an image made like corruptible man — and birds and four-footed animals and creeping things.

24 Therefore God also gave them up to uncleanness, in the lusts of their hearts, to dishonor their bodies among themselves, 25 who exchanged the truth of God for the lie, and worshiped and served the creature rather than the Creator, who is blessed forever. Amen.

26 For this reason God gave them up to vile passions. For even their women exchanged the natural use for what is against nature. 27 Likewise also the men, leaving the natural use of the woman, burned in their lust for one another, men with men committing what is shameful, and receiving in themselves the penalty of their error which was due.

28 And even as they did not like to retain God in their knowledge, God gave them over to a debased mind, to do those things which are not fitting; 29 being filled with all unrighteousness, sexual immorality, wickedness, covetousness, maliciousness; full of envy, murder, strife, deceit, evil-mindedness; they are whisperers, 30 backbiters, haters of God, violent, proud, boasters, inventors of evil things, disobedient to parents, 31 undiscerning, untrustworthy, unloving, unforgiving, unmerciful; 32 who, knowing the righteous judgment of God, that those who practice such things are deserving of death, not only do the same but also approve of those who practice them. (Romans 1:20-32)
The USA is not benefiting from homosexuality or the transgender agenda. Surgically changing one's sex organs is dishonoring one's body. Pretending to be a sex other than what one was born as is not wise (the exceptionally rare people born with both sets of genitalia is another matter, which is beyond the scope of this article).
Nowhere in the Bible is any human considered to be any sex/gender other than male or female. And those who act otherwise are warned against (Deuteronomy 22:5; 1 Corinthians 6:10-12; Romans 1:18-32). One is not a different gender than their actual genitalia.
But many others have their own, antibiblical ideas. Yet:
33 God is not the author of confusion (1 Corinthians 14:33)
The transgender agenda encourages and exploits confusion. It is NOT good for those who consider themselves transgendered.
As far as transgender surgeries go, not only are they expensive, long-term studies for those surgically-transgendered tended to show such poor outcomes that places like Johns Hopkins stopped performing such surgeries (at least for a time).
As far as science goes, consider the following:
4 May 2017

Researchers have revealed a breakthrough is how the sexes really differ from each other.

A groundbreaking genetic study pinponted 6500 genes that differ between men and women.

Experts say it could have a profound effect in the way we identify and treat everything from disease to fertility. http://www.dailymail.co.uk/sciencetech/article-4475252/There-6-500-genetic-differences-men-women.html#ixzz4l2KCqvLW

May 7, 2017

A biological male can take hormones, surgically alter his body and identify as "female," but the procedures still won't make him a woman, according to new evidence found by Israeli researchers.

That's because there are at least 6,500 genes that contain sex-specific instructions for males and females.

For the study by Israel's Weizmann Institute of Science, professor Shmuel Pietrokovski and Dr. Moran Gershoni, both researchers from the institute's Molecular Genetics Department, "looked closely at around 20,000 protein-coding genes, sorting them by sex and searching for differences in expression in each tissue. They eventually identified around 6,500 genes with activity that was biased toward one sex or the other in at least one tissue, adding to the already major biological differences between men and women." …

The new findings are further evidence that biological males cannot simply "transition" into females and vice versa, argues Mat Staver, founder and chairman of Liberty Counsel.

"This recent study from Israel's Weizmann Institute of Science further proves that you cannot fool Mother Nature," Staver said. "The saying, 'I think, therefore, I am' is best left to philosophy and not science. Gender confusion is mental, not physical or biological. God made male and female, and no amount of protestation will change the natural created order."

Staver called the idea that a person can choose his or her gender "fiction."

"These Israeli scientists identified over 6,500 genes with activity that was biased toward one sex or the other in at least one tissue," he said. "That clearly validates the genetic differences between men and women." http://www.wnd.com/2017/05/study-more-proof-a-man-can-never-become-a-woman/
Of course, many 'moderns' want to act like there is no difference, but the Bible is clear that men and women are different. God warned that there would be those "who suppress the truth in unrighteousness" (Romans 1:18).
But the truth is still the truth.
It is a positive move when proper disapproval of the transgender agenda is shown by government officials.
Some items of possibly related interest may include:
Cross-dressing and other assaults against your children. What should you do? Is there an agenda to turn your children and/or grandchildren away from biblical morality and towards practices promoted by homosexuals? What does the Bible teach about cross-dressing? What should parents do? If there is an agenda, what has been going on? There are also two YouTube videos related to this, titled Transgender 'Woe to those who call evil good' and Cross dressing and Other Assaults Against Your Children.
Pornography: A scourge on society Is pornography harmless fun? Does the Bible teach anything about it? What are the views of some involved with it? A related sermons is titled: Pornography, False Comfort, and False Religion. Here a shorter YouTube video Pornography: Harmless Fun or a Scourge on Society?
The Bible Condemns Homosexuality "Same-sex marriage" for "gays" and lesbians is becoming more acceptable to many. What does the Bible teach about homosexuality? Can homosexuals change? A related video sermon is titled: What Does the Bible Really Teach about Homosexuality?
Making Your Marriage Work Marriage is not always easy, but it pictures a divine relationship. How can you make your marriage work? Here is a link to the video sermon: You Can Make YOUR Marriage Work.
USA pushing gender confusion On May 13, 2016, the Obama Administration sent notices to school districts around the USA on how it wants them to deal with toilets, lockers, sports, and other issues of interest to the LGBT crowd. The Obama Administration has redefined the word 'sex' as written in the 1964 Civil Rights Act as expanded in 1972. Does the Bible teach transgenderism? Are accommodations for those considering themselves transgendered helpful or evil? What does the Bible teach about cross-dressing and other transgender issues? Does the Bible warn of terrible consequences for those who merely approve the LBGT agenda? This is a video.
Love, Marriage, and Sex It is important to get them in the right order.
Husbands Love Your Wives An article written by the late Selmer Hegvold.
Dating: A Key to Success in Marriage, a practical dating guide for Christians This is a scripture-filled dating guide. It discusses many aspects of dating, as well as who to not consider for marriage. Two related sermons are available: The Art of Christian Dating. and No One to Date? Teen Q&A? Engagement? 2nd Marriage? A short animation is also available: First Date: Worldly vs. Christian.
Anglo – America in Prophecy & the Lost Tribes of Israel Are the Americans, Canadians, English, Scottish, Welsh, Australians, Anglo-Saxon (non-Dutch) Southern Africans, and New Zealanders descendants of Joseph? Where are the lost ten-tribes of Israel? Who are the lost tribes of Israel? What will happen to Jerusalem and the Jews in Israel? Will God punish the U.S.A., Canada, United Kingdom, and other Anglo-Saxon nations? Why might God allow them to be punished first? Here is a link to the Spanish version of this article: Anglo-América & las Tribus Perdidas de Israel. Information is also in the YouTube sermons titled Where are the Ten Lost Tribes? Why does it matter? and British are the Covenant People. A short YouTube of prophetic interest may be: Are Chinese threats against Australia for real?
Will the Anglo-Saxon Nations be Divided and Have People Taken as Slaves? Will the lands of the United States, United Kingdom, Canada, Australia, and New Zealand be divided? What about Jerusalem? What does Bible prophecy teach? Are there non-biblical prophecies that support this idea? Who will divide those lands? Who will end up with the lands and the people? Here is a link to a video titled Will the USA and other Anglo-nations be Divided and Their People Made Slaves? Here is a related item in the Spanish language ¿Serán divididas las naciones anglosajonas?
British are the Covenant People What do 'British' and 'Britain' mean in Hebrew? Are the descendants of the Anglo-Saxons people of the covenant? Does the British royal family connect to the throne of David? What does the Bible teach? What does history show us? Is there any DNA evidence related to British-Israelism? When did Christianity make it to the British Isles? Could Jeremiah have made it to the British Isles? What type of Christians made it to the British Isles? Did the last King of England believe in British Israelism?
Donald Trump in Prophecy Prophecy, Donald Trump? Are there prophecies that Donald Trump may fulfill?  Are there any prophecies that he has already helped fulfill?  Is a Donald Trump presidency proving to be apocalyptic?  Two related videos are available: Donald: 'Trump of God' or Apocalyptic? and Donald Trump's Prophetic Presidency.
Trump Presidency Magic 8 Ball or Bible Prophecy? BBC reported that one might as well use a 'Magic Eight-Ball' to try to predict what will happen in the remaining time of Donald Trump's presidency. What is a 'Magic Eight-Ball'? Dr. Thiel not only explains that, but also briefly goes over 10 biblically-based warnings he wrote would happen if Donald Trump were elected that have already began to come to pass. He also goes over something he wrote back in 2008 that the Trump presidency is also helping lead to fulfillment. Should you trust Bible prophecy or not? Dr. Thiel says that Bible prophecy can be trusted, despite the view of skeptics and others that either overlook or despise the Bible. This is a video.
Donald Trump and America's Apocalypse This 188 page book is for people truly interested in prophecies related to Donald Trump and the United States, including learning about several that have already been fulfilled and those that will be fulfilled in the future. The physical book can be purchased at Amazon for $12.99 from the following link: Donald Trump and America's Apocalypse.
Donald Trump and America's Apocalypse-Kindle Edition This electronic version of the 188 page print edition is available for only US$3.99. And you do not need an actual Kindle device to read it. Why? Amazon will allow you to download it to almost any device: Please click HERE to download one of Amazon s Free Reader Apps. After you go to for your free Kindle reader and then go to Donald Trump and America's Apocalypse-Kindle Edition.