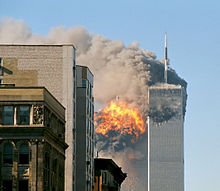 United Airlines' Flight 175 Hitting South Tower, 9/11/2001
On September 11, 2001, Islamic terrorists took over four commercial airliners and crashed them. Today marks its 19th anniversary.
The USA has spent massive amounts of money to 'fight terrorism' since then.
Since 9/11/2001, the USA government has eliminated almost all privacy, redefined marriage, redefined gender identity, and made airline travel more difficult. Bible believing Americans have lost many rights since 9/11.
And with COVID-19 policies, there have been more rights lost and freedoms restricted. Notice also the following:
The COVID-19 pandemic, which has impacted and altered our society in countless ways, will also change how the city reflects on that day of infamy 19 years ago this Friday. …

Families of 9/11 victims will again gather at the site this Sept. 11, but for the first time, the program will not include a live reading of the victims' names. The 9/11 Memorial and Museum will instead play a recording of victims' names, gathered from the museum's In Memoriam exhibition, to honor the memories of those lost in the tragedy.

Some have bristled with the change and have insisted that a live reading go on regardless of the pandemic. https://qns.com/story/2020/09/10/new-york-citys-19th-anniversary-memorial-of-9-11-attacks-will-be-unlike-any-other/
Of course, we still have terrorists and terrorism.
Plus we have many protests, riots, lootings, certain mass shootings, and other violent incidents that were not considered to be terrorist acts.
Violent suppression of free speech from groups like Antifa, media censoring of speech by places like Facebook and Google, the intentional 'hiding' of certain views by YouTube, anti-freedom of speech and religion rules in Canada, etc. are a different type of terrorism.
Jesus warned:
24 If a kingdom is divided against itself, that kingdom cannot stand. 25 And if a house is divided against itself, that house cannot stand. (Mark 3:24-25)
Ultimately, what will happen to the USA and Canada will be worse than Americans believe possible.
The bringing in of certain Syrian refugees, which both of those nations have also done, will not turn out well (cf. Isaiah 9:8-9, 11-12).
Furthermore, the Bible shows that the King of the North will invade the USA (Daniel 11:39) and in conjunction with the terrorism from the King of the South (Psalm 83:3-8). This will cause the end of the USA and this is at least alluded to in Deuteronomy 32:25. The King of the South will be a type of confederation of states in North Africa and the Middle East according to Daniel 11:40-43.
Since 9/11/2001, the USA has thwarted many suspected terrorist plots. It also, however, has done so with the view that it can deny its residents of most, if not all, of the liberties that the USA has long been proud of. How it now treats its residents and visitors at airports, including disabled ones is, let's simply say, intrusive. Citizens of the USA do not have many of the rights that their constitution seemingly provided for, as those rights get in the way of government surveillance (How USA and UK espionage defeats internet privacy). This surveillance is sometimes related to looking for potential terrorists and other times other matters. Although sometimes judges intervene to try to protect constitutional rights (NSA illegally and unconstitutionally collected data on US residents), the trend has been for this surveillance to increase (e.g. USA and UK access 'smart phone' data).
9/11 attacks. Politicians and bureaucrats wasted no time after that carnage to unleash the Surveillance State on average Americans, treating every person like a terrorist suspect. Since the government failed to protect the public, Americans somehow forfeited their constitutional right to privacy. Despite heroic efforts by former NSA staffer Edward Snowden and a host of activists and freedom fighters, the government continues ravaging American privacy.

Two of the largest leaps the largest leaps towards "1984" began in 2002. Though neither the Justice Department's Operation TIPS nor the Pentagon's Total Information Awareness program was brought to completion, parcels and precedents from each program have profoundly influenced subsequent federal policies. …

The USA PATRIOT Act created a new Information Office in the Pentagon's Defense Advanced Research Projects Agency (DARPA). In January 2002, the White House chose retired admiral John Poindexter to head the new office. …

Poindexter committed the new Pentagon office to achieving Total Information Awareness (TIA). …

TIA's goal was to stockpile as much information as possible about everyone on Earth …

Two weeks after the 9/11 attacks, Deputy Assistant Attorney General John Yoo sent a secret memo to the White House declaring that the Constitution's prohibition on unreasonable searches was null and void: "If the government's heightened interest in self-defense justifies the use of deadly force, then it also certainly would justify warrantless searches." That memo helped set federal policy until it was publicly revealed after Barack Obama took office in 2009. Unfortunately, that anti-Constitution, anti-privacy mindset unleashed many federal intrusions that continue to this day, from the TSA to the National Security Agency to the FBI and Department of Homeland Security.

This article was originally published in the August 2019 edition of Future of Freedom.

Our losses are mounting with every passing day.

What began with the post-9/11 passage of the USA Patriot Act has snowballed into the eradication of every vital safeguard against government overreach, corruption and abuse.

The citizenry's unquestioning acquiescence to anything the government wants to do in exchange for the phantom promise of safety and security has resulted in a society where the nation is being locked down into a militarized, mechanized, hypersensitive, legalistic, self-righteous, goose-stepping antithesis of every principle upon which this nation was founded.

Set against a backdrop of government surveillance, militarized police, SWAT team raids, asset forfeiture, eminent domain, overcriminalization, armed surveillance drones, whole body scanners, stop and frisk searches, police violence and the like—all of which have been sanctioned by Congress, the White House and the courts—our constitutional freedoms have been steadily chipped away at, undermined, eroded, whittled down, and generally discarded.

The rights embodied in the Constitution, if not already eviscerated, are on life support.

Free speech, the right to protest, the right to challenge government wrongdoing, due process, a presumption of innocence, the right to self-defense, accountability and transparency in government, privacy, press, sovereignty, assembly, bodily integrity, representative government: all of these and more have become casualties in the government's war on the American people, a war that has grown more pronounced since 9/11.

Indeed, since the towers fell on 9/11, the U.S. government has posed a greater threat to our freedoms than any terrorist, extremist or foreign entity ever could. 09/08/19 https://thefreethoughtproject.com/government-attacking-freedom-911/
Yes, many of the rights Americans thought they had have been taken away by various government sanctioned intrusions. Including ones blamed on COVID-19.
Despite intrusive government efforts, the time will come when terrors will increase in the USA.
How can you be certain of that?
Well, because terrorism was prophesied in the Bible:
14 'But if you do not obey Me, and do not observe all these commandments, 15 and if you despise My statutes, or if your soul abhors My judgments, so that you do not perform all My commandments, but break My covenant, 16 I also will do this to you: I will even appoint terror over you, wasting disease and fever which shall consume the eyes and cause sorrow of heart. And you shall sow your seed in vain, for your enemies shall eat it. 17 I will set My face against you, and you shall be defeated by your enemies. Those who hate you shall reign over you, and you shall flee when no one pursues you. (Leviticus 26:14-17)

25 The sword shall destroy outside; There shall be terror within (Deuteronomy 32:25)

12 "Cry and wail, son of man; For it will be against My people, Against all the princes of Israel. Terrors including the sword will be against My people; Therefore strike your thigh. (Ezekiel 21:12)

12 Behold, these are the ungodly,Who are always at ease; They increase in riches…19 Oh, how they are brought to desolation, as in a moment! They are utterly consumed with terrors. (Psalms 73:12,19)

25 Because you disdained all my counsel, And would have none of my rebuke, 26 I also will laugh at your calamity; I will mock when your terror comes, 27 When your terror comes like a storm, And your destruction comes like a whirlwind, When distress and anguish come upon you. (Proverbs 1:25-27)

5 Also they are afraid of height, And of terrors in the way (Ecclesiastes 12:5).
What is going to happen to the USA relatively soon will be so much worse than 9/11/2001 ever was (cf. Psalm 83:4-8; Daniel 11:39). Do not wait until it is too late to respond spiritually, so that you may be protected physically. Bringing in Syrian and certain other migrants, which the USA says it will do, sadly will likely result in some of them fulfilling some of the prophecies.
Without national repentance, the USA is doomed. Potentially having a new president will not stop that.
Since the USA seems to be going more into sin, national repentance seems unlikely. Yet, personal repentance is still possible. Do you see the winds of change in the USA and elsewhere?
If so, what do you plan to do about it?
Some items of possibly related interest may include:
Why Terrorism? Is Terrorism Prophesied? What does the Bible teach? Which nations may be affected? Here is a link to a related sermon: Terrorism, Christianity, and Islam.
Orwell's 1984 by 2024? In 1949, the late George Orwell wrote a disturbing book about a totalitarian government called "nineteen-eighty four." Despite laws that are supposed to protect freedom of speech and religion, we are seeing governments taking steps consistent with those that Geroge Orwell warned against. We are also seeing this in the media, academia, and in private companies like Google, Facebook, and Twitter. With the advent of technology, totalitarianism beyond what Orwell wrote is possible. Does the Bible teach the coming a totalitarian state similar to George Orwell's? What about the Antichrist and 666? Will things get worse? What is the solution? Dr. Thiel answers these questions and more.
Anglo – America in Prophecy & the Lost Tribes of Israel Are the Americans, Canadians, English, Scottish, Welsh, Australians, Anglo-Saxon (non-Dutch) Southern Africans, and New Zealanders descendants of Joseph? Where are the lost ten-tribes of Israel? Who are the lost tribes of Israel? What will happen to Jerusalem and the Jews in Israel? Will God punish the U.S.A., Canada, United Kingdom, and other Anglo-Saxon nations? Why might God allow them to be punished first? Here is a link to the Spanish version of this article: Anglo-América & las Tribus Perdidas de Israel. Information is also in the YouTube sermons titled Where are the Ten Lost Tribes? Why does it matter? and British are the Covenant People. A short YouTube of prophetic interest may be: Are Chinese threats against Australia for real?
Will the Anglo-Saxon-Celtic Nations be Divided and Have People Taken as Slaves? Will the lands of the United States, United Kingdom, Canada, Australia, and New Zealand be divided? What about Jerusalem? What does Bible prophecy teach? Are there non-biblical prophecies that support this idea? Who will divide those lands? Who will end up with the lands and the people? Here is a link to a video titled Will the USA and other Anglo-nations be Divided and Their People Made Slaves? Here is a related item in the Spanish language ¿Serán divididas las naciones anglosajonas?
British are the Covenant People What do 'British' and 'Britain' mean in Hebrew? Are the descendants of the Anglo-Saxons people of the covenant? Does the British royal family connect to the throne of David? What does the Bible teach? What does history show us? Is there any DNA evidence related to British-Israelism? When did Christianity make it to the British Isles? Could Jeremiah have made it to the British Isles? What type of Christians made it to the British Isles? Did the last King of England believe in British Israelism?
Canada in Prophecy: What Does Bible Prophecy, Catholic Prophecy, and other Predictions Suggest About the Future of Canada? There are prophecies that suggest involvement with Canada. And many are not positive about its future. A sermon of related interest is also available: Canada in Prophecy.
Australia and New Zealand in Prophecy Do biblical prophecies help explain the wealth blessings for Australia and New Zealand? Might cursings from disobedience come in the 21st century? Here is a link to a related sermon: Australia and New Zealand: Origins and Prophecy.
Who is the King of the West? Why is there no Final End-Time King of the West in Bible Prophecy? Is the United States the King of the West? Here is a version in the Spanish language: ¿Quién es el Rey del Occidente? ¿Por qué no hay un Rey del Occidente en la profecía del tiempo del fin? A related sermon is also available: The Bible, the USA, and the King of the West.
What is the Meaning of Life? Who does God say is happy? What is your ultimate destiny? Do you really know? Does God actually have a plan for YOU personally? There is also a video titled What is the meaning of your life?
Christian Repentance Do you know what repentance is? Is it really necessary for salvation? A related sermon is also available titled: Real Christian Repentance.
Just What Do You Mean — Repentance? Do you know what repentance is? Have you truly repented? Repented of what? Herbert W. Armstrong wrote this as a booklet on this important subject.
When You Sin: Do You Really Repent? This is an article by Charles F. Hunting. A related sermon is Confess to God and truly repent.
Just What Do You Mean Conversion? Many think that they are converted Christians. But are they? Would you like to know more about conversion. Herbert W. Armstrong wrote this as a booklet on this important subject.
Real Conversion Many think that they are converted Christians. But are they? Would you like to know more about conversion?
False Conversion! Have you really been converted? Herbert W. Armstrong wrote an article on this important subject–but more scriptures have been added to it. How can you tell false conversion? A related video is also available: False Conversion.
All About Water Baptism What is baptism? Would you like to know more about it. Herbert W. Armstrong wrote this as a booklet on this important subject. As far as early history, see also Baptism and the Early Church.
God's Grace is For All Is being Jewish a hindrance to salvation? What about not being a descendant of Israel? What does the Bible really teach? Here is a link to a related sermon titled Race and Grace; Do you view race as God does?
Predestination: Did God really call You? Why? Predestination? Is your ultimate fate decided for you in advance? Here is a link to a related video sermon: Predestination: What it is and what it is not. Another related video is Predestination and Pentecost.
Iraq, the King of the South, Armageddon, and Prophecy What will happen to Iraq? Is it the prophesied Mystery Babylon? What is Armageddon and how does that have to do with Iraq? Here is a related video Iraq, Armageddon, & Prophecy.
The Prophesied 'Islamic' Confederation Where is an Islamic caliphate prophesied? Will one happen? Should you be concerned about it? Here is a link to a related video video: Will an Arabic Calphiphate Destroy the West?
The Arab and Islamic World In the Bible, History, and Prophecy The Bible discusses the origins of the Arab world and discusses the Middle East in prophecy. What is ahead for the Middle East and those who follow Islam? What about the Imam Mahdi? What lies ahead for Turkey, Iran, and the other non-Arabic Muslims? An item of possibly related interest in the Spanish language would be: Líderes iraníes condenan la hipocresía de Occidente y declaran que ahora es tiempo para prepararse para el Armagedón, la guerra, y el Imán Mahdi.between these groups will put them in position to be part of the final end time Babylon that the Bible warns against as well as require improper compromise.
Gaza and the Palestinians in Bible Prophecy What does the Bible teach about Gaza and the fate of the Palestinians? Here is a link to a related video: Gaza and Palestine in Prophecy.
Libya, Algeria, Morocco, and Tunisia in Prophecy What is ahead for North Africa? What does the Bible teach?
Damascus and Syria in Prophecy Will Bashar Assad hold power as he has it? Does the Bible show that Damascus, the capital of Syria, will be destroyed? What will happen to Syria? Will the Syrians support the final King of the South that the Bible tells will rise up? Which scriptures discuss the rise and fall of an Arabic confederation? Does Islamic prophecy predict the destruction of Syria. This is a YouTube video.
The 'Peace Deal' of Daniel 9:27 This prophecy could give up to 3 1/2 years advance notice of the coming Great Tribulation. Will most ignore or misunderstand its fulfillment? Here is a link to a related sermon video Daniel 9:27 and the Start of the Great Tribulation.
Iran in Prophecy Is Iran in Bible prophecy? If so, what does the Bible teach? What names, other than Persia, may be used to describe Iran? There is also a YouTube video titled Iran in Prophecy. Here is a related video Iran In Prophecy.
Is the Future King of the South Rising Up? Some no longer believe there needs to be a future King of the South. Might Egypt, Islam, Iran, Arabs, or Ethiopia be involved? Might this King be called the Mahdi or Caliph? What does the Bible say? A YouTube video of related interest may be: The Future King of the South is Rising. The Muslim Brotherhood and the Rise of the King of the South The Bible tells of the formation of a power of nations that are in the Middle East and North Africa that are part of the final "King of the South" (Daniel 11:40-43) The Muslim Brotherhood wishes to have an Islamic empire with basically the same nations. This YouTube video explains what to expect from such a confederation.
Does God Have a 6,000 Year Plan? What Year Does the 6,000 Years End? Was a 6000 year time allowed for humans to rule followed by a literal thousand year reign of Christ on Earth taught by the early Christians? Does God have 7,000 year plan? What year may the six thousand years of human rule end? When will Jesus return? 2027 or 20xx? There is also a video titled 6000 Years: When will God's Kingdom Come? Here is a link to the article in Spanish: ¿Tiene Dios un plan de 6,000 años?
World War III: Steps in Progress Are there surprising actions going on now that are leading to WWIII? Might a nuclear attack be expected? Does the Bible promise protection to all or only some Christians? How can you be part of those that will be protected? A related video would be Is World War III About to Begin? Can You Escape?
COVID 19 is NOT the End, but could it be TEOTWAWKI? The novel coronavirus called COVID-19 is wreaking havoc around the world. Many states of the USA as well as countries in Europe are on lockdown with shelter in place /shelter in residence requirements. In France, a form is required when you are not at your house. In Spain, drones are being used to warn people who are outside to got back to their homes–does that bring up feelings of 'Big Brother'? Italy, France, and other areas are using police and/or military force to encourage people to stay inside. According to the Bible could this be the end? If not, what has to happen first? Have the second and third of the four horsemen of the Apocalypse started their ride? Could COVID-19 be the fourth horseman? Why or why not? Could we be seeing The End of the World as We Know It (TEOTWAWKI) like the R.E.M.'s 1987 single song discussed? Do Christians need to fear? What did Jesus teach? What did the Psalmist teach? This is a video. Here is a link to a version in the Spanish language: Corona 19 no es el final PERO es el TEOTWAWKI.
COVID-19 Leading to 666? The novel coronavirus of Wuhan, China fame, is now called COVID-19. It has also been called the 'Coronapocalypse.' Does COVID-19 have any prophetic ramifications? What did Jesus teach about pestilences and sorrows in the Olivet prophecy in Matthew 24? Could COVID-19 be the ride of the fourth horseman of the Apocalypse? Why was this type of disease expected according to the O. Here is a link to a version in the Spanish language: ld Testament prophecies in Deuteronomy and Leviticus? What has the US Centers for Disease Control warned about? What has the CDC reported about the flu? Were there lessons about fear and infections in the 2011 movie 'Contagion'? Because of COVID-19, the World Health Organization (WHO), nation of Iran, and certain French locations are telling people not to use cash, but instead electronic forms of payment. The US Federal Reserve is now quarantining money repatriated from Asia to reduce the potential spread of the coronavirus on US currency bills. Is COVID-19 worse than we have been told or could this all be a 'false flag' event to encourage people to move towards a cashless society? If the thousands of deaths associated with COVID-19 are pushing parts of the world towards cashlessness, how much more likely will the ride of the fourth horseman and over a billion human deaths motivate people to move to making electronic payments that can be monitored? The Bible tells of a soon coming society that controls buying and selling to force allegiance to a coming European Beast power, known as 666 (Revelation 13:16-18). Does the 'great tribulation' begin before ride of the fourth horseman or with the opening of the fifth seal of Revelation 6? Do the words of Jesus helps us better understand the sequence of the four horsemen of the Apocalypse and the start of the Great Tribulation? Will the ride of the fourth horseman help lead to the rise of 666? Is that ride very close? Dr. Thiel addresses these issues and more in this video. Here is a link to a version in the Spanish language: El COVID-19 ¿Conduce al 666?
Donald Trump in Prophecy Prophecy, Donald Trump? Are there prophecies that Donald Trump may fulfill?  Are there any prophecies that he has already helped fulfill?  Is a Donald Trump presidency proving to be apocalyptic?  Two related videos are available: Donald: 'Trump of God' or Apocalyptic? and Donald Trump's Prophetic Presidency.
Trump Presidency Magic 8 Ball or Bible Prophecy? BBC reported that one might as well use a 'Magic Eight-Ball' to try to predict what will happen in the remaining time of Donald Trump's presidency. What is a 'Magic Eight-Ball'? Dr. Thiel not only explains that, but also briefly goes over 10 biblically-based warnings he wrote would happen if Donald Trump were elected that have already began to come to pass. He also goes over something he wrote back in 2008 that the Trump presidency is also helping lead to fulfillment. Should you trust Bible prophecy or not? Dr. Thiel says that Bible prophecy can be trusted, despite the view of skeptics and others that either overlook or despise the Bible. This is a video.
Donald Trump and America's Apocalypse This 188 page book is for people truly interested in prophecies related to Donald Trump and the United States, including learning about several that have already been fulfilled and those that will be fulfilled in the future. The physical book can be purchased at Amazon for $12.99 from the following link: Donald Trump and America's Apocalypse.
Donald Trump and America's Apocalypse-Kindle Edition This electronic version of the 188 page print edition is available for only US$3.99. And you do not need an actual Kindle device to read it. Why? Amazon will allow you to download it to almost any device: Please click HERE to download one of Amazon s Free Reader Apps. After you go to for your free Kindle reader and then go to Donald Trump and America's Apocalypse-Kindle Edition.