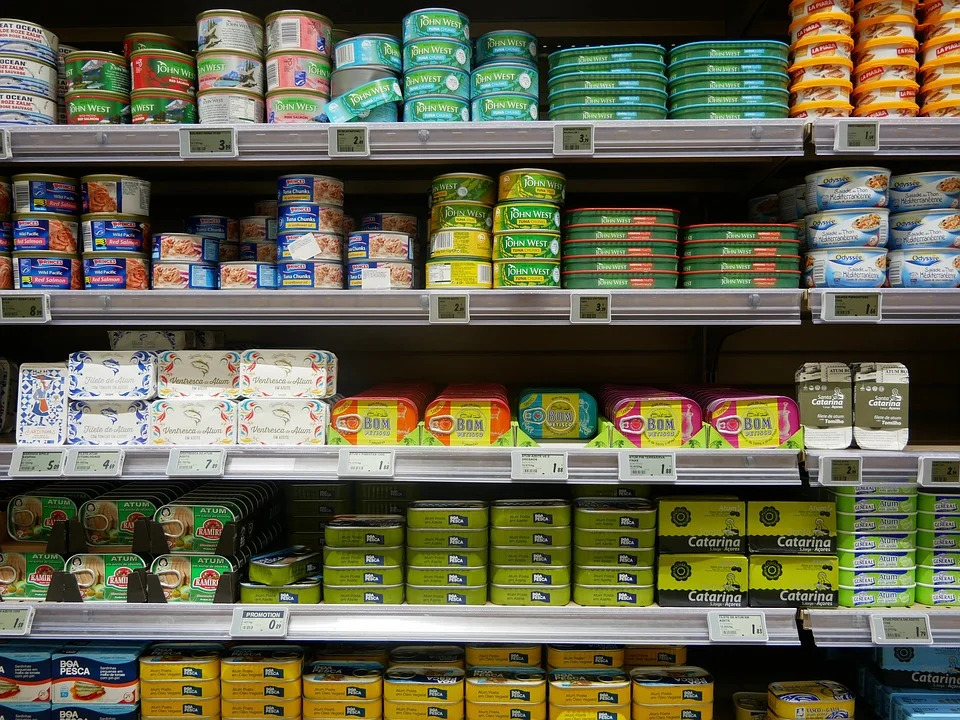 (Pixabay photo)
China has been stockpiling commodities for years and looks now to also be prepping for food according to the following by Michael Every of Rabobank:
What Possible Disruption Is Coming That Requires China To Start Massive Stockpiling Of All Possible Commodities

September 10, 2020
China has announced it plans to boost its strategic commodities reserves to assuage anxiety over energy and food security. Starting in 2021, it will make what Bloomberg calls "mammoth" purchases of crude, strategic materials, and farm goods, officials apparently say. This is being done to ensure China can ride out any repeat of this year's supply disruptions, or a deterioration in trade relations with the US, for example. This is apparently part of the shift to "internal circulation", or greater self-reliance, which is already being flagged, and which will kick in for the five year plan 2021-25.

Actually, those in the know know that this has already been happening across the board for some time: China has been swallowing up raw materials and strategic goods far in advance of what the economy needs right now. That means the drop in other imports –which are still down y/y overall even including this commodity surge– is even larger.  …


Here's the understudy way to study this: go long commodities! – because obviously China buying in vast quantities for years to come, right? Expect lots of stories like that.

Here's the star way to think about it: what does it really say if China is stocking up so much? Has there ever been a point during trade tensions where anyone has ever threatened not to sell to China? The issue is always that trade partners don't ONLY want to sell raw materials and unprocessed commodities to it, but rather to hold more of the technology and value chain themselves. That is as true for Europe as it is for the US.

What possible disruption could be on the horizon that would require China to have a large enough buffer of all conceivable inputs –in remote inland areas to boot– that it needs to use up its precious USD reserves in a bulk splurge now?

"Geopolitics", as we say euphemistically? …

It can't be on *imminent* concerns of the US acting on China's USD access because all these purchases will presumably still be made in those precious USD, even in vast size,… right? Or is the idea with THAT much buying, a shift to CNY can be accelerated? For commodity sellers, that's something to consider. So is that this would be a multi-year bull-run – and then a very sharp stop. https://www.zerohedge.com/markets/what-possible-disruption-coming-requires-china-start-massive-stockpiling-all-possible
So, it looks like China is 'prepping.'
While the article title left off the question mark, the biblical answer to the above is the ride of the third horseman of the Apocalypse, sorrows and famine Jesus foretold, and also the Great Tribulation and the Day of the Lord. Those are the coming disruptions from a biblical perspective and they will also involve geopolitical changes.
Let me add that China's 'Silk Road' project is also another type of prepping. It is intended to make China more dominant in the world, while also reducing its need to deal with places like the USA. China expects disruptions and is taking physical steps.
As far as disruptions go, notice the following photographs that my wife took in California this past March once people were concerned about COVID and the food supply when many apparently decided to try to 'prep' in near panic: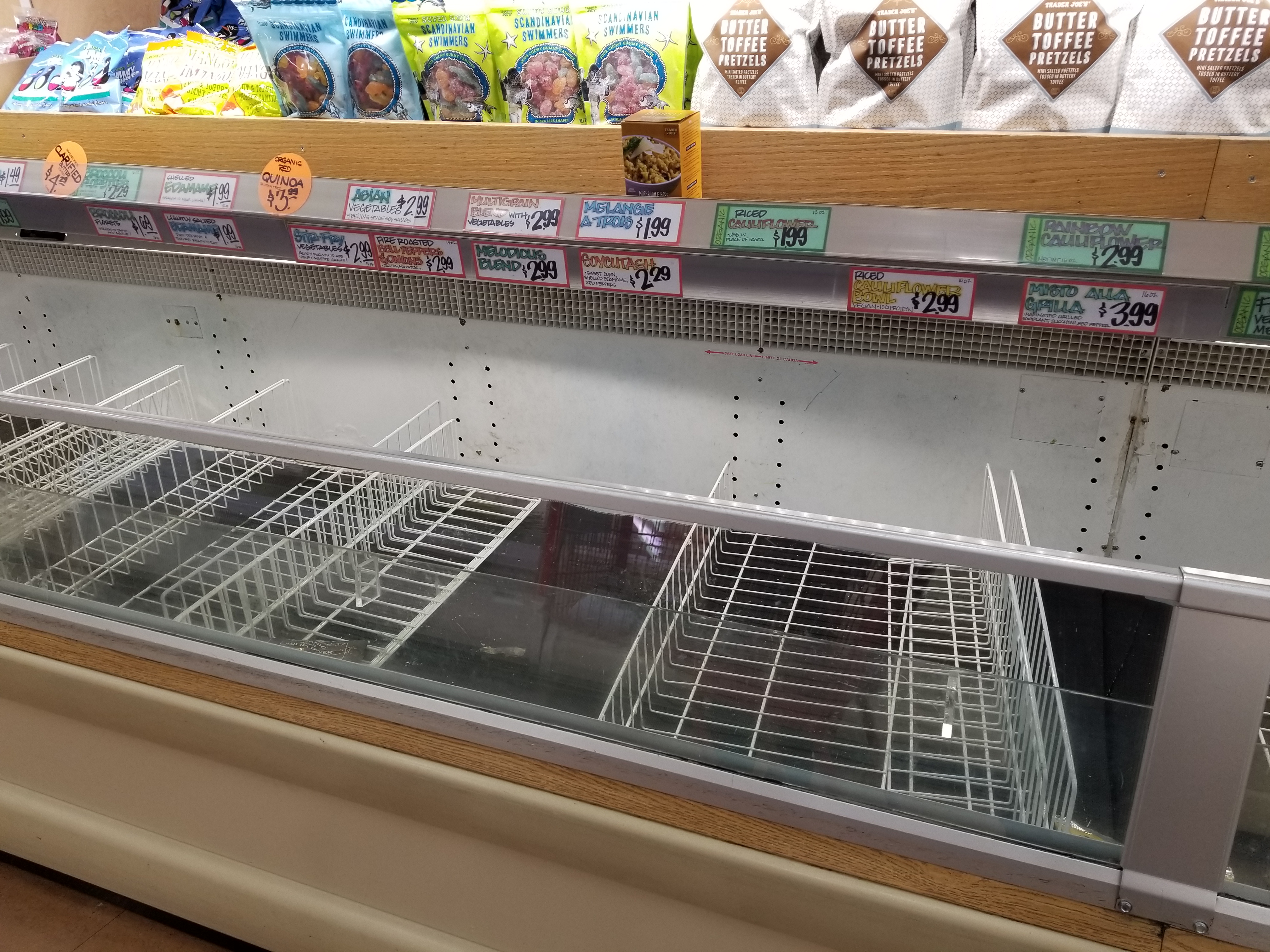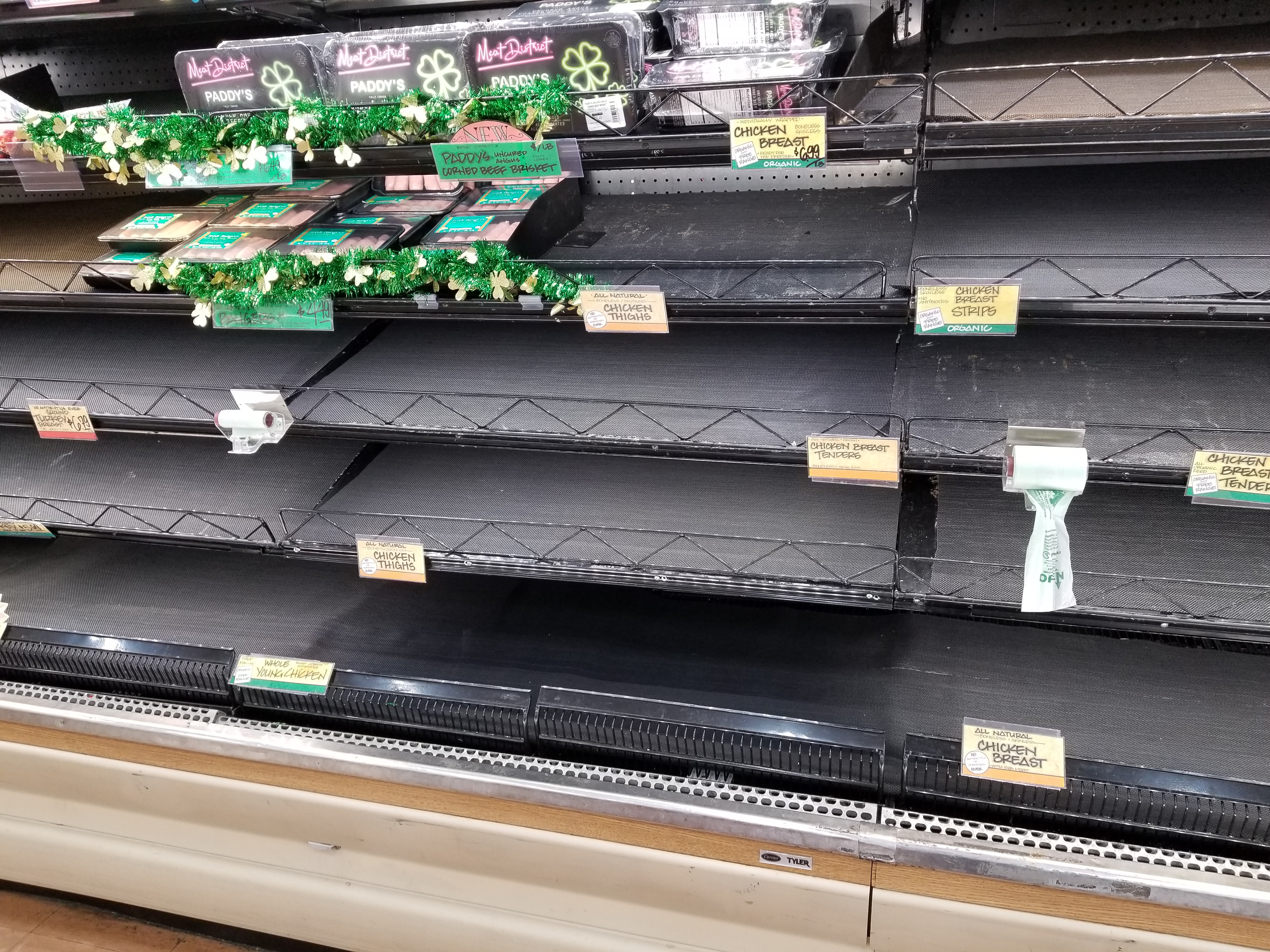 Trader Joes, Arroyo Grande CA (Joyce Thiel photos 03/15/20)
As far as prepping goes, notice the following that came out in the Spring because of COVID related matters:
2020 Is The Year Of The Preppers …

As that reality hits, news of grocery store workers, one of the few businesses marked as "essential" during the lockdowns, quarantines and in the stay-at-home orders, are reportedly dying from the virus. Some stores are closing, others shutting down just long enough to doing a clean sweep to kill any possible traces of the virus on surfaces, while others are using more robots to limit human interaction.

We now see the media is attempting to get President Trump to actually issue a federal order to close grocery stores, something the President diverted away from immediately, but which highlights how quickly people could become dependent on just what they have in their homes at any given moment. …

It will also be preppers that are not totally dependent on the government to feed themselves when all is said and done.

So… we continue to prepare. 04/08/20 https://allnewspipeline.com/In_Stock_Series_Food_Is_An_Issue.php
What about Christians? Should they prepare?
Does it make any sense to be prepared for physical disasters and supply chain problems?
Yes.
Jesus warned that disasters would be part of the "beginning of sorrows" which happen BEFORE the "great tribulation" (Matthew 24:21-22). Notice:
6 And you will hear of wars and rumors of wars. See that you are not troubled; for all these things must come to pass, but the end is not yet. 7 For nation will rise against nation, and kingdom against kingdom. And there will be famines, pestilences, and earthquakes in various places. 8 All these are the beginning of sorrows. (Matthew 24:6-8)
Those sorrows, include pestilences, and they are also involved with the Four Horsemen of the Apocalypse (Revelation 6:1-8).
As far as preparation goes, notice the following:
3 "A prudent man forsees evil and hides himself, But the simple pass on and are punished" (Proverbs 22:3).
Those of us who believe the Bible realize that Jesus foresaw evil times.
Should we be physically prepared?
Notice the following scriptures:
6 Go to the ant, you sluggard!
Consider her ways and be wise,
7 Which, having no captain,
Overseer or ruler,
8 Provides her supplies in the summer,
And gathers her food in the harvest.
9 How long will you slumber, O sluggard?
When will you rise from your sleep?
10 A little sleep, a little slumber,
A little folding of the hands to sleep —
11 So shall your poverty come on you like a prowler,
And your need like an armed man. (Proverbs 6:6-11).

15 "Laziness casts one into a deep sleep, And an idle person will suffer hunger" (Proverbs 19:15).

4 The lazy man will not plow because of winter; He will beg during harvest and have nothing. (Proverbs 20:4)

24 … they are exceedingly wise: 25 The ants are a people not strong, Yet they prepare their food in the summer; (Proverbs 30:24-25)
But won't God provide?
3 "The LORD will not allow the righteous soul to famish" (Proverbs 10:3).
Yes, He will, but look at the next verses:
5 "He who has a slack hand becomes poor, But the hand of the diligent makes rich. He who gathers in the summer is a wise son; He who sleeps in harvest is a son of shame" (Proverbs 10:4-5).
So, the Bible speaks well of those who gather in the seasons when they can.
Notice also something from the New Testament:
10 For even when we were with you, we commanded you this: If anyone will not work, neither shall he eat. 11 For we hear that there are some who walk among you in a disorderly manner, not working at all, but are busybodies. 12 Now those who are such we command and exhort through our Lord Jesus Christ that they work in quietness and eat their own bread. (2 Thessalonians 3:10-12)
You are not just to sit around and expect others to take care of you.
Back in 1966, the old Radio Church of God put out an article that warned of a time when famine would come and advised preparation:
God's Church knows total famine is coming. What should we do as members of the body of Christ? …

God's prophecies emphasize all facts and trends, which show that world famine is just around the corner. Only Possible Solution

What a fantastic blessing it is that there is an Almighty God in heaven. What an incomparable miracle that "Surely the Lord God will do nothing, but He revealeth His secret unto His servants the prophets" (Amos 3:7).

The rulers and planners of this world have based their predictions on the assumption that the weather and growing conditions will remain constant, and that crop yields will increase, not decrease. Not knowing God, they neglected to take prophecy into account. …
God's people know the only possible way to avert a disastrous worldwide famine is through worldwide obedience to God. Will You Suffer in Famine?

Will truly converted Christians be required to undergo the suffering of the coming famine along with the rest of the world? Is there something you can do to prevent it? …

There IS Something You Can Do

The time has come for true believers and members of the body of the Living Jesus Christ to begin thinking about and preparing to save up to "lay by him in store." Jesus Christ commands us to watch (Luke 21:36) the signs and events that were prophesied to come. They are now happening before our very eyes. It is time for us to prepare for the coming, last, worldwide famine. There are ways that all of us can lay aside supplies of food.

There are several commodities of high nutritional value that can satisfactorily and economically be stored for long periods of time. The Bible speaks of high-quality foods such as grain, honey, milk, the fatted calf, and others. The following are suggested basic staples that you will want to consider in beginning your "storehouse": wheat (or other kinds of cereal grains), honey, cheese, smoked meat, canned and frozen meats, fruits and vegetables. Do NOT Become a Pharisee

Understand thoroughly, brethren, before we go into the technical and physical details that NO MANNER OR AMOUNT OF FOOD STORAGE CAN SAVE YOU! Only God can!

If you get to looking to the physical, dedicating all your time, efforts and energies to food storage to save your physical life — then you will be the greatest loser of all time! Read Luke 9:24-25 — "For whosoever will save his life [seek to selfishly maintain his physical life at all costs] shall lose it: but whosoever will lose his life for my sake, the same shall save it. For what is a man advantaged, if he gain the whole world, and lose himself, or be cast away?"

Avoid the extremes!

Don't be super and pseudo-spiritual and declare that you are going to trust the Lord and not do anything for yourself. Remember God's admonition given through Solomon, "Go to the ant, thou sluggard; consider her ways, and be wise: Which having no guide, overseer, or ruler, Provideth her meat in the summer [the time of plenty] and gathereth her food in the harvest." (Proverbs 6:6-8.) We have been warned ahead of time and should do everything within our power to prepare, ALL THE TIME KNOWING ONLY GOD CAN SAVE US THROUGH THESE END-TIME CATASTROPHES!
And DON'T become a food fanatic! Don't look to the physical. Pray for Godly BALANCE. In fact it would be a good idea for you to do JUST THAT RIGHT NOW! (Schurter D. Prepare for Famine! Good News, April-May 1966)

Hopefully, you already have physically prepared. If not, you can try to stock up now or wait a while until food stocks get closer to normal.
For more information see our article: Physical Preparation Scriptures for Christians and/or watch the sermon video: Physical preparedness for Christians.
But what about "doomsday preppers"? Those that believe that they will be safe from "the end of the world as we know it" (sometime called TEOTWAWKI) because they have stocked years of food and other items?
While making physical preparations can be wise (cf. Proverbs 22:23; 30:24-25), those who think that they have considered being prepared for all possible emergency situations that will occur are deceiving themselves.
Christians need to heed Jesus' instructions:
25 For whoever desires to save his life will lose it, but whoever loses his life for My sake will find it. 26 For what profit is it to a man if he gains the whole world, and loses his own soul? Or what will a man give in exchange for his soul? 27 For the Son of Man will come in the glory of His Father with His angels, and then He will reward each according to his works. (Matthew 16:25-27)
This does not mean that no physical preparations should be made: but they will not provide salvation.
As far as physical protection in this age during the time of the Great Tribulation, the Bible teaches that there will be two groups of Christians. One group will be protected and the other will not be:
14 But the woman was given two wings of a great eagle, that she might fly into the wilderness to her place, where she is nourished for a time and times and half a time, from the presence of the serpent. 15 So the serpent spewed water out of his mouth like a flood after the woman, that he might cause her to be carried away by the flood. 16 But the earth helped the woman, and the earth opened its mouth and swallowed up the flood which the dragon had spewed out of his mouth. 17 And the dragon was enraged with the woman, and he went to make war with the rest of her offspring, who keep the commandments of God and have the testimony of Jesus Christ. (Revelation 12:14-17)
Notice the group that is promised protection:
7 "And to the angel of the church in Philadelphia write,

'These things says He who is holy, He who is true, "He who has the key of David, He who opens and no one shuts, and shuts and no one opens": 8 "I know your works. See, I have set before you an open door, and no one can shut it; for you have a little strength, have kept My word, and have not denied My name. 9 Indeed I will make those of the synagogue of Satan, who say they are Jews and are not, but lie — indeed I will make them come and worship before your feet, and to know that I have loved you. 10 Because you have kept My command to persevere, I also will keep you from the hour of trial which shall come upon the whole world, to test those who dwell on the earth. (Revelation 3:7-10)
The above promise of protection was only made to the Philadelphian Christians, yet is was not made to the other churches of Revelation 2 & 3.
Jesus said:
34 "But take heed to yourselves, lest your hearts be weighed down with carousing, drunkenness, and cares of this life, and that Day come on you unexpectedly. 35 For it will come as a snare on all those who dwell on the face of the whole earth. 36 Watch therefore, and pray always that you may be counted worthy to escape all these things that will come to pass, and to stand before the Son of Man." (Luke 21:34-36)
Christians should watch world events and realize their biblical ramifications. They should pray to be accounted worthy to escape what will come to pass. This means that in these times that they need to strive to be a Philadelphian Christian.
NOT ALL CHRISTIANS are promised this protection–per Revelation 12:14-17.
For more on who will be protected and where they will be protected, please check out the article There is a Place of Safety for the Philadelphians. Why it May Be Petra.
Now, preppers are correct that people are foolish to think that the government will be able to help them when things get really bad.
Preppers are right that it is wise to prepare for emergencies and disasters.
Preppers are right to conclude that they should be able to 'live off of the grid' in the event of massive electrical shortages that could be triggered by solar flares, electromagnetic pulse bombs, or other natural and manmade phenomena.
Essentially, they believe that if they have some type of difficult-to-penetrate shelter (bunker), food, water, filtration system, medicines, guns, etc. that they will be able to take care of themselves and be fine.
But most doomsday preppers who think that they will safely ride out the Great Tribulation are basically deceiving themselves.
They correctly believe that by having such things that they will reduce the strain on whatever a government may or may not be able to supply in the event of a massive disaster.
It is not that none will survive the Great Tribulation and the Day of the Lord, but it will be worse than they anticipate.
Some doomsday preppers believe that they will be able to survive in various locations in the USA. Some preppers believe that they will survive in the mountains of Australia. New Zealand is remote and its South Island has a lot of mountains, some of the rich are looking there (see Buying a 'place of safety' in New Zealand is ignoring what the Bible teaches). Still others look to the UK or to remote regions of Canada.
Of course, certain Protestants instead believe that they will be 'raptured' away from the earth prior to the start of the Great Tribulation. While that is their professed hope, the idea is NOT supported by the Bible and is in error (for many biblical details, check out the article Is There A Secret Rapture for the Church? When and Where is the Church Protected?).
Now that Bible shows that some few will escape captivity and will go to the mountains:
16 'Those who survive will escape and be on the mountains
Like doves of the valleys,
All of them mourning,
Each for his iniquity.
17 Every hand will be feeble,
And every knee will be as weak as water. (Ezekiel 7:16-17)
Yet, notice also something from the prophets Amos and Jeremiah:
9 'Assemble on the mountains of Samaria; See great tumults in her midst, And the oppressed within her. 10 For they do not know to do right, 'Says the Lord, 'Who store up violence and robbery in their palaces.'" 11 Therefore thus says the Lord God: "An adversary shall be all around the land; He shall sap your strength from you, And your palaces shall be plundered." 12 Thus says the Lord: "As a shepherd takes from the mouth of a lion Two legs or a piece of an ear, So shall the children of Israel be taken out Who dwell in Samaria — In the corner of a bed and on the edge of a couch! 13 Hear and testify against the house of Jacob,"Says the Lord God, the God of hosts, 14 'That in the day I punish Israel for their transgressions, I will also visit destruction on the altars of Bethel; And the horns of the altar shall be cut off And fall to the ground. (Amos 3:9-14)

19 They pursued us on the mountains And lay in wait for us in the wilderness (Lamentations 4:19).
The above indicates that some will be hiding in the mountains and other places in the USA while others are will be taken out of the USA (which is the prophetic Samaria–see Spiritual Samaritans: Old and New). Most of the Anglos that are not killed will be made slaves. Hiding in the mountains may protect a few for a time, but it will be relatively few that survive that way for long.
They will be pursued.
But didn't Jesus teach to flee to the mountains?
Well, yes for the mountains of Judea:
15 "Therefore when you see the 'abomination of desolation,' spoken of by Daniel the prophet, standing in the holy place" (whoever reads, let him understand), 16 "then let those who are in Judea flee to the mountains. (Matthew 24:15-16)
But He also did not say one should plan to stay in them. Consider that Jesus then added:
17 Let him who is on the housetop not go down to take anything out of his house. 18 And let him who is in the field not go back to get his clothes. 19 But woe to those who are pregnant and to those who are nursing babies in those days! (Matthew 24:17-19)
Now this does not mean that Jesus expected one to go to a stocked bunker. Only that those in Judea who have not fled before they see the abomination will not have time to do anything then but flee. In time, any who are Philadelphian Christians will go elsewhere (see also There is a Place of Safety for the Philadelphians. Why it May Be Near Petra).
Mormons tend to believe that they need to have a year's supply of food on-hand, yet that will not be enough.
It will be so bad that it will take God's intervention to keep any humans alive:
20 And pray that your flight may not be in winter or on the Sabbath. 21 For then there will be great tribulation, such as has not been since the beginning of the world until this time, no, nor ever shall be. 22 And unless those days were shortened, no flesh would be saved; but for the elect's sake those days will be shortened. (Matthew 24:20-22)
The Bible tells of a place of protection for Philadelphian Christians and that is in a wilderness area, apparently in the Middle East.
The mountains of the USA. Australia, New Zealand, Canada, and the UK will not really be a place of protection for many–the place of protection for the Philadelphian Christians will be elsewhere (see There is a Place of Safety for the Philadelphians. Why it May Be Near Petra).
A while back, before the COVID-19 problem emerged, the Continuing Church of God (CCOG) put together the following video on our Bible News Prophecy YouTube channel:
A study came out in August of 2019 showing that so many Americans are so fearful from news reports that more have become doomsday preppers. Meaning that they are storing up food, weapons, and other supplies for an apocalyptic type event to hit the USA. Jesus said sorrows and troubles would come, then a tribulation so bad that unless God intervened, no flesh would be saved alive. Is physical preparation the answer? Should Christians do any type of disaster preparations? Does God have a plan to protect some or all Christians from the coming "hour of trial" that Jesus spoke of? Who is promised protection and who is not? Is keeping the commandments enough? What has Jesus said His people should do? Are you supporting the work that needs to be completed before the end comes? Dr. Thiel addresses these issues and more.
Here is a link to the sermonette: Doomsday Preppers and Preparation.
The Continuing Church of God earlier had put out this sermon on its ContinuingCOG channel:
Ants collect and store up food. But what about Christians? Should Christians make any plans for emergencies or disasters? Should they save in order to give an inheritance? Should Christian work and provide? Who will God help? As far as finances go, will the US dollar collapse? What about gold and silver? Are preppers right? Should you head to New Zealand? Is fleeing to the mountains going to be safe? Do you remember what happened to the Granite Mountain Hot Shots? Will a 'rapture' save Christians? Are there multiple groups of Christians in the end times? If so, which are promised protection by Jesus? Should Christians be 'independent' or should they "gather together" as Zephaniah teaches? Are there physical steps Christians should take?
In the Continuing Church of God, we have always advised that people have several days to several weeks supply of food, water, and other items that they may need in an emergency.
That is consistent with scripture.
Those who have done that are less concerned about running out of basic needs during this current COVID-19 crisis.
Whether or not China makes more preparations, more disasters are coming.
Do not be less physically prepared than an ant.
Do not be less spiritually prepared than a true Philadelphian Christian.
Some items of possibly related interest may include:
Physical Preparation Scriptures for Christians. We all know the Bible prophecies famines. Should we do something? Here is a version in the Spanish language Escrituras sobre Preparación física para los Cristianos. Here is a link to a related sermon: Physical preparedness for Christians.
COVID 19 is NOT the End, but could it be TEOTWAWKI? The novel coronavirus called COVID-19 is wreaking havoc around the world. Many states of the USA as well as countries in Europe are on lockdown with shelter in place /shelter in residence requirements. In France, a form is required when you are not at your house. In Spain, drones are being used to warn people who are outside to got back to their homes–does that bring up feelings of 'Big Brother'? Italy, France, and other areas are using police and/or military force to encourage people to stay inside. According to the Bible could this be the end? If not, what has to happen first? Have the second and third of the four horsemen of the Apocalypse started their ride? Could COVID-19 be the fourth horseman? Why or why not? Could we be seeing The End of the World as We Know It (TEOTWAWKI) like the R.E.M.'s 1987 single song discussed? Do Christians need to fear? What did Jesus teach? What did the Psalmist teach? This is a video. Here is a link to a version in the Spanish language: Corona 19 no es el final PERO es el TEOTWAWKI.
COVID-19 Leading to 666? The novel coronavirus of Wuhan, China fame, is now called COVID-19. It has also been called the 'Coronapocalypse.' Does COVID-19 have any prophetic ramifications? What did Jesus teach about pestilences and sorrows in the Olivet prophecy in Matthew 24? Could COVID-19 be the ride of the fourth horseman of the Apocalypse? Why was this type of disease expected according to the O. Here is a link to a version in the Spanish language: ld Testament prophecies in Deuteronomy and Leviticus? What has the US Centers for Disease Control warned about? What has the CDC reported about the flu? Were there lessons about fear and infections in the 2011 movie 'Contagion'? Because of COVID-19, the World Health Organization (WHO), nation of Iran, and certain French locations are telling people not to use cash, but instead electronic forms of payment. The US Federal Reserve is now quarantining money repatriated from Asia to reduce the potential spread of the coronavirus on US currency bills. Is COVID-19 worse than we have been told or could this all be a 'false flag' event to encourage people to move towards a cashless society? If the thousands of deaths associated with COVID-19 are pushing parts of the world towards cashlessness, how much more likely will the ride of the fourth horseman and over a billion human deaths motivate people to move to making electronic payments that can be monitored? The Bible tells of a soon coming society that controls buying and selling to force allegiance to a coming European Beast power, known as 666 (Revelation 13:16-18). Does the 'great tribulation' begin before ride of the fourth horseman or with the opening of the fifth seal of Revelation 6? Do the words of Jesus helps us better understand the sequence of the four horsemen of the Apocalypse and the start of the Great Tribulation? Will the ride of the fourth horseman help lead to the rise of 666? Is that ride very close? Dr. Thiel addresses these issues and more in this video. Here is a link to a version in the Spanish language: El COVID-19 ¿Conduce al 666?
Biological Warfare and Prophecy Is biological warfare possible? Was it prophesied? Scientists have long warned that pathogenic organisms like the coronavirus could be weaponized. Furthermore, back in 2017, there were concerns that the biological research facility being constructed in Wuhan, China was risky and that a coronavirus from it could be released. On January 25, 2020, China's President Xi Jinping publicly stated that the situation with the Wuhan-related strain of the coronavirus was grave. Did Church of God writers like the late evangelist Raymond McNair warn that engineered viruses (the "Doomsday bug") were consistent with prophecies from Jesus? Did a warning from CCOG leader Bob Thiel warn about risks of genetically-modified (GMO) mosquitoes come to pass? Could human research and/or the consumption of biblically-unclean animals such as bats and snakes be a factor in current outbreaks or coming future pestilences? What about famines? How devastating have pestilences been? How devastating are the prophesied ones going to be? Dr. Thiel addresses these issues and more in this video.
Fourth Horseman of the Apocalypse What is the pale horse of death and pestilences? What will it bring and when? Some related videos may include Amphibian Apocalypse: Threat to Humans?, Zombie Deer Disease is Here! Are the 10 Plagues on Egypt Coming?, and Biological Warfare and Prophecy. Here is a version of the article in Spanish: El cuarto jinete de Apocalipsis, el caballo pálido de muerte y pestilencia.
20 items to prophetically watch in 2020 Much is happening. Dr. Thiel points to 20 items to watch (cf. Mark 13:37) in this article. Here is a link to a related sermon: 20 Prophetic Items to Watch in 2020.
Four Horsemen of the Apocalypse What do each of the four horseman of the Apocalypse represent? Have they began their ride? Did Jesus discuss the any of this? Might their rides coincide with the "beginning of sorrows? Do they start their ride prior to the Great Tribulation? Did Nostradamus or any other 'private prophets' write predictions that may mislead people so that they may not understand the truth of one or more of the four horseman? There is also a related YouTube video titled Sorrows and the Four Horsemen of the Apocalypse.
Preparing for the 'Short Work' and The Famine of the Word What is the 'short work' of Romans 9:28? Who is preparing for it? Here is a link to a related video sermon titled: The Short Work.
There is a Place of Safety for the Philadelphians. Why it May Be Petra This article discusses a biblical 'place of safety' and includes quotes from the Bible and Herbert W. Armstrong on this subject–thus, there is a biblically supported alternative to the rapture theory. There is also a video on the subject: Might Petra be the Place of Safety? Here is something related in the Spanish language: Hay un lugar de seguridad para los Filadelfinos. ¿Puede ser Petra?
Does God Have a 6,000 Year Plan? What Year Does the 6,000 Years End? Was a 6000 year time allowed for humans to rule followed by a literal thousand year reign of Christ on Earth taught by the early Christians? Does God have 7,000 year plan? What year may the six thousand years of human rule end? When will Jesus return? 2027 or 20xx? There is also a video titled The 6000 Year Plan: Is the end of humanity's reign almost up? Here is a link to the article in Spanish: ¿Tiene Dios un plan de 6,000 años?
Is There A Secret Rapture for the Church? When and Where is the Church Protected? What does the Bible really teach? Does the Church flee or is it taken up just prior to the great tribulation? Who really is left behind? There is also a YouTube video with information Did Jesus Teach a Pre-tribulation Rapture?
This is PETRA! This is a 1962 Good News article by the late Dr. Hoeh.
Did Jesus Teach a Pre-tribulation Rapture? Did the Bible teach that Jesus raptures Christians prior to the start of the Great Tribulation? What did Jesus Himself teach? Do the scriptural passages that Tim LaHaye and Jerry Jenkins point to prove their left behind pre-tribulation rapture assertions? Do all Christians get protected from the Great Tribulation? Who does the Bible teach will get protected? Is the Great Tribulation the 'wrath to come' that Christians are promised protection from? This is a video.
When Will the Great Tribulation Begin? 2020, 2021, or 2022? Can the Great Tribulation begin today? What happens before the Great Tribulation in the "beginning of sorrows"? What happens in the Great Tribulation and the Day of the Lord? Is this the time of the Gentiles? When is the earliest that the Great Tribulation can begin? What is the Day of the Lord? Who are the 144,000? Here is a version of the article in the Spanish language: ¿Puede la Gran Tribulación comenzar en el 2020 o 2021? ¿Es el Tiempo de los Gentiles? You can also see the English language sermon videos: The Great Tribulation from the Mount of Olives and Can the Great Tribulation begin before 2020? A shorter and newer video is: Could the Great Tribulation Begin in 2020?
The Times of the Gentiles Has there been more than one time of the Gentiles? Are we in it now or in the time of Anglo-America? What will the final time of the Gentiles be like? A related sermon is available and is titled: The Times of the Gentiles.
Armageddon Who is involved and when will this gathering happen? Here is also a video from Dr. Thiel, from Tel Megiddo in Israel: Armageddon. Other videos include: Armageddon Will it come on Trump's watch?, Iraq, Armageddon, & Prophecy, Freemasonry, Armageddon, and Rome, Is China paving roads to Armageddon?, and Jordan, Petra, and Armageddon.
China, Its Biblical Past and Future, Part 1: Genesis and Chinese Characters Where did the Chinese people come from? Japeth, Javan, Magog? Is there evidence that the Chinese peoples must have known about various accounts in the Book of Genesis up until their dispersion after the Tower of Babel? What do Chinese writings and characters help show? What about the Garden of Eden, Noah's Flood, and the Tower of Babel? Here is a link to a version of this article in Spanish: ¿Prueban los caracteres chinos la exactitud de la Biblia? A related sermon is also available: China's biblical past and prophetic actions.
China, Its Biblical Past and Future, Part 2: The Sabbath and Some of God's Witness in China When did Christianity first come to China? What about the Apostle Thomas? Did Confucius say anything to get the Chinese to possibly consider Christianity? Is there early evidence that they observed the seventh day sabbath? What about the Ten Commandments? What type of Church of God witness has there been to China? What has been happening with China that ties it together with prophecies in Revelation? What about the 200 million man army and Armageddon? What about the Belt and Road Initiative and end time Babylon the Great? A related sermon is also available: China's biblical past and prophetic actions. Watch also China's Silk Road and Babylon the Great.
Asia in Prophecy What is Ahead for Asia? Who are the "Kings of the East"? What will happen to nearly all the Chinese, Russians, Indians, and others of Asia? China in prophecy, where? Who has the 200,000,000 man army related to Armageddon? Two YouTube video are Is China THE Threat to the United States of America? and China: A King of the East.
Attending the Church of Choice This article discusses whose choice is important to worship God; should you attend the church of your choice or the church of God's choice?
Unity: Which COG for You? Why so many groups? Why is there lack of unity in the Churches of God? Has it always been this way? What can/should be done about it? Here is a link to a related sermon: Church of God Unity. Here is a related article in the Spanish language: Unidad: ¿Cuál Iglesia de Dios para usted?
18 Truths Restored to the Churches of God: Mission of the Philadelphia Church Era Herbert W. Armstrong wrote that he felt he had restored at least 18 lost truths to the Church, here is Herbert W. Armstrong's list given 12/17/83. This article also has the 19th and 20th truths that Herbert Armstrong later added–so he claimed at least "20 restored truths." This articles also has links to show that these truths were believed by professors of Christ in earlier times, hence they were not some invention of Herbert Armstrong.. Here is a related link in Spanish/español: Lista de Herbert W. Armstrong de las 18 verdades restauradas. As far as the mission goes, here is a link to a sermon: Mission of the Remnant of the Philadelphia Church Era. Here are links to a related two-part sermon: The 18 Restored Truths: 1-8 and The 18 Restored Truths: 9-18.
Do You Believe God Used Herbert W. Armstrong to Raise Up the Philadelphia Era of the Church of God? Nearly everyone while in WCG used to believe this, most do not seem to anymore.
The Elijah Heresies Does the Bible teach that there will be a future Elijah? Must it be Herbert W. Armstrong? Two related sermons are available Elijah: Prophecies and Heresies and Elijah, Herbert W. Armstrong, and CCOG.
The Bible, Peter, Paul, John, Polycarp, Herbert W. Armstrong, Roderick C. Meredith, and Bob Thiel on Church Government What form of governance did the early church have? Was it hierarchical? Which form of governance would one expect to have in the Philadelphia remnant? The people decide and/or committee forms, odd dictatorships, or the same type that the Philadelphia era itself had? What are some of the scriptural limits on ecclesiastical authority? Do some commit organizational idolatry? Here is a Spanish language version La Biblia, Policarpo, Herbert W. Armstrong, y Roderick C. Meredith sobre el gobierno de la Iglesia. Here is a link to a sermon titled Church Governance.
Is Second Tithe and Third Tithe Still Valid Today? Should you save and use second tithe? Some in the COGs no longer teach payment of third tithe, is this biblically correct?
The Philadelphia Remnant: It's All About Love This is what CCOG teaches. It is important to remember. A related video is available: Nairobi Conference: All About Love.
What is a True Philadelphian? Many claim to be part of the Philadelphia era of the Church, but is claiming enough? This article has biblical and historical evidence about who really are the Philadelphians.
Are the Laodiceans the Modern Sadducees and Pharisees? Discusses similarities of the Sadducees and Pharisees to various COGs in this end-time.
Spiritual Samaritans: Old and New Who were the Samaritans? Do the represent true Christianity or something else? Here is a link to a related sermon: USA in Prophecy: Samaria.
Herbert W. Armstrong, the Philadelphia Church, & the Mantle Herbert Armstrong claims God had him raise the Philadelphia up. Are there reasons to believe that the Philadelphia mantle in now within the CCOG? Here is a link to a related sermon: Herbert W. Armstrong and the Philadelphia Mantle.
The Philadelphia Church Era was predominant circa 1933 A.D. to 1986 A.D. The old Radio Church of God and old Worldwide Church of God, now essentially the most faithful in the Church of God, which is best represented by the Continuing Church of God.