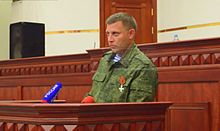 Aleksandr Zakharchenko (newsanna)
A major separatist leader in eastern Ukraine, who was assassinated in a car bomb Friday, was laid to rest:
2 September 2018

Tens of thousands of mourners paid their respects to Ukrainian separatist leader Alexander Zakharchenko in the rebel-stronghold of Donetsk on Friday.

Zakharchenko, the 42-year-old chief of the self-proclaimed Donetsk People's Republic, was killed in a bomb attack at a Donetsk cafe on Friday, becoming the four-year conflict's most high-profile killing in the Moscow-backed side.

His bodyguard also died during the attack and 12 people were injured.

A representative of the local authorities estimated that about 100,000 people came to pay their respects, while a correspondent from French news agency AFP said the number was closer to 30,000.

Huge billboards could be seen the city centre emblazoned with pictures of Zakharchenko and his quotes, such as: "All of us have one Motherland — Russia."

In a statement published by the Donetsk republic's official news agency, Russian President Putin's aide Vladislav Surkov described Zakharchenko as a "brother." …

Putin's spokesman Dmitry Peskov and Russian Foreign Minister Sergei Lavrov have said the high-profile murder was a provocation and would derail the long-stalled, Western-brokered peace process. https://www.dw.com/en/ukraine-separatists-mourn-donetsk-leader-zakharchenko/a-45324994
Perhaps I should mention that the last two times I am aware of when the people of Donetsk voted, the West would not recognize their vote.
Those in part of eastern Ukraine often seem to have a different view than western Ukraine.
It appears that many in Donetsk want to basically be independent, want Kiev-related troops to go away, want to make Donetsk's own economic deals, and probably will want to either officially join Russia or at least join its Eurasian Union.
As I have mentioned before, biblically, because of prophecies involving the Medes (Jeremiah 51:11-32), some of which are in Ukraine, and those in the "north and east" in Daniel 11:44, it would seem that Russia would be closer to at least parts of Ukraine (like some of the eastern portions of it) in the end than many realize. There is also a YouTube video available related to this titled Ukraine in Prophecy?
The situation in the eastern portion of Ukraine remains volatile. Kiev does not like what is happening in the east and many in the east now wish to be distant from Kiev.
Russia wants Ukraine and would prefer that all of it become part of its Eurasian Union. Short of that, it would seem that Russia would at least be interested in eastern regions like Donetsk to become part of Russia itself or at least the Eurasian Union.
The West, however, is not pleased and wants all of Ukraine to be part of the West.
Western Ukraine leans heavily towards wanting to be in the European Union, whereas parts of eastern Ukraine seem to prefer to align with Russia's Eurasian Union.
Years ago, and before Russia annexed Crimea, I wrote that we could see a split in Ukraine. We may see another split in Ukraine in the future.
Of course, neither Russia nor the European Union are the answer for what ails Ukraine. Those there need repentance and the Kingdom of God. But that is not the direction that most will choose in this age.
Religion and Ukraine was also in the news.
2 September 2018

Ukraine's push for clerical independence from Russia is reaching its final stage. On August 31, Russian Patriarch Kirill personally traveled to Istanbul to visit the Patriarch of Constantinople Bartholomew, presumably to urge Bartholomew not to grant Kyiv's request.

Kirill claims authority over Orthodox believers in Ukraine. However, Orthodox Christians in that country are currently divided between a semi-autonomous branch loyal to Moscow and Kirill, and the one lead by the unrecognized Ukrainian Patriarch Filaret. The fighting in east Ukraine aggravated the dispute and prompted Kyiv lawmakers to enter the fray. Both the lawmakers and the President Petro Poroshenko have recently urged Patriarch Bartholomew of Constantinople to recognize the Kyiv branch.

To make things more complicated, Ukraine also has a third Orthodox Church, which cropped up in 1920s as a response to Soviet repression. https://www.dw.com/en/politics-powers-and-struggle-over-ukraines-orthodox-church/a-45325235

2 September 2018

Metropolitan Emmanuel did not say that the Ecumenical Patriarchate had decided to grant autocephaly to the church in Ukraine," the UOC-MP said in a statement.

It noted that Metropolitan Emmanuel had said after the meeting that the Ecumenical Patriarchate had decided to consider all the ways how the autocephaly of the Ukrainian Orthodox Church might be proclaimed.

"This decision was made in April, and we are already implementing this decision, and the Ecumenical Patriarchate also informed Patriarch Kirill about this during his visit," the UOC-MP quoted Metropolitan Emmanuel as saying.

It stressed that this statement no way meant that granting autocephaly was an approved decision". …

Orthodox churches operating in Ukraine, aside from the canonical Ukrainian Orthodox Church of the Moscow Patriarchate (UOC-MP) — a self-governing church within the Moscow Patriarchate — also include those that are not recognized by the Ecumenical Patriarchate, such as the Ukrainian Orthodox Church — Kyiv Patriarchate (UOC-KP) and the Ukrainian Autocephalous Orthodox Church (UAOC).

Ukrainian President Petro Poroshenko is trying to achieve recognition of non-canonical institutions and to create a single local autocephalous church based on them. https://sputniknews.com/europe/201809021067679051-ukraine-orthodox-church-autocephaly-grant-refute/
Essentially, both the Patriarch of Russia and the Patriarch of Constantinople can point to historical reasons why Ukraine should be under their patriarchy (see https://www.dw.com/en/politics-powers-and-struggle-over-ukraines-orthodox-church/a-45325235). Patriarch Bartholomew does not want to alienate Patriarch Kirill unnecessarily for at least two reasons: 1) The Russian Orthodox represents the largest block of Eastern Orthodox and 2) Patriarch Bartholomew wants ecumenical unity and really wants Patriarch Kirill's concurrence on that. But Patriarch Bartholomew wants to also support Ukrainian claims for ties to his patriarchy. That may be why his office stated that Metropolitan Emmanuel did not say that the Ecumenical Patriarchate had decided to grant autocephaly to the church in Ukraine.
No matter what happens with the Ukrainian Orthodox, I believe that, in the future based on biblical prophecies (e.g. Revelation 13), and for a time, the Russian Orthodox will go along with some of Constantinople's ecumenical plans. But I also believe, based on prophecies such as in Jeremiah 50, that the Russians and the Russian Orthodox will one day turn against the Beast power that will arise in Europe.
And that Russian led power will include, at least some in Ukraine.
Some items of possibly related interest may include:
Russia and Ukraine: Origins and Prophesied Future Where do the Russians come from? What about those in the Ukraine? What is prophesied for Russia and its allies? What will they do to the Europeans that supported the Beast in the end? You can also watch the short video Ukraine in Prophecy?
Russia in the Bible and in Prophecy Is Russia mentioned in the Bible? It it is where is it? Is there any evidence of a people moving to the land that the Russians now occupy? What do Catholic and other prophecies say about Russia? What does the Bible teach? How are Protestants often in error on this? Is there more in biblical prophecy for Russia than war? Does God have a plan to save Russia and her allies? Does Russia have a history involving Sabbath keepers? Does scripture tie Russia in with Armageddon? Will Russia help defeat the end time Babylonian power? This is a video.
Christian Repentance Do you know what repentance is? Is it really necessary for salvation? A related sermon is also available titled: Real Christian Repentance.
The Gospel of the Kingdom of God This free online pdf booklet has answers many questions people have about the Gospel of the Kingdom of God and explains why it is the solution to the issues the world is facing. Here are links to three related sermons: The World's False Gospel, The Gospel of the Kingdom: From the New and Old Testaments, and The Kingdom of God is the Solution.
Europa, the Beast, and Revelation Where did Europe get its name? What might Europe have to do with the Book of Revelation? What about "the Beast"? Is an emerging European power "the daughter of Babylon"? What is ahead for Europe? Here is a link to a video titled: Can You Prove that the Beast to Come is European?
European Technology and the Beast of Revelation Will the coming European Beast power would use and develop technology that will result in the taking over of the USA and its Anglo-Saxon allies? Is this possible? What does the Bible teach? Here is a related YouTube video: Military Technology and the Beast of Revelation.
Must the Ten Kings of Revelation 17:12 Rule over Ten Currently Existing Nations? Some claim that these passages refer to a gathering of 10 currently existing nations together, while one group teaches that this is referring to 11 nations getting together. Is that what Revelation 17:12-13 refers to? The ramifications of misunderstanding this are enormous.
World War III: Steps in Progress Are there surprising actions going on now that are leading to WWIII? Might a nuclear attack be expected? Does the Bible promise protection to all or only some Christians? How can you be part of those that will be protected? A related video would be Is World War III About to Begin? Can You Escape?
Is Russia the King of the North? Some claim it is. But what does the Bible teach? Here is a link to a video, also titled Is Russia the King of the North?
The Eurasian Union, the Kings of the East, and Bible Prophecy Is there a Eurasian union that will be formed? Is one being formed right now? Are any leaders working on that in the 21st century? Does the Bible teach that there will be a Eurasian union? If some type of Eurasian union is formed, who might it benefit and who will it destroy? A related video would be Is The Eurasian Union Rising?
Who is the King of the North? Is there one? Do biblical and Roman Catholic prophecies for the Great Monarch point to the same leader? Should he be followed? Who will be the King of the North discussed in Daniel 11? Is a nuclear attack prophesied to happen to the English-speaking peoples of the United States, Great Britain, Canada, Australia, and New Zealand? When do the 1335 days, 1290 days, and 1260 days (the time, times, and half a time) of Daniel 12 begin? When does the Bible show that economic collapse will affect the United States? In the Spanish language check out ¿Quién es el Rey del Norte? Here is a link to a video titled: The Future King of the North.
Some Similarities and Differences Between the Eastern Orthodox Church and the Continuing Church of God Both groups claim to be the original church, but both groups have differing ways to claim it. Both groups have some amazing similarities and some major differences. Do you know what they are?
Why Should American Catholics Fear Unity with the Orthodox? (And the Protestants) Are the current ecumenical meetings a good thing or will they result in disaster? Is doctrinal compromise good? Here is a link to a related video Should you be concerned about the ecumenical movement?