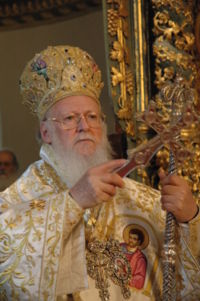 Born as Dimitrios Arhondonis, he has been known as the Ecumenical Patriarch Bartholomew I of Constantinople since 1991
Having recently been to Turkey this year and having visited the enclave of the Ecumencal Patriarche of Constantinople, I found the following news story of interest:
Orthodox Christianity under threat
International Herald Tribune…
Prime Minister Recep Tayyip Erdogan of Turkey … has shown no inclination to extend even a modicum of religious freedom to the most revered Christian institution in Turkey – the Patriarchate of Constantinople, the spiritual center of 300 million Orthodox Christians throughout the world. As a result, Turkey's persecution of the Patriarchate looms as a major obstacle to its European aspirations, and rightly so.
The Ecumenical Patriarchate, which was established in the fourth century and once possessed holdings as vast as those of the Vatican, has been reduced to a small, besieged enclave in a decaying corner of Istanbul called the Phanar, or Lighthouse. Almost all of its property has been seized by successive Turkish governments, its schools have been closed and its prelates are taunted by extremists who demonstrate almost daily outside the Patriarchate, calling for its ouster from Turkey.
The ecumenical patriarch, Bartholomew I, is often jeered and threatened when he ventures outside his walled enclave. He is periodically burned in effigy by Turkish chauvinists and Muslim fanatics. Government bureaucrats take pleasure in harassing him, summoning him to their offices to question and berate him about irrelevant issues, blocking his efforts to make repairs in the few buildings still under his control, and issuing veiled threats about what he says and does when he travels abroad.
Successive Turkish governments have followed policies that deliberately belittle the patriarch, refusing to recognize his ecumenical status as the spiritual leader of a major religious faith but viewing him only as the head of the small Greek Orthodox community of Istanbul. http://www.iht.com/articles/2008/09/08/opinion/edgage.php
While he may not get respect from certain Turkish politicians, Pope Benedict XVI (who has visited him) does show him respect and certainly wants the Orthodox Patriarch to support Rome.
But it is Rome, and not Turkey, that provides the biggest real threat to the Orthodox.
Two articles of possibly related interest may include:
Some Similarities and Differences Between the Orthodox Church and the Churches of God Both groups have some amazing similarities and some major differences. Do you know what they are?
Orthodox Must Reject Unity with the Roman Catholics The Bible warns the Orthodox against this unity as do some Catholic prophecies.  The Orthodox need to heed these warnings now.