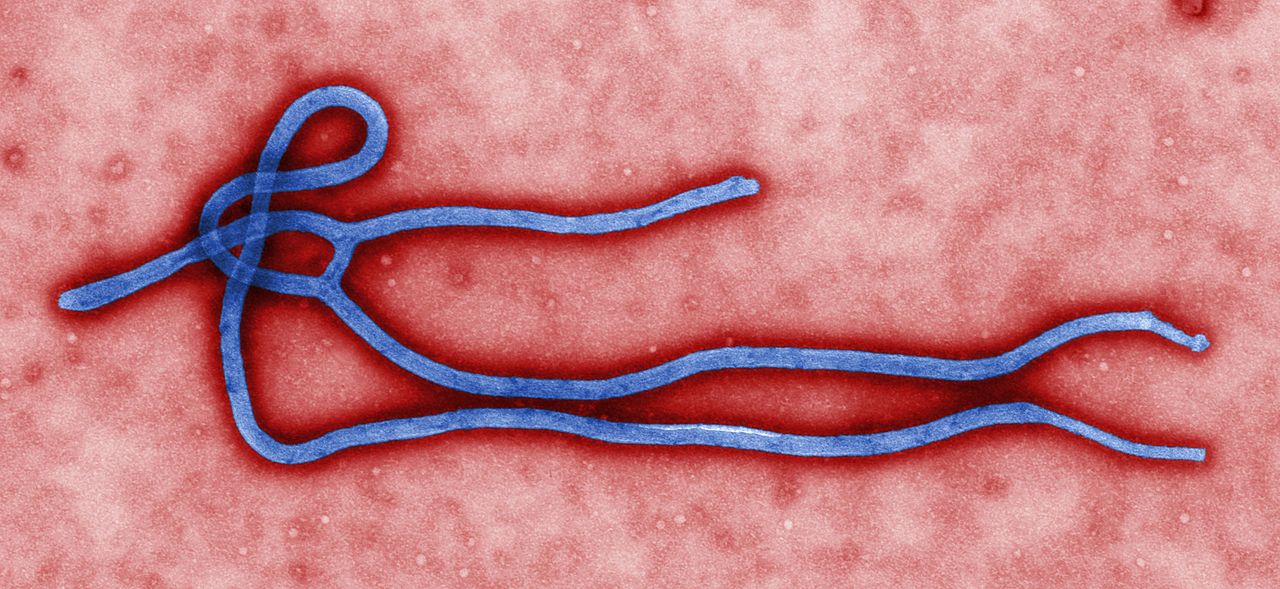 Ebola virus virion
The Associated Press is reporting that the health care system of the USA cannot handle a massive outbreak of Ebola, should such an event occur:
October 29, 2014

AP IMPACT: US HEALTH CARE UNPREPARED FOR EBOLA

BY JEFF DONN AND GARANCE BURKE
ASSOCIATED PRESS

The U.S. health care apparatus is so unprepared and short on resources to deal with the deadly Ebola virus that even small clusters of cases could overwhelm parts of the system, according to an Associated Press review of readiness at hospitals and other components of the emergency medical network.

Experts broadly agree that a widespread outbreak across the country is extremely unlikely, but they also concur that it is impossible to predict with certainty, since previous Ebola epidemics have been confined to remote areas of Africa. And Ebola is not the only possible danger that causes concern; experts say other deadly infectious diseases – ranging from airborne viruses such as SARS, to an unforeseen new strain of the flu, to more exotic plagues like Lassa fever – could crash the health care system.  …

AP reporters frequently heard assessments that generally, the smaller the facility, the less prepared, less funded, less staffed and less trained it is to fight Ebola and other deadly infectious diseases.

"The place I worry is: Are most small hospitals adequately prepared?" said Dr. Ashish Jha, a Harvard University specialist in health care quality and safety. "It clearly depends on the hospital."  http://hosted.ap.org/dynamic/stories/U/US_EBOLA_US_HEALTH_CARE_PREPAREDNESS?SITE=AP&SECTION=HOME&TEMPLATE=DEFAULT&CTIME=2014-10-29-12-25-52
This is starting to have political ramifications as it is not just small facilities that are having issues:
October 29, 2014

WASHINGTON — President Barack Obama's commander in the fight against Ebola was expected to operate below the public radar. But did that mean invisible?

Ron Klain has barely been seen, and a week before midterm elections, Obama is pressing to dispel criticism that the government can't manage the Ebola crisis.

The White House's behind-the-scenes coordination of the Ebola response is being severely tested, while the Pentagon and states like New York and New Jersey take public steps that are far firmer than federal guidelines. That's creating the appearance of a crazy quilt of Ebola measures. http://nypost.com/2014/10/29/why-has-obamas-ebola-czar-been-invisible/

October 29, 2014

NASHVILLE, Tenn. (AP) — Former Florida Gov. Jeb Bush on Tuesday criticized President Barack Obama's initial handling of the Ebola crisis as "incompetent," saying it gave rise to unneeded fears among the American public about the virus.Bush, who is the latest potential Republican presidential candidate to attack the president over Ebola, also said in a wide-ranging discussion at Vanderbilt University that he supports travel restrictions for people who have been to the most severely affected countries in Africa.

Bush said Obama should have been more "clear and concise" about his plans, and lent more credibility to health officials leading the response.

"It looked very incompetent to begin with, and that fueled fears that may not be justified," Bush said. "And now you have states that are legitimately acting on their concerns, creating a lot more confusion than is necessary."  http://www.aol.com/article/2014/10/29/jeb-bush-obama-handling-of-ebola-incompetent/20985745/?icid=maing-grid7%7Chtmlws-main-bb%7Cdl1%7Csec1_lnk2%26pLid%3D554182
There are risks from Ebola.  As far as steps go, I agree with the Pentagon having a three week quarantine for soldiers in Ebola affected regions, prior to them re-entering the general population.  I disagree with those, including President Barack Obama, who do not believe that others, like healthcare workers should be subject to a three week quarantine.  Ebola is a deadly contagious disease and should be thought of that way.
Ebola also should serve as a warning, a precursor of pestilences to come (watch also Ebola, Pestilence, and 2016?).
The time will come when the USA's health care system absolutely WILL BREAK DOWN.  Pestilence, in the future, WILL SEVERELY HARM THE USA.  Currently, it does not look like it has yet learned enough from the Ebola outbreak to prepare for what is ahead.
Some items of possibly related interest may include:
Ebola, Pestilence, and 2016? The World Health Organization says the Ebola epidemic is the most severe acute public health emergency seen in modern times and kills 71% who contract it. What does the United Nations say? Is Ebola a pestilence related to the four horsemen of the apocalypse? Is a questionable prediction that all humans will die from infection in 2016 possible?
Fourth Horseman of the Apocalypse What is the pale horse of death and pestilences? What will it bring and when? Spanish: El cuarto jinete de Apocalipsis, el caballo pálido de muerte y pestilencia.
Four Horsemen of the Apocalypse What do each of the four horseman of the Apocalypse represent? Have they began their ride? Did Jesus discuss the any of this? Might their rides coincide with the "beginning of sorrows? Do they start their ride prior to the Great Tribulation? Did Nostradamus or any other 'private prophets' write predictions that may mislead people so that they may not understand the truth of one or more of the four horseman? There is also a related YouTube video titled The Four Horsemen of the Apocalypse.
When Will the Great Tribulation Begin? 2014, 2015, or 2016? Can the Great Tribulation begin today? What happens before the Great Tribulation in the "beginning of sorrows"? What happens in the Great Tribulation and the Day of the Lord? Is this the time of the Gentiles? When is the earliest that the Great Tribulation can begin? What is the Day of the Lord? Who are the 144,000? Here is a version of the article in the Spanish language: ¿Puede comenzar la Gran Tribulación en 2013 o 2014? ¿Es el Tiempo de los Gentiles? You can also see the English language sermon video: The Great Tribulation from the Mount of Olives.
United Nations: Humankind's Last Hope or New World Order? Is the UN the last hope for humanity? Or might its goals end up with sinister results? A related video would be United Nations and Vatican Are Planning the New World Order.
Barack Obama, Prophecy, and the Destruction of the United States-Second Edition for Second Obama Term This is a 160 page book for people truly interested in prophecies related to Barack Obama and the United States, including learning about many that have already been fulfilled (which the book documents in detail) and those that will be fulfilled in the future. It also has a chapter about a Republican choice. This book is available to order at www.barackobamaprophecy.com. The physical book can also be purchased at Amazon from the following link: Barack Obama, Prophecy, and the Destruction of the United States: Is Barack Obama Fulfilling Biblical, Islamic Catholic, Kenyan, and other America-Related Prophecies? What About Republican Leaders? Second Edition for Second Obama Term.
Barack Obama, Prophecy, and the Destruction of the United States-Second Term-Amazon Kindle edition. This electronic version is available for only US$2.99. And you do not need an actual Kindle device to read it. Why? Amazon will allow you to download it to almost any device: Please click HERE to download one of Amazon s Free Reader Apps. After you go to for your free Kindle reader and then go to Barack Obama, Prophecy, and the Destruction of the United States-Second Term-Amazon Kindle edition.