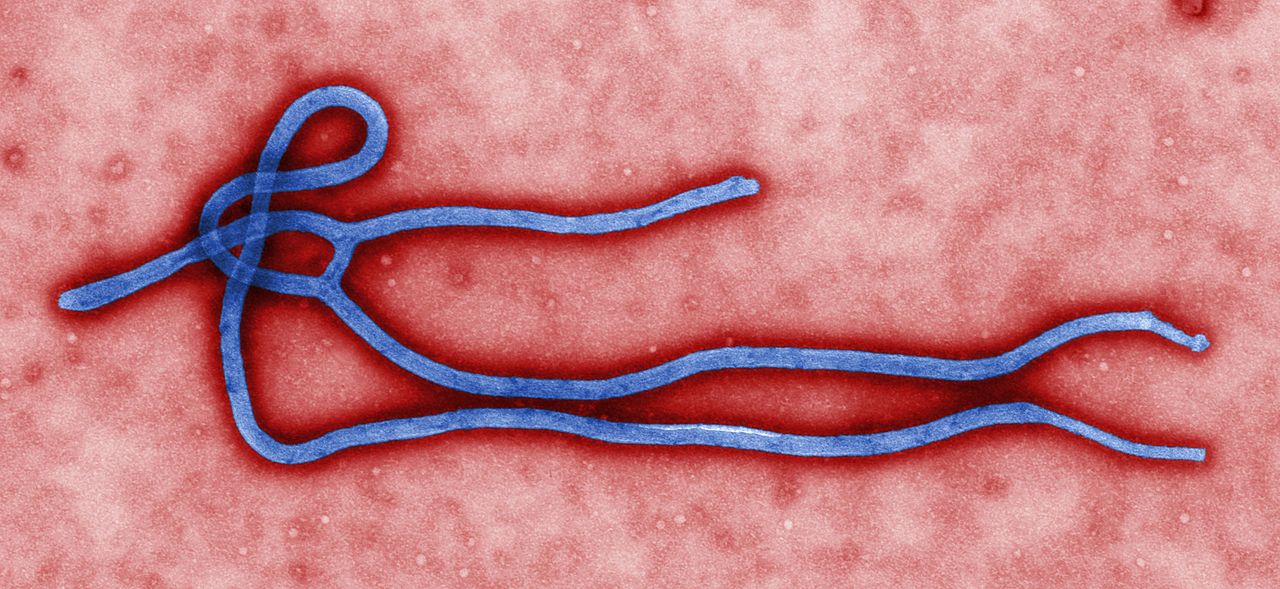 Ebola virus virion
Ebola is now in the USA and some officials are claiming that the USA is not ready to deal with pestilential pandemics, while others have a different view.  Notice some items mainly related to the Texas situation:
October 1, 2014

The state of Texas' health department says it has no other suspected cases of Ebola beyond the one confirmed Tuesday.

The statement came via Twitter on Wednesday, a day after U.S. medical authorities confirmed a case of Ebola virus in a male patient in the city of Dallas. …

The Ebola-diagnosed patient is believed to have been infected with the potentially deadly virus in Liberia.  He started showing symptoms days after he arrived in Dallas on September 20.

The unidentified patient was hospitalized last Sunday at Texas Heath Presbyterian Hospital, is now in strict isolation and listed as in serious condition.

Hospital officials have acknowledged that the man initially came to the hospital two days earlier and was sent home with antibiotics.  http://www.voanews.com/content/in-dallas-us-health-experts-review-potential-ebola-exposure/2468674.html

October 1, 2014

Ebola Strikes Again: Second Person Suspected Of Ebola Virus Under Watch, Dallas TX http://b4in.org/s9SP

CDC and Texas Health officials are closely monitoring a possible second Ebola patient who had close contact with the first Ebola patient to be diagnosed in the U.S., the director of Dallas County's health department said Wednesday.  https://plus.google.com/+BeforeItsNewsAlto_News/posts/5yqtkmqLpT9

October 1, 2014

Health officials have so far identified between 12 and 18 people that the U.S. Ebola patient may have come in contact with while contagious, an official said at a press conference Wednesday. None of these contacts has shown symptoms, he said. The CDC is still looking for any additional contacts.

Some school-age children have been in contact with the U.S. Ebola patient being treated in Dallas, Texas Gov. Rick Perry said Wednesday.

Five students at four different schools have come into contact with the Ebola patient, Dallas Superintendent Mike Miles added, but none has exhibited symptoms. The children are being monitored at home, and the schools remain open, Miles said.

Concern about the possible spread of the killer virus comes less than a day after the Centers for Disease Control and Prevention announced that, for the first time, a person with Ebola was diagnosed on American soil. …

The CDC has ramped up a national effort to stem the spread of Ebola, and in September President Barack Obama spoke at CDC headquarters in Atlanta. He called the virus a global health and security threat, and pledged U.S. assistance to the affected countries to try to stem the tide of the disease.  http://www.cnn.com/2014/10/01/health/ebola-us/
A reader sent me a link to the following:
After first Ebola case, red flags emerge that U.S. unprepared for pandemic 

The confirmation Tuesday of the first Ebola case on U.S. soil emerges against a backdrop of increasing concern in America's medical community that preparedness for a pandemic has stagnated or slipped in recent years because of tough economic times and increasing malaise since the 2001 anthrax threat…

The concerns, however, extend far beyond financial resources. The Department of Homeland Security inspector general issued a scathing report in September warning the department was woefully prepared for a pandemic, with expired medicines and inadequate resources to effectively equip its top responders in the field.

"DHS may not be able to provide sufficient pandemic preparedness supplies to its employees to continue operations during a pandemic," the agency's watchdog declared in a report made public Sept. 1.

"Without sufficiently determining its needs, the department has no assurance it will have an adequate amount of antiviral [drugs] to maintain critical operations during a pandemic," the report said, warning of the effects for offices such as the Secret Service, U.S. Customs and Border Protection and the Transportation Security Administration.  http://www.washingtontimes.com/news/2014/sep/30/after-first-ebola-case-fears-turn-us-pandemic-prep/
NBC reported the following:
"We will stop Ebola in its tracks in the U.S.," Dr. Tom Frieden, director of the Centers for Disease Control and Prevention, says confidently, over and over. But how can we be sure?

Many Americans are mistrustful. "Sorry I am not confident in their confidence that it won't spread… that is what they told us when they brought the 3 infected folks here… it will spread it is just a matter of how fast," Wendy Head-Chapman writes on NBC News Health's Facebook page. "Government can't be trusted," chimes in Janet Calderone McElroy.

But the CDC knows it does not pay to lie to people about disease, says Dr. Tom Inglesby, director of the University of Pittsburgh Medical Center's Center for Health Security, a think-tank dedicated to health threats.

"They know it would be a terrible mistake for the institution, a terrible strategy, and they just won't do it," Inglesby told NBC News. "People are learning what is known by the CDC when the CDC learns it." http://www.nbcnews.com/storyline/ebola-virus-outbreak/outbreak-jitters-how-can-we-trust-cdc-ebola-n215981
Nearly 2000 years ago, on the Mount of Olives just outside of Jerusalem, Jesus warned that pestilences and problems were expected:
4 And Jesus answered and said to them: "Take heed that no one deceives you. 5 For many will come in My name, saying, 'I am the Christ,' and will deceive many. 6 And you will hear of wars and rumors of wars. See that you are not troubled; for all these things must come to pass, but the end is not yet. 7 For nation will rise against nation, and kingdom against kingdom. And there will be famines, pestilences, and earthquakes in various places. 8 All these are the beginning of sorrows. (Matthew 24:4-8)
There are risks from Ebola.
Ebola should serve as a warning, a precursor of pestilences to come (watch also Ebola, Pestilence, and 2016?).
Some items of possibly related interest may include:
Ebola, Pestilence, and 2016? The World Health Organization says the Ebola epidemic is the most severe acute public health emergency seen in modern times and kills 71% who contract it. What does the United Nations say? Is Ebola a pestilence related to the four horsemen of the apocalypse? Is a questionable prediction that all humans will die from infection in 2016 possible?
Fourth Horseman of the Apocalypse What is the pale horse of death and pestilences? What will it bring and when? Spanish: El cuarto jinete de Apocalipsis, el caballo pálido de muerte y pestilencia.
Four Horsemen of the Apocalypse What do each of the four horseman of the Apocalypse represent? Have they began their ride? Did Jesus discuss the any of this? Might their rides coincide with the "beginning of sorrows? Do they start their ride prior to the Great Tribulation? Did Nostradamus or any other 'private prophets' write predictions that may mislead people so that they may not understand the truth of one or more of the four horseman? There is also a related YouTube video titled The Four Horsemen of the Apocalypse.
When Will the Great Tribulation Begin? 2014, 2015, or 2016? Can the Great Tribulation begin today? What happens before the Great Tribulation in the "beginning of sorrows"? What happens in the Great Tribulation and the Day of the Lord? Is this the time of the Gentiles? When is the earliest that the Great Tribulation can begin? What is the Day of the Lord? Who are the 144,000? Here is a version of the article in the Spanish language: ¿Puede comenzar la Gran Tribulación en 2013 o 2014? ¿Es el Tiempo de los Gentiles? You can also see the English language sermon video: The Great Tribulation from the Mount of Olives.
Africa: Its Biblical Past and Prophesied Future What does the Bible teach about Africa and its future? Did the early Church reach Africa? Will God call all the Africans?
United Nations: Humankind's Last Hope or New World Order? Is the UN the last hope for humanity? Or might its goals end up with sinister results? A related video would be United Nations and Vatican Are Planning the New World Order.
Barack Obama, Prophecy, and the Destruction of the United States-Second Edition for Second Obama Term This is a 160 page book for people truly interested in prophecies related to Barack Obama and the United States, including learning about many that have already been fulfilled (which the book documents in detail) and those that will be fulfilled in the future. It also has a chapter about a Republican choice. This book is available to order at www.barackobamaprophecy.com. The physical book can also be purchased at Amazon from the following link: Barack Obama, Prophecy, and the Destruction of the United States: Is Barack Obama Fulfilling Biblical, Islamic Catholic, Kenyan, and other America-Related Prophecies? What About Republican Leaders? Second Edition for Second Obama Term.
Barack Obama, Prophecy, and the Destruction of the United States-Second Term-Amazon Kindle edition. This electronic version is available for only US$2.99. And you do not need an actual Kindle device to read it. Why? Amazon will allow you to download it to almost any device: Please click HERE to download one of Amazon s Free Reader Apps. After you go to for your free Kindle reader and then go to Barack Obama, Prophecy, and the Destruction of the United States-Second Term-Amazon Kindle edition.