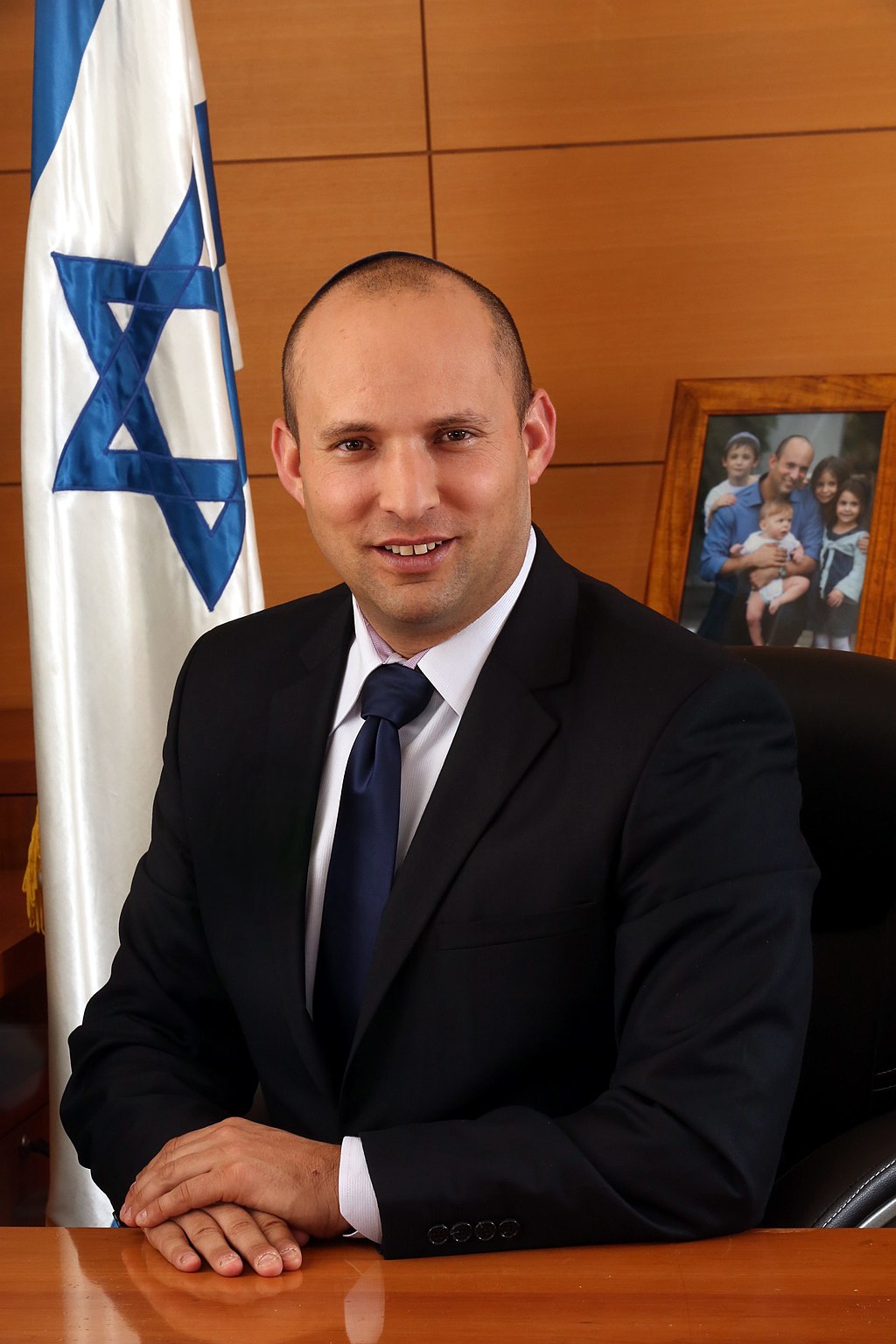 Naftali Bennett (Wikipedia)
The Associated Press reported the following:
What will change under Israel's new government?

June 11, 2021

JERUSALEM (AP) — If all goes according to plan, Israel will swear in a new government on Sunday, ending Prime Minister Benjamin Netanyahu's record 12-year rule and a political crisis that inflicted four elections on the country in less than two years.

The next government, which will be led by the ultranationalist Naftali Bennett, has vowed to chart a new course aimed at healing the country's divisions and restoring a sense of normalcy.

Anything more ambitious would be courting disaster.

The coalition consists of eight parties from across Israel's political spectrum, including a small Arab party that has made history by joining a government for the first time. If even one party bolts, the government would be at serious risk of collapse, and Netanyahu, who intends to stay on as opposition leader, is waiting in the wings. …

They are expected to adopt a modest agenda acceptable to Israelis from across the ideological divide that steers clear of hot-button issues. Their first big challenge will be to agree on a budget, the first since 2019. Economic reforms and infrastructure spending may follow.

Bennett will serve as prime minister for the first two years, followed by the centrist Yair Lapid, a former journalist who was the driving force behind the coalition. But that's only if the government survives that long.

___

MANAGING THE CONFLICT

Bennett is a religious ultranationalist who supports settlement expansion and is opposed to a Palestinian state. But he risks losing his job if he alienates his dovish coalition partners. https://apnews.com/article/joe-biden-middle-east-israel-religion-a8e8517989213286c206d709b212dada
If that coalition gets in this weekend, what do I expect?
I expect that the new Israel coalition will collapse.
At some point in time, a new coalition will form. Eventually, the time will come when Israel will allow daily sacrifices consistent with prophecies in Daniel 9:27, 11:31, 12:11. That will be an important prophetic sign.
There is another Israel-related item in the news today to share. Notice the following from NewsMax:
June 11, 2021

The outgoing chief of Israel's Mossad intelligence service has offered the closest acknowledgment yet his country was behind recent attacks targeting Iran's nuclear program and a military scientist.

The comments by Yossi Cohen, speaking to Israel's Channel 12 investigative program "Uvda" in a segment aired Thursday night, offered an extraordinary debriefing by the head of the typically secretive agency in what appears to be the final days of Prime Minister Benjamin Netanyahu's rule.

It also gave a clear warning to other scientists in Iran's nuclear program that they too could become targets for assassination even as diplomats in Vienna try to negotiate terms to try to salvage its atomic accord with world powers.

"If the scientist is willing to change career and will not hurt us anymore, than yes, sometimes we offer them" a way out, Cohen said.

Among the major attacks to target Iran, none have struck deeper than two explosions over the last year at its Natanz nuclear facility. There, centrifuges enrich uranium from an underground hall designed to protect them from airstrikes. https://www.newsmax.com/newsfront/iran-israel-yossicohen/2021/06/11/id/1024740/
Israel and Iran have been threatening each other and taking actions against each other for years.
Now, Israel is somewhat hinting that it has been responsible for various acts of sabotage. The hinting of those sounds like admissions of acts of war.
Iran must be wondering how to stop that.
While Israel can damage Iran (and has done so), Iran has the ability to harm the nation of Israel.
As regular readers of this page are aware, damage coming to Judah (the modern nation of Israel) from a power like Iran looks to be prophesied:
5 For it is a day of trouble and treading down and perplexity By the Lord God of hosts In the Valley of Vision — Breaking down the walls And of crying to the mountain. 6 Elam bore the quiver With chariots of men and horsemen, And Kir uncovered the shield. 7 It shall come to pass that your choicest valleys Shall be full of chariots,And the horsemen shall set themselves in array at the gate.8 He removed the protection of Judah. You looked in that day to the armor of the House of the Forest; 9 You also saw the damage to the city of David, That it was great; And you gathered together the waters of the lower pool. 10 You numbered the houses of Jerusalem, And the houses you broke down To fortify the wall. (Isaiah 22:51-9)
Elam is a reference to at least some in Iran. Kir is a reference to at least some in Syria as well as perhaps some who refer to themselves as Palestinian.
In Isaiah 22: 8, "Judah" is a reference to those in the land commonly called Israel–God will allow Israel to be attacked! In Isaiah 22:9, consider that "the damage to the city of David" is a reference to at least part of Jerusalem (cf. 2 Kings 9:28)–and notice that the damage will be great.
Israel's famed 'Iron Dome' will NOT stop the coming great damage that will hit Jerusalem, despite Israeli confidence.
Now as Isaiah 22 shows, Israel could very well be damaged by Iran before the the Great Tribulation begins.
Would Israel strike back?
Undoubtedly.
Consider also the following:
34 The word of the Lord that came to Jeremiah the prophet against Elam, in the beginning of the reign of Zedekiah king of Judah, saying, 35 "Thus says the Lord of hosts:

'Behold, I will break the bow of Elam,
The foremost of their might.
36 Against Elam I will bring the four winds
From the four quarters of heaven,
And scatter them toward all those winds;
There shall be no nations where the outcasts of Elam will not go.
37 For I will cause Elam to be dismayed before their enemies
And before those who seek their life.
I will bring disaster upon them,
My fierce anger,' says the Lord;
'And I will send the sword after them
Until I have consumed them.
38 I will set My throne in Elam,
And will destroy from there the king and the princes,' says the Lord. (Jeremiah 49:34-38)
I have long believed that Iran is a threat that will one day be 'neutralized,' as I believe it will overplay its hand. Probably after thinking that Israel has overplayed its.
The prophecy in Jeremiah 49 would tend to support that.
Let me also state that it may take a major regional war for the coming temporal 'peace deal' of Daniel 9:27 to be ratified.
Iran, Syria, and Israel may one day be in a major regional war in the future.
What might trigger that?
Well, in addition to Israel's actions and statements, notice the following:
The Iran Nuclear Deal Won't Happen Any Time Soon

June 11, 2021

Washington has reiterated that Iran needs to let the UN atomic agency IAEA continue its monitoring activities, as stated in the agreement valid until June 24, before new talks can begin. Iran's position on that front was weakened by the recent IAEA report which accused Iran of obstruction and not conforming to the agreement. As long as Iran is not keeping to its promises, the entire JCPOA agreement is at risk. A breakthrough this week as talks resume in Vienna is very unlikely. …

At present, Iranian naval vessels are steaming up to or are already in the Atlantic Ocean, heading to Venezuela for a possible showdown with the U.S. There are already signs that Iran will be transferring fast attack boats to the Venezuelan Navy. Intelligence sources report that a pair of Iranian Navy ships, including a frigate, has rounded the Cape of Good Hope and is believed to be making a high-seas voyage to Venezuela. https://www.zerohedge.com/energy/iran-nuclear-deal-wont-happen-any-time-soon
Now consider the above in conjunction with something from my latest book Biden-Harris: Prophecies and Destruction related to Iran:
Iran and Prophecy

Joe Biden wants to have the U.S.A. rejoin the nuclear deal with Iran that Donald Trump pulled the U.S.A. out of. [i]

He also might be more willing than the Obama-Biden Administration had been to trigger enforcement provisions if he feels Iran has violated portions of the agreement.

After Donald Trump's election, Iran declared it would pursue development of nuclear powered ships.[ii]

Because Bible prophecy indicates that it will be primarily Arabic nations that support the final King of the South (Daniel 11:40-43; Ezekiel 30:1-8), though with some (probably temporary per Daniel 11:25-26) support from Turkey and possibly Pakistan and/or Afghanistan, it is not biblically possible that Iran can truly be the leader of the Islamic world as it seems to want to be. Also, because it is basically due east of Jerusalem, Iran should not be considered to be a candidate to be the final 'King of the South' of biblical prophecy.

Despite its posturing and relative military strength, Iran will be somehow effectively neutralized (cf. Ezekiel 32:24). This could perhaps be from an attack involving Israel and/or internal civil unrest — this could also include electromagnetic (EMP) or similar weapons used against Iran (Jeremiah 49:34-39).

It is of prophetic interest to note that the small nation of Israel is prophesied to one day be attacked by some that seem to have connection to Iran and its ally Syria (Isaiah 22:1-14).

In January 2021, it was reported, "Iranian lawmakers have submitted a bill seeking the government by law to commit to Israel's destruction by the year 2040, Iranian state media ISNA reported." [iii]

Iran may decide to strike out against Israel, and likely Jerusalem (cf. Isaiah 22:7-8) if it determines that it should. If it is frustrated with the Biden-Harris Administration policies or delays, that may very well be a factor in it taking prophesied military action.

Iran has weapons that can cause damage. Furthermore, the U.S.A. itself, as well as the State of Israel, are vulnerable to EMP type attacks and even items such as biological weapons, chemical weapons, terrorism, nuclear weapons, dirty bombs, etc. because of a conflict involving Iran, Syria, and/or others.

But should this attack occur, this would NOT be the final destruction of the U.S.A. Prophetically, Iran would not end up faring well (cf. Ezekiel 32:24-25).

[i] Erlanger S. Biden Wants to Rejoin Iran Nuclear Deal, but It Won't Be Easy … New York Times, November 18, 2020

[ii] Norman L. Europe Hopeful Trump Will Stick With Iran Nuclear Deal. Wall Street Journal, December 13, 2016

[iii] Iran Parliament to debate bill calling for Israel's destruction by 2040. i24news, January 6, 2021

(Thiel B. Biden-Harris: Prophecies and Destruction. Nazarene Books, January 2021)
Iran is already hinting that it will be frustrated with the Biden-Harris Administration if it does not lift sanctions prior to negotiations.
If sanctions continue to hamper the economy of Iran, Iran could feel it is at a breaking point and that there is no advantage of trying to look like it will comply with international concerns.
Furthermore, it is possible that Iran will decide that there is a military and political advantage to make a first strike against Israel.
Sabotage by Israel may be one of several possible triggers for such a major regional conflict.
Some items of possibly related interest may include:
Why is a Jewish Temple in Jerusalem Not Required? Although people like Timothy LaHaye teach a third Jewish temple is required, who is 'the temple of God" in the New Testament? Does the Bible require a rebuilt Jewish Temple? Here is a related item in the Spanish language ¿Por qué no se requiere un templo judío en Jerusalén? Here is a link to a sermon titled The Temple, Prophecy, and the Work.
Nascent Sanhedrin and Prophecy The reconstituted Sanhedrin wants the reimplementation of animal sacrifices. A related video is titled Sanhedrin pushing animal sacrifices. And a newer one is: Sanhedrin makes burnt offering to dedicate altar!
The Red Heifer, Jewish Beliefs, and the End of the World The Temple Institute is watching a 'red heifer.' Why might this be important in the sequence of end time events? Here is a related link in the Spanish language Novilla roja descubierta en EE.UU. e Instituto del Templo está interesado en ella. Here are links to two related videos in English: Red Heifers and the Fate of the World and The Red Heifer and the End of the World.
The 'Peace Deal' of Daniel 9:27 This prophecy could give up to 3 1/2 years advance notice of the coming Great Tribulation. Will most ignore or misunderstand its fulfillment? Here is a link to a related sermon video Daniel 9:27 and the Start of the Great Tribulation.
How Will Middle East Peace be Brought About? Can humans bring peace to the Middle East? Here is a link to a related video: Middle East Peace? When?
Iran in Prophecy Is Iran in Bible prophecy? If so, what does the Bible teach? What names, other than Persia, may be used to describe Iran? There is also a YouTube video titled Iran In Prophecy.
Damascus and Syria in Prophecy Will Bashar Assad hold power as he has it? Does the Bible show that Damascus, the capital of Syria, will be destroyed? What will happen to Syria? Will the Syrians support the final King of the South that the Bible tells will rise up? Which scriptures discuss the rise and fall of an Arabic confederation? Does Islamic prophecy predict the destruction of Syria.
21 items to prophetically watch in 2021 Much is happening. Dr. Thiel points to 21 items to watch (cf. Mark 13:37) in this article. Here is a link to a related sermon video: 21 Items to Watch in 2021.
Jerusalem: Past, Present, and Future What does the Bible say about Jerusalem and its future? Is Jerusalem going to be divided and eliminated? Is Jesus returning to the area of Jerusalem? There are also two related YouTube videos you can watch: Jerusalem To be divided and eliminated and God's and Satan's Plan for Jerusalem.
Gaza and the Palestinians in Bible Prophecy What does the Bible teach about Gaza and the fate of the Palestinians? Here is a link to a related video: Gaza and Palestine in Prophecy.
Biden-Harris: Prophecies and Destruction Can the USA survive two full presidential terms? In what ways are Joe Biden and Kamala Harris apocalyptic? This book has hundreds of prophecies and scriptures to provide details.  A Kindle version is also available and you do not need an actual Kindle device to read it. Why? Amazon will allow you to download it to almost any device: Please click HERE to download one of Amazon s Free Reader Apps. After you go to your free Kindle reader app (or if you already have one or a Kindle),  you can go to: Biden-Harris: Prophecies and Destruction (Kindle) to get the book in seconds.