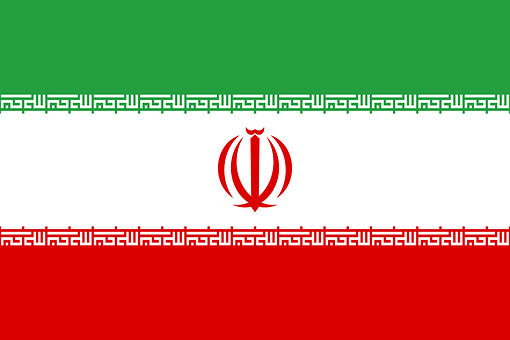 Flag of Iran (Pixabay)
Israel365News reported the following:
Top Iranian general: 'When we strike at America it will be with great force'

January 10, 2022

The deputy commander of Iran's Islamic Revolutionary Guard Corps said in a recent interview that when the time was right, Iran would strike the United States "with great force."

… Admiral Ali Fadavi said that soon, the world would witness America's full retreat from the Middle East.

"We do not have the slightest doubt that at the right time, when we strike America—the Great Satan—and its Zionist followers, we will strike them with great force. As Imam Khamenei famously said a long time ago, when the Zionists were entertaining some illusions … he said, 'If they take even the smallest step [against us], we will turn Haifa and Tel Aviv into dust,'" said Fadavi.

"If the Zionists do something stupid and take a step against us, whether big or small, we will see this as a sign that Allah decreed we should be attacked so that we could retaliate. This would mean the annihilation of the Zionists," he added.

"It is a fact that the Zionists will go away much faster than the time frame determined by the Leader [Khamenei]. Soon we will witness the annihilation of the Americans and their dominance over the world, and specifically over this region. Soon we will see them leave the region. This will definitely happen," said Fadavi. https://www.israel365news.com/265120/top-iranian-general-when-we-strike-at-america-it-will-be-with-great-force/
Iran is playing a dangerous game by inciting the USA with this type of rhetotic.
I have long believed that Iran is a threat that will one day be 'neutralized,' as I believe it will overplay its hand. The USA may assist Israel in its efforts against Iran. While the USA could suffer damage, Iran could really be devastated (cf. Jeremiah 49:34-38)–but this could lead to a prophesied temporal peace deal.
While the Biden administration says international patience with Iran's reluctance to reenter nuclear talks is "wearing thin," so is Iran's patience with the USA.
Notice something from my book Biden-Harris: Prophecies and Destruction related to Iran:
Despite its posturing and relative military strength, Iran will be somehow effectively neutralized (cf. Ezekiel 32:24). This could perhaps be from an attack involving Israel and/or internal civil unrest — this could also include electromagnetic (EMP) or similar weapons used against Iran (Jeremiah 49:34-39).

It is of prophetic interest to note that the small nation of Israel is prophesied to one day be attacked by some that seem to have connection to Iran and its ally Syria (Isaiah 22:1-14). …

Iran may decide to strike out against Israel, and likely Jerusalem (cf. Isaiah 22:7-8) if it determines that it should. If it is frustrated with the Biden-Harris Administration policies or delays, that may very well be a factor in it taking prophesied military action.

Iran has weapons that can cause damage. Furthermore, the U.S.A. itself, as well as the State of Israel, are vulnerable to EMP type attacks and even items such as biological weapons, chemical weapons, terrorism, nuclear weapons, dirty bombs, etc. because of a conflict involving Iran, Syria, and/or others.

But should this attack occur, this would NOT be the final destruction of the U.S.A. Prophetically, Iran would not end up faring well (cf. Ezekiel 32:24-25). (Thiel B. Biden-Harris: Prophecies and Destruction. Nazarene Books, January 2021)
Enough delays in the process, or a result it does not like, may well lead Iran to conclude that a regional war is the best way to deal with domestic and international pressures.
Likely a destructive war involving Israel.
Such a war is consistent with prophesies such as are in Isaiah 22–and may be a factor leading to the 'peace deal' of Daniel 9:27.
Could Iran be prophesied to cause massive damage to the tiny state of Israel?
Yes. The Bible tells of damage coming to Judah (the modern nation of Israel) from a power like Iran:
5 For it is a day of trouble and treading down and perplexity By the Lord God of hosts In the Valley of Vision — Breaking down the walls And of crying to the mountain. 6 Elam bore the quiver With chariots of men and horsemen, And Kir uncovered the shield. 7 It shall come to pass that your choicest valleys Shall be full of chariots,And the horsemen shall set themselves in array at the gate.8 He removed the protection of Judah. You looked in that day to the armor of the House of the Forest; 9 You also saw the damage to the city of David, That it was great; And you gathered together the waters of the lower pool. 10 You numbered the houses of Jerusalem, And the houses you broke down To fortify the wall. (Isaiah 22:51-9)
Elam looks to be a reference to at least some in Iran and the Bible ties Syrians to Kir in several places (cf. Amos 1:5, 9:7; 2 Kings 16:). Iran is Syria's closest ally.
Isaiah 22 shows Israel could very well be damaged by Iran before the the Great Tribulation begins.
Would Israel strike back?
Undoubtedly, yes.
Could it cause massive damage to Iran?
Yes.
In view of that, consider also the following prophecy:
34 The word of the Lord that came to Jeremiah the prophet against Elam, in the beginning of the reign of Zedekiah king of Judah, saying, 35 "Thus says the Lord of hosts:

'Behold, I will break the bow of Elam,
The foremost of their might.
36 Against Elam I will bring the four winds
From the four quarters of heaven,
And scatter them toward all those winds;
There shall be no nations where the outcasts of Elam will not go.
37 For I will cause Elam to be dismayed before their enemies
And before those who seek their life.
I will bring disaster upon them,
My fierce anger,' says the Lord;
'And I will send the sword after them
Until I have consumed them.
38 I will set My throne in Elam,
And will destroy from there the king and the princes,' says the Lord. (Jeremiah 49:34-38)
Iran, Syria, and Israel may one day be in a major regional war in the future. Damage will be done to multiple parties.
We are getting much closer to that time.
Some items of possibly related interest may include:
Iran in Prophecy Is Iran in Bible prophecy? If so, what does the Bible teach? What names, other than Persia, may be used to describe Iran? There is also a YouTube video titled Iran In Prophecy.
The 'Peace Deal' of Daniel 9:27 This prophecy could give up to 3 1/2 years advance notice of the coming Great Tribulation. Will most ignore or misunderstand its fulfillment? Here is a link to a related sermon video Daniel 9:27 and the Start of the Great Tribulation.
How Will Middle East Peace be Brought About? Can humans bring peace to the Middle East? Here is a link to a related video: Middle East Peace? When?
Damascus and Syria in Prophecy Will Bashar Assad hold power as he has it? Does the Bible show that Damascus, the capital of Syria, will be destroyed? What will happen to Syria? Will the Syrians support the final King of the South that the Bible tells will rise up? Which scriptures discuss the rise and fall of an Arabic confederation? Does Islamic prophecy predict the destruction of Syria.
21 items to prophetically watch in 2021 Much is happening. Dr. Thiel points to 21 items to watch (cf. Mark 13:37) in this article. Here is a link to a related sermon video: 21 Items to Watch in 2021.
Does God Have a 6,000 Year Plan? What Year Does the 6,000 Years End? Was a 6000 year time allowed for humans to rule followed by a literal thousand year reign of Christ on Earth taught by the early Christians? Does God have 7,000 year plan? What year may the six thousand years of human rule end? When will Jesus return? 2029 or or 2031 or 20xx? There is also a video titled 6000 Years: When will God's Kingdom Come? Here is a link to the article in Spanish: ¿Tiene Dios un plan de 6,000 años?
Biden-Harris: Prophecies and Destruction Can the USA survive two full presidential terms? In what ways are Joe Biden and Kamala Harris apocalyptic? This book has hundreds of prophecies and scriptures to provide details. A Kindle version is also available and you do not need an actual Kindle device to read it. Why? Amazon will allow you to download it to almost any device: Please click HERE to download one of Amazon s Free Reader Apps. After you go to your free Kindle reader app (or if you already have one or a Kindle), you can go to: Biden-Harris: Prophecies and Destruction (Kindle) to get the book in seconds.