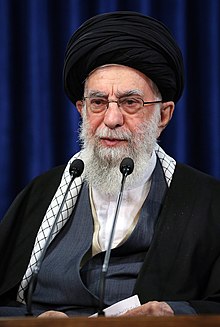 Ayatollah Ali Khamenei  (Photo from khamenei.ir)

Voice of America (VOA) reported the following:
Khamenei: US Must Lift Sanctions for Tehran to Return to Nuclear Commitments

February 7, 2021

Iran's Supreme Leader Ayatollah Ali Khamenei said on Sunday that the United States should lift all sanctions if Washington wants Tehran to reverse its nuclear steps.

"Iran has fulfilled all its obligations under the 2015 nuclear deal, not the United States and the three European countries … If they want Iran to return to its commitments, the United States must lift all sanctions first," Khamenei wrote on Twitter.

"After verifying whether all sanctions have been lifted, then we will return to full compliance," he wrote.

U.S. President Joe Biden, who took office last month, has said that if Tehran returned to strict compliance with the 2015 nuclear pact, Washington would follow suit and use that as a springboard to a broader agreement that might restrict Iran's missile development and regional activities.

Former U.S. President Donald Trump exited the nuclear accord between Iran and six powers in 2018 and reimposed sanctions on Tehran.

Iran has breached the deal in a step-by-step response to Trump's "maximum pressure" policy, but it has repeatedly said it could quickly reverse those violations if U.S. sanctions are removed. https://www.voanews.com/middle-east/khamenei-us-must-lift-sanctions-tehran-return-nuclear-commitments
The Associated Press reported the following:
February 7, 2021

TEHRAN, Iran (AP) — Iran's supreme leader on Sunday urged the United States to lift all sanctions if it wants Iran to live up to commitments under its nuclear deal with world powers, state TV reported, his first comments on the matter since U.S. President Joe Biden took office. … The supreme leader, 81, has the final say on all matters of state in Iran and approved the efforts at reaching the nuclear deal in 2015. …

Iran's parliament approved a law to block international nuclear inspectors later this month — a serious violation of the accord.

Iran also has begun enriching uranium closer to weapons-grade levels and said it would experiment with uranium metals, a key component of a nuclear warhead. The country has announced its moves and insisted that all breaches of the pact are easily reversible. Tehran says its nuclear program is for peaceful purposes only. https://apnews.com/article/joe-biden-middle-east-iran-ali-khamenei-bf04c8662763c2e94aafadf74faa1b82
Several days ago, Iran asked the EU to get the USA to negotiate (see https://www.dw.com/en/iran-asks-eu-to-help-negotiate-us-return-to-nuclear-deal/a-56412131).
As far as the EU goes, it wants the USA to lift sanctions because it wants to trade with Iran.
The USA wants to negotiate, then lift sanctions.
Notice also the following related to the USA:
February 2, 2021

Biden has indicated support for rejoining the deal, the administration has stated that a precondition would be full compliance by Iran with the original agreement.

Secretary of State Tony Blinken has been more skeptical of swiftly returning to the nuclear deal, saying that a U.S. return is still far off.

In an interview with NBC News on Sunday, also warned that Iran could be months or even only "a matter of weeks" from developing a nuclear bomb if it further violates restrictions stemming from the 2015 accord. https://www.israel365news.com/164925/iran-weeks-away-from-developing-nuclear-bomb-sec-of-state-blinken-admits/
The Biden-Harris Administration has decisions to make. Does it change because it believes an Iranian nuclear weapon is imminent? Or does it hold off of lifting sanctions?
If it waits, Iran will not be pleased.
Here is something from my latest book Biden-Harris: Prophecies and Destruction related to Iran: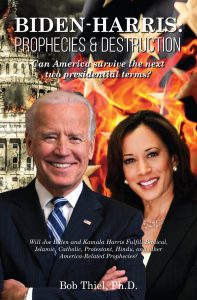 Iran and Prophecy

Joe Biden wants to have the U.S.A. rejoin the nuclear deal with Iran that Donald Trump pulled the U.S.A. out of. [i]

He also might be more willing than the Obama-Biden Administration had been to trigger enforcement provisions if he feels Iran has violated portions of the agreement.

After Donald Trump's election, Iran declared it would pursue development of nuclear powered ships.[ii]

Because Bible prophecy indicates that it will be primarily Arabic nations that support the final King of the South (Daniel 11:40-43; Ezekiel 30:1-8), though with some (probably temporary per Daniel 11:25-26) support from Turkey and possibly Pakistan and/or Afghanistan, it is not biblically possible that Iran can truly be the leader of the Islamic world as it seems to want to be. Also, because it is basically due east of Jerusalem, Iran should not be considered to be a candidate to be the final 'King of the South' of biblical prophecy.

Despite its posturing and relative military strength, Iran will be somehow effectively neutralized (cf. Ezekiel 32:24). This could perhaps be from an attack involving Israel and/or internal civil unrest — this could also include electromagnetic (EMP) or similar weapons used against Iran (Jeremiah 49:34-39).

It is of prophetic interest to note that the small nation of Israel is prophesied to one day be attacked by some that seem to have connection to Iran and its ally Syria (Isaiah 22:1-14).

In January 2021, it was reported, "Iranian lawmakers have submitted a bill seeking the government by law to commit to Israel's destruction by the year 2040, Iranian state media ISNA reported." [iii]

Iran may decide to strike out against Israel, and likely Jerusalem (cf. Isaiah 22:7-8) if it determines that it should. If it is frustrated with the Biden-Harris Administration policies or delays, that may very well be a factor in it taking prophesied military action.

Iran has weapons that can cause damage. Furthermore, the U.S.A. itself, as well as the State of Israel, are vulnerable to EMP type attacks and even items such as biological weapons, chemical weapons, terrorism, nuclear weapons, dirty bombs, etc. because of a conflict involving Iran, Syria, and/or others.

But should this attack occur, this would NOT be the final destruction of the U.S.A. Prophetically, Iran would not end up faring well (cf. Ezekiel 32:24-25).

[i] Erlanger S. Biden Wants to Rejoin Iran Nuclear Deal, but It Won't Be Easy … New York Times, November 18, 2020

[ii] Norman L. Europe Hopeful Trump Will Stick With Iran Nuclear Deal. Wall Street Journal, December 13, 2016

[iii] Iran Parliament to debate bill calling for Israel's destruction by 2040. i24news, January 6, 2021

(Thiel B. Biden-Harris: Prophecies and Destruction. Nazarene Books, January 2021)
Iran is already hinting that it will be frustrated with the Biden-Harris Administration if it does not lift sanctions prior to negotiations.
If sanctions continue to hamper the economy of Iran, Iran could feel it is at a breaking point and that there is no advantage of trying to look like it will comply with international concerns.
Furthermore, it is possible that Iran will decide that there is a military and political advantage to make a first strike against Israel.
Notice something that Isaiah was inspired to write:
1 The burden against the Valley of Vision.

What ails you now, that you have all gone up to the housetops, 2 You who are full of noise, A tumultuous city, a joyous city? Your slain men are not slain with the sword, Nor dead in battle. 3 All your rulers have fled together; They are captured by the archers. All who are found in you are bound together; They have fled from afar. 4 Therefore I said, "Look away from me, I will weep bitterly; Do not labor to comfort me Because of the plundering of the daughter of my people."

5 For it is a day of trouble and treading down and perplexity By the Lord God of hosts In the Valley of Vision — Breaking down the walls And of crying to the mountain. 6 Elam bore the quiver With chariots of men and horsemen, And Kir uncovered the shield. 7 It shall come to pass that your choicest valleys Shall be full of chariots, And the horsemen shall set themselves in array at the gate.

8 He removed the protection of Judah. You looked in that day to the armor of the House of the Forest; 9 You also saw the damage to the city of David, That it was great; And you gathered together the waters of the lower pool. 10 You numbered the houses of Jerusalem, And the houses you broke down To fortify the wall. (Isaiah 22:1-10)
Elam is a reference to at least some in Iran, which is Syria's top ally. The Bible tells that after Tiglath-Pileser king of Assyria took over Damascus, he moved Syrians to Kir. God's word has the expression "the Syrians from Kir" (Amos 9:7), which is basically confirmation that Kir of Isaiah 22 would include Syrians. The Bible also tells of a time when Kir will be destroyed (Isaiah 15:1b) and also says that Syria's capital Damascus will be destroyed (Isaiah 17:1).
In Isaiah 22: 8, "Judah" is a reference to those in the land commonly called Israel–God will allow Israel to be attacked! In Isaiah 22:9, consider that "the damage to the city of David" is a reference to at least part of Jerusalem–and notice that the damage will be great. This, in turn, would be expected to result in a massive Israeli, possibly with US involvement, attack against Iran and its allies, like Syria.
What is going on now with Iran?
It hopes it can get what it wants, particularly if it is seems to be uncompromising about it.
That being said, as I have written many times over the years:
Expect Iran to overplay its hand and believe it is more powerful than it really is. Israel, and perhaps even the USA, apparently will be negatively affected by Iran. (Thiel B. Iran pleased that sanctions have ended–so what is next for Iran? COGwriter, January 17, 2016)
If Iran acts on some of its more violent hints and threats, the Bible shows that Iran will not end up faring well.
Notice the following prophecy which indicates at least part of its destruction before the latter days:
34 The word of the Lord that came to Jeremiah the prophet against Elam, in the beginning of the reign of Zedekiah king of Judah, saying, 35 "Thus says the Lord of hosts:

'Behold, I will break the bow of Elam,
The foremost of their might.
36 Against Elam I will bring the four winds
From the four quarters of heaven,
And scatter them toward all those winds;
There shall be no nations where the outcasts of Elam will not go.
37 For I will cause Elam to be dismayed before their enemies
And before those who seek their life.
I will bring disaster upon them,
My fierce anger,' says the Lord;
'And I will send the sword after them
Until I have consumed them.
38 I will set My throne in Elam,
And will destroy from there the king and the princes,' says the Lord. (Jeremiah 49:34-38)
Iran is having problems with its economy. The collapse of oil prices has also been hitting Iran very hard.
Iran's hope seems to be that the Biden-Harris Administration will loosen sanctions enough to help.
Iran needs to be cautious as biblical prophecies suggest it will be involved in militaristic ventures, and ultimately that will not end well for Iran.
Iran is a place to watch (cf. Mark 13:37). And was included in the  list: 21 items to prophetically watch in 2021 (watch also the related sermon 21 Items to Watch in 2021).
Some items of possibly related interest may include:
Biden-Harris: Prophecies and Destruction Can the USA survive two full presidential terms? In what ways are Joe Biden and Kamala Harris apocalyptic? This book has hundreds of prophecies and scriptures to provide details. A Kindle version is also available and you do not need an actual Kindle device to read it. Why? Amazon will allow you to download it to almost any device: Please click HERE to download one of Amazon s Free Reader Apps. After you go to your free Kindle reader app (or if you already have one or a Kindle), you can go to: Biden-Harris: Prophecies and Destruction (Kindle) to get the book in seconds.
21 items to prophetically watch in 2021 Much is happening. Dr. Thiel points to 21 items to watch (cf. Mark 13:37) in this article. Here is a link to a related sermon video: 21 Items to Watch in 2021.
The 'Peace Deal' of Daniel 9:27 This prophecy could give up to 3 1/2 years advance notice of the coming Great Tribulation. Will most ignore or misunderstand its fulfillment? Here is a link to a related sermon video Daniel 9:27 and the Start of the Great Tribulation. A short video is also available titled Trump's Deal of the Century and Daniel 9 27? Here is a link to something related in the Spanish language: Estados Árabes emiratos unidos y el tratado de paz en el medio este.
Does God Have a 6,000 Year Plan? What Year Does the 6,000 Years End? Was a 6000 year time allowed for humans to rule followed by a literal thousand year reign of Christ on Earth taught by the early Christians? Does God have 7,000 year plan? What year may the six thousand years of human rule end? When will Jesus return? 2028 or or 2031 or 20xx? There is also a video titled 6000 Years: When will God's Kingdom Come? Here is a link to the article in Spanish: ¿Tiene Dios un plan de 6,000 años?
Might the U.S.A. Be Gone by 2028? Are there prophetic reasons to believe that the USA will not last two complete presidential terms? Yes. There is a tradition attributed to the Hebrew prophet Elijah that humanity had 6,000 years to live before being replaced by God's Kingdom. There are scriptures, writings in the Talmud, early Christian teachings that support this. Also, even certain Hindu writings support it. Here is a link to a related video: Is the USA prophesied to be destroyed by 2028?
The Great Tribulation: What Happens First? What events have happened? What are some events that are now happening? And what events need to happen for the Great Tribulation to start? Here is a link to a related sermon video: Counting Down to the Great Tribulation.
When Will the Great Tribulation Begin? 2021, 2022, or 2023? Can the Great Tribulation begin today? What happens before the Great Tribulation in the "beginning of sorrows"? What happens in the Great Tribulation and the Day of the Lord? Is this the time of the Gentiles? When is the earliest that the Great Tribulation can begin? What is the Day of the Lord? Who are the 144,000? Here is a version of the article in the Spanish language: ¿Puede la Gran Tribulación comenzar en el 2020 o 2021? ¿Es el Tiempo de los Gentiles? A related video is: 2021: The Great Tribulation or the Great Reset?
USA in Prophecy: The Strongest Fortresses Can you point to scriptures, like Daniel 11:39, that point to the USA in the 21st century? This article does. Two related sermon are available: Identifying the USA and its Destruction in Prophecy and Do these 7 prophesies point to the end of the USA?
Who is the King of the West? Why is there no Final End-Time King of the West in Bible Prophecy? Is the United States the King of the West? Here is a version in the Spanish language: ¿Quién es el Rey del Occidente? ¿Por qué no hay un Rey del Occidente en la profecía del tiempo del fin? A related sermon is also available: The Bible, the USA, and the King of the West.
Who is the King of the North? Is there one? Do biblical and Roman Catholic prophecies for the Great Monarch point to the same leader? Should he be followed? Who will be the King of the North discussed in Daniel 11? Is a nuclear attack prophesied to happen to the English-speaking peoples of the United States, Great Britain, Canada, Australia, and New Zealand? When do the 1335 days, 1290 days, and 1260 days (the time, times, and half a time) of Daniel 12 begin? When does the Bible show that economic collapse will affect the United States? In the Spanish language check out ¿Quién es el Rey del Norte? Here are links to two related videos: The King of the North is Alive: What to Look Out For and The Future King of the North.
The Great Monarch: Biblical and Catholic Prophecies Is the 'Great Monarch' of Catholic prophecies endorsed or condemned by the Bible? Two sermons of related interest are also available: Great Monarch: Messiah or False Christ? and Great Monarch in 50+ Beast Prophecies.
Jesus Returning, David's Throne, and the Stone of Destiny Will Jesus return to the throne of David? What about the Stone of Scone? Here is a link to a related video: Stone of Destiny and Jesus' Return.
Is the Future King of the South Rising Up? Some no longer believe there needs to be a future King of the South. Might Egypt, Islam, Iran, Arabs, or Ethiopia be involved? Might this King be called the Mahdi or Caliph? What does the Bible say? A YouTube video of related interest may be: The Future King of the South is Rising. Here is a version the Spanish language: ¿Esta Surgiendo el Rey Del Sur?
Iran in Prophecy Is Iran in Bible prophecy? If so, what does the Bible teach? What names, other than Persia, may be used to describe Iran? There is also a related YouTube video titled Iran In Prophecy.