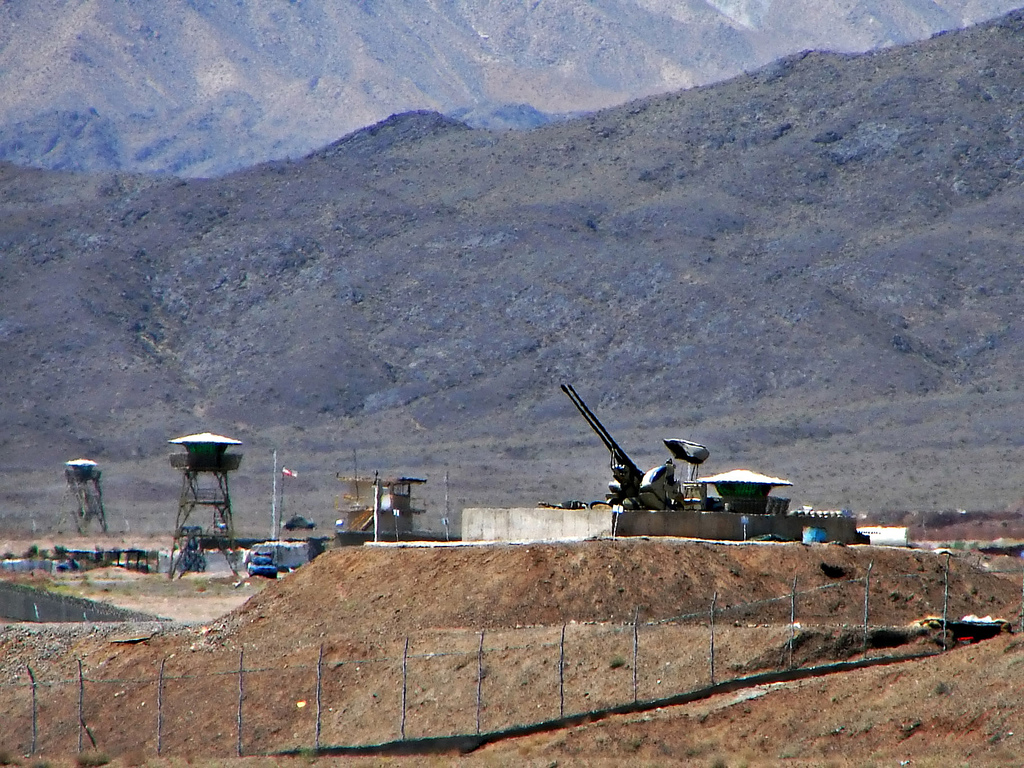 Anti-aircraft guns guarding Iran's Natanz Nuclear Facility
(Photo by Hamed Saber)

Israel365News (I365) reported the following:
Iran may be "Weeks" away from developing Nuclear Bomb', Sec of State Blinken Admits

February 2, 2021

Jake Sullivan, President Joe Biden's national security advisor, suggested an expedited timeline for rejoining the Iranian nuclear deal, which the Trump administration exited in May 2018. The comments come as the Biden administration announced its decision to select veteran diplomat Robert Malley as its special envoy on Iran talks. …

"We are going to have to address Iran's other bad behavior, malign behavior, across the region, but from our perspective, a critical early priority has to be to deal with what is an escalating nuclear crisis as they move closer and closer to having enough fissile material for a weapon," said Sullivan, according to The Washington Post. "And we would like to make sure that we re-establish some of the parameters and constraints around the program that have fallen away over the course of the past two years."

In recent weeks, Iran has begun to accelerate its nuclear program. Iranian Foreign Minister Mohammad Javad Zarif said last week that Tehran will not reverse the acceleration of its nuclear program until the United States lifts sanctions against the country. Iran recently announced that it had begun enriching uranium to 20 percent, in violation of the nuclear accord.

The comments by Sullivan may indicate a disagreement among Biden administration officials on how to approach the Iranian nuclear program.

While Biden has indicated support for rejoining the deal, the administration has stated that a precondition would be full compliance by Iran with the original agreement.

Secretary of State Tony Blinken has been more skeptical of swiftly returning to the nuclear deal, saying that a U.S. return is still far off.

In an interview with NBC News on Sunday, also warned that Iran could be months or even only "a matter of weeks" from developing a nuclear bomb if it further violates restrictions stemming from the 2015 accord. https://www.israel365news.com/164925/iran-weeks-away-from-developing-nuclear-bomb-sec-of-state-blinken-admits/
Israeli Prime Minister Benjamin Netanyahu has gone on record to state that he will not let Iran acquire a nuclear weapon. That, combined with the above, suggests that Israel may strike Iran soon.
Iran is aware of Netanyahu's position.
That may be partially why it wants Europe to intervene between it and Israel's major ally, the USA. The German press reported the following:
Iran asks EU to help negotiate US return to nuclear deal

2 February 2021

Iranian Foreign Minister Mohammad Javad Zarif said the European Union could play a mediating role in the dispute with the United States over Tehran's nuclear program.

Zarif said EU Foreign Affairs Minister Josep Borrell could coordinate a synchronized return of Washington and Tehran into a nuclear deal, in comments during a CNN interview on Monday.

The minister said the necessary steps could be taken simultaneously, in response to a question on whether Iran still required the US to act first. He said Borrell could facilitate this as part of his role as coordinator of the joint commission for the nuclear agreement.

"You know clearly there can be a mechanism to basically either synchronize it, or coordinate what can be done," he told interviewer Christiane Amanpour.

Borrell can "sort of choreograph the actions that are needed to be taken by the United States and the actions that are needed to be taken by Iran," Zarif said.

He said Iran could roll back its increased uranium enrichment program "in less than a day" if the US dropped sanctions imposed by the Trump administration and returned to the 2015 international nuclear agreement.

"The United States needs to come back into compliance and Iran will be ready immediately to respond. The timing is not the issue," Zarif said. https://www.dw.com/en/iran-asks-eu-to-help-negotiate-us-return-to-nuclear-deal/a-56412131
Iran also launched what it claims was its most powerful rocket ever yesterday:
In a first since the Biden administration entered the White House, Iran has successfully launched its newest domestic built satellite-carrying rocket, named Zuljanah.  …

An Iranian defense ministry statement said "the test helped Iran to achieve its most powerful rocket engine… the rocket can be launched using a mobile launching pad." …

It is precisely the type of launch previously condemned by the prior Trump administration as a breach of past nuclear deal related commitments. The past administration had accused Iran of seeking to develop nuclear capable ballistic missiles under the guise of its "peaceful" space program. …

The timing is further interesting given Tehran appears to be continuing to develop leverage aimed at getting Biden to quickly lift sanctions and finally return to the JCPOA.

At the start of this week US Secretary of State Antony Blinken told NBC News that the administration hopes to negotiate a "longer and stronger" deal, but only after Iran returns to compliance.

At the same time, Tehran is telling the White House that it must drop the Trump-era sanctions first. 02/01/21 https://www.zerohedge.com/geopolitical/iran-launches-new-satellite-carrying-rocket-biden-plan-restore-nuclear-deal-falters
Yes, Iran is trying to show the USA that it needs to drop sanctions now in order to get Iran to talk about halting (or slowing down) its nuclear program.
So, the Biden-Harris Administration has pressure to act, but has stated Iran must comply first. Iran disagrees.
Here is something from my latest book Biden-Harris: Prophecies and Destruction related to Iran: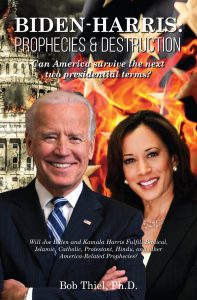 Iran may decide to strike out against Israel, and likely Jerusalem (cf. Isaiah 22:7-8) if it determines that it should. If it is frustrated with the Biden-Harris Administration policies or delays, that may very well be a factor in it taking prophesied military action.

Iran has weapons that can cause damage. Furthermore, the U.S.A. itself, as well as the State of Israel, are vulnerable to EMP type attacks and even items such as biological weapons, chemical weapons, terrorism, nuclear weapons, dirty bombs, etc. because of a conflict involving Iran, Syria, and/or others. (Thiel B. Biden-Harris: Prophecies and Destruction. Nazarene Books, January 2021)
If Israel strikes out at Iran, Iran may well hit back.
Furthermore, it is possible that Iran will decide that there is a military advantage to striking Israel first.
There are prophecies about peoples that look to be in Iran and Syria attacking the tiny nation of Israel in the end times:
1 The burden against the Valley of Vision.

What ails you now, that you have all gone up to the housetops, 2 You who are full of noise, A tumultuous city, a joyous city? Your slain men are not slain with the sword, Nor dead in battle. 3 All your rulers have fled together; They are captured by the archers. All who are found in you are bound together; They have fled from afar. 4 Therefore I said, "Look away from me, I will weep bitterly; Do not labor to comfort me Because of the plundering of the daughter of my people."

5 For it is a day of trouble and treading down and perplexity By the Lord God of hosts In the Valley of Vision — Breaking down the walls And of crying to the mountain. 6 Elam bore the quiver With chariots of men and horsemen, And Kir uncovered the shield. 7 It shall come to pass that your choicest valleys Shall be full of chariots, And the horsemen shall set themselves in array at the gate.

8 He removed the protection of Judah. You looked in that day to the armor of the House of the Forest; 9 You also saw the damage to the city of David, That it was great; And you gathered together the waters of the lower pool. 10 You numbered the houses of Jerusalem, And the houses you broke down To fortify the wall. 11 You also made a reservoir between the two walls For the water of the old pool. But you did not look to its Maker, Nor did you have respect for Him who fashioned it long ago.

12 And in that day the Lord God of hosts Called for weeping and for mourning, For baldness and for girding with sackcloth. 13 But instead, joy and gladness, Slaying oxen and killing sheep, Eating meat and drinking wine: "Let us eat and drink, for tomorrow we die!"

14 Then it was revealed in my hearing by the Lord of hosts,"Surely for this iniquity there will be no atonement for you, Even to your death," says the Lord God of hosts. (Isaiah 22:1-14 NKJV)
Elam is a reference to at least some in Iran, which is Syria's top ally. The Bible tells that after Tiglath-Pileser king of Assyria took over Damascus, he moved Syrians to Kir. God's word has the expression "the Syrians from Kir" (Amos 9:7), which is basically confirmation that Kir of Isaiah 22 would include Syrians. The Bible also tells of a time when Kir will be destroyed (Isaiah 15:1b) and also says that Syria's capital Damascus will be destroyed (Isaiah 17:1).
In Isaiah 22: 8, "Judah" is a reference to those in the land commonly called Israel–God will allow Israel to be attacked! In Isaiah 22:9, consider that "the damage to the city of David" is a reference to at least part of Jerusalem–and notice that the damage will be great. This, in turn, would be expected to result in a massive Israeli, possibly with US involvement, attack against Iran and its allies, like Syria.
More death and destruction is prophesied to come.
We may be in the early stages of the ride of the second horseman of the Apocalypse–that is the horseman that takes peace from the earth.
Talks and/or lack thereof may be interpreted by Iran or Israel to attack militarily against one another.
A regional war will come to the Middle East and it could be very soon.
Some items of possibly related interest may include:
Biden-Harris: Prophecies and Destruction Can the USA survive two full presidential terms? In what ways are Joe Biden and Kamala Harris apocalyptic? This book has hundreds of prophecies and scriptures to provide details.  A Kindle version is also available and you do not need an actual Kindle device to read it. Why? Amazon will allow you to download it to almost any device: Please click HERE to download one of Amazon s Free Reader Apps. After you go to your free Kindle reader app (or if you already have one or a Kindle),  you can go to: Biden-Harris: Prophecies and Destruction (Kindle) to get the book in seconds.
The 'Peace Deal' of Daniel 9:27 This prophecy could give up to 3 1/2 years advance notice of the coming Great Tribulation. Will most ignore or misunderstand its fulfillment? Here is a link to a related sermon video Daniel 9:27 and the Start of the Great Tribulation. A short video is also available titled Trump's Deal of the Century and Daniel 9 27? Here is a link to something related in the Spanish language: Estados Árabes emiratos unidos y el tratado de paz en el medio este.
Does God Have a 6,000 Year Plan? What Year Does the 6,000 Years End? Was a 6000 year time allowed for humans to rule followed by a literal thousand year reign of Christ on Earth taught by the early Christians? Does God have 7,000 year plan? What year may the six thousand years of human rule end? When will Jesus return? 2028 or or 2031 or 20xx? There is also a video titled 6000 Years: When will God's Kingdom Come? Here is a link to the article in Spanish: ¿Tiene Dios un plan de 6,000 años?
Might the U.S.A. Be Gone by 2028? Are there prophetic reasons to believe that the USA will not last two complete presidential terms? Yes. There is a tradition attributed to the Hebrew prophet Elijah that humanity had 6,000 years to live before being replaced by God's Kingdom. There are scriptures, writings in the Talmud, early Christian teachings that support this. Also, even certain Hindu writings support it. Here is a link to a related video: Is the USA prophesied to be destroyed by 2028?
The Great Tribulation: What Happens First? What events have happened? What are some events that are now happening? And what events need to happen for the Great Tribulation to start? Here is a link to a related sermon video: Counting Down to the Great Tribulation.
When Will the Great Tribulation Begin? 2021, 2022, or 2023? Can the Great Tribulation begin today? What happens before the Great Tribulation in the "beginning of sorrows"? What happens in the Great Tribulation and the Day of the Lord? Is this the time of the Gentiles? When is the earliest that the Great Tribulation can begin? What is the Day of the Lord? Who are the 144,000? Here is a version of the article in the Spanish language: ¿Puede la Gran Tribulación comenzar en el 2020 o 2021? ¿Es el Tiempo de los Gentiles? A related video is: 2021: The Great Tribulation or the Great Reset?
USA in Prophecy: The Strongest Fortresses Can you point to scriptures, like Daniel 11:39, that point to the USA in the 21st century? This article does. Two related sermon are available: Identifying the USA and its Destruction in Prophecy and Do these 7 prophesies point to the end of the USA?
Who is the King of the West? Why is there no Final End-Time King of the West in Bible Prophecy? Is the United States the King of the West? Here is a version in the Spanish language: ¿Quién es el Rey del Occidente? ¿Por qué no hay un Rey del Occidente en la profecía del tiempo del fin? A related sermon is also available: The Bible, the USA, and the King of the West.
Who is the King of the North? Is there one? Do biblical and Roman Catholic prophecies for the Great Monarch point to the same leader? Should he be followed? Who will be the King of the North discussed in Daniel 11? Is a nuclear attack prophesied to happen to the English-speaking peoples of the United States, Great Britain, Canada, Australia, and New Zealand? When do the 1335 days, 1290 days, and 1260 days (the time, times, and half a time) of Daniel 12 begin? When does the Bible show that economic collapse will affect the United States? In the Spanish language check out ¿Quién es el Rey del Norte? Here are links to two related videos: The King of the North is Alive: What to Look Out For and The Future King of the North.
The Great Monarch: Biblical and Catholic Prophecies Is the 'Great Monarch' of Catholic prophecies endorsed or condemned by the Bible? Two sermons of related interest are also available: Great Monarch: Messiah or False Christ? and Great Monarch in 50+ Beast Prophecies.
Jesus Returning, David's Throne, and the Stone of Destiny Will Jesus return to the throne of David? What about the Stone of Scone? Here is a link to a related video: Stone of Destiny and Jesus' Return.
Is the Future King of the South Rising Up? Some no longer believe there needs to be a future King of the South. Might Egypt, Islam, Iran, Arabs, or Ethiopia be involved? Might this King be called the Mahdi or Caliph? What does the Bible say? A YouTube video of related interest may be: The Future King of the South is Rising. Here is a version the Spanish language: ¿Esta Surgiendo el Rey Del Sur?
Iran in Prophecy Is Iran in Bible prophecy? If so, what does the Bible teach? What names, other than Persia, may be used to describe Iran? There is also a related YouTube video titled Iran In Prophecy.