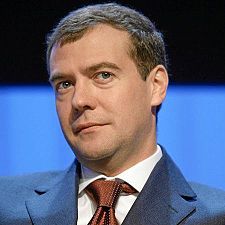 Dmitry Anatolyevich Medvedev

Russian President Medvedev wants Iran to come clean about its nuclear program:
Medvedev Tells Iran to Come Clean on Nukes

Published July 15, 2010
Last month, Russia made public comments that distanced itself from Iran (see Russia Distancing Itself from Iran).  Today's comments suggest that Russia really means it and is probably giving Iran a strong hint that Iran is likely to be attacked if it does not cooperate.
If Iran is attacked, this ultimately may encourage the development of what will be a temporary peace deal, not only with Iran, but likely much of the Middle East (cf. Daniel 9:27).
Some articles of possibly related interest may include:
Russia: Its Origins and Prophesied Future Where do the Russians come from? What is prophesied for Russia? What will it do to the Europeans that supported the Beast in the end?
Is Russia the King of the North? Some claim it is. But what does the Bible teach?
Is There A Future King of the South? Some no longer believe there needs to be. Might Egypt, Islam, Iran, Arabs, or Ethiopia be involved? Might this King be called the Mahdi? What does the Bible say?
The Arab World In the Bible, History, and Prophecy The Bible discusses the origins of the Arab world and discusses the Middle East in prophecy. What is ahead for the Middle East and those who follow Islam? What about the Imam Mahdi?