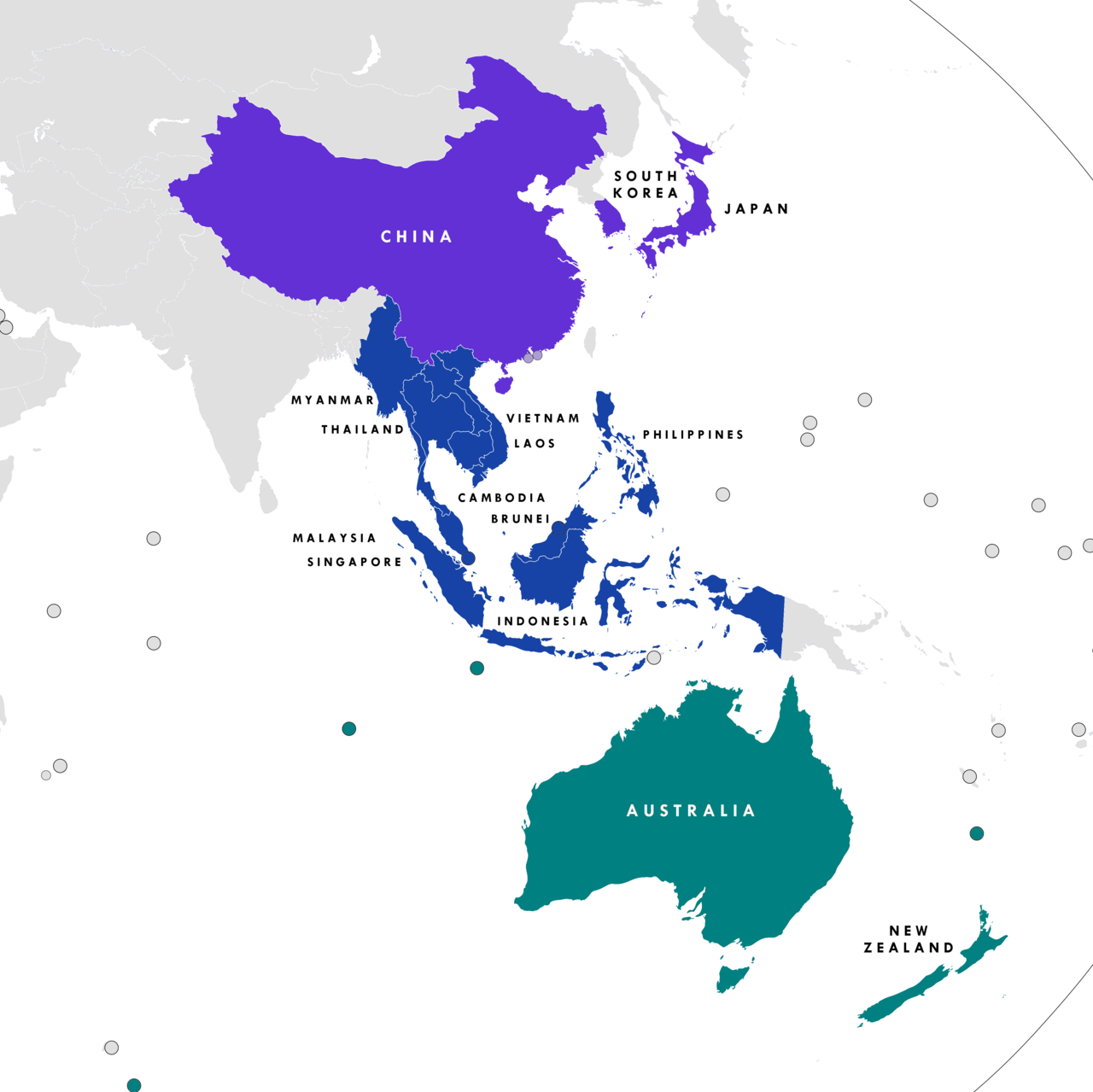 RCEP trading nations (Tiger 7253)

While the USA media remains highly focused on the results of its presidential election and COVID-19 cases, Asian-Pacific nations made a major trade deal:
Asia-Pacific nations sign world's biggest free-trade agreement

15 November 2020

Fifteen nations in the Asia-Pacific region have entered into the world's largest free-trade agreement, which they hope will accelerate the recovery of their economies, ravaged by the coronavirus pandemic.

The Regional Comprehensive Economic Partnership, or RCEP, was signed on Sunday on the sidelines of the annual summit of the Association of Southeast Asian Nations (ASEAN), held via videoconference due to the pandemic. …

The RCEP deal, signed eight years after negotiations first began, covers 2.2 billion people and a third of the world's economy. …

However, environmental protection and labor rights are not part of the deal. …

The China-backed agreement is seen as an alternative to the Trans-Pacific Partnership (TPP), a now-defunct Washington trade initiative.

It includes the 10 member states of ASEAN; Vietnam, Thailand, the Philippines, Laos, Cambodia, Myanmar, Malaysia, Singapore, Indonesia, and Brunei — along with Australia, China, Japan, New Zealand, and South Korea.

A notable absentee was India, which withdrew from the RCEP negotiations last year citing concerns over opening up its agricultural and manufacturing sectors to more foreign competition.

ASEAN leaders have said they still intend to expand trade with India and that the door remains open for New Delhi to rejoin the bloc. …

Australia hopes the trade deal will improve its relations with China, its biggest trading partner.

Ties with Beijing became frayed earlier this year after Canberra called for an international inquiry into the source of the coronavirus, which first erupted in the central Chinese city of Wuhan late last year.

The row escalated to a trade dispute which hit a dozen Australian industries and threatened exports to China of agricultural products, timber, and resources worth billions of dollars. https://www.dw.com/en/asia-pacific-nations-sign-worlds-biggest-free-trade-agreement/a-55604659

15 November 2020

The Regional Comprehensive Economic Partnership (RCEP) is made up of 10 Southeast Asian countries, as well as South Korea, China, Japan, Australia and New Zealand.

The pact is seen as an extension of China's influence in the region.

The deal excludes the US, which withdrew from a rival Asia-Pacific trade pact in 2017. …

Members of the RCEP make up nearly a third of the world's population and account for 29% of global gross domestic product. https://www.bbc.com/news/world-asia-54949260
Yes, Australia hopes that being part of RCEP will placate China.
For a time, it might.
But that will not last.
Notice one Chinese prophecy might hint that it involves dividing Australia and New Zealand with Europe. It states:
Population mouth takes territories south of the Yangtze river. The capital is moved again. The two divide up the territories, of which each maintains and defends (Pui-Hua R. Ancient Chinese Prophecies Till the End of the World. AuthorHouse, Bloomington (IN), 2008, p. 164).
This may be related to a deal that perhaps the Chinese will make in the future with Europe (there are some ancient Chinese prophecies that discuss arrangements with some from the West), as opposed to military conquest. It also may not be related to the taking of Australia or New Zealand, but perhaps might be. China is now heavily invested in Australia and may argue that it has rights to the land.
Scripturally, Asians seem to be involved with the dividing up and selling of people in the future (Ezekiel 27:12-14). Since Australia and New Zealand are the closest of the Anglo-Saxon descended nations to Asia, they seem to be possible candidates to be taken over by the Asians.
Furthermore, notice the following Catholic prophecy:
American Catholic Prophecy (c. early 20th century): The yellow hordes of the Rising Sun and the middle kingdom will pour out their wrath on the people of the island kingdom which had gathered riches through trade (Dupont, Catholic Prophecy: The Coming Chastisement. TAN Books, Rockford (IL), 1973, p. 78).
Australia and New Zealand are island nations that have gained riches through trade. Since the USA owes Japan (the "land of the rising sun") and China (the "middle kingdom") massive amounts of money, it may be since Australia and New Zealand will be allies of the USA and UK, that Europe will give Australia over to China (and/or others in Asia) and New Zealand over to Japan (and/or others in Asia) to help satisfy the USA/UK debt. Both China and Japan have longed for more land and the proximity of the island nations of Australia and New Zealand to the Asian powers seems to make this a likely scenario. The fact that Australia has about 78% as much land as China and New Zealand about 71% of the land of Japan make them interesting candidates for takeover. The Bible tells of a takeover with lands being divided in Daniel 11:39.
Events are aligning for various curses, like Australia losing its sovereignty and land (cf. Lamentations 4:16; Joel 3:2-3; Amos 7:17; Ezekiel 5:1-2,12; 6:8; Ezekiel 22:13-15). And the published Chinese threats are proof of that.
Let's now look at Isaiah 11:
11 It shall come to pass in that day
That the Lord shall set His hand again the second time
To recover the remnant of His people who are left,
From Assyria and Egypt,
From Pathros and Cush,
From Elam and Shinar,
From Hamath and the islands of the sea.

12 He will set up a banner for the nations,
And will assemble the outcasts of Israel,
And gather together the dispersed of Judah
From the four corners of the earth.
13 Also the envy of Ephraim shall depart,
And the adversaries of Judah shall be cut off;
Ephraim shall not envy Judah,
And Judah shall not harass Ephraim. (Isaiah 11:11-13)
The "islands of the sea" in Isaiah 11 seems to suggest that people will be in various islands. This likely includes some left in Australia and New Zealand, but also may include Asian lands such as Japan and Indonesia.
The following from Ezekiel and Isaiah seem to suggest that the Asians will end up with peoples, which would probably include Anglo-Saxon-Celtic descended ones:
13 Javan, Tubal, and Meshech were your traders. They bartered human lives and vessels of bronze for your merchandise. 14 Those from the house of Togarmah traded for your wares with horses, steeds, and mules. (Ezekiel 27:13-14)

9 That You may say to the prisoners, 'Go forth,' To those who are in darkness, 'Show yourselves.' "They shall feed along the roads, And their pastures shall be on all desolate heights. 10 They shall neither hunger nor thirst, Neither heat nor sun shall strike them; For He who has mercy on them will lead them, Even by the springs of water He will guide them. 11 I will make each of My mountains a road, And My highways shall be elevated. 12 Surely these shall come from afar; Look! Those from the north and the west, And these from the land of Sinim. (Isaiah 49:9-12)
Tubal and Meshech are related to Russia (see Russia: Its Origins and Prophesied Future) (Meshech with Moscow and Tubal possibly with Siberia). Javan was the son of Japheth, from whom the Oriental/Mongoloid race developed (but some have identified the Greeks as Javan). Others have considered that the Japanese could have descended from one or more of Javan's sons like Elishah and perhaps Tarshish (see Japan, Its Biblical Past and Future, Part 1: Any Witness?). Islamic and other scholars have somewhat suggested that Javan may be related to China (see China, Its Biblical Past and Future, Part 1: Genesis and Chinese Characters). Some believe that Sinim refers to China and/or others in Asia.
Those in New Zealand and Australia are descended from Ephraim, and are subject to biblically-prophesied captivity.
The RCEP and other trade deals that New Zealand and Australia have made with China and other Asian nations will not protect them.
Some items of possibly related interest may include:
Australia and New Zealand in Prophecy Do biblical prophecies help explain the wealth blessings for Australia and New Zealand? Might cursings from disobedience come in the 21st century? Here is a link to a related sermon: Australia and New Zealand: Origins and Prophecy.
Trade Disputes: CCOG Warnings Are Coming to Pass Trade tensions and talks of trade wars have escalated. US President Donald Trump has put Europe, China, Mexico, and other lands on notice that he wants to change how international trade with the USA has been going. Tariffs, retaliatory tariffs, and even more tariffs are being implemented. Is this all just happenstance? Are we yet in a trade war? What will Europe do? Has the Church of God been warning about trade disputes and a coming trade war for decades? What about the Continuing Church of God (CCOG)? What has been warned, what has been happening, and what will happen? Will trade disputes be a factor in World War III (WW3)? Dr. Thiel explains what has been taught and what to expect.
Trade Wars: Are COG warnings coming to pass? Trade issues, tariffs, and talk of trade wars are in the news. Can trade wars lead to World War III like they did to World War II? Are the events going on with the USA, UK, Asia, and Europe consistent with warnings published by the true Church of God (COG) over the past several years and decades? Do Germany and China hope to take advantage of trade frictions involving the Trump Administration and the Trans-Pacific Partnership agreement? What about Mexico and South America? Does the Bible teach that Europe will become a major trading power? Will the final European Babylonian trading power be destroyed? Dr. Thiel addresses these issues and more in this video.
Anglo – America in Prophecy & the Lost Tribes of Israel Are the Americans, Canadians, English, Scottish, Welsh, Australians, Anglo-Saxon (non-Dutch) Southern Africans, and New Zealanders descendants of Joseph? Where are the lost ten-tribes of Israel? Who are the lost tribes of Israel? What will happen to Jerusalem and the Jews in Israel? Will God punish the U.S.A., Canada, United Kingdom, and other Anglo-Saxon nations? Why might God allow them to be punished first? Here is a link to the Spanish version of this article: Anglo-América & las Tribus Perdidas de Israel. Information is also in the YouTube sermons titled Where are the Ten Lost Tribes? Why does it matter? and British are the Covenant People. A short YouTube of prophetic interest may be: Are Chinese threats against Australia for real?
Will the Anglo-Saxon-Celtic Nations be Divided and Have People Taken as Slaves? Will the lands of the United States, United Kingdom, Canada, Australia, and New Zealand be divided? What about Jerusalem? What does Bible prophecy teach? Are there non-biblical prophecies that support this idea? Who will divide those lands? Who will end up with the lands and the people? Here is a link to a video titled Will the USA and other Anglo-nations be Divided and Their People Made Slaves? Here is a related item in the Spanish language ¿Serán divididas las naciones anglosajonas?
British are the Covenant People What do 'British' and 'Britain' mean in Hebrew? Are the descendants of the Anglo-Saxons people of the covenant? Does the British royal family connect to the throne of David? What does the Bible teach? What does history show us? Is there any DNA evidence related to British-Israelism? When did Christianity make it to the British Isles? Could Jeremiah have made it to the British Isles? What type of Christians made it to the British Isles? Did the last King of England believe in British Israelism?
Canada in Prophecy: What Does Bible Prophecy, Catholic Prophecy, and other Predictions Suggest About the Future of Canada? There are prophecies that suggest involvement with Canada. And many are not positive about its future. A sermon of related interest is also available: Canada in Prophecy.
Donald Trump in Prophecy Prophecy, Donald Trump? Are there prophecies that Donald Trump may fulfill? Are there any prophecies that he has already helped fulfill? Is a Donald Trump presidency proving to be apocalyptic? Two related videos are available: Donald: 'Trump of God' or Apocalyptic? and Donald Trump's Prophetic Presidency.
Trump Presidency Magic 8 Ball or Bible Prophecy? BBC reported that one might as well use a 'Magic Eight-Ball' to try to predict what will happen in the remaining time of Donald Trump's presidency. What is a 'Magic Eight-Ball'? Dr. Thiel not only explains that, but also briefly goes over 10 biblically-based warnings he wrote would happen if Donald Trump were elected that have already began to come to pass. He also goes over something he wrote back in 2008 that the Trump presidency is also helping lead to fulfillment. Should you trust Bible prophecy or not? Dr. Thiel says that Bible prophecy can be trusted, despite the view of skeptics and others that either overlook or despise the Bible. This is a video.
Donald Trump and America's Apocalypse This 188 page book is for people truly interested in prophecies related to Donald Trump and the United States, including learning about several that have already been fulfilled and those that will be fulfilled in the future. The physical book can be purchased at Amazon for $12.99 from the following link: Donald Trump and America's Apocalypse.
Donald Trump and America's Apocalypse-Kindle Edition This electronic version of the 188 page print edition is available for only US$3.99. And you do not need an actual Kindle device to read it. Why? Amazon will allow you to download it to almost any device: Please click HERE to download one of Amazon s Free Reader Apps. After you go to for your free Kindle reader and then go to Donald Trump and America's Apocalypse-Kindle Edition.Mexico, Central America, South America, Brazil, and the Caribbean in Prophecy [Español: México, América central, Suramérica, Brasil y el Caribe en la profecía] [Português: México, América Central, Ámérica do Sul, e Brasil na profecia] What will happen to those of Latin America? Will they have prosperity? Will they cooperate with Europe? Will they suffer in the future? What role might the various Caribbean nations/territories play? Two videos of related interest are available: Will Mexico Regain USA Territories? and Donald Trump and Mexico's future. A sermon of related interest is available: Latin America in Prophecy.
USA in Prophecy: The Strongest Fortresses Can you point to scriptures, like Daniel 11:39, that point to the USA in the 21st century? This article does. Two related sermon are available: Identifying the USA and its Destruction in Prophecy and Do these 7 prophesies point to the end of the USA?
Who is the King of the West? Why is there no Final End-Time King of the West in Bible Prophecy? Is the United States the King of the West? Here is a version in the Spanish language: ¿Quién es el Rey del Occidente? ¿Por qué no hay un Rey del Occidente en la profecía del tiempo del fin? A related sermon is also available: The Bible, the USA, and the King of the West.
Who is the King of the North? Is there one? Do biblical and Roman Catholic prophecies for the Great Monarch point to the same leader? Should he be followed? Who will be the King of the North discussed in Daniel 11? Is a nuclear attack prophesied to happen to the English-speaking peoples of the United States, Great Britain, Canada, Australia, and New Zealand? When do the 1335 days, 1290 days, and 1260 days (the time, times, and half a time) of Daniel 12 begin? When does the Bible show that economic collapse will affect the United States? In the Spanish language check out ¿Quién es el Rey del Norte? Here are links to two related videos: The King of the North is Alive: What to Look Out For and The Future King of the North.
Does God Have a 6,000 Year Plan? What Year Does the 6,000 Years End? Was a 6000 year time allowed for humans to rule followed by a literal thousand year reign of Christ on Earth taught by the early Christians? Does God have 7,000 year plan? What year may the six thousand years of human rule end? When will Jesus return? 2028 or 20xx? There is also a video titled 6000 Years: When will God's Kingdom Come? Here is a link to the article in Spanish: ¿Tiene Dios un plan de 6,000 años?
When Will the Great Tribulation Begin? 2020, 2021, or 2022? Can the Great Tribulation begin today? What happens before the Great Tribulation in the "beginning of sorrows"? What happens in the Great Tribulation and the Day of the Lord? Is this the time of the Gentiles? When is the earliest that the Great Tribulation can begin? What is the Day of the Lord? Who are the 144,000? Here is a version of the article in the Spanish language: ¿Puede la Gran Tribulación comenzar en el 2020 o 2021? ¿Es el Tiempo de los Gentiles? You can also see the English language sermon videos: The Great Tribulation from the Mount of Olives and Can the Great Tribulation begin before 2020? A shorter and newer video is: Could the Great Tribulation Begin in 2020?
The Times of the Gentiles Has there been more than one time of the Gentiles? Are we in it now or in the time of Anglo-America? What will the final time of the Gentiles be like? A related sermon is available and is titled: The Times of the Gentiles.
Armageddon Who is involved and when will this gathering happen? Here is also a video from Dr. Thiel, from Tel Megiddo in Israel: Armageddon. Other videos include: Armageddon Will it come on Trump's watch?, Iraq, Armageddon, & Prophecy, Freemasonry, Armageddon, and Rome, Is China paving roads to Armageddon?, and Jordan, Petra, and Armageddon.