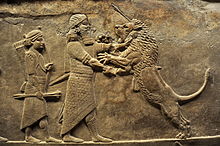 Assyrian Relief from Nineveh, 645-635 B.C.

Notice something from a German Islamic conference a while back:
Some have called it a U-turn, others see it in less dramatic terms. Interior Minister Horst Seehofer has said that "Muslims are a part of Germany" on the opening day of the German Islam Conference.

Horst Seehofer said on Wednesday in Berlin that "Muslims belong to Germany," speaking as he presided over the fourth German Islam Conference (DIK). 11/28/18 https://www.dw.com/en/seehofer-tells-islam-conference-muslims-are-a-part-of-germany/a-46489983
Well, there may be more historical truth to that than those at the conference realize.
The Bible shows that a lying deal will be made with a German-dominated European power and a power from nations currently dominated by Islam:
27 Both these kings' hearts shall be bent on evil, and they shall speak lies at the same table; but it shall not prosper, for the end will still be at the appointed time. (Daniel 11:27)
Those kings are the King of the North and King of the South as others passages in Daniel 11 so identify them.
A while back, World Net Daily reported the following:
…Babylonian artifacts. Ancient tablets describe "Alla" as a deity of "violence and revolution."… The…find…links the name to the Epic of Atrahasis, chiseled on tablets sometime around 1700 B.C. in Babylon…"The beginning of the Epic of Atrahasis describes Allah as how all of the gods labored endlessly in grueling work, under the rule of the patron deity Enlil or Elil. But soon revolt of the gods had erupted, and one deity of 'violence and revolution' [was] named Allah (spelled by the experts as Alla)," he wrote…."The question remains as to why no expert on Assyriology or Sumerology had even suspected that 'Alla' had a connection with the Arabian 'Allah,'" he wrote. http://www.wnd.com/2012/09/1700-b-c-alla-god-of-violence-and-revolution/
While the above article attempts to connect that to modern Islam, various scholars likely have their doubts. But there is no doubt that the names Alla and Allah certainly seem similar. Whether or not Islam is tied to ancient Assyrian deities, Islam is not a religion of peace as some claim, but a religion that promotes war (see also Differences Between Islam and the Continuing Church of God).
But could there be any Germanic ties?
Well clearly this research shows a connection between the ancient Assyrians and a warring deity.
Other sources have demonstrated that the ancient Assyrians used the term Alla for some of their deities:
Al-sarru, if Al had been an Assyrian god. We may set down Alman as a possible reading, or even Alnis, but there seems no meaning to either. Now we have a similar name Alla-MAN, this can hardly be phonetic. I venture therefore to read Alla-sarru and Al-sarru, 'Alla is king.' As MAN means king…Mannu-ki-Alla shows the same divine name. (Johns CHW. An Assyrian doomsday book, or, Liber censualis of the district round Harran in the seventh century B.C.: copied from the cuneiform tablets in the British Museum, Volume 17 of Assyriologische Bibliothek. J. C. Hinrichs, 1901. Original from Princeton University, Digitized May 28, 2009, p. 15)
They also had other warring deities.
Here are two other references:
ON THE ORIGINAL ASSYRIA. WE proceed to consider the character of another country, noticed as marking… by the Hebrews and Chaldeans, was either Syr, Shur, or Tyr ; so that the compound word might be Ai-syria, or Ai-shyria…which is here rendered Assyria. (Clamet A, Taylor Calmet's dictionary of the Holy Bible: with the Biblical fragments, Volume 4, 5th edition. Holdsworth and Ball, 1830. Original from the New York Public Library, Digitized Oct 20, 2010, p. 60)

Men prayed to Tyr…In some places he was called Tiwaz and was associated with the Roman God, Mars, the Celtic God, Nadu, as well as the Indian God, Mitra…Tyr was the original God of war, and the precursor of Odin…The name Tiwaz is also related to the Roman God Jupiter, and the Greek God, Zeus. All three names are descended from Dyaus Piter or Father Dyaus, and are all descended from the name Dieus…

A helmet was found in Negau in Austria which bears an inscription…translated as Teiwa, which is an archaic form of Tyr's name…Tyr was worshipped…in Bavaria (Blumetti R. The Book of Balder Rising. iUniverse, 2004, pp. 142, 143).
Tyr, Mars, etc. were gods of war. And Tyr was worshiped in Bavaria (essentially southern Germany).
Also notice:
Ishtar was a favorite goddess of the Assyrian kings, who styled her as "their lady," and sometimes coupled her with Asshur, "the Great Lord," in their invocations. Ishtar had a very old temple at Asshur, the primitive Assyrian capital, and this temple, Tiglath-Pileser I, repaired and beautified. (Clare IS. Ancient oriental nations, Volume 1 of The Unrivaled History of the World: Containing a Full and Complete Record of the Human Race from the Earliest Historical Period to the Present Time, Embracing a General Survey of the Progress of Mankind in National and Social Life, Civil Government, Religion, Literature, Science and Art. Unrivaled Publishing Co., 1889. Original from Indiana University, Digitized Feb 3, 2010p. 225).
Ishtar, also known as Easter/Oster/Ostern (the Germanic goddess of Springtime), long influenced the Assyrians and as well the modern Germans. Ishtar was the goddess of fertility and war. Ishtar also has ties to the ancient Babylonian mystery religion and Nimrod. She was also called Beltis. Belits was the wife of Bel-Nimrod. She was called "the Queen of Fertility" and also known as "the Great Mother" (similar to how some revere Mary, the mother of Jesus today) and essentially was also Ishtar in the Assyrian triad (Clare, pp. 222-223).
Bel, or Bel-Nimrod, according to the testimony of the Assyrian monuments, was worshiped as extensively in Assyria as in Chaldaea, and Babylonia. (Clare, p. 222)
What is the possible relevance of any of this?
The tying together of violent deities from Babylon to Assyria in the past suggests a possible connection in the future.
Why?
The Bible tells of a time where a leader with Assyrian ties (Isaiah 10:5-7) will rise up and destroy not a few nations. This leader is also the one called the King of the North. This final such leader will, according to the Bible, honor a violent god and he also will destroy many:
38 But in their place he shall honor a god of fortresses; and a god which his fathers did not know he shall honor with gold and silver, with precious stones and pleasant things. 39 Thus he shall act against the strongest fortresses with a foreign god, which he shall acknowledge, and advance its glory; and he shall cause them to rule over many, and divide the land for gain. 40 "At the time of the end the king of the South shall attack him; and the king of the North shall come against him like a whirlwind, with chariots, horsemen, and with many ships; and he shall enter the countries, overwhelm them, and pass through. 41 He shall also enter the Glorious Land, and many countries shall be overthrown…(Daniel 11:38-41)
What's the Alla, Tyr, and Ishtar connection?
Precisely the distinguishing in Daniel 11:38 between the "god of fortresses" and "a god his fathers did not know." The implication, to me at least, is that the "god of fortresses" is related to a "god" of violence that his fathers did know, like Alla, Tyr, and Ishtar.
And while there will also be a new "god" that the King of the North will honor, there will be some differences between his empire (Daniel 2:41-43) and the Babylonian one (Daniel 2:24, 36-37). It may be important to realize that the empire of this final King of the North is also called the "daughter Babylon" in scripture (Jeremiah 50:41-43), thus it must be somehow different, but with some Babylonian connections.
So, this information about the Babylonian warring connection of ancient deities tied in with biblical prophecy shows an additional apparent connection between ancient Babylon and the coming King of the North power.
Germany is signalling that it is working towards dominance. Notice, for example, the following video on our Bible News Prophecy YouTube channel:
16:29

Are German leaders serious about putting together a new world order that is dominated by Germany? At least ten statements made by Germany's current Foreign Minister Heiko Maas point to this. Does Germany want Europe to have a military which is independent of the United States? Have German elites concluded that Germany is too small to have a sufficiently dominate influence in the world without European nations to align with it? Are steps being taken to dethrone the US dollar as the world's primary reserve currency? Are statements by US President Donald Trump helping push Germany and Europe together? Is there an 'Alliance for Multilateralism'? Is there any United Nations' connection? Could a German-dominated Europe be the Beast of Bible prophecy? Does Isaiah 10 point to Germany being used by God against powers such as the United States? Dr. Thiel addresses these issues and more.
Here is a link to our latest uploaded video: 10 German 'New World Order' Moves.
We made a few BibleNewsProphecy videos related to Germany and the European military:
9:49
Germany and World War 3 Could preparations for WWIII have begun? German Chancellor Angela Merkel and French President Emmanuel Macron called for a European army to be independent of the USA and NATO. One of the reasons was to be able to protect against the USA. Is the fourth German Reich in progress? What does the Bible teach about Germany, Europe, and WW3? Dr. Thiel addresses these matters in this video.
Here is a link to the sermonette video: Germany and World War 3.

15:25
PESCO and a Great European Army In November 2018, French President Macron called for a "true European army" because of China, Russia, and the USA. Some others in Europe have echoed that sentiment. On November 9, 2018, US President Donald Trump called that an insult, but the next day said that the USA wanted "a very strong Europe." Emmanuel Macron referred to Donald Trump as "my friend" and indicated a desire to strengthen Europe's military spending. In December 2017, 25 European nations agreed to be part of a military alliance called PESCO. Europe also has NATO and IEI. Will Europe end up with "a great army"? Has Donald Trump's announcement to withdraw from the 1987 Intermediate-Range Nuclear Forces Treaty gotten some to say that Europe must rebel against the USA? Is the idea of a United States of Europe and a European army a "paranoid fantasy" or a biblical reality? Will the USA regret Europe becoming a stronger military power? Will the USA be betrayed by "friends" such as its continental European allies? Does the Bible teach any or all of this? Are there connections to the Beast of Revelation or the King of the North of Daniel 11? Dr. Thiel addresses these matters in this video.
Here is a link to that video: PESCO and a Great European Army.
15:27
Nuclear bombers for the Beast? It is reported that the Germans are looking for a new bomber to be able to be used to deliver US B61-12 atomic bombs. Does Germany already have access to American nuclear weapons it can now use? What about Belgium, Italy, and the Netherlands? Has there been increased interest in more independent European nuclear capacity since the election of US President Donald Trump? What has Berthold Kohler, Herbert W. Armstrong, Nigel Farage, Jean-Claude Juncker, and Maximilian Terhalle said about Europe's militaristic ambitions? What about Bible prophecy? Could the Great Tribulation begin with a thermonuclear strike? What has Time, NTI, and Global Research reported about European nuclear weapons available to European nations? Is a nuclear attack consistent with prophecies? Might the coming Beast use nuclear weapons against the USA? Dr. Thiel addresses these issues and more.
Here is a link to the sermonette video: Nuclear bombers for the Beast?
Note that Lamentations 1:1-2, indicates that the USA will be betrayed and destroyed militarily by its "friends." Europe does not have to be stronger in all areas than the USA, only enough to win when the USA is not expecting it.
The late Herbert W. Armstrong wrote about WWIII's timing and how he thought it would begin:
World War 3 brings with it THE GREAT TRIBULATION. That is now next in order. But Jesus, in foretelling this chain of world events, said the GREAT TRIBULATION would be preceded by the world-wide proclaiming of HIS Gospel. "The GOSPEL must first be published among all nations," said Jesus (Mark 13:10), or, as recorded by Matthew (24:14): "This Gospel OF THE KINGDOM shall be preached in all the world for a witness unto ALL NATIONS; and THEN shall the END (of the world) come." (Armstrong HW. Brethren and Co-Worker Letter, May 22, 1953) Matthew 24:15…That will be a time when the UNITED Europe shall appear–the revival of the medieval "Holy Roman Empire." We shall then be warned, and readied to be taken to a place of refuge and safety from the Great Tribulation. Forty-five days later "the beasts armies" will surround Jerusalem. Thirty days later the Great Tribulation will probably start with a nuclear attack on London and Britain–and possibly the same day or immediately after, on the United States and Canadian cities. The GREAT TRIBULATION, we shall fully then realize, is the time of "Jacob's Trouble," spoken of in Jeremiah 30:7. And Jacob's name was named on Joseph's sons, Ephraim and Manasseh (Gen. 48:16). … We have reached the time just before a "United States of Europe" restores the "Holy Roman Empire," under the papacy, in a union of church and state. (Armstrong HW. The Time We Are In, Now. Pastor General's Report-Vol 1, No. 15, November 20, 1979, Page 2).
Notice that the UK, USA, and Canada are mentioned in the above writing. Herbert W. Armstrong correctly wrote that they are attacked at the start of the Great Tribulation. This happens BEFORE the King of the North attacks the King of the South as Gerald Flurry asserts. What Herbert W. Armstrong wrote is consistent with the sequence of Daniel 11:39-43. WWIII is coming, but those who rely on inaccurate prophetic interpretation, unless they change, will not realize what is happening until after the Great Tribulation begins–but that is the case for the non-Philadelphian churches (a list of over 40 such prophetic errors is towards the end of the article titled The Laodicean Church Era). Consider the following which will affect God's people:
26 Disaster will come upon disaster, And rumor will be upon rumor. Then they will seek a vision from a prophet; (Ezekiel 7:26)
Will you wait until it is too late (cf. Zephaniah 2:1-3; see also There is a Place of Safety for the Philadelphians. Why it May Be Near Petra)? Will you wait until after prophesied disasters to hit before heeding God's messages and messengers? Gerald Flurry is NOT God's prophet and it will not be his vision that God's people will later try to follow. As far as true prophets and who has the prophetic signs, check out the articles and Does the CCOG have the confirmed signs of Acts 2:17-18?
It should be understood that although the coming King of the North will likely claim to be some type of Christian for a time, the reality is that the historical record shows that the early professors of Christ would not participate in carnal warfare. It is only those whose faiths have stronger ties to warring deities than the true Christian God that do that.
For more information, check out the following:
Differences Between Islam and the Continuing Church of God What are some of the main differences? Are there any similarities? A video of related interest is titled: Islam: Any Christian Concerns or Similarities?
Germany's Assyrian Roots Throughout History Are the Germanic peoples descended from Asshur of the Bible? Have there been real Christians in Germanic history? What about the "Holy Roman Empire"? There is also a You-Tube video sermon on this titled Germany's Biblical Origins.
Germany in Biblical and Catholic Prophecy Does Assyria in the Bible equate to an end time power inhabiting the area of the old Roman Empire? What does prophecy say Germany will do and what does it say will happen to most of the German people? Here is a link to a video Is the USA Pushing Germany to Start WWIII?
Who is the King of the North? Is there one? Do biblical and Roman Catholic prophecies for the Great Monarch point to the same leader? Should he be followed? Who will be the King of the North discussed in Daniel 11? Is a nuclear attack prophesied to happen to the English-speaking peoples of the United States, Great Britain, Canada, Australia, and New Zealand? When do the 1335 days, 1290 days, and 1260 days (the time, times, and half a time) of Daniel 12 begin? When does the Bible show that economic collapse will affect the United States? In the Spanish language check out ¿Quién es el Rey del Norte? Here is a link to a video titled: The Future King of the North.
Europa, the Beast, and Revelation Where did Europe get its name? What might Europe have to do with the Book of Revelation? What about "the Beast"? Is an emerging European power "the daughter of Babylon"? What is ahead for Europe? Here is a link to a video titled: Can You Prove that the Beast to Come is European?
European Technology and the Beast of Revelation Will the coming European Beast power would use and develop technology that will result in the taking over of the USA and its Anglo-Saxon allies? Is this possible? What does the Bible teach? Here is a related YouTube video: Military Technology and the Beast of Revelation.
Must the Ten Kings of Revelation 17:12 Rule over Ten Currently Existing Nations? Some claim that these passages refer to a gathering of 10 currently existing nations together, while one group teaches that this is referring to 11 nations getting together. Is that what Revelation 17:12-13 refers to? The ramifications of misunderstanding this are enormous. A related sermon is titled Ten Kings of Revelation and the Great Tribulation.
Might German Baron Karl-Theodor zu Guttenberg become the King of the North? Is the former German Defense Minister (who is also the former German Minister for Economics and Technology) one to watch? What do Catholic, Byzantine, and biblical prophecies suggest? A video of related interest would be: Karl-Theodor zu Guttenberg and Europe's Future.
Military Service and the Churches of God: Do Real Christians Participate in Carnal Warfare? Here are current and historical perspectives on a matter which show the beliefs of the true church on military participation. Is war proper for Christians?