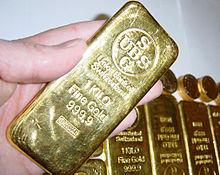 A recent report shows that Germans removed their gold from London a while ago:
Bundesbank slashed London gold holdings in mystery move

Germany withdrew two thirds of its vast holdings of gold from Bank of England vaults shortly after the launch of the euro more than a decade ago, according to a confidential report that emerged on Wednesday.
London is not the only place that the German nation has stored its gold.  And now Germans are concerned about their gold stocks and want to insure that they have all that they own:
The Germans Are Coming for Their Gold

CNBC – Oct 24, 2012 excerpt…

A German federal court has said that country's central bank should conduct annual audits and physically inspect its gold reserves worldwide, including gold in the custody of the Federal Reserve Bank of New York.

…the Bundesbank is actually going to follow the recommendation that it verify the gold stocks. It also has plans to ship some 150 tons of gold back to Germany for a more "thorough examination."  http://www.cnbc.com/id/49540593
Biblical (Daniel 11:40-44) and non-biblical prophecies point out that the final leader that the Bible calls the King of the North, who will likely have Germanic/Assyrian heritage (cf. Daniel 11:30 with Numbers 24:24), will value gold.
The fact that many in Germany are getting more interest in their national stock piles of gold is consistent with end time prophecy.
Some articles of possibly related interest may include:
The Plain Truth About Gold in Prophecy. How Should a Christian View Gold? What do economists and the Bible teach about gold? Gold and silver may drop in value. Inflation/deflation? What do Christians need to know about gold?
Might German Baron Karl-Theodor zu Guttenberg become the King of the North? Is the German Defense Minister one to watch? What do Catholic, Byzantine, and biblical prophecies suggest?
Germany's Assyrian Roots Throughout History Are the Germanic peoples descended from Asshur of the Bible? Have there been real Christians in Germanic history? What about the "Holy Roman Empire"?
Resurgent Germany: A Fourth Reich? Who are the German peoples and where did they come from? What is Germany's role in end time prophecy?