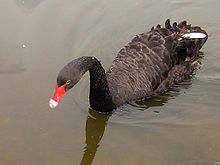 Black Swan (Calvin Teo)

Nomura again came up with a list of 'grey swan' events for 2020:
The Coronavirus Pandemic Wasn't a Black Swan Event. Why We Must Prepare for More Outbreaks.
The thing that 2020 forces us to come to terms with is that this wasn't a black swan. This kind of pandemic was widely and insistently and repeatedly predicted. In fact, what people had predicted was worse than the coronavirus. Since the early 1970s, scientists and social scientists have come to the view that humanity's relationship with the natural world has become unbalanced. One facet of that is climate change. Another is the concern about "emerging infectious diseases," which is what you get when more people go into areas that hadn't previously had humans and start interacting with animals and catching new viruses. The classic cases are Ebola and AIDS, but you can also look at the new strains of flu coming from birds and pigs. …

People knew about all these dangers, and there has been increasingly elaborate modeling about the risk of a catastrophe. What we've seen in 2020 was that the risk management failed. 12/08/20 https://www.barrons.com/articles/why-the-coronavirus-pandemic-wasnt-a-black-swan-event-we-must-prepare-for-more-outbreaks-51607134151
Yes, as long as humans continue to eat biblically-unclean animals, a large known risk remains. It is not that other things cannot be factors, but raising and consumpting biblically-unclean animals has historically been a factor.
Most people will not heed the restrictions that are in the Bible!
Now what do 'black swans' have to do with anything? Notice also the following:
The black swan theory or theory of black swan events . . . was developed by Nassim Nicholas Taleb to explain:

The disproportionate role of high-profile, hard-to-predict, and rare events that are beyond the realm of normal expectations in history, science, finance, and technology
The non-computability of the probability of the consequential rare events using scientific methods (owing to the very nature of small probabilities)
The psychological biases that make people individually and collectively blind to uncertainty and unaware of the massive role of the rare event in historical affairs (Wikipedia, viewed 12/12/13)
Some events that people feel are not predictable, of course, are predictable.
Notice what God had recorded in His word:
9 Remember the former things of old,
For I am God, and there is no other;
I am God, and there is none like Me,
10 Declaring the end from the beginning,
And from ancient times things that are not yet done,
Saying, 'My counsel shall stand,
And I will do all My pleasure,'
11 Calling a bird of prey from the east,
The man who executes My counsel, from a far country.
Indeed I have spoken it;
I will also bring it to pass.
I have purposed it;
I will also do it. (Isaiah 46:9-11)
God's counsel will stand. That includes prophecies from the Bible.
The Bible warns against consuming biblically-unclean animals, while also telling of a coming time of pestilences.
he Continuing Church of God (CCOG) put together the following video on our Bible News Prophecy YouTube channel:
With countries like the USA reporting over 100,000 confirmed COVID-19 cases per day in November 2020 and a "second wave of the pandemic" hitting Europe, some have wondered, how we can better prevent future pandemics? Researchers believe that Chinese horseshoe bats and probably pangolins were involved in the creation of the novel coronavirus. Pigs, chimps, monkeys, and other unclean animals have been connected to pandemics over the course of human history. Does the Bible prohibit the consumption of these animals as well as the consumption of animal blood? Could it be possible that the human digestive system is not intended to properly digest unclean flesh or animal blood? Does the Bible warn about future pestilences and death coming? Will most humans repent or are they prophesied to not do so despite plagues that the Bible says will come? Dr. Thiel addresses these issues and more in this video.
Here is a link to the video: COVID, Pandemics, and Unclean Meat.
The reality is that world events are lining up with properly understood biblical prophecies.
We in the Continuing Church of God "have also a more sure word of prophecy; whereunto ye do well that ye take heed, as unto a light that shineth in a dark place, until the day dawn, and the day star arise in your hearts" (2 Peter 1:19, KJV).
Some items of possibly related interest may include:
The New Testament Church, History, and Unclean Meats Are foods considered to have been unclean in the Old Testament considered to be food in the New Testament? This article discusses this from the perspective of the New Testament. It also has a list of clean and unclean animals. It also answers the question, is pork healthy or is pork dangerous? There is also a sermon-length video on this: Christians and Unclean Meats; a short video is also available: Did Jesus declare all animal flesh food?
Fourth Horseman of the Apocalypse What is the pale horse of death and pestilences? What will it bring and when? Here is a link to a related sermon: Fourth Horseman, COVID, and the Rise of the Beast of Revelation. Some shorter related videos may include Amphibian Apocalypse: Threat to Humans? and Zombie Deer Disease is Here! Are the 10 Plagues on Egypt Coming? Here is a version of the article in Spanish: El cuarto jinete de Apocalipsis, el caballo pálido de muerte y pestilencia.
Biological Warfare and Prophecy. Is biological warfare possible? Was it prophesied? Scientists have long warned that pathogenic organisms like the coronavirus could be weaponized. Furthermore, back in 2017, there were concerns that the biological research facility being constructed in Wuhan, China was risky and that a coronavirus from it could be released. On January 25, 2020, China's President Xi Jinping publicly stated that the situation with the Wuhan-related strain of the coronavirus was grave. Did Church of God writers like the late evangelist Raymond McNair warn that engineered viruses (the "Doomsday bug") were consistent with prophecies from Jesus? Did a warning from CCOG leader Bob Thiel warn about risks of genetically-modified (GMO) mosquitoes come to pass? Could human research and/or the consumption of biblically-unclean animals such as bats and snakes be a factor in current outbreaks or coming future pestilences? What about famines? How devastating have pestilences been? How devastating are the prophesied ones going to be? Dr. Thiel addresses these issues and more in this video.
GMOs and Bible Prophecy What are GMOs? Since they were not in the food supply until 1994, how could they possibly relate to Bible prophecy? Do GMOs put the USA and others at risk? Here are some related videos: GMO Risks and the Bible and GMOs, Lab meat, Hydrogenation: Safe or Dangerous?
Chimeras: Has Science Crossed the Line? What are chimeras? Has science crossed the line? Does the Bible give any clues? A video of related interest is Half human, half pig: What's the difference?
COVID 19 is NOT the End, but could it be TEOTWAWKI? The novel coronavirus called COVID-19 is wreaking havoc around the world. Many states of the USA as well as countries in Europe are on lockdown with shelter in place /shelter in residence requirements. In France, a form is required when you are not at your house. In Spain, drones are being used to warn people who are outside to got back to their homes–does that bring up feelings of 'Big Brother'? Italy, France, and other areas are using police and/or military force to encourage people to stay inside. According to the Bible could this be the end? If not, what has to happen first? Have the second and third of the four horsemen of the Apocalypse started their ride? Could COVID-19 be the fourth horseman? Why or why not? Could we be seeing The End of the World as We Know It (TEOTWAWKI) like the R.E.M.'s 1987 single song discussed? Do Christians need to fear? What did Jesus teach? What did the Psalmist teach? This is a video. Here is a link to a version in the Spanish language: Corona 19 no es el final PERO es el TEOTWAWKI.
COVID-19 Leading to 666? The novel coronavirus of Wuhan, China fame, is now called COVID-19. It has also been called the 'Coronapocalypse.' Does COVID-19 have any prophetic ramifications? What did Jesus teach about pestilences and sorrows in the Olivet prophecy in Matthew 24? Could COVID-19 be the ride of the fourth horseman of the Apocalypse? Why was this type of disease expected according to the O. Here is a link to a version in the Spanish language: ld Testament prophecies in Deuteronomy and Leviticus? What has the US Centers for Disease Control warned about? What has the CDC reported about the flu? Were there lessons about fear and infections in the 2011 movie 'Contagion'? Because of COVID-19, the World Health Organization (WHO), nation of Iran, and certain French locations are telling people not to use cash, but instead electronic forms of payment. The US Federal Reserve is now quarantining money repatriated from Asia to reduce the potential spread of the coronavirus on US currency bills. Is COVID-19 worse than we have been told or could this all be a 'false flag' event to encourage people to move towards a cashless society? If the thousands of deaths associated with COVID-19 are pushing parts of the world towards cashlessness, how much more likely will the ride of the fourth horseman and over a billion human deaths motivate people to move to making electronic payments that can be monitored? The Bible tells of a soon coming society that controls buying and selling to force allegiance to a coming European Beast power, known as 666 (Revelation 13:16-18). Does the 'great tribulation' begin before ride of the fourth horseman or with the opening of the fifth seal of Revelation 6? Do the words of Jesus helps us better understand the sequence of the four horsemen of the Apocalypse and the start of the Great Tribulation? Will the ride of the fourth horseman help lead to the rise of 666? Is that ride very close? Dr. Thiel addresses these issues and more in this video. Here is a link to a version in the Spanish language: El COVID-19 ¿Conduce al 666?F
20 items to prophetically watch in 2020 Much is happening. Dr. Thiel points to 20 items to watch (cf. Mark 13:37) in this article. Here is a link to a related sermon: 20 Prophetic Items to Watch in 2020.
Does God Have a 6,000 Year Plan? What Year Does the 6,000 Years End? Was a 6000 year time allowed for humans to rule followed by a literal thousand year reign of Christ on Earth taught by the early Christians? Does God have 7,000 year plan? What year may the six thousand years of human rule end? When will Jesus return? 2028 or 20xx? There is also a video titled 6000 Years: When will God's Kingdom Come? Here is a link to the article in Spanish: ¿Tiene Dios un plan de 6,000 años?
When Will the Great Tribulation Begin? 2021, 2022, or 2023? Can the Great Tribulation begin today? What happens before the Great Tribulation in the "beginning of sorrows"? What happens in the Great Tribulation and the Day of the Lord? Is this the time of the Gentiles? When is the earliest that the Great Tribulation can begin? What is the Day of the Lord? Who are the 144,000? Here is a version of the article in the Spanish language: ¿Puede la Gran Tribulación comenzar en el 2020 o 2021? ¿Es el Tiempo de los Gentiles? You can also see the English language sermon videos: The Great Tribulation from the Mount of Olives and Can the Great Tribulation begin before 2020? A shorter and newer video is: Could the Great Tribulation Begin in 2020?
The Times of the Gentiles Has there been more than one time of the Gentiles? Are we in it now or in the time of Anglo-America? What will the final time of the Gentiles be like? A related sermon is available and is titled: The Times of the Gentiles.
Proof Jesus is the Messiah This free book has over 200 Hebrew prophecies were fulfilled by Jesus. Plus, His arrival was consistent with specific prophecies and even Jewish interpretations of prophecy. Here are links to seven related sermons: Proof Jesus is the Messiah, Prophecies of Jesus' birth, timing, and death, Jesus' prophesied divinity, 200+ OT prophecies Jesus filled; Plus prophecies He made, Why Don't Jews Accept Jesus?, Daniel 9, Jews, and Jesus, and Facts and Atheists' Delusions About Jesus. Plus the links to two sermonettes: Luke's census: Any historical evidence? and Muslims believe Jesus is the Messiah, but … These videos cover nearly all of the book, plus have some information not in the book. We also have the book translated in the Spanish PRUEBA de que JESÚS es el MESÍAS and French PREUVES QUE JÉSUS EST LE MESSIE languages.
The MYSTERY of GOD's PLAN: Why Did God Create Anything? Why did God make you? This free online book helps answers some of the biggest questions that human have, including the biblical meaning of life. Here is a link to three related sermons: Mysteries of God's Plan, Mysteries of Truth, Sin, Rest, Suffering, and God's Plan, and The Mystery of YOU.