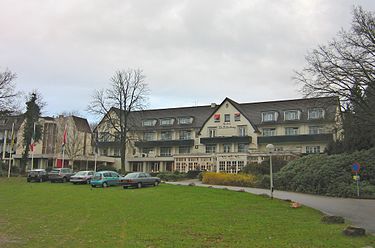 Bilderberg Hotel (M.M.Minderhoud)

The infamous Bilderberg meeting finally has been announced for 2019. Here is information from two of its press releases:
67th Bilderberg Meeting to take place 30 May – 2 June 2019 in Montreux, Switzerland

MONTREUX, 28 MAY 2019 – The 67th Bilderberg Meeting will take place from 30 May – 2 June 2019 in Montreux, Switzerland. About 130 participants from 23 countries have confirmed their attendance. As ever, a diverse group of political leaders and experts from industry, finance, academia, labour and the media has been invited. The list of participants is available on bilderbergmeetings.org.

The key topics for discussion this year are:

1. A Stable Strategic Order
2. What Next for Europe?
3. Climate Change and Sustainability
4. China
5. Russia
6. The Future of Capitalism
7. Brexit
8. The Ethics of Artificial Intelligence
9. The Weaponisation of Social Media
10. The Importance of Space
11. Cyber Threats

Founded in 1954, the Bilderberg Meeting is an annual conference designed to foster dialogue between Europe and North America. Every year, between 120-140 political leaders and experts from industry, finance, labour, academia and the media are invited to take part in the Meeting. About two thirds of the participants come from Europe and the rest from North America; approximately a quarter from politics and government and the rest from other fields.
The Bilderberg Meeting is a forum for informal discussions about major issues. The meetings are held under the Chatham House Rule, which states that participants are free to use the information received, but neither the identity nor the affiliation of the speaker(s) nor any other participant may be revealed.
Thanks to the private nature of the Meeting, the participants take part as individuals rather than in any official capacity, and hence are not bound by the conventions of their office or by pre-agreed positions. As such, they can take time to listen, reflect and gather insights. There is no detailed agenda, no resolutions are proposed, no votes are taken and no policy statements are issued. https://www.bilderbergmeetings.org/press/press-release/press-release 

Montreux, 30 May – 2 June 2019

BOARD
Castries, Henri de (FRA), Chairman, Steering Committee; Chairman, Institut Montaigne
Kravis, Marie-Josée (USA), President, American Friends of Bilderberg Inc.; Senior Fellow, Hudson Institute
Halberstadt, Victor (NLD), Chairman Foundation Bilderberg Meetings; Professor of Economics, Leiden University
Achleitner, Paul M. (DEU), Treasurer Foundation Bilderberg Meetings; Chairman Supervisory Board, Deutsche Bank AG

PARTICIPANTS
Abrams, Stacey (USA), Founder and Chair, Fair Fight
Adonis, Andrew (GBR), Member, House of Lords
Albers, Isabel (BEL), Editorial Director, De Tijd / L'Echo
Altman, Roger C. (USA), Founder and Senior Chairman, Evercore
Arbour, Louise (CAN), Senior Counsel, Borden Ladner Gervais LLP
Arrimadas, Inés (ESP), Party Leader, Ciudadanos
Azoulay, Audrey (INT), Director-General, UNESCO
Baker, James H. (USA), Director, Office of Net Assessment, Office of the Secretary of Defense
Balta, Evren (TUR), Associate Professor of Political Science, Özyegin University
Barbizet, Patricia (FRA), Chairwoman and CEO, Temaris & Associés
Barbot, Estela (PRT), Member of the Board and Audit Committee, REN (Redes Energéticas Nacionais)
Barroso, José Manuel (PRT), Chairman, Goldman Sachs International; Former President, European Commission
Barton, Dominic (CAN), Senior Partner and former Global Managing Partner, McKinsey & Company
Beaune, Clément (FRA), Adviser Europe and G20, Office of the President of the Republic of France
Boos, Hans-Christian (DEU), CEO and Founder, Arago GmbH
Bostrom, Nick (UK), Director, Future of Humanity Institute, Oxford University
Botín, Ana P. (ESP), Group Executive Chair, Banco Santander
Brandtzæg, Svein Richard (NOR), Chairman, Norwegian University of Science and Technology
Brende, Børge (NOR), President, World Economic Forum
Buberl, Thomas (FRA), CEO, AXA
Buitenweg, Kathalijne (NLD), MP, Green Party
Caine, Patrice (FRA), Chairman and CEO, Thales Group
Carney, Mark J. (GBR), Governor, Bank of England
Casado, Pablo (ESP), President, Partido Popular
Ceviköz, Ahmet Ünal (TUR), MP, Republican People's Party (CHP)
Champagne, François Philippe (CAN), Minister of Infrastructure and Communities
Cohen, Jared (USA), Founder and CEO, Jigsaw, Alphabet Inc.
Croiset van Uchelen, Arnold (NLD), Partner, Allen & Overy LLP
Daniels, Matthew (USA), New space and technology projects, Office of the Secretary of Defense
Davignon, Etienne (BEL), Minister of State
Demiralp, Selva (TUR), Professor of Economics, Koç University
Donohoe, Paschal (IRL), Minister for Finance, Public Expenditure and Reform
Döpfner, Mathias (DEU), Chairman and CEO, Axel Springer SE
Ellis, James O. (USA), Chairman, Users' Advisory Group, National Space Council
Feltri, Stefano (ITA), Deputy Editor-in-Chief, Il Fatto Quotidiano
Ferguson, Niall (USA), Milbank Family Senior Fellow, Hoover Institution, Stanford University
Findsen, Lars (DNK), Director, Danish Defence Intelligence Service
Fleming, Jeremy (GBR), Director, British Government Communications Headquarters
Garton Ash, Timothy (GBR), Professor of European Studies, Oxford University
Gnodde, Richard J. (IRL), CEO, Goldman Sachs International
Godement, François (FRA), Senior Adviser for Asia, Institut Montaigne
Grant, Adam M. (USA), Saul P. Steinberg Professor of Management, The Wharton School, University of Pennsylvania
Gruber, Lilli (ITA), Editor-in-Chief and Anchor "Otto e mezzo", La7 TV
Hanappi-Egger, Edeltraud (AUT), Rector, Vienna University of Economics and Business
Hedegaard, Connie (DNK), Chair, KR Foundation; Former European Commissioner
Henry, Mary Kay (USA), International President, Service Employees International Union
Hirayama, Martina (CHE), State Secretary for Education, Research and Innovation
Hobson, Mellody (USA), President, Ariel Investments LLC
Hoffman, Reid (USA), Co-Founder, LinkedIn; Partner, Greylock Partners
Hoffmann, André (CHE), Vice-Chairman, Roche Holding Ltd.
Jordan, Jr., Vernon E. (USA), Senior Managing Director, Lazard Frères & Co. LLC
Jost, Sonja (DEU), CEO, DexLeChem
Kaag, Sigrid (NLD), Minister for Foreign Trade and Development Cooperation
Karp, Alex (USA), CEO, Palantir Technologies
Kerameus, Niki K. (GRC), MP; Partner, Kerameus & Partners
Kissinger, Henry A. (USA), Chairman, Kissinger Associates Inc.
Koç, Ömer (TUR), Chairman, Koç Holding A.S.
Kotkin, Stephen (USA), Professor in History and International Affairs, Princeton University
Kramp-Karrenbauer, Annegret (DEU), Leader, CDU
Krastev, Ivan (BUL), Chairman, Centre for Liberal Strategies
Kravis, Henry R. (USA), Co-Chairman and Co-CEO, Kohlberg Kravis Roberts & Co.
Kristersson, Ulf (SWE), Leader of the Moderate Party
Kudelski, André (CHE), Chairman and CEO, Kudelski Group
Kushner, Jared (USA), Senior Advisor to the President, The White House
Le Maire, Bruno (FRA), Minister of Finance
Leyen, Ursula von der (DEU), Federal Minster of Defence
Leysen, Thomas (BEL), Chairman, KBC Group and Umicore
Liikanen, Erkki (FIN), Chairman, IFRS Trustees; Helsinki Graduate School of Economics
Lund, Helge (GBR), Chairman, BP plc; Chairman, Novo Nordisk AS
Maurer, Ueli (CHE), President of the Swiss Federation and Federal Councillor of Finance
Mazur, Sara (SWE), Director, Investor AB
McArdle, Megan (USA), Columnist, The Washington Post
McCaskill, Claire (USA), Former Senator; Analyst, NBC News
Medina, Fernando (PRT), Mayor of Lisbon
Micklethwait, John (USA), Editor-in-Chief, Bloomberg LP
Minton Beddoes, Zanny (GBR), Editor-in-Chief, The Economist
Monzón, Javier (ESP), Chairman, PRISA
Mundie, Craig J. (USA), President, Mundie & Associates
Nadella, Satya (USA), CEO, Microsoft
Netherlands, His Majesty the King of the (NLD)
Nora, Dominique (FRA), Managing Editor, L'Obs
O'Leary, Michael (IRL), CEO, Ryanair D.A.C.
Pagoulatos, George (GRC), Vice-President of ELIAMEP, Professor; Athens University of Economics
Papalexopoulos, Dimitri (GRC), CEO, TITAN Cement Company S.A.
Petraeus, David H. (USA), Chairman, KKR Global Institute
Pienkowska, Jolanta (POL), Anchor woman, journalist
Pottinger, Matthew (USA), Senior Director, National Security Council
Pouyanné, Patrick (FRA), Chairman and CEO, Total S.A.
Ratas, Jüri (EST), Prime Minister
Renzi, Matteo (ITA), Former Prime Minister; Senator, Senate of the Italian Republic
Rockström, Johan (SWE), Director, Potsdam Institute for Climate Impact Research
Rubin, Robert E. (USA), Co-Chairman Emeritus, Council on Foreign Relations; Former Treasury Secretary
Rutte, Mark (NLD), Prime Minister
Sabia, Michael (CAN), President and CEO, Caisse de dépôt et placement du Québec
Sanger, David E. (USA), National Security Correspondent, The New York Times
Sarts, Janis (INT), Director, NATO StratCom Centre of Excellence
Sawers, John (GBR), Executive Chairman, Newbridge Advisory
Schadlow, Nadia (USA), Senior Fellow, Hudson Institute
Schmidt, Eric E. (USA), Technical Advisor, Alphabet Inc.
Scholten, Rudolf (AUT), President, Bruno Kreisky Forum for International Dialogue
Seres, Silvija (NOR), Independent Investor
Shafik, Minouche (GBR), Director, The London School of Economics and Political Science
Sikorski, Radoslaw (POL), MP, European Parliament
Singer, Peter Warren (USA), Strategist, New America
Sitti, Metin (TUR), Professor, Koç University; Director, Max Planck Institute for Intelligent Systems
Snyder, Timothy (USA), Richard C. Levin Professor of History, Yale University
Solhjell, Bård Vegar (NOR), CEO, WWF – Norway
Stoltenberg, Jens (INT), Secretary General, NATO
Suleyman, Mustafa (GBR), Co-Founder, Deepmind
Supino, Pietro (CHE), Publisher and Chairman, Tamedia Group
Teuteberg, Linda (DEU), General Secretary, Free Democratic Party
Thiam, Tidjane (CHE), CEO, Credit Suisse Group AG
Thiel, Peter (USA), President, Thiel Capital
Trzaskowski, Rafal (POL), Mayor of Warsaw
Tucker, Mark (GBR), Group Chairman, HSBC Holding plc
Tugendhat, Tom (GBR), MP, Conservative Party
Turpin, Matthew (USA), Director for China, National Security Council
Uhl, Jessica (NLD), CFO and Financial Director, Royal Dutch Shell plc
Vestergaard Knudsen, Ulrik (DNK), Deputy Secretary-General, OECD
Walker, Darren (USA), President, Ford Foundation
Wallenberg, Marcus (SWE), Chairman, Skandinaviska Enskilda Banken AB
Wolf, Martin H. (GBR), Chief Economics Commentator, Financial Times
Zeiler, Gerhard (AUT), Chief Revenue Officer, WarnerMedia
Zetsche, Dieter (DEU), Former Chairman, Daimler AG
https://www.bilderbergmeetings.org/press/press-release/participants accessed 05/28/19

This meeting is coming right after the EU parliament elections which did not go as well as the globalists preferred (see European elections 2019: Power blocs lose grip on parliament). The meeting is also coming just before the EU decides who will be the next European Union Commission president. Bilderberg may have some influence there.
Last year, the Vatican's  Secretary of State, Cardinal Pietro Parolin, attended. Yesterday, Pope Francis expressed his disappointment in the EU parliamentary election results (see https://www.straitstimes.com/world/europe/pope-francis-sounds-racism-alarm-as-eu-nationalists-win-big). It is likely that several of those attending the Bilderberg meeting will share the pontiff's view.
In 2017, US President Donald Trump was essentially one of the Bilderberg meeting topics (see Bilderberg, Donald Trump, and CERN)–and probably will again unofficially be a topic once again.
The Bilderberg meeting has had critics. Basically, the belief is that there is a conspiracy to try to implement a 'one-world government.'
Germany's The Local reported:
Confirmed: Secretive Bilderberg Meeting to be held in Switzerland from May 30th

28 May 2019

According to Swiss daily Tages Anzeiger, US Secretary of State Mike Pompeo will also be among the attendees, although he is not on the official guest list on the Bildberg website.

The Swiss paper reports that Pompeo is set to sit down with Ueli Maurer. The two are tipped to discuss the situation in Iran where Switzerland represents US interests.

However, the Swiss Finance Ministry told The Local on Tuesday that no meeting was envisaged between Pompeo and Maurer.

The yearly Bilderberg talk-fest, which dates back to 1954, features a guest list of around 130 people from Europe and North America including everyone from royals to business tycoons and academics.

A highly secretive affair without a fixed agenda, the Bilderberg Meeting is regular fodder for conspiracy theorists who believe its participants act as a secret world government. https://www.thelocal.ch/20190528/secretive-bilderberg-meeting-to-be-held-in-switzerland-from-may-30th-reports
As far as conspiracies go, notice what the Bible teaches:
12 "Do not say, 'A conspiracy,' Concerning all that this people call a conspiracy, Nor be afraid of their threats, nor be troubled. (Isaiah 8:12)
While I do not believe that conspiracy would be the best way to describe the Bilderberg meeting (nor do I fear Bilderberg), I do believe that many who attend it are interested in a one-world government and would like to see it. Satan has a plan (see Satan's Plan) and it involves a type of one-world government–and he influences people around the world. Various ones associated with the United Nations want such a government–or at least more international control of national governments.
As far as the Bilderberg Group and its meetings go, notice the following (bolding mine):
According to former chairman Étienne Davignon, a major attraction of Bilderberg group meetings is that they provide an opportunity for participants to speak and debate candidly and to find out what major figures really think, without the risk of off-the-cuff comments becoming fodder for controversy in the media. However, partly because of its working methods to ensure strict privacy, the Bilderberg Group has been criticised for its lack of transparency and accountability. Concerns about lobbying have also arisen. Due to its privacy, Bilderberg is also accused of conspiracies. This outlook has been popular on both extremes of the political spectrum, even if they disagree about the exact nature of the group's intentions. Some on the left accuse the Bilderberg group of conspiring to impose capitalist domination, while some on the right have accused the group of conspiring to impose a world government and planned economy.

In 2001, Denis Healey, a Bilderberg group founder and, for 30 years, a steering committee member, said: "To say we were striving for a one-world government is exaggerated, but not wholly unfair. Those of us in Bilderberg felt we couldn't go on forever fighting one another for nothing and killing people and rendering millions homeless. So we felt that a single community throughout the world would be a good thing."

…in August 2010 former Cuban president Fidel Castro wrote a controversial article for the Cuban Communist Party newspaper Granma in which he cited Daniel Estulin's 2006 book The Secrets of the Bilderberg Club, which, as quoted by Castro, describes "sinister cliques and the Bilderberg lobbyists" manipulating the public "to install a world government that knows no borders and is not accountable to anyone but its own self" (Bilderberg Group, Wikipedia, accessed 06/10/15)
The idea that many who attend want some type of one-world government is not simply a 'conspiracy theory,' it is a reality.
The Bible tells of a coming time of international cooperation and a highly monitored economy:
1 Then I stood on the sand of the sea. And I saw a beast rising up out of the sea, having seven heads and ten horns, and on his horns ten crowns, and on his heads a blasphemous name. 2 Now the beast which I saw was like a leopard, his feet were like the feet of a bear, and his mouth like the mouth of a lion. The dragon gave him his power, his throne, and great authority. 3 And I saw one of his heads as if it had been mortally wounded, and his deadly wound was healed. And all the world marveled and followed the beast. 4 So they worshiped the dragon who gave authority to the beast; and they worshiped the beast, saying, "Who is like the beast? Who is able to make war with him?"

5 And he was given a mouth speaking great things and blasphemies, and he was given authority to continue for forty-two months. 6 Then he opened his mouth in blasphemy against God, to blaspheme His name, His tabernacle, and those who dwell in heaven. 7 It was granted to him to make war with the saints and to overcome them. And authority was given him over every tribe, tongue, and nation. 8 All who dwell on the earth will worship him, whose names have not been written in the Book of Life of the Lamb slain from the foundation of the world. (Revelation 13:1-8)

11 Then I saw another beast coming up out of the earth, and he had two horns like a lamb and spoke like a dragon. 12 And he exercises all the authority of the first beast in his presence, and causes the earth and those who dwell in it to worship the first beast, whose deadly wound was healed. 13 He performs great signs, so that he even makes fire come down from heaven on the earth in the sight of men. 14 And he deceives those who dwell on the earth by those signs which he was granted to do in the sight of the beast, telling those who dwell on the earth to make an image to the beast who was wounded by the sword and lived. 15 He was granted power to give breath to the image of the beast, that the image of the beast should both speak and cause as many as would not worship the image of the beast to be killed. 16 He causes all, both small and great, rich and poor, free and slave, to receive a mark on their right hand or on their foreheads, 17 and that no one may buy or sell except one who has the mark or the name of the beast, or the number of his name.

18 Here is wisdom. Let him who has understanding calculate the number of the beast, for it is the number of a man: His number is 666. (Revelation 13:11-18)
A type of world government, that will come out of war, will temporarily (42 months according to Revelation 13:5) have a lot of power and influence. It will try to have various economic plans, but according to the Bible, it will not be good nor end well (Revelation 18).
So what might the Bilderberg meeting have to do with this?
Bilderberg is one of many meetings and groups that have people who want to form more of an international, one-world, government that is somewhat consistent with biblical prophecies.
Not that they are attempting to fulfill those prophecies or think that what they are doing will be that harmful. Since few people believe that the solution to the problems of humankind is the coming Kingdom of God, many look for various 'solutions' from ideas and government of human beings instead of God.
Despite what may be good intentions of many, the type of international 'one-world' government that many want is warned against in the Bible and will be replaced by Jesus, who is King of Kings and Lord of Lords:
11 Now I saw heaven opened, and behold, a white horse. And He who sat on him was called Faithful and True, and in righteousness He judges and makes war. 12 His eyes were like a flame of fire, and on His head were many crowns. He had a name written that no one knew except Himself. 13 He was clothed with a robe dipped in blood, and His name is called The Word of God. 14 And the armies in heaven, clothed in fine linen, white and clean, followed Him on white horses. 15 Now out of His mouth goes a sharp sword, that with it He should strike the nations. And He Himself will rule them with a rod of iron. He Himself treads the winepress of the fierceness and wrath of Almighty God. 16 And He has on His robe and on His thigh a name written:

KING OF KINGS AND LORD OF LORDS.

17 Then I saw an angel standing in the sun; and he cried with a loud voice, saying to all the birds that fly in the midst of heaven, "Come and gather together for the supper of the great God, 18 that you may eat the flesh of kings, the flesh of captains, the flesh of mighty men, the flesh of horses and of those who sit on them, and the flesh of all people, free and slave, both small and great."

19 And I saw the beast, the kings of the earth, and their armies, gathered together to make war against Him who sat on the horse and against His army. 20 Then the beast was captured, and with him the false prophet who worked signs in his presence, by which he deceived those who received the mark of the beast and those who worshiped his image. These two were cast alive into the lake of fire burning with brimstone. 21 And the rest were killed with the sword which proceeded from the mouth of Him who sat on the horse. And all the birds were filled with their flesh. (Revelation 19:11-21)
While peaceful cooperation can be a good thing, those who support the Beast power will not fare well.
Those who attend Bilderberg should consider and believe what the Bible teaches.
Do you?
Several items of possibly related interest may include:
Can the Bilderberg Group Affect 2017 and Beyond? The infamous Bilderberg Group met in Dresden, Germany from June 9-12 in 2016. This super-secretive group has been meeting since 1954 and has admitted to some subjects it would cover, but blocked out cell phone reception and forbid coverage of the discussions by the media. This is considered THE meeting to be part of for the elites who are working for a global-type of government. It is by invitation only. They are working towards their version of the New World Order as opposed to the good news of the Kingdom of God. At least one top leader apparently attended to try to get the Bilderberg Group's support for a bid to become the next Secretary-General of the United Nations to replace Ban ki-Moon, whose term ends 31 December 2016. Dr. Thiel explains some of what is going on in the light of end-time biblical prophecies.
Two Horned Beast of Revelation and 666 Who is 666? This article explains how the COG views this, and compares this to Ellen White. Here is a link to a prophetic video Six Financial Steps Leading to 666?
Will You Be Deceived by Antichrist? 1964 article by David Jon Hill, originally published in the old Good News magazine.
Some Doctrines of Antichrist Are there any doctrines taught outside the Churches of God which can be considered as doctrines of antichrist? This article suggests at least three. It also provides information on 666 and the identity of "the false prophet." Plus it shows that several Catholic writers seem to warn about an ecumenical antipope that will support heresy. You can also watch a video titled What Does the Bible teach about the Antichrist?
United Nations: Humankind's Last Hope or New World Order? Is the UN the last hope for humanity? Or might its goals end up with sinister results? A related video would be United Nations and Vatican Are Planning the New World Order.
Satan's Plan Does Satan have a plan? What is it? Has it already been successful? Will it be successful in the future? Here are links to a two-part sermon series: What are Some of the Parts of Satan's Plan? and Satan's Plan is More Dramatic than Many Realize.
Do Certain Catholic Prophecies About Antichrist Warn Against Jesus? Will the final "Anti-Christ" be Jewish, insist on Saturday, be opposed to the trinity, and bring in the millennium? Certain Catholic writings indicate this, while others take a different view, but what does the Bible show?
The Mark of Antichrist What is the mark of Antichrist? What have various ones claimed? Here is a link to a related sermon What is the 'Mark of Antichrist'?
Mark of the Beast What is the mark of the Beast? Who is the Beast? What have various ones claimed the mark is? What is the 'Mark of the Beast'?
Europa, the Beast, and Revelation Where did Europe get its name? What might Europe have to do with the Book of Revelation? What about "the Beast"? Is an emerging European power "the daughter of Babylon"? What is ahead for Europe? Here is a link to a video titled: Can You Prove that the Beast to Come is European?
Must the Ten Kings of Revelation 17:12 Rule over Ten Currently Existing Nations? Some claim that these passages refer to a gathering of 10 currently existing nations together, while one group teaches that this is referring to 11 nations getting together. Is that what Revelation 17:12-13 refers to? The ramifications of misunderstanding this are enormous. A related sermon is titled Ten Kings of Revelation and the Great Tribulation.
The Gospel of the Kingdom of God This free online pdf booklet has answers many questions people have about the Gospel of the Kingdom of God and explains why it is the solution to the issues the world is facing. Here are links to three related sermons: The World's False Gospel, The Gospel of the Kingdom: From the New and Old Testaments, and The Kingdom of God is the Solution.
Anglo – America in Prophecy & the Lost Tribes of Israel Are the Americans, Canadians, English, Scottish, Welsh, Australians, Anglo-Saxon (non-Dutch) Southern Africans, and New Zealanders descendants of Joseph? Where are the lost ten-tribes of Israel? Who are the lost tribes of Israel? What will happen to Jerusalem and the Jews in Israel? Will God punish the U.S.A., Canada, United Kingdom, and other Anglo-Saxon nations? Why might God allow them to be punished first? Here is a link to the Spanish version of this article: Anglo-América & las Tribus Perdidas de Israel. Information is also in the YouTube sermons titled Where are the Ten Lost Tribes? Why does it matter? and British are the Covenant People. A short YouTube of prophetic interest may be: Are Chinese threats against Australia for real?
Will the Anglo-Saxon-Celtic Nations be Divided and Have People Taken as Slaves? Will the lands of the United States, United Kingdom, Canada, Australia, and New Zealand be divided? What about Jerusalem? What does Bible prophecy teach? Are there non-biblical prophecies that support this idea? Who will divide those lands? Who will end up with the lands and the people? Here is a link to a video titled Will the USA and other Anglo-nations be Divided and Their People Made Slaves? Here is a related item in the Spanish language ¿Serán divididas las naciones anglosajonas?
British are the Covenant People What do 'British' and 'Britain' mean in Hebrew? Are the descendants of the Anglo-Saxons people of the covenant? Does the British royal family connect to the throne of David? What does the Bible teach? What does history show us? Is there any DNA evidence related to British-Israelism? When did Christianity make it to the British Isles? Could Jeremiah have made it to the British Isles? What type of Christians made it to the British Isles? Did the last King of England believe in British Israelism?
Australia and New Zealand in Prophecy Do biblical prophecies help explain the wealth blessings for Australia and New Zealand? Might cursings from disobedience come in the 21st century? Here is a link to a related sermon: Australia and New Zealand: Origins and Prophecy.
Donald Trump in Prophecy Prophecy, Donald Trump? Are there prophecies that Donald Trump may fulfill? Are there any prophecies that he has already helped fulfill? Is a Donald Trump presidency proving to be apocalyptic? Two related videos are available: Donald: 'Trump of God' or Apocalyptic? and Donald Trump's Prophetic Presidency.
Trump Presidency Magic 8 Ball or Bible Prophecy? BBC reported that one might as well use a 'Magic Eight-Ball' to try to predict what will happen in the remaining time of Donald Trump's presidency. What is a 'Magic Eight-Ball'? Dr. Thiel not only explains that, but also briefly goes over 10 biblically-based warnings he wrote would happen if Donald Trump were elected that have already began to come to pass. He also goes over something he wrote back in 2008 that the Trump presidency is also helping lead to fulfillment. Should you trust Bible prophecy or not? Dr. Thiel says that Bible prophecy can be trusted, despite the view of skeptics and others that either overlook or despise the Bible. This is a video.
Donald Trump and America's Apocalypse This 188 page book is for people truly interested in prophecies related to Donald Trump and the United States, including learning about several that have already been fulfilled and those that will be fulfilled in the future. The physical book can be purchased at Amazon for $12.99 from the following link: Donald Trump and America's Apocalypse.
Donald Trump and America's Apocalypse-Kindle Edition This electronic version of the 188 page print edition is available for only US$3.99. And you do not need an actual Kindle device to read it. Why? Amazon will allow you to download it to almost any device: Please click HERE to download one of Amazon s Free Reader Apps. After you go to for your free Kindle reader and then go to Donald Trump and America's Apocalypse-Kindle Edition.
Does God Have a 6,000 Year Plan? What Year Does the 6,000 Years End? Was a 6000 year time allowed for humans to rule followed by a literal thousand year reign of Christ on Earth taught by the early Christians? Does God have 7,000 year plan? What year may the six thousand years of human rule end? When will Jesus return? 2027 or 20xx? There is also a video titled 6000 Years: When will God's Kingdom Come? Here is a link to the article in Spanish: ¿Tiene Dios un plan de 6,000 años?
When Will the Great Tribulation Begin? 2019, 2020, or 2021? Can the Great Tribulation begin today? What happens before the Great Tribulation in the "beginning of sorrows"? What happens in the Great Tribulation and the Day of the Lord? Is this the time of the Gentiles? When is the earliest that the Great Tribulation can begin? What is the Day of the Lord? Who are the 144,000? Here is a version of the article in the Spanish language: ¿Puede comenzar la Gran Tribulación en 2018 o 2019? ¿Es el Tiempo de los Gentiles? You can also see the English language sermon videos: The Great Tribulation from the Mount of Olives and Can the Great Tribulation begin before 2020? A shorter and newer video is: Might the Great Tribulation start in 2019?
The Times of the Gentiles Has there been more than one time of the Gentiles? Are we in it now or in the time of Anglo-America? What will the final time of the Gentiles be like? A related sermon is available and is titled: The Times of the Gentiles.
Armageddon Who is involved and when will this gathering happen? Here is also a video from Dr. Thiel, from Tel Megiddo in Israel: Armageddon. Other videos include: Armageddon Will it come on Trump's watch?, Iraq, Armageddon, & Prophecy, Freemasonry, Armageddon, and Rome, Is China paving roads to Armageddon?, and Jordan, Petra, and Armageddon.