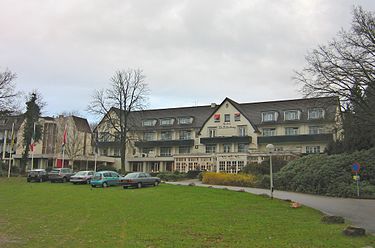 Bilderberg Hotel (M.M.Minderhoud)

A reader sent me a link to the following related to the infamous Bilderberg meeting:
10 June 2015

The Bilderberg meeting, an annual gathering of some of the most powerful and influential figures in the world, starts on Thursday. But who's on this year's guest list?

Critics call it a sinister conspiracy, reinforcing without accountability the dominance of a transatlantic capitalist cabal. Those involved say it's merely an informal way to understand better the way the world works and to share their expertise to improve it. …

Of the 133 people due to arrive in the small town of Telfs-Buchen, Austria, this week, 21 will be politicians. Among them is a regular attendee in UK Chancellor George Osborne. Another notable figure is Ed Balls, his former Labour shadow, who lost his seat in Parliament in May's general election but is still deemed influential enough to come. The United Kingdom – including its economic performance – is on the agenda.

Laurence Boone, special adviser on financial and economic affairs to President Barack Obama, will be there too, as will Dutch Prime Minister Mark Rutte and Austrian President Heinz Fischer. …

Technology firms and organisations provide six representatives. Google boss Eric Schmidt will be there, as will two other of the company's senior executives. Artificial intelligence is one of Bilderberg's suggested topics for discussion. There is no detailed agenda, with no resolutions or votes.

"Thanks to the private nature of the conference, the participants are not bound by the conventions of their office or by pre-agreed positions," Bilderberg says. "As such, they can take time to listen, reflect and gather insights."

Critics argue its aim is more sinister and there are countless different flavours of conspiracy theory. …

Henry Kissinger, the former US Secretary of State who first came to a Bilderberg meeting in the 1950s, returns. …

But the importance of the Bilderberg meeting is emphasised by the Guardian, which argues it's more influential than the G7 meeting of leading economies that took place at the weekend…

Ordinary people can only guess at the goings-on at the meetings of the secretive Bilderberg Group, which is bringing together the world's financial and political elite this week. Conspiracy theories abound as to what is discussed and who is there. Why? http://www.bbc.com/news/magazine-33067655
The Bilderberg meeting has had critics. Basically, the belief is that there is a conspiracy to try to implement a 'one-world government.'
As far as conspiracies go, notice what the Bible teaches:
12 "Do not say, 'A conspiracy,' Concerning all that this people call a conspiracy, Nor be afraid of their threats, nor be troubled.(Isaiah 8:12)
While I do not believe that conspiracy would be the best way to describe the Bilderberg meeting (nor do I fear Bilderberg), I do believe that many who attend it are interested in a one-world government and would like to see it.  Satan has a plan (see Satan's Plan) and it involves a type of one-world government–and he influences people around the world.  Various ones associated with the United Nations want such a government–or at least more international control of national governments.
As far as the Bilderberg Group and its meetings go, notice the following (bolding mine):
According to former chairman Étienne Davignon, a major attraction of Bilderberg group meetings is that they provide an opportunity for participants to speak and debate candidly and to find out what major figures really think, without the risk of off-the-cuff comments becoming fodder for controversy in the media.  However, partly because of its working methods to ensure strict privacy, the Bilderberg Group has been criticised for its lack of transparency and accountability. Concerns about lobbying have also arisen. Due to its privacy, Bilderberg is also accused of conspiracies. This outlook has been popular on both extremes of the political spectrum, even if they disagree about the exact nature of the group's intentions. Some on the left accuse the Bilderberg group of conspiring to impose capitalist domination, while some on the right have accused the group of conspiring to impose a world government and planned economy.

In 2001, Denis Healey, a Bilderberg group founder and, for 30 years, a steering committee member, said: "To say we were striving for a one-world government is exaggerated, but not wholly unfair. Those of us in Bilderberg felt we couldn't go on forever fighting one another for nothing and killing people and rendering millions homeless. So we felt that a single community throughout the world would be a good thing."

…in August 2010 former Cuban president Fidel Castro wrote a controversial article for the Cuban Communist Party newspaper Granma in which he cited Daniel Estulin's 2006 book The Secrets of the Bilderberg Club, which, as quoted by Castro, describes "sinister cliques and the Bilderberg lobbyists" manipulating the public "to install a world government that knows no borders and is not accountable to anyone but its own self" (Bilderberg Group, Wikipedia, accessed 06/10/15)
The idea that many who attend want some type of one-world government is not simply a 'conspiracy theory,' it is a reality.
The Bible tells of a coming time of international cooperation and a highly monitored economy:
1 Then I stood on the sand of the sea. And I saw a beast rising up out of the sea, having seven heads and ten horns, and on his horns ten crowns, and on his heads a blasphemous name. 2 Now the beast which I saw was like a leopard, his feet were like the feet of a bear, and his mouth like the mouth of a lion. The dragon gave him his power, his throne, and great authority. 3 And I saw one of his heads as if it had been mortally wounded, and his deadly wound was healed. And all the world marveled and followed the beast. 4 So they worshiped the dragon who gave authority to the beast; and they worshiped the beast, saying, "Who is like the beast? Who is able to make war with him?"

5 And he was given a mouth speaking great things and blasphemies, and he was given authority to continue for forty-two months. 6 Then he opened his mouth in blasphemy against God, to blaspheme His name, His tabernacle, and those who dwell in heaven. 7 It was granted to him to make war with the saints and to overcome them. And authority was given him over every tribe, tongue, and nation. 8 All who dwell on the earth will worship him, whose names have not been written in the Book of Life of the Lamb slain from the foundation of the world. (Revelation 13:1-8)

11 Then I saw another beast coming up out of the earth, and he had two horns like a lamb and spoke like a dragon. 12 And he exercises all the authority of the first beast in his presence, and causes the earth and those who dwell in it to worship the first beast, whose deadly wound was healed. 13 He performs great signs, so that he even makes fire come down from heaven on the earth in the sight of men. 14 And he deceives those who dwell on the earth by those signs which he was granted to do in the sight of the beast, telling those who dwell on the earth to make an image to the beast who was wounded by the sword and lived. 15 He was granted power to give breath to the image of the beast, that the image of the beast should both speak and cause as many as would not worship the image of the beast to be killed. 16 He causes all, both small and great, rich and poor, free and slave, to receive a mark on their right hand or on their foreheads, 17 and that no one may buy or sell except one who has the mark or the name of the beast, or the number of his name.

18 Here is wisdom. Let him who has understanding calculate the number of the beast, for it is the number of a man: His number is 666.  (Revelation 13:11-18)
A type of world government, that will come out of war, will temporarily (42 months according to Revelation 13:5) have a lot of power and influence.  It will try to have various economic plans, but according to the Bible, it will not be good nor end well (Revelation 18).
So what might the Bilderberg meeting have to do with this?
Bilderberg is one of many meetings and groups that have people who want to form more of an international, one-world, government that is somewhat consistent with biblical prophecies.
Not that they are attempting to fulfill those prophecies or think that what they are doing will be that harmful.  Since few people believe that the solution to the problems of humankind is the coming Kingdom of God, many look for various 'solutions' from ideas and government of human beings instead of God.
Despite what may be good intentions of many, the type of international 'one-world' government that many want is warned against in the Bible and will be replaced by Jesus, who is King of Kings and Lord of Lords:
11 Now I saw heaven opened, and behold, a white horse. And He who sat on him was called Faithful and True, and in righteousness He judges and makes war. 12 His eyes were like a flame of fire, and on His head were many crowns. He had a name written that no one knew except Himself. 13 He was clothed with a robe dipped in blood, and His name is called The Word of God. 14 And the armies in heaven, clothed in fine linen, white and clean, followed Him on white horses. 15 Now out of His mouth goes a sharp sword, that with it He should strike the nations. And He Himself will rule them with a rod of iron. He Himself treads the winepress of the fierceness and wrath of Almighty God. 16 And He has on His robe and on His thigh a name written:

KING OF KINGS AND LORD OF LORDS.

17 Then I saw an angel standing in the sun; and he cried with a loud voice, saying to all the birds that fly in the midst of heaven, "Come and gather together for the supper of the great God,  18 that you may eat the flesh of kings, the flesh of captains, the flesh of mighty men, the flesh of horses and of those who sit on them, and the flesh of all people, free and slave, both small and great."

19 And I saw the beast, the kings of the earth, and their armies, gathered together to make war against Him who sat on the horse and against His army. 20 Then the beast was captured, and with him the false prophet who worked signs in his presence, by which he deceived those who received the mark of the beast and those who worshiped his image. These two were cast alive into the lake of fire burning with brimstone. 21 And the rest were killed with the sword which proceeded from the mouth of Him who sat on the horse. And all the birds were filled with their flesh.  (Revelation 19:11-21)
Those who support the Beast power in the end will not fare well.
Those who attend Bilderberg should consider and believe what the Bible teaches.  Do you?
Several items of possibly related interest may include:
Two Horned Beast of Revelation and 666 Who is 666? This article explains how the COG views this, and compares this to Ellen White. Here is a link to a prophetic video Six Financial Steps Leading to 666?
Will You Be Deceived by Antichrist? 1964 article by David Jon Hill, originally published in the old Good News magazine.
Some Doctrines of Antichrist Are there any doctrines taught outside the Churches of God which can be considered as doctrines of antichrist? This article suggests at least three. It also provides information on 666 and the identity of "the false prophet." Plus it shows that several Catholic writers seem to warn about an ecumenical antipope that will support heresy. You can also watch a video titled What Does the Bible teach about the Antichrist?
United Nations: Humankind's Last Hope or New World Order? Is the UN the last hope for humanity? Or might its goals end up with sinister results? A related video would be United Nations and Vatican Are Planning the New World Order.
Satan's Plan Does Satan have a plan? What is it? Has it already been successful? Will it be successful in the future? Here are links to a two-part sermon series: What are Some of the Parts of Satan's Plan? and Satan's Plan is More Dramatic than Many Realize.
Do Certain Catholic Prophecies About Antichrist Warn Against Jesus? Will the final "Anti-Christ" be Jewish, insist on Saturday, be opposed to the trinity, and bring in the millennium? Certain Catholic writings indicate this, while others take a different view, but what does the Bible show?
The Mark of Antichrist What is the mark of Antichrist? What have various ones claimed? Here is a link to a related sermon What is the 'Mark of Antichrist'?
Mark of the Beast What is the mark of the Beast? Who is the Beast? What have various ones claimed the mark is? What is the 'Mark of the Beast'?
Europa, the Beast, and Revelation Where did Europe get its name? What might Europe have to do with the Book of Revelation? What about "the Beast"? Is an emerging European power "the daughter of Babylon"? What is ahead for Europe? Here is a link to a video titled: Can You Prove that the Beast to Come is European?
Must the Ten Kings of Revelation 17:12 Rule over Ten Currently Existing Nations? Some claim that these passages refer to a gathering of 10 currently existing nations together, while one group teaches that this is referring to 11 nations getting together. Is that what Revelation 17:12-13 refers to? The ramifications of misunderstanding this are enormous. A related sermon is titled Ten Kings of Revelation and the Great Tribulation.
Jade Helm, Captivity, and Prophecy This is a video telling about Jade Helm and the frightening truth about what will happen after Jade Helm 15 is past.
Anglo – America in Prophecy & the Lost Tribes of Israel Are the Americans, Canadians, English, Scottish, Welsh, Australians, Anglo-Saxon (non-Dutch) Southern Africans, and New Zealanders descendants of Joseph? Where are the lost ten-tribes of Israel? Who are the lost tribes of Israel? What will happen to Jerusalem and the Jews in Israel? Will God punish the U.S.A., Canada, United Kingdom, and other Anglo-Saxon nations? Why might God allow them to be punished first? Here is a link to the Spanish version of this article: Anglo-América & las Tribus Perdidas de Israel. Information is also in the YouTube sermons titled Where are the Ten Lost Tribes? Why does it matter? and British are the Covenant People. A short YouTube of prophetic interest may be Barack Obama and the State of the Apocalypse.
Will the Anglo-Saxon Nations be Divided and Have People Taken as Slaves? Will the lands of the United States, United Kingdom, Canada, Australia, and New Zealand be divided? What about Jerusalem? What does Bible prophecy teach? Are there non-biblical prophecies that support this idea? Who will divide those lands? Who will end up with the lands and the people? Here is a link to a video titled Will the USA and other Anglo-nations be Divided and Their People Made Slaves? Here is a related item in the Spanish language ¿Serán divididas las naciones anglosajonas?
Does God Have a 6,000 Year Plan? What Year Does the 6,000 Years End? Was a 6000 year time allowed for humans to rule followed by a literal thousand year reign of Christ on Earth taught by the early Christians? Does God have 7,000 year plan? What year may the six thousand years of human rule end? When will Jesus return? 2022 or 20xx? There is also a video titled The 6000 Year Plan: Is the end of humanity's reign almost up? Here is a link to the article in Spanish: ¿Tiene Dios un plan de 6,000 años?
When Will the Great Tribulation Begin? 2015, 2016, or 2017? Can the Great Tribulation begin today? What happens before the Great Tribulation in the "beginning of sorrows"? What happens in the Great Tribulation and the Day of the Lord? Is this the time of the Gentiles? When is the earliest that the Great Tribulation can begin? What is the Day of the Lord? Who are the 144,000? Here is a version of the article in the Spanish language: ¿Puede comenzar la Gran Tribulación en 2014 o 2015? ¿Es el Tiempo de los Gentiles? You can also see the English language sermon video: The Great Tribulation from the Mount of Olives.
Barack Obama, Prophecy, and the Destruction of the United States-Second Edition for Second Obama Term This is a 160 page book for people truly interested in prophecies related to Barack Obama and the United States, including learning about many that have already been fulfilled (which the book documents in detail) and those that will be fulfilled in the future. It also has a chapter about a Republican choice. This book is available to order at www.barackobamaprophecy.com. The physical book can also be purchased at Amazon from the following link: Barack Obama, Prophecy, and the Destruction of the United States: Is Barack Obama Fulfilling Biblical, Islamic Catholic, Kenyan, and other America-Related Prophecies? What About Republican Leaders? Second Edition for Second Obama Term.
Barack Obama, Prophecy, and the Destruction of the United States-Second Term-Amazon Kindle edition. This electronic version is available for only US$2.99. And you do not need an actual Kindle device to read it. Why? Amazon will allow you to download it to almost any device: Please click HERE to download one of Amazon s Free Reader Apps. After you go to for your free Kindle reader and then go to Barack Obama, Prophecy, and the Destruction of the United States-Second Term-Amazon Kindle edition.