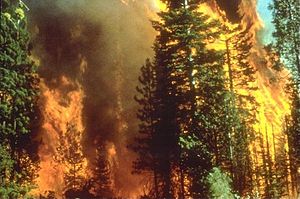 Parts of California are on fire:
August 8, 2013

The fast-moving Silver fire that has scorched more than 6,000 acres, injured three people and forced hundreds of evacuations in Riverside County on Wednesday continued to rage east toward the desert as officials prepared to assess the early-morning landscape.

CalFire spokesman Daniel Berlant said that as of early Thursday morning, the fire was 0% contained and had destroyed or damaged 15 structures near Banning, although it was not immediately clear how many of those were homes…

The blaze was driven by winds out of the west overnight, Berlant said early Thursday. "The wind has been very steady … all night and into the early morning," he said.

About 600 homes remained threatened within mandatory evacuation zones that were expanded to include Peach Street, Plum Street and Eucalyptus Street, as well as Riza Avenue, Ida Avenue and Helen Avenue east to Elm Street.

Mandatory evacuation orders remained in place for the communities of Poppet Flats, Twin Pines and Silent Valley.  http://www.latimes.com/local/lanow/la-me-ln-silver-fire-15-structures-lost-20130808,0,2841010.story

August 8, 2013

A wildfire that broke out in the inland mountains of Southern California has expanded exponentially, burning homes, forcing the evacuation of several small mountain communities and leaving three people injured.  About 1,500 people had evacuated as the Silver Fire of more than 9 square miles raged out of control in the San Jacinto Mountains near Banning, said Lucas Spelman, spokesman for the California Department of Forestry and Fire Protection…

CBS News correspondent Ben Tracy reported from Cabazon, Calif., on "CBS This Morning" Thursday that one thousand first responders and firefighters worked into the night using helicopters and tankers to combat the flames from above. The blaze remained uncontained Thursday morning.

The fire broke out shortly after 2 p.m. Wednesday. Within an hour, it had spread to 300 acres.

"We have to realize how quickly this fire moved," Julie Hutchinson of the Forestry and Fire Protection Department told CBS News. "Within the first three hours, we were over 2,500 acres. The difficulty was in getting evacuations because that's always our key, life first and property next."

Flames burst through the desert region fueled by dry brush and raging wind gusts reaching 30 miles per hour. As smoke poured into neighboring towns, fire officials shut down highways and began evacuating residents.  http://www.cbsnews.com/8301-201_162-57597527/fast-growing-socal-wildfire-forces-hundreds-to-evacuate/

August 8, 2013

A raging wildfire on Wednesday destroyed several structures, including homes, injured two firefighters and a civilian, forced residents to evacuate and charred a wide swath of land between Banning and Idyllwild, Calif.

Dubbed the "Silver Fire," the blaze began about 2 p.m. and grew to at least 6,000 acres before 10 p.m., prompting Cal Fire officials to expand mandatory evacuations in rural areas of Riverside County.

At least 15 homes have been destroyed and some 1,500 people were under evacuation orders, officials said.

The condition of the three people injured in the blaze was not known late Wednesday. However, officials said the civilian suffered extreme injuries…

The blaze was first reported in the area of Poppet Flats Road and Highway 243 (map), which was closed to traffic between Banning and Azalea Trail, according to the Riverside County Fire Department.

The mountain communities of Poppet Flats, Twin Pines and Silent Valley were under mandatory evacuation order due the blaze, which the department said was "burning at a critical rate." Evacuations were also ordered in the Vista Grande and Mt. Edna communities, according to Cal Fire.

Just after midnight Thursday, new evacuations were ordered for portions of Cabazon including Peach, Plum and Eucalyptus streets, and Riza, Ida, and Helen avenues.  http://www.nbclosangeles.com/news/local/Wildfire-Riverside-County-Banning-Silver-Fire-218750601.html
The Bible shows that God uses weather to get people's attention. Sometimes to punish, sometimes to lead to repentance, and other times to consider that God, not humankind, is in control.
Although California historically has wildfires, the Bible also mentions fire as something God sometimes uses. Here are some examples:
11 The Lord said:

"Surely it will be well with your remnant;
Surely I will cause the enemy to intercede with you
In the time of adversity and in the time of affliction.
12 Can anyone break iron,
The northern iron and the bronze?
13 Your wealth and your treasures
I will give as plunder without price,
Because of all your sins,
Throughout your territories.
14 And I will make you cross over with your enemies
Into a land which you do not know;
For a fire is kindled in My anger,
Which shall burn upon you." (Jeremiah 15:11-14)
12 O house of David! Thus says the Lord:

"Execute judgment in the morning;
And deliver him who is plundered
Out of the hand of the oppressor,
Lest My fury go forth like fire
And burn so that no one can quench it,
Because of the evil of your doings.

13 "Behold, I am against you, O inhabitant of the valley,
And rock of the plain," says the Lord,
"Who say, 'Who shall come down against us?
Or who shall enter our dwellings?'
14 But I will punish you according to the fruit of your doings," says the Lord;
"I will kindle a fire in its forest,
And it shall devour all things around it."' (Jeremiah 21:12-14)
11 The Lord has fulfilled His fury,
He has poured out His fierce anger.
He kindled a fire in Zion,
And it has devoured its foundations. (Lamentations 4:11)
15 There the fire will devour you,
The sword will cut you off;
It will eat you up like a locust. (Nahum 3:15)
My prayers are with those affected by the fires and I also pray that those in California will repent as worse problems are ahead if it continues to go in a moral direction away from the Bible.
Over on the East coast of the USA, notice the following:
August 8, 2013

U.S. forecasters warn of an unusually active and potentially dangerous few months to come
Weather problems can be a warning and we may very well see a rough hurricane season.
Jesus taught:
7…And there will be famines, pestilences, and earthquakes in various places. 8 All these are the beginning of sorrows. (Matthew 24:7-8).

8 For nation will rise against nation, and kingdom against kingdom. And there will be earthquakes in various places, and there will be famines and troubles. These are the beginnings of sorrows. (Mark 13:8)
The sorrows and troubles are just beginning and will get much worse.
Some articles of possibly related interest may include:
Weather Blessings and Sorrows Are weather problems a warning? What should be done? Here is a related YouTube video Does God Use Weather?
Can the Great Tribulation Begin in 2013, 2014, or 2015? Can the Great Tribulation begin today? What happens before in the "beginning of sorrows"? What happens in the Great Tribulation and the Day of the Lord? When is the earliest that the Great Tribulation can begin? What is the Day of the Lord?
Just What Do You Mean — Repentance? Do you know what repentance is? Have you truly repented? Repented of what? Herbert W. Armstrong wrote this as a booklet on this important subject.
Do Christians Sin? This is an article by Herbert W. Armstrong.
Physical Preparation Scriptures for Christians. We all know the Bible prophecies famines. Should we do something?
The Ten Commandments Reflect Love, Breaking them is Evil Some feel that the ten commandments are a burden. Is that what Jesus, Paul, Peter, James, and John taught? For a more detailed discussion of the first four commandments, please see the video The Ten Commandments: Loving God
Was the Commandment to Love the Only Command? Some have stated that John's writings teach this, but is that what the Bible really says?
The Ten Commandments and the Early Church Did Jesus and the Early Church keep the ten commandments? What order were they in? Here are quotes from the Bible and early writings.
Anglo – America in Prophecy & the Lost Tribes of Israel Are the Americans, Canadians, English, Scottish, Welsh, Australians, Anglo (non-Dutch) Southern Africans, and New Zealanders descendants of Joseph? Where are the lost ten-tribes of Israel? Who are the lost tribes of Israel? What will happen to Jerusalem and the Jews in Israel? Will God punish the U.S.A., Canada, United Kingdom, and other Anglo nations? Why might God allow them to be punished first?
Barack Obama, Prophecy, and the Destruction of the United States-Second Edition for Second Obama Term This is a 160 page book for people truly interested in prophecies related to Barack Obama and the United States, including learning about many that have already been fulfilled (which the book documents in detail) and those that will be fulfilled in the future. It also has a chapter about a Republican choice. This book is available to order at www.barackobamaprophecy.com. The physical book can also be purchased at Amazon from the following link: Barack Obama, Prophecy, and the Destruction of the United States: Is Barack Obama Fulfilling Biblical, Islamic Catholic, Kenyan, and other America-Related Prophecies? What About Republican Leaders? Second Edition for Second Obama Term.
Barack Obama, Prophecy, and the Destruction of the United States-Second Term-Amazon Kindle edition. This electronic version is available for only US$2.99. And you do not need an actual Kindle device to read it. Why? Amazon will allow you to download it to almost any device: Please click HERE to download one of Amazon s Free Reader Apps. After you go to for your free Kindle reader and then go to Barack Obama, Prophecy, and the Destruction of the United States-Second Term-Amazon Kindle edition.