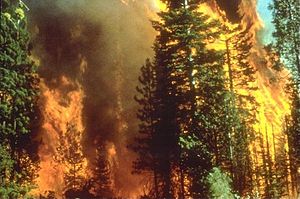 Various parts of California are on fire:
May 3, 2013

LOS ANGELES — A fast-growing wildfire along the Pacific Coast highway northwest of Los Angeles that has already forced thousands of residents to flee the area jumped the roadway Friday morning, threatening a premier U.S. naval installation.

Firefighters on the scene radioed that Naval Base Ventura County, which is backed up to the Pacific Ocean, should be advised that flames had leapt the iconic coastal highway that was the only barrier beween the fire and the facility.  http://www.usatoday.com/story/news/nation/2013/05/03/california-wildfires/2131801/

May 3, 2013

BUTTE MEADOWS, Calif. (AP) — A Southern California wildfire carving a path to the sea grew to more than 15 square miles and crews prepared Friday for another bad day of gusting winds and searing weather.

"We're going to be at Mother Nature's mercy," Ventura County fire spokesman Tom Kruschke said.

The smoke-choked campus of California State University, Channel Islands was evacuated, and classes were canceled through Friday. The school has about 5,000 students, though only a fraction live on campus.

About 100 miles to the east in Riverside County, two homes were destroyed, two more were damaged and 11 vehicles were destroyed in a 12-acre fire Thursday that fire officials suspect was started by a discarded cigarette.

Elsewhere in the county, a 4 1/2-square-mile blaze that destroyed a home burned for a third day in mountains north of Banning. It was 65 percent contained.

In Northern California's Tehama County, a wildfire north of Butte Meadows grew overnight although an estimate of its size was revised down from more than 15 square miles to 10 square miles, state fire spokesman Daniel Berlant said.

The fire was 10 percent contained. It's burning in a remote area and is not posing an imminent threat to any structures.

Elsewhere in the region, crews expected to fully contain a 125-acre blaze in Sonoma County and a 200-acre fire in Glenn County on Friday. http://www.sfgate.com/news/us/article/Calif-wildfire-burns-15-mile-path-to-Pacific-4485308.php#ixzz2SExOOH56

May 3, 2013The wind-whipped fire erupted Thursday in the Camarillo area, damaging 15 homes and a cluster of recreational vehicles in a parking lot. About 2,000 Ventura County homes remained threatened and evacuations remained in force although the fireline edged southwards toward Malibu. It was about 20 miles from the coastal enclave at daybreak.

The blaze was 10 percent contained but the work of more than 900 firefighters and deputies was just beginning, fire officials said.

The weather forecast called for parching single-digit humidity, highs in the 90s in some fire areas and morning winds of 20 to 30 mph with gusts to 45 mph — slightly down from a day earlier.

There's still a chance of "explosive fire spread" before winds begin tapering off in the afternoon and cooler weather begins to kick in, said Curt Kaplan, a National Weather Service meteorologist in Oxnard. http://www.foxnews.com/us/2013/05/03/tough-firefight-against-big-california-blaze-could-be-just-prelude-as-vicious/#ixzz2SExl0Lmp
Thankfully, as I write this, I have not seen reports of human deaths from these wildfires (though that could change as can the winds).
Although California historically has wildfires, the Bible mentions fire as something God sometimes uses to punish.  Here are some examples:
11 The Lord said:

"Surely it will be well with your remnant;
Surely I will cause the enemy to intercede with you
In the time of adversity and in the time of affliction.
12 Can anyone break iron,
The northern iron and the bronze?
13 Your wealth and your treasures
I will give as plunder without price,
Because of all your sins,
Throughout your territories.
14 And I will make you cross over with your enemies
Into a land which you do not know;
For a fire is kindled in My anger,
Which shall burn upon you."   (Jeremiah 15:11-14)
12 O house of David! Thus says the Lord:

"Execute judgment in the morning;
And deliver him who is plundered
Out of the hand of the oppressor,
Lest My fury go forth like fire
And burn so that no one can quench it,
Because of the evil of your doings.

13 "Behold, I am against you, O inhabitant of the valley,
And rock of the plain," says the Lord,
"Who say, 'Who shall come down against us?
Or who shall enter our dwellings?'
14 But I will punish you according to the fruit of your doings," says the Lord;
"I will kindle a fire in its forest,
And it shall devour all things around it."'  (Jeremiah 21:12-14)
11 The Lord has fulfilled His fury,
He has poured out His fierce anger.
He kindled a fire in Zion,
And it has devoured its foundations.  (Lamentations 4:11)
15 There the fire will devour you,
The sword will cut you off;
It will eat you up like a locust.  (Nahum 3:15)
Although my prayers are with those affected by the fires, and where I live is also subject to wildfires, I also pray that those in California will repent as worse problems are ahead if the State continues to go in a moral direction away from the Bible.  Weather problems can be a warning.
Jesus taught:
7…And there will be famines, pestilences, and earthquakes in various places. 8 All these are the beginning of sorrows. (Matthew 24:7-8).

8 For nation will rise against nation, and kingdom against kingdom. And there will be earthquakes in various places, and there will be famines and troubles. These are the beginnings of sorrows. (Mark 13:8)
The sorrows and troubles are just beginning and will get much worse.
Some articles of possibly related interest may include:
Weather Blessings and Sorrows Are weather problems a warning? What should be done?
The Bible Condemns Homosexuality "Same-sex marriage" for "gays" and lesbians is becoming more acceptable to many. What does the Bible teach about homosexuality? Can homosexuals change? Could there be a connection between droughts and the growing societal acceptance of homosexuality?
Can the Great Tribulation Begin in 2013, 2014, or 2015? Can the Great Tribulation begin today? What happens before in the "beginning of sorrows"? What happens in the Great Tribulation and the Day of the Lord? When is the earliest that the Great Tribulation can begin? What is the Day of the Lord?
Physical Preparation Scriptures for Christians. We all know the Bible prophecies famines. Should we do something?
Anglo – America in Prophecy & the Lost Tribes of Israel Are the Americans, Canadians, English, Scottish, Welsh, Australians, Anglo (non-Dutch) Southern Africans, and New Zealanders descendants of Joseph? Where are the lost ten-tribes of Israel? Who are the lost tribes of Israel? What will happen to Jerusalem and the Jews in Israel? Will God punish the U.S.A., Canada, United Kingdom, and other Anglo nations? Why might God allow them to be punished first?
Barack Obama, Prophecy, and the Destruction of the United States-Second Edition for Second Obama Term This is a 160 page book for people truly interested in prophecies related to Barack Obama and the United States, including learning about many that have already been fulfilled (which the book documents in detail) and those that will be fulfilled in the future. It also has a chapter about a Republican choice. This book is available to order at www.barackobamaprophecy.com. The physical book can also be purchased at Amazon from the following link: Barack Obama, Prophecy, and the Destruction of the United States: Is Barack Obama Fulfilling Biblical, Islamic Catholic, Kenyan, and other America-Related Prophecies? What About Republican Leaders? Second Edition for Second Obama Term.
Barack Obama, Prophecy, and the Destruction of the United States-Second Term-Amazon Kindle edition. This electronic version is available for only US$2.99. And you do not need an actual Kindle device to read it. Why? Amazon will allow you to download it to almost any device: Please click HERE to download one of Amazon s Free Reader Apps. After you go to for your free Kindle reader and then go to Barack Obama, Prophecy, and the Destruction of the United States-Second Term-Amazon Kindle edition.