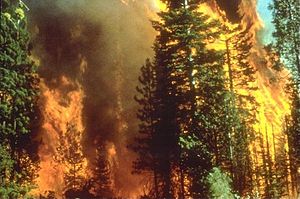 Severe weather is in the USA news:
June 3, 2013

LANCASTER, Calif. Nearly 3,000 people from some 700 homes were under evacuation orders Monday as a wildfire north of Los Angeles kept growing, feeding on old, dry brush, some of which hadn't burned in decades.

The blaze had burned about 46 square miles in the mountains and canyons of the Angeles National Forest, destroying at least six homes and damaging 15 more…

"It's moving so fast, and the smoke is hugging the ground because of the intense wind. And it's hard to get a map," said Norm Walker, U.S. Forest Service incident commander.

Propelled by the strong winds, the fire jumped an aqueduct into the west of Lancaster, officials said…It appeared to be the fiercest of several burning in the West, including two in New Mexico, where thick smoke covered several communities and set a blanket of haze over Santa Fe.  http://www.cbsnews.com/8301-201_162-57587282/thousands-ordered-to-flee-massive-blaze-outside-l.a/

June 3, 2013PORTLAND, Maine — The remnants of a violent storm that claimed 13 lives in Oklahoma sent punishing winds and torrential downpours to northern New England and a tornado to South Carolina. And there could be more coming, though meteorologists say the worst is over.

The National Weather Service said the work week could begin with storms bringing showers to the Northeast and mid-Atlantic and large hail and high winds to the Great Plains…

The weather service issued a rare tornado warning as a line of thunderstorms raced through New Hampshire into western Maine. It said a tornado warning was issued as radar indicated a possible tornado moving from Kingfield, Maine, to Bingham, Maine. The tornado was not immediately confirmed.

By early Monday, nearly 12,000 customers were still without power in Vermont, New Hampshire and Maine, down from more than 40,000 outages at the peak.

Weather service meteorologist Bill Goodman said a slow-moving cold front across the Northeast and mid-Atlantic could bring more rain on Monday…

In northwestern South Carolina, a tornado knocked a home off its foundation…In Texas, the Coast Guard said its crews saved or helped rescue 17 people caught in storms along the Gulf Coast…Meanwhile, residents in Oklahoma cleaned up after the storms there killed 13 people, including three veteran storm chasers…In Arkansas, five people died in flash flooding late Thursday and early Friday in the rugged Ouachita Mountains…In Missouri, areas west of St. Louis received significant damage from an EF3 tornado Friday…http://www.dailyherald.com/article/20130603/news/706039878/
The Bible shows that God uses weather to get people's attention.  Sometimes to punish, sometimes to lead to repentance, and other times to consider that God, not humankind, is in control.
With it being so wet in the East and Midwest and dry in the USA West, the following weather passages came to mind:
15 "But it shall come to pass, if you do not obey the voice of the Lord your God, to observe carefully all His commandments and His statutes which I command you today, that all these curses will come upon you and overtake you: 16 "Cursed shall you be in the city, and cursed shall you be in the country. 17 "Cursed shall be your basket and your kneading bowl. 18 "Cursed shall be the fruit of your body and the produce of your land, the increase of your cattle and the offspring of your flocks. 19 "Cursed shall you be when you come in, and cursed shall you be when you go out. 20 "The Lord will send on you cursing, confusion, and rebuke in all that you set your hand to do, until you are destroyed and until you perish quickly, because of the wickedness of your doings in which you have forsaken Me. 21 The Lord will make the plague cling to you until He has consumed you from the land which you are going to possess. 22 The Lord will strike you with consumption, with fever, with inflammation, with severe burning fever, with the sword, with scorching, and with mildew; they shall pursue you until you perish. 23 And your heavens which are over your head shall be bronze, and the earth which is under you shall be iron. 24 The Lord will change the rain of your land to powder and dust; from the heaven it shall come down on you until you are destroyed. (Deuteronomy 28:15-24)

6 "Also I gave you cleanness of teeth in all your cities. And lack of bread in all your places; Yet you have not returned to Me," Says the Lord. 7 "I also withheld rain from you, When there were still three months to the harvest. I made it rain on one city, I withheld rain from another city. One part was rained upon, And where it did not rain the part withered. 8 So two or three cities wandered to another city to drink water, But they were not satisfied; Yet you have not returned to Me," Says the Lord. (Amos 4:6-8)
Although California historically has wildfires and the rest of the USA storms, the Bible also mentions fire as something God sometimes uses. Here are some examples:
11 The Lord said:

"Surely it will be well with your remnant;
Surely I will cause the enemy to intercede with you
In the time of adversity and in the time of affliction.
12 Can anyone break iron,
The northern iron and the bronze?
13 Your wealth and your treasures
I will give as plunder without price,
Because of all your sins,
Throughout your territories.
14 And I will make you cross over with your enemies
Into a land which you do not know;
For a fire is kindled in My anger,
Which shall burn upon you." (Jeremiah 15:11-14)
12 O house of David! Thus says the Lord:

"Execute judgment in the morning;
And deliver him who is plundered
Out of the hand of the oppressor,
Lest My fury go forth like fire
And burn so that no one can quench it,
Because of the evil of your doings.

13 "Behold, I am against you, O inhabitant of the valley,
And rock of the plain," says the Lord,
"Who say, 'Who shall come down against us?
Or who shall enter our dwellings?'
14 But I will punish you according to the fruit of your doings," says the Lord;
"I will kindle a fire in its forest,
And it shall devour all things around it."' (Jeremiah 21:12-14)
11 The Lord has fulfilled His fury,
He has poured out His fierce anger.
He kindled a fire in Zion,
And it has devoured its foundations. (Lamentations 4:11)
15 There the fire will devour you,
The sword will cut you off;
It will eat you up like a locust. (Nahum 3:15)
Although my prayers are with those affected by the fires and other severe weather, I also pray that those in the USA will repent as worse problems are ahead if it continues to go in a moral direction away from the Bible. Weather problems can be a warning.
Jesus taught:
7…And there will be famines, pestilences, and earthquakes in various places. 8 All these are the beginning of sorrows. (Matthew 24:7-8).

8 For nation will rise against nation, and kingdom against kingdom. And there will be earthquakes in various places, and there will be famines and troubles. These are the beginnings of sorrows. (Mark 13:8)
The sorrows and troubles are just beginning and will get much worse.
Some articles of possibly related interest may include:
Weather Blessings and Sorrows Are weather problems a warning? What should be done? Here is a related YouTube video Does God Use Weather?
Can the Great Tribulation Begin in 2013, 2014, or 2015? Can the Great Tribulation begin today? What happens before in the "beginning of sorrows"? What happens in the Great Tribulation and the Day of the Lord? When is the earliest that the Great Tribulation can begin? What is the Day of the Lord?
Just What Do You Mean — Repentance? Do you know what repentance is? Have you truly repented? Repented of what? Herbert W. Armstrong wrote this as a booklet on this important subject.
Do Christians Sin? This is an article by Herbert W. Armstrong.
Physical Preparation Scriptures for Christians. We all know the Bible prophecies famines. Should we do something?
The Ten Commandments Reflect Love, Breaking them is Evil Some feel that the ten commandments are a burden. Is that what Jesus, Paul, Peter, James, and John taught? For a more detailed discussion of the first four commandments, please see the video The Ten Commandments: Loving God
Was the Commandment to Love the Only Command? Some have stated that John's writings teach this, but is that what the Bible really says?
The Ten Commandments and the Early Church Did Jesus and the Early Church keep the ten commandments? What order were they in? Here are quotes from the Bible and early writings.
Anglo – America in Prophecy & the Lost Tribes of Israel Are the Americans, Canadians, English, Scottish, Welsh, Australians, Anglo (non-Dutch) Southern Africans, and New Zealanders descendants of Joseph? Where are the lost ten-tribes of Israel? Who are the lost tribes of Israel? What will happen to Jerusalem and the Jews in Israel? Will God punish the U.S.A., Canada, United Kingdom, and other Anglo nations? Why might God allow them to be punished first?
Barack Obama, Prophecy, and the Destruction of the United States-Second Edition for Second Obama Term This is a 160 page book for people truly interested in prophecies related to Barack Obama and the United States, including learning about many that have already been fulfilled (which the book documents in detail) and those that will be fulfilled in the future. It also has a chapter about a Republican choice. This book is available to order at www.barackobamaprophecy.com. The physical book can also be purchased at Amazon from the following link: Barack Obama, Prophecy, and the Destruction of the United States: Is Barack Obama Fulfilling Biblical, Islamic Catholic, Kenyan, and other America-Related Prophecies? What About Republican Leaders? Second Edition for Second Obama Term.
Barack Obama, Prophecy, and the Destruction of the United States-Second Term-Amazon Kindle edition. This electronic version is available for only US$2.99. And you do not need an actual Kindle device to read it. Why? Amazon will allow you to download it to almost any device: Please click HERE to download one of Amazon s Free Reader Apps. After you go to for your free Kindle reader and then go to Barack Obama, Prophecy, and the Destruction of the United States-Second Term-Amazon Kindle edition.