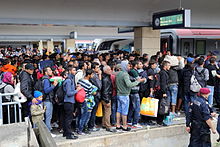 w
Islamic Migrants (photo by Bwag)

Canada's new Prime Minister is happy that Syrian refugees are about to arrive in his nation:
December 10, 2015

"It will be a great day," said Prime Minister Justin Trudeau.

Canada will take in the first flight of Syrian refugees as part of the government's resettlement plan on Thursday evening when a military plane of 150 refugees touches down at the Pearson International Airport.

Prime Minister Justin Trudeau will be there to welcome the first arrivals of what will be thousands of refugees that Canada will take in over the upcoming months, the Toronto Star reports.

"Resettling refugees demonstrates our commitment to Canadians and to the world that Canada understands that we can and must do more," Trudeau told the House of Commons. "It will be a great day."

The first refugees arrive following promises from Trudeau's Liberal party to take in 25,000 refugees in all ten of Canada's provinces. http://time.com/4144260/canada-accept-first-plane-syrian-refugees/
For humanitarian purposes, this will be great for many Syrians.
But does this pose a serious terrorist threat to Canada?
Well, the Bible warns of both terrorism as well as specifically warns about issues from Syrians
Notice some of the cursings warned of in the Bible:
14'But if you do not obey Me, and do not observe all these commandments, 15 and if you despise My statutes, or if your soul abhors My judgments, so that you do not perform all My commandments, but break My covenant, 16 I also will do this to you: I will even appoint terror over you, wasting disease and fever which shall consume the eyes and cause sorrow of heart. And you shall sow your seed in vain, for your enemies shall eat it. 17 I will set My face against you, and you shall be defeated by your enemies. Those who hate you shall reign over you, and you shall flee when no one pursues you (Leviticus 26:14-17).
Terrors (like terrorism) are prophesied for those who were blessed because of God's promises to Abraham, Isaac, and Jacob. And these curses have began.  Since many in Canada are descended from children of Israel (like Ephraim), Canada is at real risk.
The Bible also warns:
25 The sword shall destroy outside; There shall be terror within (Deuteronomy 32:25)

12 "Cry and wail, son of man; For it will be against My people, Against all the princes of Israel. Terrors including the sword will be against My people; Therefore strike your thigh. (Ezekiel 21:12)
Notice that terror will come from within according to Deuteronomy 32:25. Letting potential terrorists in is a major risk.
Notice also something that Isaiah 9 talks about:
8 The Lord sent a word against Jacob,
And it has fallen on Israel.
9 All the people will know —
Ephraim and the inhabitant of Samaria —
Who say in pride and arrogance of heart:
10 'The bricks have fallen down,
But we will rebuild with hewn stones;
The sycamores are cut down,
But we will replace them with cedars."
11 Therefore the Lord shall set up
The adversaries of Rezin against him,
And spur his enemies on,
12 The Syrians before and the Philistines behind;
And they shall devour Israel with an open mouth.

For all this His anger is not turned away,
But His hand is stretched out still…

21 Manasseh shall devour Ephraim, and Ephraim Manasseh;
Together they shall be against Judah.

For all this His anger is not turned away,
But His hand is stretched out still. (Isaiah 9:8-12,21)
This seems to be a reference related to terrorists from Syria and Palestine. Isaiah 9 seems to suggest that some of peoples who are alluded to in Psalm 83 (discussed later) will also harass Ephraim and Manasseh after they have suffered.
Psalm 83 also warns of a confederation that appears to include Palestinians and Syrians that will end up harming Canada, the UK, and the USA.
While there is a place to take legitimate refugees, letting thousands of potential terrorists into the Canada and elsewhere is a real risk. One thing that the Parisian authorities said about the situation there is that it is not possible to track thousands of people. Furthermore, some considered to be of no risk, proved to be deadly.
Perilous times are upon us (cf. 2 Timothy 3:1).  And that includes the Canadians.
Some items of possibly related interest may include:
Canada in Prophecy: What Does Bible Prophecy, Catholic Prophecy, and other Predictions Suggest About the Future of Canada? There are prophecies that suggest involvement with Canada. And many are not positive about its future.
Why Terrorism? Is Terrorism Prophesied? What does the Bible teach? Which nations may be affected?
The Prophesied 'Islamic' Confederation Where is an Islamic caliphate prophesied? Will one happen? Should you be concerned about it? A related video is Will an Arabic Calphiphate Destroy the West?
Terror: Will Paris be Destroyed? This is a new video. The Paris office of Charlie Hebdo were attacked in January 2015 and the City of Paris was hit with multiple terrorist attacks in November 2015. Will Paris be destroyed? Is more terrorism prophesied? Will a successful militaristic leader arise in Europe? What do biblical and Catholic prophecies teach? Could any non-biblical prophecies be devices of Satan that will deceive people about what will happen? Dr. Thiel answers these questions and more through scriptures and other writings.
The 'Lost Tribe' of Reuben: France in Prophecy? What is the origin of this in France? What is prophesied to happen to them? A two-part sermon related to history and prophecy is available online: The 'Lost Tribe' of Reuben and France and Prophecy.
Gaza and the Palestinians in Bible Prophecy What does the Bible teach about Gaza and the fate of the Palestinians? Here is a link to a related video: Gaza and Palestine in Prophecy.
Differences Between Islam and the Continuing Church of God What are some of the main differences? Are there any similarities? A video of related interest is titled: Islam: Any Christian Concerns or Similarities?
Iraq, the King of the South, Armageddon, and Prophecy What will happen to Iraq? Is it the prophesied Mystery Babylon? What is Armageddon and how does that have to do with Iraq? Here is a related video Iraq, Armageddon, & Prophecy.
How Will Middle East Peace be Brought About? Can humans bring peace to the Middle East? Here is a link to a related video: Middle East Peace? When?
The 'Peace Deal' of Daniel 9:27 This prophecy could give up to 3 1/2 years advance notice of the coming Great Tribulation. Will most ignore or misunderstand its fulfillment? Here is a link to a related sermon video Daniel 9:27 and the Start of the Great Tribulation.
Who is the King of the West? Why is there no Final End-Time King of the West in Bible Prophecy? Is the United States the King of the West? Here is a version in the Spanish language: ¿Quién es el Rey del Occidente? ¿Por qué no hay un Rey del Occidente en la profecía del tiempo del fin?
When Will the Great Tribulation Begin? 2016, 2017, or 2018? Can the Great Tribulation begin today? What happens before the Great Tribulation in the "beginning of sorrows"? What happens in the Great Tribulation and the Day of the Lord? Is this the time of the Gentiles? When is the earliest that the Great Tribulation can begin? What is the Day of the Lord? Who are the 144,000? Here is a version of the article in the Spanish language: ¿Puede comenzar la Gran Tribulación en 2016 o 2017? ¿Es el Tiempo de los Gentiles? You can also see the English language sermon video: The Great Tribulation from the Mount of Olives.
Anglo – America in Prophecy & the Lost Tribes of Israel Are the Americans, Canadians, English, Scottish, Welsh, Australians, Anglo-Saxon (non-Dutch) Southern Africans, and New Zealanders descendants of Joseph? Where are the lost ten-tribes of Israel? Who are the lost tribes of Israel? What will happen to Jerusalem and the Jews in Israel? Will God punish the U.S.A., Canada, United Kingdom, and other Anglo-Saxon nations? Why might God allow them to be punished first? Here is a link to the Spanish version of this article: Anglo-América & las Tribus Perdidas de Israel. Information is also in the YouTube sermons titled Where are the Ten Lost Tribes? Why does it matter? and British are the Covenant People. A short YouTube of prophetic interest may be Barack Obama and the State of the Apocalypse.
Will the Anglo-Saxon Nations be Divided and Have People Taken as Slaves? Will the lands of the United States, United Kingdom, Canada, Australia, and New Zealand be divided? What about Jerusalem? What does Bible prophecy teach? Are there non-biblical prophecies that support this idea? Who will divide those lands? Who will end up with the lands and the people? Here is a link to a video titled Will the USA and other Anglo-nations be Divided and Their People Made Slaves? Here is a related item in the Spanish language ¿Serán divididas las naciones anglosajonas?
British are the Covenant People What do 'British' and 'Britain' mean in Hebrew? Are the descendants of the Anglo-Saxons people of the covenant? Does the British royal family connect to the throne of David? What does the Bible teach? What does history show us? Is there any DNA evidence related to British-Israelism? When did Christianity make it to the British Isles? Could Jeremiah have made it to the British Isles? What type of Christians made it to the British Isles? Did the last King of England believe in British Israelism?
Hillary Clinton in Prophecy Prophecy, Hillary Clinton? Are there prophecies that Hillary Clinton may fulfill? Are there any prophecies that she has already helped fulfill? Could Hillary Clinton be apocalyptic? Could Hillary Clinton be the final Antichrist? A video of related interest is titled Hillary Clinton and Bible Prophecy.