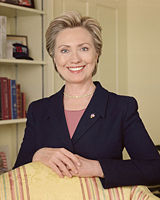 Hillary Rodham Clinton
US Secretary of State Hillary Clinton made some about her trip to Myanmar:
Clinton sees signs that the country, ruled by a military junta for almost 50 years and which in the past cooperated with North Korea in missile technology, may genuinely be opening up — via its economy.

"They asked that I personally follow through with a request for the World Bank to send an assessment team, that we offer technical advice about how they can and should reform their economy," Clinton told CNN.

But the military ties with North Korea have to go if Myanmar — called Burma by opponents of the regime and by U.S. officials — wants deeper political and economic cooperation with Washington and with nearby democracies, such as "South Korea, which has a great deal to offer in terms of development assistance," Clinton said.  http://www.cnn.com/2011/12/02/world/asia/myanmar-clinton-visit/?hpt=hp_c1
It generally seems to be the case that Myanmar wants to have options other than China and North Korea for friends, so hopefully some positive reforms will happen in that nation.
While Bible prophecy would seem to indicate Myanmar will side with the other Asian powers in the future, I pray that the economy and living environment will improve for those in Myanmar until then.
The Living Church of God has long had members in Myanmar and it is an area of the world that, at least carnally speaking, needs a lot of prayer.
Two articles of possibly related interest may include:
Asia in Prophecy What is Ahead for Asia? Who are the "Kings of the East"? What will happen to nearly all the Chinese, Russians, Indians, and others of Asia? China in prophecy, where? Who has the 200,000,000 man army related to Armageddon?
Korea in Prophecy, Any Witness? Where did the Korean people come from? Does God have a plan for the Koreans? Is Korea mentioned in any prophecies? Will Koreans be among the first in the Kingdom of God? 한국의 언어로 : 한국 예언, 모든 증인에?