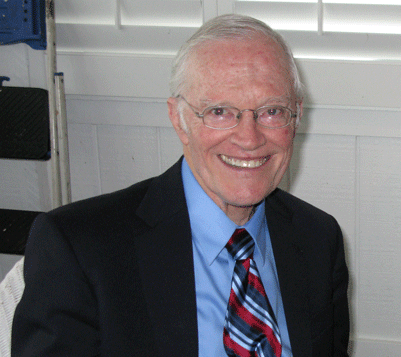 Roderick C. Meredith (Photo by Joyce Thiel)
Dr. Roderick C. Meredith of the Living Church of God wrote:
As some of you may have heard, we were blessed to have more than 9,000 people attending the Feast of Tabernacles this autumn! That is a new record—for which we are thankful! Most of all, of course, God is concerned with the spiritual strength of our brethren and we certainly do want to emphasize that which is more important. However, we are grateful that God is adding to our numbers in the Church, and that we are continuing to have wonderful responses to the telecast nearly every week and that the impact of this Work around the world is certainly growing—especially as prophetic events speed up.
It is great to have more people coming with the Living Church of God and having record attendance at the Feast of Tabernacles this year.
FWIW, one of the reasons that I advise people to be cautious about James Malm is what he posted on 4 November 2011:
I have heard that LCG and PCG are down in actual attendees this year.  Please correct this anyone?
Where he "heard" LCG is down was obviously not correct.  I had already posted about PCG being down in late October 2011 (see PCG No Larger Than 4th Size Among Groups with Origins in WCG) and LCG being up in late November 2011 (see 11/29/11 post at News of the Living Church of God).  So, James' source related to LCG was not accurate.
Hopefully, this post today will help correct his misunderstanding on this point.
Despite his frequent, and normally improper, criticisms of LCG, the fact is that LCG has been growing.  The Feast of Tabernacles' figures help show this.
Some articles of possibly related interest may include:
The Feast of Tabernacles: A Time for Christians? Is this pilgrimage holy day still valid? Does it teach anything relevant for today's Christians? What is the Last Great Day? What do these days teach?
Is There "An Annual Worship Calendar" In the Bible? This paper provides a biblical and historical critique of several articles, including one by the Tkach WCG which states that this should be a local decision. What do the Holy Days mean? Also you can click here for the calendar of Holy Days.
What Does the Catholic Church Teach About Christmas and the Holy Days? Do you know what the Catholic Church says were the original Christian holy days? Was Christmas among them? Is December 25th Jesus' birthday or that of the sun god?
There are Many COGs: Why Support the Living Church of God? This is an article for those who wish to more easily sort out the different COGs. It really should be a MUST READ for current and former WCG/GCI members or any interested in supporting the faithful church. It also explains a lot of what the COGs are all about.