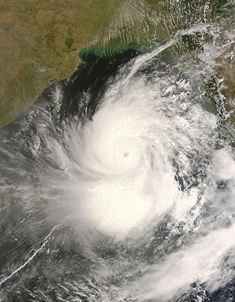 Cyclone Nargis hit Myanmar May 1, 2008
Myanmar (also known as Burma) may be becoming a nuclear power:
Myanmar nuke accusations should raise radioactive questions for world leaders
By Joshua Wilwohl
A former United Nations nuclear inspector said Friday that secret documents smuggled out of Myanmar by an army defector show the country anxiously is looking to develop nukes.

This comes at a time when North Korea is threatening its southern counterpart and when U.S. President Barack Obama has called for peace treaties to curb nuclear proliferation, all while Iran President Mahmoud Ahmadinejad speeds up his country's technology.

The report, first obtained by The Associated Press, states Myanmar has attempted experiments with uranium and the equipment needed for enrichment…

It's quite obvious that Myanmar is only the tip of the iceberg in this fight. The country allegedly has ties with North Korea and some U.S. officials have accused the two countries of collaborating to develop nuclear weapons (as the AP reported that early documents show North Korea allegedly helped Myanmar construct underground facilities to create nukes).  http://theklaxon.com/myanmar-nuke-accusations-raise-radioactive-questions-for-world-governments/6813

Myanmar's Secret Nuclear Program Revealed

Defector Says North Korea Helping Myanmar Develop Nuclear Weapons Program

ABC News – June 4, 2010

With the help of North Korea, Myanmar, formerly known as Burma, has acquired components for a nuclear weapons program, including technology for uranium enrichment and long-range missiles, ABC News has learned.

A defector from Myanmar — an army major and deputy commander of a top-secret nuclear facility — escaped the country with thousands of files detailing a secret nuclear and missile program.

"The purpose is they really want a bomb. That is their main objective," said defector Sai Thein Win, the major who says he visited the installations and attended meetings at which the new technology was demonstrated.

"They want to have the rockets and nuclear warhead," he said.

http://abcnews.go.com/GMA/north-korea-helping-myanmar-secret-nuclear-program/story?id=10823439
If true, this is such a travesty on humanity, I can barely type about it.
Over 135,000 died because of Cyclone Nargis in Myanmar a couple of years ago (see Over 220,000 Killed in 2008 Disasters).  More could have survived, yet the Myanmar government refused most foreign aid.
Instead of helping its people, the powers that be in Myanmar seem obsessed with keeping their power.  And while that is true of leaders in pretty much all other lands in this age, those in Myanmar seem to have pushed this beyond what most carnal leaders have been willing to do.
Jesus said to pray, "Thy kingdom come" (Matthew 6:10, KJV).  And Myanmar (as well as all other lands) needs this desperately.
Some articles of possibly related interest may include:
The Gospel of the Kingdom of God was the Emphasis of Jesus and the Early Church Did you know that? Do you even know what the gospel of the kingdom is all about? True religion should be based upon the true gospel.
Did The Early Church Teach Millenarianism? Was the millennium (sometimes called chiliasm) taught by early Christians? Who condemned it. Will Jesus literally reign for 1000 years on the earth? Is this time near?
Does God Have a 6,000 Year Plan? What Year Does the 6,000 Years End? Was a 6000 year time allowed for humans to rule followed by a literal thousand year reign of Christ on Earth taught by the early Christians? When does the six thousand years of human rule end?
Korea in Prophecy, Any Witness? Does God have a plan for the Koreans? Is Korea mentioned in any prophecies? Will Koreans be among the first in the Kingdom of God? 한국의 언어로 : 한국 예언, 모든 증인에?
Asia in Prophecy What is Ahead for Asia? Who are the "Kings of the East"? What will happen to nearly all the Chinese, Russians, Indians, and others of Asia? Who has the 200,000,000 man army related to Armageddon?