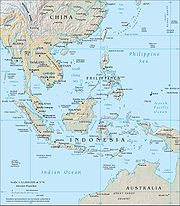 In what I consider to be a foolish statement, North Korea essentially threatened to "wipe the United States off the map" today:
NKorea threatens US; world anticipates missile
SEOUL, South Korea – North Korea threatened Wednesday to wipe the United States off the map as Washington and its allies watched for signs the regime will launch a series of missiles in the coming days.
Off China's coast, a U.S. destroyer was tailing a North Korean ship suspected of transporting illicit weapons to Myanmar in what could be the first test of U.N. sanctions passed to punish the nation for an underground nuclear test last month…
The new U.N. Security Council resolution requires member states to seek permission to inspect suspicious cargo. North Korea has said it would consider interception a declaration of war and on Wednesday accused the U.S. of seeking to provoke another Korean War.
"If the U.S. imperialists start another war, the army and people of Korea will … wipe out the aggressors on the globe once and for all," the official Korean Central News Agency said.  http://news.yahoo.com/s/ap/20090624/ap_on_re_as/as_koreas_nuclear_91
This is foolish for many reasons, including the fact that the United States would likely wipe much of North Korea off the map if North Korea actually exploded a nuclear weapon within USA territory.
Despite posturing, North Korea is not going to be the nation to militarily destroy the United States.  But if it keeps up its rhetoric, it could make Washington upset enough to consider military action against North Korea.  And that could strain stretched US military commitments further as well as increase USA debt.
It remains my position that ultimately, North Korea will likely end up cooperating with other nations in Eastern Asia and will stop its policies of intentionally trying to enrage as many as it now seems to do.
Some articles of possibly related interest may include:
Asia in Prophecy What is Ahead for Asia? Will it become a major economic player? Who has the 200,000,000 man army related to Armageddon?  Will God save the Asians?
Anglo – America in Prophecy & the Lost Tribes of Israel Are the Americans, Canadians, British, Scottish, Welsh, Australians, Anglo-Southern Africans, and New Zealanders descendants of Joseph? Where are the lost ten-tribes of Israel? Who are the lost tribes of Israel? Will God punish the U.S.A., Canada, United Kingdom, and other Anglo nations? Why might God allow them to be punished first?
Prophecies of Barack Obama? Eight reasons why Barack Obama is apocalyptic and eight reasons why Barack Obama is not the Antichrist. This article includes many biblical and non-biblical prophecies, from around the world, that seem to discuss Barack Obama. Did Nostradamus predict Barack Obama dealing with the Antichrist?  Might Barack Obama set the stage for the kings of the North and South as at least one Shiite prophecy suggests?  This is the longest and most complete article on this page on Barack Obama prophecies. Read it and decide for yourself if President Obama seems to be fulfilling various prophecies.
Barack Obama, Prophecy, and the Destruction of the United States Some claim that Barack Obama is the prophesied "son of Kenya", based up an early 20th century writing.