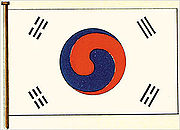 Flag of Korea, 1889
A South Korean ship was damaged and sunk:
S Korean warship sinks, rescue efforts continue while 46 missing

…"There were no reports made at the meeting indicating that North Korea (DPRK) is behaving abnormally in connection with the incident," Cheong Wa Dae spokeswoman Kim said, referring to the early-morning emergency meeting presided over by the president. http://news.xinhuanet.com/english2010/world/2010-03/27/c_13227147.htm
Both Koreas has been in a war preparation setting for decades.  And no matter who or what caused this ship to sink, both biblical and Chinese prophecies hint that the two Koreas will likely make some type of future peace deal.
Two articles of possibly related interest would include the following:
Korea in Prophecy, Any Witness? Does God have a plan for the Koreans? Is Korea mentioned in any prophecies? Will Koreans be among the first in the Kingdom of God? 한국의 언어로 : 한국 예언, 모든 증인에?
Asia in Prophecy What is Ahead for Asia? Who are the "Kings of the East"? What will happen to nearly all the Chinese, Russians, Indians, and others of Asia? China in prophecy, where? Who has the 200,000,000 man army related to Armageddon?