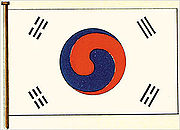 Flag of Korea, 1889
For a long while, I have written that it is likely that North and South Korea will be re-unified before Jesus returns.  Now, it appears that China has given indications that it will support such a re-unification:
Wikileaks cables reveal China 'ready to abandon North Korea'

Leaked dispatches show Beijing is frustrated with military actions of 'spoiled child' and increasingly favours reunified Korea

Simon Tisdall
Monday 29 November 2010 21.30 GMT

China has signalled its readiness to accept Korean reunification and is privately distancing itself from the North Korean regime, according to leaked US embassy cables that reveal senior Beijing figures regard their official ally as a "spoiled child".

News of the Chinese shift comes at a crucial juncture after the North's artillery bombardment of a South Korean island last week that killed four people and led both sides to threaten war. China has refused to condemn the North Korean action. But today Beijing appeared to bow to US pressure to help bring about a diplomatic solution, calling for "emergency consultations" and inviting a senior North Korean official to Beijing…

The leaked North Korea dispatches detail how:

• South Korea's vice-foreign minister said he was told by two named senior Chinese officials that they believed Korea should be reunified under Seoul's control, and that this view was gaining ground with the leadership in Beijing.

• China's vice-foreign minister told US officials that Pyongyang was behaving like a "spoiled child" to get Washington's attention in April 2009 by carrying out missile tests.

• A Chinese ambassador warned that North Korean nuclear activity was "a threat to the whole world's security".

http://www.guardian.co.uk/world/2010/nov/29/wikileaks-cables-china-reunified-korea
This, if China stays on that path, will be great news for the suffering millions in North Korea.
But it is unclear what China will do at this juncture.
The reality is that North Korea is increasingly becoming more and more isolated from the world with few allies other than Iran and China (though others trade with it).  Most of the common people in North Korea are suffering from food and other shortages, and reunification with South Korea would likely greatly improve the standard of living for those in North Korea.
Hopefully a peaceful reunification will come soon.  And hopefully the Wikileaks matter will not slow the Chinese resolve to do something about North Korea down (or reverse its course).
Because of scriptures, such as the one in Revelation about the "kings of the sunrise", I have felt that it was likely that North and South Korea would re-unify (or at least begin to cooperate more) prior to the return of Christ.  If China stops supporting North Korea, this could be what is needed for that type of re-unification.
Two articles of possibly related interest may include the following:
Korea in Prophecy, Any Witness? Does God have a plan for the Koreans? Is Korea mentioned in any prophecies? Will Koreans be among the first in the Kingdom of God? 한국의 언어로 : 한국 예언, 모든 증인에?
Asia in Prophecy What is Ahead for Asia? Who are the "Kings of the East"? What will happen to nearly all the Chinese, Russians, Indians, Koreans, and others of Asia? China in prophecy, where? Who has the 200,000,000 man army related to Armageddon?