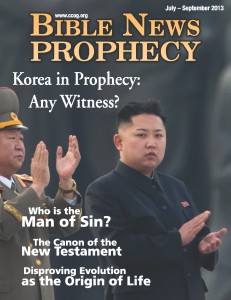 North and South Korea have agreed to discuss some type of family reunification:
North Korea on Sunday accepted a South Korean offer for talks on reuniting families separated by war, but proposed separate talks on resuming lucrative tours to a scenic North Korean mountain in an apparent effort to link the two discussions.

Last week, the two Koreas agreed to work toward a resumption of a jointly run factory park in North Korea, raising hopes for improved ties between the rivals. Seoul subsequently proposed Red Cross talks Friday on restarting the reunions.

On Sunday, an unidentified spokesman at Pyongyang's Committee for the Peaceful Reunification of Korea said the North had agreed on the Red Cross talks. He proposed meeting at the country's scenic Diamond Mountain, not at the southern side of the border village of Panmunjom as South Korea requested.  http://www.cbsnews.com/8301-202_162-57599022/koreas-agree-on-talks-to-reunite-families-separated-by-war/

South and North Korea are jockeying over the issue of holding the first reunion since 2010 of families separated by the Korean War.

On Sunday, North Korea said it accepted a proposal made by Seoul last week for talks about reunions, which were suspended after two military attacks by North Korea in 2010 that killed 50 South Koreans.

But the acceptance came with a significant counter-proposal–that the talks be held at the Mount Kumgang resort in North Korea, as well as the actual family meetings. Both sides have said they would hold the reunions during the pan-Korean "Chuseok" holiday in late September.  http://blogs.wsj.com/korearealtime/2013/08/18/north-and-south-korea-debate-family-reunions/
This would be great if the family unification were to happen.  Families should not have to be separated like this.  It also may be a prelude to prophecy.
The current edition of CCOG's Bible News Prophecy magazine has an article that suggests that reunification is likely to come to North and South Korea.  That issus is available as a downloadable PDF: Bible News Prophecy, July-September 2013 edition.
It is also available in other languages.
Here is a link to the pdf version in Spanish: Noticias de la Profecía de la Biblia: Julio – Septiembre 2013.
Here is a link to the pdf version in Mandarin (Chinese): 圣经新闻与预言2013 (note: the pdf magazine takes a little while to load and view).
According to the Bible, a type of confederation will happen with the 'kings of the sunrise" (Revelation 16:12), and this may suggest that reunification will come for North and South Korea in the future.
Some items of possibly interest may include the following:
Korea in Prophecy, Any Witness? Where did the Korean people come from? Does God have a plan for the Koreans? Is Korea mentioned in any prophecies? Will Koreans be among the first in the Kingdom of God? Here is a machine-translated link to that article in Korean: 한국의 언어로 : 한국 예언, 모든 증인에?; here is a link to that article in Mandarin Chinese: 在预言中的韩国:有任何证人吗?
The Eurasian Union, the Kings of the East, and Bible Prophecy Is there a Eurasian union that will be formed? Is one being formed right now? Are any leaders working on that in the 21st century? Does the Bible teach that there will be a Eurasian union? If some type of Eurasian union is formed, who might it benefit and who will it destroy? A related video would be Is The Eurasian Union Rising?
Asia in Prophecy What is Ahead for Asia? Who are the "Kings of the East"? What will happen to nearly all the Chinese, Russians, Indians, and others of Asia? China in prophecy, where? Who has the 200,000,000 man army related to Armageddon? A YouTube video of interest may be Is China THE Threat to the United States of America?