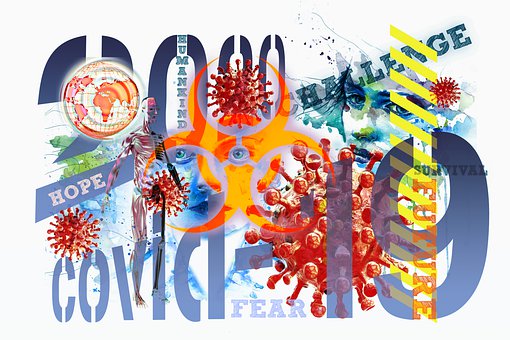 (Pixabay picture)
The BBC reported the following:
Covid-19: Omicron spreading at lightning speed – French PM

18 December 2021

The Omicron variant is "spreading at lightning speed" in Europe and will likely become dominant in France by the start of next year, French Prime Minister Jean Castex has warned.

He spoke on Friday, hours before France imposed strict travel restrictions on those entering from the United Kingdom.

Across the continent, health officials are bracing for a wave of infections.

Additional restrictions were announced in Germany, the Republic of Ireland and the Netherlands on Friday as governments seek to stem the tide.

Europe has already seen more than 89 million cases and 1.5 million Covid-related deaths, according to the latest EU figures.

But Germany's Health Minister Karl Lauterbach told reporters on Friday the country "must prepare for a challenge that we have not yet had in this form", while its public health agency designated France, Norway and Denmark as "high risk" due to rising infections in those countries.

On Saturday Germany's regional health ministers called on the government in Berlin to bring in tougher rules on arrivals from the UK due to the high number of Omicron cases there.

In Ireland, where a third of new cases have been due to the new variant, Taoiseach Micheál Martin said they were expecting "to see infections at a rate that is far in excess of anything we have seen to date".
Notice also:
The UK's Omicron warning for America

December 18, 2021

Coronavirus cases are surging in London as the Omicron variant has officially replaced Delta — a sign of what's likely just around the corner for parts of the U.S.

The bottom line: The ratio of deaths to cases will be lower than spring 2020, simply because so many Americans are either vaccinated or have already been infected. But it's still unclear if the variant itself is less severe, and how many people are vulnerable to it.

Driving the news: South Africa and the UK are regularly releasing data that help predict what the coming days and weeks will bring the U.S.

Both places have made it clear that the virus spreads at a faster rate than we've seen during the pandemic, and it's able to escape at least some of the immunity provided by vaccines or previous infections.
But it's still unclear whether Omicron is more or less likely to cause severe disease than other variants, at least partially because so many people in South Africa or the UK have some form of immunity against the virus.

Where it stands: New South African data shows that deaths across all age groups among hospitalized patients were two-thirds lower in the Omicron wave than in previous waves. …

But according to the UK Health Security Agency, there's insufficient data on the question of severity. "There is no signal that supports a difference in the intrinsic virulence of the Omicron virus compared to Delta," according to the updated risk assessment.

Between the lines: That means if you're unvaccinated and haven't been infected, you're definitely not in the clear with Omicron. https://www.axios.com/omicron-coronavirus-cases-christmas-london-5ef22bcc-34e2-4b31-9d4e-534c9f395d00.html
The truth is that those who are vaccinated are "definitely not in the clear with Omicron." As far as a 'warning for America' goes, check out the article: Might the U.S.A. Be Gone by 2028?
That being said, here is another view of Omicron:
Sniffles, headaches, and tiredness appear to be the hallmarks of Omicron, according to a major study that suggests the mutant virus is more akin to a cold than Covid.

It's hard to be a fear merchant these days, what with the new COVID variant Omicron not living up to hype laid out for it, presenting with disappointingly mild symptoms like sniffles, headache and fatigue. But just because Omicron is a 'bust', don't think the medical fascists will be backing off the Hitlerian Immunity Passports any time soon. They won't.

"Trust in the LORD with all thine heart; and lean not unto thine own understanding. In all thy ways acknowledge him, and he shall direct thy paths. Be not wise in thine own eyes: fear the LORD, and depart from evil. It shall be health to thy navel, and marrow to thy bones." Proverbs 3:5-8 (KJB)

Fauci the fraud is now predicting a 'triple threat' of Delta, Omicron and the flu that will 'overwhelm the hospitals' resulting in apocalyptic catastrophes unprecedented in the annals of modern medical history. In case you're wondering, this will not end until you have submitted to the the one + two + three + ad infinitum vaccine shots and boosters, only leaving your house when permission has been granted to you. Is that really how you want to live your life, cowering in fear and wholly dependent on the government to 'keep you safe'? As for me, I will continue to trust in the Lord, in His plan for me and my life, and I will continue to feed and care for the immune system He gave me. You might want to try that yourself.
Yes, we should trust God.
But it is possible that Omicron will turn out to be deadly or some variant of it will be.
That being said, yes, people should try to be healthier and take steps to improve their immune systems.
Regarding that, here is information related to a YouTube censored video that we still have up at BitChute:
US President Joe Biden said on 2/19/21 that the USA may NOT "return to normal" in 2021 because of vaccine and mutation issues. Is there another approach? Would it make sense to improve nutrition to strengthen the immune system and to help people with COVID-19? What about zinc, selenium, vitamin C, and vitamin D? What about avoiding unclean meats? What about eating more fruits and vegetables and items such as pumpkin seeds and Brazil nuts? What about eating bovine glandulars? What about herbs? Could fasting help? What about exercise and sunlight? What about masks, lockdowns, junk food, obesity, and weight gain? Dr. Thiel, who possesses a US regionally accredited PhD. in nutrition science from the Union Institute and University, a Master of Science degree from the University of Southern California, and a natural scientist license from the State of Alabama, explains why people may wish to consider approaches for their immune system. He also goes over scriptures related to worse pandemics coming (associated with the ride of the fourth horseman of the Apocalypse–Revelation 6:7-8), and the fact that the Bible teaches to "eat what is good" (Isaiah 55:2).

A written article, with references, of related interest is also available titled "Joe Biden: life may not return to normal this year due to COVID mutations; Paul Roberts: The Covid Pandemic Is The Result of Public Health Authorities Blocking Effective Treatment" URL: https://www.cogwriter.com/news/prophecy/joe-biden-life-may-not-return-to-normal-this-year-due-to-covid-mutations-paul-roberts-the-covid-pandemic-is-the-result-of-public-health-authorities-blocking-effective-treatment/
Here is a link to the censored video: COVID-19: Eat what is good!
In this time of fear-mongering, censorship, and COVID-19 restrictions, remember that Jesus taught:
32 Do not fear, little flock, for it is your Father's good pleasure to give you the kingdom. (Luke 12:32)

33 … In the world you will have tribulation; but be of good cheer, I have overcome the world. (John 16:33b)
Related to dealing with fear during the time of COVID, the Continuing Church of God put out the following sermon on its ContinuingCOG channel:
Billions of people are afraid for many reasons, including COVID-19. Are any fears good? Are there mindless fears and phobias? Can autosuggestion be deceptive? Can you deal with mental torment? What are some causes of bad dreams (nightmares)? Does Satan try to exploit fears through his lies? Can the weak become strong? Were Christ's disciples ever fearful? Are there biblical ways to deal with fear? What about spiritual fear and the 'fear of God'? The late evangelists Dr. Herman Hoeh had an article published in 1955 titled 'How to Conquer Your Fears?' What are eight steps from the Apostle Peter? What did Jesus teach about worry? Are most Christians Philadelphian? What did Jesus teach about fear? What is the ultimate biblical fate for cowards? Here a the list of ten steps to help rid yourself of fear: 1. "Whatever things are true, whatever things are noble, whatever things are just, whatever things are pure, whatever things are lovely, whatever things are of good report, if there is any virtue and if there is anything praiseworthy — meditate on these things" (Philippians 4:8). Changing your mental focus will help you push out fear. 2. Develop faith. "Faith comes by hearing, and hearing by the word of God" (Romans 10:17). 3. Add virtue to your faith in the power of God. You cannot hide your sins from God (cf. Psalm 90:8). 4. Add to virtue knowledge. Study the word of God, study CCOG literature, pay attention to sermons (ContinuingCOG YouTube sermon channel) and sermonettes (BibleNewsProphecy YouTube sermonette channel). 5. Add self-control to knowledge. Resist Satan and his hopes that you will walk by sight instead of faith. 6. Add patience to self-control. You may have to go through many tests and trials to build patience, but as you get through the tests and trials you should have the faith to recognize that God got you through them and that you do not need to fear. 7. Add godliness to patience. 8. Add to patience, brotherly kindness. "Let Philadelphia continue" (Hebrews 13:1). 9. Add to brotherly kindness, love. 10. Be courageous. "He who has begun a good work in you will complete it until the day of Jesus Christ" (Philippians 1:6). This is how YOU can conquer your fears and worries! Ask God for help to carry out His ten-fold plan to attain real peace of mind. Then there is also prayer and fasting. Yes, through God's help you can rid yourself of fear. This sermon by Dr. Thiel covers these topics and more.
Here is a link to the sermon: Ten Plus Steps to Rid Yourself of Fear.
While many government officials are promoting fear and often hypocrisy, understand that Christians do not need to fear.
The hope of Christians is in Jesus and the establishment of the Kingdom of God.
Another point to mention is that even most Christians are accepting a type of false safetyism.
25 The fear of man brings a snare, But whoever trusts in the Lord shall be safe. (Proverbs 29:25)
Jesus has promised to never forsake His true followers as the Book of Hebrews teaches:
5 Let your conduct be without covetousness; be content with such things as you have. For He Himself has said, "I will never leave you nor forsake you." 6 So we may boldly say:

"The Lord is my helper;
I will not fear.
What can man do to me?" (Hebrews 13:5-6)
Trust in God, even during Omicron.
Some items of possibly related interest may include:
COVID 19 is NOT the End, but could it be TEOTWAWKI? The novel coronavirus called COVID-19 is wreaking havoc around the world. Many states of the USA as well as countries in Europe are on lockdown with shelter in place /shelter in residence requirements. In France, a form is required when you are not at your house. In Spain, drones are being used to warn people who are outside to got back to their homes–does that bring up feelings of 'Big Brother'? Italy, France, and other areas are using police and/or military force to encourage people to stay inside. According to the Bible could this be the end? If not, what has to happen first? Have the second and third of the four horsemen of the Apocalypse started their ride? Could COVID-19 be the fourth horseman? Why or why not? Could we be seeing The End of the World as We Know It (TEOTWAKI) like the R.E.M.'s 1987 single song discussed? Do Christians need to fear? What did Jesus teach? What did the Psalmist teach? This is a video. Here is a link to a version in the Spanish language: Corona 19 no es el final PERO es el TEOTWAWKI.
COVID-19 Leading to 666? The novel coronavirus of Wuhan, China fame, is now called COVID-19. It has also been called the 'Coronapocalypse.' Does COVID-19 have any prophetic ramifications? What did Jesus teach about pestilences and sorrows in the Olivet prophecy in Matthew 24? Could COVID-19 be the ride of the fourth horseman of the Apocalypse? Why was this type of disease expected according to the O. Here is a link to a version in the Spanish language: ld Testament prophecies in Deuteronomy and Leviticus? What has the US Centers for Disease Control warned about? What has the CDC reported about the flu? Were there lessons about fear and infections in the 2011 movie 'Contagion'? Because of COVID-19, the World Health Organization (WHO), nation of Iran, and certain French locations are telling people not to use cash, but instead electronic forms of payment. The US Federal Reserve is now quarantining money repatriated from Asia to reduce the potential spread of the coronavirus on US currency bills. Is COVID-19 worse than we have been told or could this all be a 'false flag' event to encourage people to move towards a cashless society? If the thousands of deaths associated with COVID-19 are pushing parts of the world towards cashlessness, how much more likely will the ride of the fourth horseman and over a billion human deaths motivate people to move to making electronic payments that can be monitored? The Bible tells of a soon coming society that controls buying and selling to force allegiance to a coming European Beast power, known as 666 (Revelation 13:16-18). Does the 'great tribulation' begin before ride of the fourth horseman or with the opening of the fifth seal of Revelation 6? Do the words of Jesus helps us better understand the sequence of the four horsemen of the Apocalypse and the start of the Great Tribulation? Will the ride of the fourth horseman help lead to the rise of 666? Is that ride very close? Dr. Thiel addresses these issues and more in this video. Here is a link to a version in the Spanish language: El COVID-19 ¿Conduce al 666?The Gospel of the Kingdom of God This free online pdf booklet has answers many questions people have about the Gospel of the Kingdom of God and explains why it is the solution to the issues the world is facing. Here are links to four related sermons:  The Fantastic Gospel of the Kingdom of God!, The World's False Gospel, The Gospel of the Kingdom: From the New and Old Testaments, and The Kingdom of God is the Solution.
CCOG on vaccines Pestilences are coming. Is it ever appropriate for Christians to get vaccinated?
Fourth Horseman of the Apocalypse What is the pale horse of death and pestilences? What will it bring and when? Here is a link to a related sermon: Fourth Horseman, COVID, and the Rise of the Beast of Revelation. Here is a version of that sermon in Spanish: El Cuarto Caballo, El COVID y El Surgimiento de la Bestia del Apocalipsis. Some shorter related videos may include Amphibian Apocalypse: Threat to Humans? and Zombie Deer Disease is Here! Are the 10 Plagues on Egypt Coming? Here is a version of the article in Spanish: El cuarto jinete de Apocalipsis, el caballo pálido de muerte y pestilencia.
When Will the Great Tribulation Begin? 2022, 2023, or 2024? Can the Great Tribulation begin today? What happens before the Great Tribulation in the "beginning of sorrows"? What happens in the Great Tribulation and the Day of the Lord? Is this the time of the Gentiles? When is the earliest that the Great Tribulation can begin? What is the Day of the Lord? Who are the 144,000? Here is a version of the article in the Spanish language: ¿Puede la Gran Tribulación comenzar en el 2020 o 2021? ¿Es el Tiempo de los Gentiles? A related video is: Great Tribulation: 2026 or 2027? A shorter video is: Can the Great Tribulation start in 2022 or 2023? Here is a video in the Spanish language: Es El 2021 el año de La Gran Tribulación o el Grande Reseteo Financiero.
Might the U.S.A. Be Gone by 2028? Could the USA be gone by the end of 2028 or earlier? There is a tradition attributed to the Hebrew prophet Elijah that humanity had 6,000 years to live before being replaced by God's Kingdom. There are scriptures, writings in the Talmud, early Christian teachings that support this. Also, even certain Hindu writings support it. Here is a link to a related video: Is the USA prophesied to be destroyed by 2028? In Spanish: Seran los Estados Unidos Destruidos en el 2028?
Does God Have a 6,000 Year Plan? What Year Does the 6,000 Years End? Was a 6000 year time allowed for humans to rule followed by a literal thousand year reign of Christ on Earth taught by the early Christians? Does God have 7,000 year plan? What year may the six thousand years of human rule end? When will Jesus return? 2028 or 20xx? There is also a video titled 6000 Years: When will God's Kingdom Come? Here is a link to the article in Spanish: ¿Tiene Dios un plan de 6,000 años?
Is God Calling You? This booklet discusses topics including calling, election, and selection. If God is calling you, how will you respond? Here is are links to related sermons: Christian Election: Is God Calling YOU? and Predestination and Your Selection. A short animation is also available: Is God Calling You?
Christian Repentance Do you know what repentance is? Is it really necessary for salvation? Two related sermons about this are also available: Real Repentance and Real Christian Repentance.