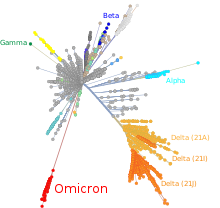 SARS-CoV-2 Variants (Soupvector)
Business Insider reported the following:
New Omicron offshoot BA.2 is over 1.5 times more contagious than the original, early data from Denmark suggests

January 27, 2022

An offshoot of Omicron, BA.2, is spreading over 1.5 times more quickly than the original BA.1, Denmark's leading public health institute said Wednesday.

"Preliminary calculations indicate that BA.2 is effectively well over one and a half times more contagious than BA.1," the Statens Serum Institute (SSI) said in a statement.

An expert from the SSI told Insider that the variant was spreading fastest among the unvaccinated and among children.

There is no evidence that it is causing more severe disease, Danish Health Minister Magnus Heunicke said at a press conference supporting the findings, https://www.businessinsider.com/ba2-omicron-coronavirus-contagious-ba1-denmark-data-2022-1
Basically, while the science is far from settled, it appears that Omicron variants spread faster than other COVD variants, but, overall, the infection has been less individually severe.
Here is something from the German press:
New omicron subtype BA.2 is spreading quickly

A new subtype of the omicron coronavirus variant is spreading in Denmark, the UK, India, Sweden and many other countries.

26 January 2022

We already know from the first omicron variant BA.1 that it is significantly more contagious than earlier coronavirus variants. Now a subtype, BA.2, has emerged. At least 400 people have been infected with it during the first 10 days of January in the United Kingdom, and it has already been detected in more than 40 other countries worldwide.

Most detections in Denmark

The PANGO directory of coronaviruses, which is regularly updated by scientists from the universities of Oxford, Edinburgh and Cambridge, lists Denmark as the most affected area, with 79% of the cases detected so far. https://www.dw.com/en/new-omicron-subtype-ba2-is-spreading-quickly/a-60561303
Despite the findings, Denmark has decided to lift many of its COVID-blamed restrictions as has the UK:
Denmark will end virus restrictions next week and reclassify Covid-19 as a disease that no longer poses a threat to society, even as infections hit a record high.

The Nordic country, one of the most vaccinated in the world, won't extend the pandemic measures beyond Jan. 31, Prime Minister Mette Frederiksen said Wednesday.

Denmark's decision on reclassifying the virus dramatically pushes forward an idea that's emerged recently in Europe — that it's time to start thinking about Covid as endemic rather than a pandemic. https://www.bloomberg.com/news/articles/2022-01-26/denmark-to-end-covid-curbs-as-premier-deems-critical-phase-over

January 27, 2022

So-called 'Plan B' restrictions have ended in England, with widespread mask mandates being officially scrapped in the country from today.

England has now officially left "Plan B", with widespread mask mandates no longer in effect from today. https://www.breitbart.com/europe/2022/01/27/freedom-englands-plan-b-restrictions-end-today/
There have been protests in Europe and elsewhere about COVID-blamed restrictions. And there is also a growing movement in Canada:
11,000-Truck, 93-Mile-Long 'Freedom Convoy' Protests Canada's Vaccine Mandate, as Government Digs in Heels

January 26, 2022

As the "Freedom Convoy" of truckers protesting Canada's vaccine mandates rolled through southeast Alberta, Canadian Prime Minister Justin Trudeau Monday slammed conservative politicians, accusing them of fear-mongering.

"I regret that the Conservative Party and conservative politicians are fear-mongering to Canadians about the supply chain, but the reality is that vaccination is how we're going to get through this," Trudeau told reporters who asked if the mandate policy could disrupt supply chains. https://childrenshealthdefense.org/defender/mile-long-freedom-convoy-protest-canada-vaccine-mandate/
I saw Justin Trudeau say a lot on the news last night.
But as far as fear mongering goes, he is among those that have pushed fear.
That being said,a lot of "misinformation" about COVID has been pushed by various government officials, media sources, health leaders, etc.
Because of the repeated, and often exaggerated, warnings about COVID-19, people around the world are wary of the lockdowns and other policies that governments, schools, businesses, etc. have implemented. This is particularly so because some have also wanted to use COVID-19 as a reason to totally change society via something called "the Great Reset" (watch Will there be a "Great Reset"?).
But that does not mean that there is no risk of a more deadly pestilence.
There is an old story about the boy who cried wolf. Basically, it goes like this: A boy is tending sheep. He is bored. He decides to see what happens if he yells out, "Wolf, wolf." People from the village come to assist, but there is no wolf and the boy laughs at them. They go away. Another day he does the same thing and gets the same result. But the next week, a real pack of wolves arrive. The boy screams out, "Wolf, wolf." But this time, the people do not respond as they do not believe him. The wolves come and eat the boy and the sheep.
Why bring this up?
Various ones have been promoting fear the past 2 years related to COVID. Yet, although many have died with COVID, it appears that most who died were enfirmed or elderly. The actual death rate for the healthy from COVID-19 was not especially high. Many public officials are losing credibility. Yet, many opposed to them have also spread false information and fear.
When a prophesied pandemic with a much higher death rate appears, many will not take it seriously enough.
But such a deadly pestilence will come:
7 When He opened the fourth seal, I heard the voice of the fourth living creature saying, "Come and see." 8 So I looked, and behold, a pale horse. And the name of him who sat on it was Death, and Hades followed with him. And power was given to them over a fourth of the earth, to kill with sword, with hunger, with death, and by the beasts of the earth. (Revelation 6:7-8)
The ride of the fourth horseman will result in the death of 1/4 of humanity–with much of that from disease!
That is much worse than what we now expect for COVID-19. What Omicron and its variants have shown is that diseases can spread quicker and quicker–that is consistent with what is prophesied for the future.
The fact of COVID and its many variants should show everyone in the 21 st century that the world can be affected by pestilences.
What will then happen a few years from now?
The Bible shows that the coming European King of the North beast will gain power after a time of death and pestilence.
While COVID-19, itself, is not that, it is setting the stage for people to turn to such a leader.
Related to that, the Continuing Church of God is put out the following sermon on our ContinuingCOG channel:
The 6th chapter of the Book of Revelation tells of the ride of the Four Horsemen of the Apocalypse. What do each represent? Is the novel coronavirus, also known as COVID-19, part of the fourth horseman? Does the Bible point to around 2 billion people dying from hunger, war, and the beasts of the earth? Was the ancient Roman Empire impacted by pestilences? What about the black death, also known as the Bubonic plague? Are disease epidemics part of the beginning of sorrow and troubles that Jesus spoke about in Matthew 24 and Mark 13? Does the pale green horseman represent Islam? Could genetically modified organisms (GMOs) or synthetic biology cause or contribute to coming pandemics? Is chemical and biological warfare (CBW) a real threat to humanity? What about a doomsday bug or antibiotic resistant superbugs? Is fear a contagion that will help people move away from democracy? Will scientists be able to stop what is coming? Is the good news that the Kingdom of God will? Could COVID-19 be setting the stage for the rise of the 'prince,' who will become the totalitarian Beast of the Sea (also known as 666 and the King of the North)? Is this leader similar to the Great Monarch of Greco-Roman Catholic prophecies? When is the Great Monarch supposed to arise according to the Eastern Orthodox? Why might Europe be less affected by the ride of the third horseman that the US, Canada, and the UK? Are governments taking steps now, consistent with the words of Adolf Hitler? What seal represents the start of the Great Tribulation? Which Christians did Jesus promise to protect from the coming "hour of trial"?
Some items of possibly related interest may include:
COVID 19 is NOT the End, but could it be TEOTWAWKI? The novel coronavirus called COVID-19 is wreaking havoc around the world. Many states of the USA as well as countries in Europe are on lockdown with shelter in place /shelter in residence requirements. In France, a form is required when you are not at your house. In Spain, drones are being used to warn people who are outside to got back to their homes–does that bring up feelings of 'Big Brother'? Italy, France, and other areas are using police and/or military force to encourage people to stay inside. According to the Bible could this be the end? If not, what has to happen first? Have the second and third of the four horsemen of the Apocalypse started their ride? Could COVID-19 be the fourth horseman? Why or why not? Could we be seeing The End of the World as We Know It (TEOTWAKI) like the R.E.M.'s 1987 single song discussed? Do Christians need to fear? What did Jesus teach? What did the Psalmist teach? This is a video. Here is a link to a version in the Spanish language: Corona 19 no es el final PERO es el TEOTWAWKI.
COVID-19 Leading to 666? The novel coronavirus of Wuhan, China fame, is now called COVID-19. It has also been called the 'Coronapocalypse.' Does COVID-19 have any prophetic ramifications? What did Jesus teach about pestilences and sorrows in the Olivet prophecy in Matthew 24? Could COVID-19 be the ride of the fourth horseman of the Apocalypse? Why was this type of disease expected according to the O. Here is a link to a version in the Spanish language: ld Testament prophecies in Deuteronomy and Leviticus? What has the US Centers for Disease Control warned about? What has the CDC reported about the flu? Were there lessons about fear and infections in the 2011 movie 'Contagion'? Because of COVID-19, the World Health Organization (WHO), nation of Iran, and certain French locations are telling people not to use cash, but instead electronic forms of payment. The US Federal Reserve is now quarantining money repatriated from Asia to reduce the potential spread of the coronavirus on US currency bills. Is COVID-19 worse than we have been told or could this all be a 'false flag' event to encourage people to move towards a cashless society? If the thousands of deaths associated with COVID-19 are pushing parts of the world towards cashlessness, how much more likely will the ride of the fourth horseman and over a billion human deaths motivate people to move to making electronic payments that can be monitored? The Bible tells of a soon coming society that controls buying and selling to force allegiance to a coming European Beast power, known as 666 (Revelation 13:16-18). Does the 'great tribulation' begin before ride of the fourth horseman or with the opening of the fifth seal of Revelation 6? Do the words of Jesus helps us better understand the sequence of the four horsemen of the Apocalypse and the start of the Great Tribulation? Will the ride of the fourth horseman help lead to the rise of 666? Is that ride very close? Dr. Thiel addresses these issues and more in this video. Here is a link to a version in the Spanish language: El COVID-19 ¿Conduce al 666?
Two Horned Beast of Revelation and 666 Who is 666? This article explains how the COG views this, and compares this to Ellen White. Here is a link to a prophetic video Six Financial Steps Leading to 666?
Biological Warfare and Prophecy. Is biological warfare possible? Was it prophesied? Scientists have long warned that pathogenic organisms like the coronavirus could be weaponized. Furthermore, back in 2017, there were concerns that the biological research facility being constructed in Wuhan, China was risky and that a coronavirus from it could be released. On January 25, 2020, China's President Xi Jinping publicly stated that the situation with the Wuhan-related strain of the coronavirus was grave. Did Church of God writers like the late evangelist Raymond McNair warn that engineered viruses (the "Doomsday bug") were consistent with prophecies from Jesus? Did a warning from CCOG leader Bob Thiel warn about risks of genetically-modified (GMO) mosquitoes come to pass? Could human research and/or the consumption of biblically-unclean animals such as bats and snakes be a factor in current outbreaks or coming future pestilences? What about famines? How devastating have pestilences been? How devastating are the prophesied ones going to be? Dr. Thiel addresses these issues and more in this video.
Four Horsemen of the Apocalypse What do each of the four horseman of the Apocalypse represent? Have they began their ride? Did Jesus discuss the any of this? Might their rides coincide with the "beginning of sorrows? Do they start their ride prior to the Great Tribulation? Did Nostradamus or any other 'private prophets' write predictions that may mislead people so that they may not understand the truth of one or more of the four horseman? There is also a related YouTube video titled Sorrows and the Four Horsemen of the Apocalypse.
World War III: Steps in Progress Are there surprising actions going on now that are leading to WWIII? Might a nuclear attack be expected? Does the Bible promise protection to all or only some Christians? How can you be part of those that will be protected? A related video would be Is World War III About to Begin? Can You Escape?
Continuing Church of God position on vaccines Pestilences are coming. Is it ever appropriate for Christians to get vaccinated?
Fourth Horseman of the Apocalypse What is the pale horse of death and pestilences? What will it bring and when? Here is a link to a related sermon: Fourth Horseman, COVID, and the Rise of the Beast of Revelation. Here is a version of that sermon in Spanish: El Cuarto Caballo, El COVID y El Surgimiento de la Bestia del Apocalipsis. Some shorter related videos may include Amphibian Apocalypse: Threat to Humans? and Zombie Deer Disease is Here! Are the 10 Plagues on Egypt Coming? Here is a version of the article in Spanish: El cuarto jinete de Apocalipsis, el caballo pálido de muerte y pestilencia.
When Will the Great Tribulation Begin? 2022, 2023, or 2024? Can the Great Tribulation begin today? What happens before the Great Tribulation in the "beginning of sorrows"? What happens in the Great Tribulation and the Day of the Lord? Is this the time of the Gentiles? When is the earliest that the Great Tribulation can begin? What is the Day of the Lord? Who are the 144,000? Here is a version of the article in the Spanish language: ¿Puede la Gran Tribulación comenzar en el 2020 o 2021? ¿Es el Tiempo de los Gentiles? A related video is: Great Tribulation: 2026 or 2027? A shorter video is: Can the Great Tribulation start in 2022 or 2023? Here is a video in the Spanish language: Es El 2021 el año de La Gran Tribulación o el Grande Reseteo Financiero.
Does God Have a 6,000 Year Plan? What Year Does the 6,000 Years End? Was a 6000 year time allowed for humans to rule followed by a literal thousand year reign of Christ on Earth taught by the early Christians? Does God have 7,000 year plan? What year may the six thousand years of human rule end? When will Jesus return? 2028 or 20xx? There is also a video titled 6000 Years: When will God's Kingdom Come? Here is a link to the article in Spanish: ¿Tiene Dios un plan de 6,000 años?
Is God Calling You? This booklet discusses topics including calling, election, and selection. If God is calling you, how will you respond? Here is are links to related sermons: Christian Election: Is God Calling YOU? and Predestination and Your Selection. A short animation is also available: Is God Calling You?
Christian Repentance Do you know what repentance is? Is it really necessary for salvation? Two related sermons about this are also available: Real Repentance and Real Christian Repentance.