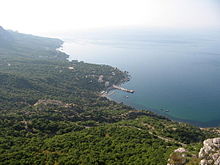 Southern Portion of Crimea with Russian Port (Sergiy Klymenko)

The Crimean parliament has voted to join Russia.  They now would like to have people in its region vote on that on March 16, 2014 instead of March 30, 2014:
March 06, 2014
Lawmakers in the embattled Ukrainian region of Crimea have voted to join Russia, in a move likely to further escalate tensions.

Thursday's vote by the Moscow-backed Crimean parliament comes as European Union leaders gather for an emergency summit in Brussels to discuss how to pressure Russia to back down from its military incursion into Crimea…
The government of Crimea, a Black Sea peninsula with a majority ethnic Russian population, said Thursday it is scheduling a referendum on joining Russia for March 16. Russian President Vladimir Putin is being asked to consider the appeal…
Russia's currency, the rouble, weakened further on Thursday despite central bank intervention due to what analysts at VTB Capital called the political risk premium.

Russia has kept the door ajar for more diplomacy on its own terms, announcing on Thursday a meeting of former Soviet states in the Commonwealth of Independent States (CIS), including Ukraine, for April 4 and saying it would be preceded by contacts between Russian and Ukrainian diplomats…
In an awkward coincidence, just as EU leaders were gathering in Brussels, German Economy Minister and Vice-Chancellor Sigmar Gabriel traveled to Moscow for talks with his Russian counterpart and Putin.

Reflecting concern about how the long-planned trip might be seen in the midst of the Ukraine crisis, Gabriel dropped at the last minute plans to take along German industrialists with him. Germany has been accused in some quarters of soft-pedaling on sanctions in the light of its close economic ties to Russia.

Officials close to Gabriel said he was hoping to keep a low public profile on the trip, but if he meets Putin, as scheduled, he may have to appear in front of TV cameras.

In eastern Ukraine, a pro-Russian crowd in Donetsk, Yanukovych's home town, recaptured the regional administration building they had occupied before being ejected by police. But police loyal to the new authorities in Kyiv raised the Ukrainian flag over the building again on Thursday.

Putin has said Russia reserves the right to intervene militarily in other areas of Ukraine if Russian interests or the lives of Russians are in danger.

Dropping diplomatic niceties on Wednesday, the U.S. State Department published a "fact sheet" entitled "President Putin's Fiction: 10 False Claims about Ukraine."

"As Russia spins a false narrative to justify its illegal actions in Ukraine, the world has not seen such startling Russian fiction since Dostoyevsky wrote, 'The formula "two plus two equals five" is not without its attractions,"' the State Department said in the document.

Crimea is set to hold a referendum on its future status on March 30. Ethnic Russians make up nearly 60 percent of the peninsula's population.  http://www.voanews.com/content/eu-sanctions-exukrainian-president-as-crisis-in-crimea-continues/1865336.html
The USA is disturbed that Crimea's elected representatives would do such a thing, and because of that and Russia's actions, the Obama Administration is now intending to oppose sanctions against Russia:
March 6, 2014

SEVASTOPOL, Ukraine — The White House is imposing visa restrictions on Russians and Crimeans after Crimea's pro-Russia administration announced a March 16 referendum on whether Crimea should become part of Russia.

The White House said the restrictions will affect anyone who is "threatening the sovereignty and territorial integrity of Ukraine."…

Many in Ukraine fear the move by Crimea retext toward secession and the eventual annexation by the Russian Federation.

"This is our response to the disorder and lawlessness in Kiev," Sergei Shuvainikov, a member of the local Crimean legislature, told the Associated Press. "We will decide our future ourselves."

The parliament in Crimea enjoys a degree of autonomy under current Ukrainian law. Referendum voters will choose between joining Russia or remaining part of Ukraine, but with enhanced local powers.

There was no immediate response from the Ukrainian central government to the vote. On Wednesday, Ukraine's prime minister told the Associated Press that Crimea would remain part of Ukraine.  http://www.usatoday.com/story/news/world/2014/03/06/crimean-referendum-announced/6112921/

March 06, 2014

The U.S. is imposing visa restrictions on Russians and Crimeans who it says are threatening Ukraine.

In addition, the White House said Thursday that President Barack Obama has signed an executive order authorizing sanctions on groups and individuals "responsible for activities undermining democratic processes or institutions in Ukraine."

The announcement said Mr. Obama's order is aimed at officials who have misappropriated Ukraine's state assets or purport to assert governmental power without authorization from the new Ukrainian government in Kyiv.  http://www.voanews.com/content/us-imposes-visa-restrictions-on-russians-crimeans-that-threaten-ukraine/1865441.html
Russia would like Ukraine to be a buffer against the West and part of its intended Eurasian Union. A divided Ukraine would not be ideal for that from a Russian perspective, but Russia may decide that is better than an undivided Ukraine in the European Union.
The Europeans want Ukraine for many reasons, including being a buffer to Russia. Losing Ukraine, even part of it like Crimea, to Russia will cause the Europeans to rethink their own defense needs. And what is happening now, most certainly is affecting European thoughts for their future military.
The head of the Ukrainian Orthodox Church has condemned Russia's actions related to Crimea:
The head of the Ukrainian Orthodox Church, Patriarch Filaret, has condemned Russian President Vladimir Putin's stance towards Ukraine and the sending of troops by Moscow to Crimea.

"The whole world is today in opposition to Putin's regime. Because he doesn't act fairly. Ukraine is an independent state. Crimea belongs to Ukraine and he put his troops onto a foreign territory. This is called aggression," Patriarch Filaret said.  http://www.euronews.com/2014/03/04/head-of-ukrainian-orthodox-church-condemns-putin-s-act-of-aggression-in-crimea/
However, not all in predominantly Russian, as opposed to Ukrainian, Orthodox Crimea have the same view:
SEVASTOPOL, Ukraine — Vladimir Putin's military gambit in Crimea has caused consternation in Kyiv and outrage in the West.

For Irina Niverova, Russia's occupation of the peninsula last week is simple to understand and totally justified.

"The Crimea has been and will always be Russian," said the henna-haired guide as she led a small group of Russian tourists and two foreigners around Sevastopol's Panorama museum, which was built more than a century ago on a hill with a sweeping view of the storied city…

Noting Hitler had called Crimea an "unsinkable aircraft carrier," Sergey Kiselev of Tavrichesky National University in Simferopol said Russians have not forgotten one of every 10 soldiers in the Red Army who died during the Second World War was killed on this neck of hilly land that is half the size of Nova Scotia.

"The Crimea is the cradle of the Russian Orthodox religion, and the Russian empire came into existence as a result of the struggle for the Crimea and adjacent areas," the geography professor said.

"Having affirmed its position in the Crimea and having built the Black Sea fleet, it could expand to the Balkans, the Caucasus and Central Asia."…

The West's position on Crimea is based on a firm legal principle. It is part of a sovereign Ukraine and must not be hived off through military adventurism and opportunism. It is a concept that finds virtually no traction here.

"The Siege of Sevastopol taught us is that all wars are useless, but what this city endured is a symbol of courage to the entire world," Ms. Niverova said.

"Every stone and every tree here is covered with the blood of brave Russians, and that is what is in our hearts."

http://news.nationalpost.com/2014/03/05/russias-bloody-history-in-crimea-explains-its-intense-hold-on-the-nations-psyche/
There have been differences between the direction that the Ukrainian Orthodox, Roman Catholics, and Russian Orthodox in Ukraine have wanted to go.  The current crisis may well help unify the first two, while giving others in the east the idea of either becoming more independent of the western portion.  Russia wants as much of Ukraine in its upcoming Eurasian Union as possible.
Notice also the following map: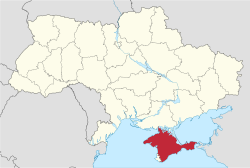 Ukraine, with Crimea Mainly in Red (TUBS)
Notice how close Crimea is to Russia, which is the gray area to the right of the red on the above map.  Russia has proposed building a bridge which will directly connect Crimea to Russia in the past, and now seems to wish to make this happen quickly:
Now Kremlin says it will build bridge first planned by HITLER to link Russia direct to its naval base in Crimea and bypass Ukraine…

Russian Prime Minister Dmitry Medvedev…said plans signed by Russia and Ukraine in 2010 to build the bridge are still binding, despite increased tensions between the countries following Russia's decision to send troops into the Crimean region following the ousting of Ukrainian president Viktor Yanukovych last week.

Russia has refused to recognise the new 'unconstitutional' government in Kiev which, it said, is run by militants and ultra-nationalists.

It claims to have entered Crimea in order to protect Russian-speakers who make up the majority of the population in the southern and regions of Ukraine.

During a meeting with his deputies on Monday, Medvedev demanded practical work on the bridge begin immediately, saying: 'Ukraine has always been and will remain an important trade and economic partner to us, and the government should work on these issues.

'We are following the developments closely,' he added. http://www.dailymail.co.uk/news/article-2573804/Now-Kremlin-says-build-bridge-planned-HITLER-link-Russia-direct-naval-base-Crimea-bypass-Ukraine.html#ixzz2vC3kTFrC
Thus, presuming the bridge is built, Russia will have direct access to Crimea without needing the sea or going through the rest of Ukraine.
The Kiev government does not care for the vote by the Crimeans:
Ukraine PM Yatsenyuk rejects referendum on Crimea split

March 6, 2014

Kiev, Ukraine (CNN) — We're leaving. No, you're not. That's where we are in the crisis in Ukraine after lawmakers in the Crimean region voted Thursday in favor of leaving the country for Russia and putting it to a vote before residents in 10 days.

It's an act that drew condemnation from Ukraine's interim Prime Minister, who called the effort to hold such a referendum "an illegitimate decision."

"Crimea was, is and will be an integral part of Ukraine," Arseniy Yatsenyuk said.  http://www.cnn.com/2014/03/06/world/europe/ukraine-russia-tensions/
The situation in Ukraine remains tense, although the Kiev government generally recognizes that it does not wish to attack Russia and hence would not wish to invade Crimea.
The Russians and Crimeans do not recognize that is now in Kiev as legitimate–it came in through an overthrow, not an election.  And so the Kiev government has apparently decided that not only does it not recognize Ukraine's elected president (which it ousted), it also will not recognize the votes in Crimea.
As far as those in Ukraine go, sadly, war is in their future if they support the rising European Union or the upcoming Eurasian Union (watch the new video Ukraine in Prophecy?).  Those in Ukraine need our prayers and the kingdom of God.
Some items of possibly related interest may include:
Russia and Ukraine: Origins and Prophesied Future Where do the Russians come from? What about those in the Ukraine? What is prophesied for Russia and its allies? What will they do to the Europeans that supported the Beast in the end?  You can also watch the new video Ukraine in Prophecy?
Is Russia the King of the North? Some claim it is. But what does the Bible teach? Here is a link to a video, also titled Is Russia the King of the North?
The Eurasian Union, the Kings of the East, and Bible Prophecy Is there a Eurasian union that will be formed? Is one being formed right now? Are any leaders working on that in the 21st century? Does the Bible teach that there will be a Eurasian union? If some type of Eurasian union is formed, who might it benefit and who will it destroy? A related video would be Is The Eurasian Union Rising?
The Gospel of the Kingdom of God was the Emphasis of Jesus and the Early Church Did you know that? Do you even know what the gospel of the kingdom is all about? You can also see a YouTube video sermon The Gospel of the Kingdom.
Just What Do You Mean the Kingdom of God? A booklet that was written by Herbert Armstrong answers questions about the Kingdom.
Europa, the Beast, and Revelation Where did Europe get its name? What might Europe have to do with the Book of Revelation? What about "the Beast"? Is an emerging European power "the daughter of Babylon"? What is ahead for Europe? Here is a link to a video titled: Can You Prove that the Beast to Come is European?
Who is the King of the North? Is there one? Do biblical and Roman Catholic prophecies for the Great Monarch point to the same leader? Should he be followed? Who will be the King of the North discussed in Daniel 11? Is a nuclear attack prophesied to happen to the English-speaking peoples of the United States, Great Britain, Canada, Australia, and New Zealand? When do the 1335 days, 1290 days, and 1260 days (the time, times, and half a time) of Daniel 12 begin? When does the Bible show that economic collapse will affect the United States? In the Spanish language check out ¿Quién es el Rey del Norte? Here is a link to a video titled: The Future King of the North.
Some Similarities and Differences Between the Eastern Orthodox Church and the Continuing Church of God Both groups claim to be the original church, but both groups have differing ways to claim it. Both groups have some amazing similarities and some major differences. Do you know what they are?
Barack Obama, Prophecy, and the Destruction of the United States-Second Edition for Second Obama Term This is a 160 page book for people truly interested in prophecies related to Barack Obama and the United States, including learning about many that have already been fulfilled (which the book documents in detail) and those that will be fulfilled in the future. It also has a chapter about a Republican choice. This book is available to order at www.barackobamaprophecy.com. The physical book can also be purchased at Amazon from the following link: Barack Obama, Prophecy, and the Destruction of the United States: Is Barack Obama Fulfilling Biblical, Islamic Catholic, Kenyan, and other America-Related Prophecies? What About Republican Leaders? Second Edition for Second Obama Term.
Barack Obama, Prophecy, and the Destruction of the United States-Second Term-Amazon Kindle edition. This electronic version is available for only US$2.99. And you do not need an actual Kindle device to read it. Why? Amazon will allow you to download it to almost any device: Please click HERE to download one of Amazon s Free Reader Apps. After you go to for your free Kindle reader and then go to Barack Obama, Prophecy, and the Destruction of the United States-Second Term-Amazon Kindle edition.