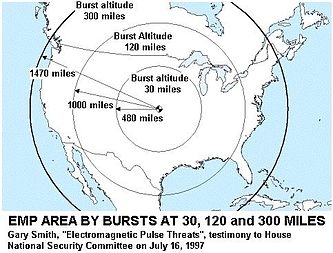 There is a new report out suggesting that an electromagnetic pulse attack may do a lot more than just fry electronic items:
You've seen the warnings about an EMP attack, how it would shut down electronics…

But what would you do when the explosions start?

Yes, explosions, as in the 1980s eruption of flames from a 36-inch natural gas pipeline in the Netherlands, the Bellingham, Wash., blaze in the 1990s when 250,000 gallons of gas leaked into Hannah and Whatcom Creeks and ignited, or the New Mexico blaze that killed 12 and left an 86-foot-long crater in the ground.

That danger would be very present should an electromagnetic pulse event or attack strike, according to experts on the issue.

In fact, a 2008 report from the nation's EMP Commission specifically cited concerns about the Supervisory Control and Data Acquisition, or SCADA, systems that control large sections of American industry and commerce…

An EMP event, whether natural or man-made, would cause "unprecedented cascading failures of major infrastructures," according to William Graham, head of the commission that issued the 2008 EMP report. "In that event, a regional or national recovery would be long and difficult, and would seriously degrade the safety and overall viability of our nation," Graham said…
What about electrical issues if the USA itself were to be hit by one or more EMP weapons in the right areas?
The results of an EMP incident would be catastrophic:

· The U.S. power grid could be destroyed;
· Planes would crash;
· Water and sewerage systems would fail;
· Banks could not access their records;
· Transportation systems would be inoperable;
· The internet would go down;
· Emergency services would severely hampered.

Both U.S. and Soviet scientists became increasingly aware of the threat in 1962. A Financial Sense review of the problem noted that 50 years ago, a nuclear test 800 miles away from Hawaii knocked out 300 of the states' street lights, triggered alarms, and caused damages to a telephone company. The same year, Moscow conducted three tests to discover the precise altitude a nuclear bomb needed to detonate at to destroy electronics on the ground. http://www.examiner.com/article/crippling-america-an-instant
One way that a country like Iran could inflict major damage to the USA would be an effective use of electromagnetic pulse (EMP) weapons. This type of weapon may also be used by the coming prophesied King of the South and/or the King of the North.
An EMP attack by Iran could greatly affect Israel, the USA, or even Europe.
Power transformers in the USA (and elsewhere) are at risk and this could cause major economic and other damage to the USA. Such emp weapons, however, have never been used large scale, so precisely what would happen is subject to debate. But the reality is that emp weapons, as well as solar flares which have similar potential, are threats to the USA, its defenses, and its economy.
The USA, despite its military strength, is vulnerable to being hurt by EMP weapons as well as nuclear weapons, chemical weapons, dirty bombs, terrorism, and biological weapons. Now that everyone knows that EMPs can basically work as advertised, this may give the Iranians more reason to look further into using them if they feel pressed.
"And what I say to you, I say to all: Watch!" (Mark 13:37).
Some articles of possibly related interest may include:
Is There A Future King of the South? Some no longer believe there needs to be. Might Egypt, Islam, Iran, Arabs, or Ethiopia be involved? Might this King be called the Mahdi? What does the Bible say?
The Arab and Islamic World In the Bible, History, and Prophecy The Bible discusses the origins of the Arab world and discusses the Middle East in prophecy. What is ahead for the Middle East and those who follow Islam? What about the Imam Mahdi? What lies ahead for Turkey, Iran, and the other non-Arabic Muslims?
Anglo – America in Prophecy & the Lost Tribes of Israel Are the Americans, Canadians, English, Scottish, Welsh, Australians, Anglo (non-Dutch) Southern Africans, and New Zealanders descendants of Joseph? Where are the lost ten-tribes of Israel? Who are the lost tribes of Israel? What will happen to Jerusalem and the Jews in Israel? Will God punish the U.S.A., Canada, United Kingdom, and other Anglo nations? Why might God allow them to be punished first?
When Will the Great Tribulation Begin? 2013, or 2014? Can the Great Tribulation begin today? What happens before the Great Tribulation in the "beginning of sorrows"? Is there a needed peace deal first in the Middle East? What happens in the Great Tribulation and the Day of the Lord? Is this the time of the Gentiles? When is the earliest that the Great Tribulation can begin? What is the Day of the Lord? Who are the 144,000?
Who is the King of the West? Why is there no End-Time King of the West in Bible Prophecy? Is the United States the King of the West?
Who is the King of the North? Is there one? Do biblical and Roman Catholic prophecies for the Great Monarch point to the same leader? Should he be followed? Who will be the King of the North discussed in Daniel 11? Is a nuclear attack prophesied to happen to the English-speaking peoples of the United States, Great Britain, Canada, Australia, and New Zealand? When do the 1335 days, 1290 days, and 1260 days (the time, times, and half a time) of Daniel 12 begin? When does the Bible show that economic collapse will affect the United States?
Barack Obama, Prophecy, and the Destruction of the United States This is a 160 page book for people truly interested in prophecies related to Barack Obama and the United States, including learning about many that have already been fulfilled (which the book documents in detail) and those that will be fulfilled in the future. It also has a chapter about Mitt Romney. This book is available to order at www.barackobamaprophecy.com. The physical book can also be purchased at Amazon from the following link: Barack Obama, Prophecy, and the Destruction of the United States: Is Barack Obama Fulfilling Biblical, Islamic, Catholic, Kenyan, and other America-Related Prophecies? What About Mitt Romney?
Barack Obama, Prophecy, and the Destruction of the United States–Amazon Kindle edition. This electronic version is available for only US$2.99. And you do not need an actual Kindle device to read it. Why? Amazon will allow you to download it to almost any device: Please click HERE to download one of Amazon's Free Reader Apps. After you go to for your free Kindle reader and then go to Barack Obama, Prophecy, and the Destruction of the United States–Amazon Kindle edition.)