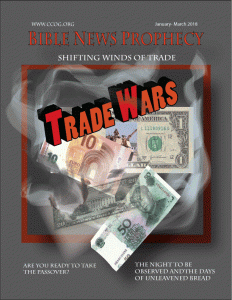 The Associated Press reports that US President Donald Trump's trade policies with China are damaging Europe:
US-China trade war leaves Europe as collateral damage

August 12, 2019

Europe's economy is being knocked off course by the conflict between the U.S. and China over trade.

The bill for damages from the U.S-China collision will likely be reflected in new growth figures due Wednesday that could show Europe's economic motor, Germany, is stalled or shrinking. Beyond that, economists say there are signs that years of declining unemployment since the depths of the Great Recession and the eurozone debt crisis may be ending.

And if the trade wars escalate to include higher U.S. tariffs on cars made in Europe, the picture could look even worse.

The heart of the matter is Germany, Europe's largest economy and a key trade partner of both the U.S. and China. …

Germany has spewed wretched economic data for weeks: an 8% annual fall in exports in June, a 1.5% drop in industrial production in June from the month before, three times bigger than expected. Surveys of executives suggest the industrial sector is in recession, with consumer demand and services propping up the economy.

But the damage from trade uncertainty may be spreading to consumers and companies that do business only at home.

Some of Europe's troubles can't be blamed on the trade dispute. The auto industry is under pressure to meet lower greenhouse gas emissions limits imposed by the European Union. Automakers had expected to rely on more fuel-efficient diesels to help meet the requirements, but saw diesel sales plunge after Volkswagen was caught in 2015 cheating on diesel emissions tests.

Another source of uncertainty is Britain's impending departure from the EU, currently set for Oct. 31. British Prime Minister Boris Johnson has said he wants to leave without an extension even if that means no divorce deal to smooth trade.

In an effort to ward off a steeper slowdown or possible recession, the European Central Bank has signaled it could provide more monetary stimulus at its Sept. 12 meeting, including new purchases of bonds, which pump newly created money into the economy. https://www.apnews.com/430bfb5fc12b40758fb41a57e4c9495f
Notice also the following (bolding mine):
The influential economic commentator on Europe, Ambrose Pritchard Evans, writes:

"German industry is in the deepest slump since the global financial crisis, and threatens to push Europe's powerhouse economy into full-blown recession. The darkening outlook is forcing the European Central Bank to contemplate ever more perilous measures.

"The influential Ifo Institute in Munich said its business climate indicator for manufacturing went into "free fall" in July, as the delayed damage from global trade conflict takes its toll and confidence wilts. It goes far beyond the woes of the car industry. More than 80pc of Germany's factories are in outright contraction."

Why? What is going on here? It seems that, though other European member-states used to be Germany's largest market, Germany's first and third largest export destinations are now the US and China, respectively. Together, they account for more than 15% of all outbound German trade activity. More than 18% of Germany's export goods ended up somewhere in Asia. Therefore, Germany's industrial struggles in 2019 point the finger in the direction of its external focus, which means the US, China, and Asia – i.e. its largest marginal trade partners. And the principal assailants in today's trade and tech wars.

Clemens Fuest, the Ifo president, says: "All the problems are coming together: It's China, it's increasing protectionism across the board, it's disruption to global supply chains".

But if Germany's manufacturing woes were not sufficient in and of themselves, then combined with the threat of trade war with Trump, the prospect indeed is bleak for Europe: And the likelihood is that any of that ECB stimulus – promised for this autumn, as Mario Draghi warns that the European picture is getting "worse and worse" – will be very likely to meet with an angry response from Trump – castigated as blatant currency manipulation by the EU and its ECB. EU Relations with Washington seem set to sour (in more ways than one). …

A major threat to the EU now emanates from the least anticipated direction – from the US. …

They never considered the possibility that the United States might change attitude. And now – suddenly – the EU finds itself exposed to all manner of sanctions through the Euro's close vulnerability to dollar hegemony; from a possible trade and tech war between Europe's two key trading partners; and even a falling-out as a result of a changing US defence calculus. Steering a course between the US and China will challenge deeply Europe's imbedded cultural predisposition.

Weidel also warns the German Parliament that that the biggest consequence for Germany from Brexit is not just its exports, but rather, without the UK as a EU member, Germany will lose its ability to assemble a blocking majority (35%) in Council: …

Only the onset of the coming recession in Europe and the associated sovereign debt crisis may prove sufficient to shake Brussels from its smug torpor, and to focus minds on how to manage the coming crisis. https://www.strategic-culture.org/news/2019/08/11/germany-stalls-and-europe-craters/
As far as the EU leadership being smug, notice the following:
VIENNA (Reuters) – A no-deal Brexit would hurt Britain more than the rest of Europe no matter how much Prime Minister Boris Johnson's government pretends otherwise, outgoing European Commission President Jean-Claude Juncker said in remarks published on Saturday.

Britain has been pressing the European Union to amend the terms of Britain's withdrawal agreement, saying Brussels would have to take responsibility for a no-deal Brexit if it does not compromise.

But at the end of the day that would do the most harm to Britain, Juncker told a regional newspaper in the Austrian province of Tyrol, where he regularly spends his summer holiday.

"If it comes to a hard Brexit, that is in no one's interest, but the British would be the big losers. They are acting as though that were not the case but it is," Juncker told the Tiroler Tageszeitung newspaper. …

"We have made clear that we are not prepared to hold new negotiations on the withdrawal agreement but only to make certain clarifications in the framework of the political declarations that regulate future relations between the United Kingdom and European Union," Juncker said.

"We are well prepared (for no deal) and I hope the British are too." 08/10/19 https://www.reuters.com/article/us-britain-eu-juncker-idUSKCN1V00ME
With the German economy sputtering, it is odd that President Juncker believes that the European Union is well prepared for a "no deal" Brexit. I put "no deal" in quotes because there will be some type of arrangement made.
Being outside the Eurozone basically will give the UK a lot of flexibility as its currency will go up or down based on various factors–and the lower it may go, they better its exports will do.
This is not to say that the UK will not have any negative economic results from Brexit, but that it will have somewhat naturally (from an economic perspective) have ways to deal with them (presuming no major natural disasters, etc.)
The EU has the advantage of size, but it is also vulnerable to economic disruption. And its top leadership seems to have underestimated the disruption it will feel. Even if it take time for the EU to feel it.
Economic factors will be one of the reasons that the Europeans will one day reorganize and turn to the Beast of Revelation to lead them consistent with Revelation 17:12-13.
Europe will recover economically.
The Trump Administration's actions have helped push China and the EU closer together on trade matters. Earlier this year, they officially moved closer (see 'EU and China sign a Mandate of Trade Heaven')–and they are not done.
Some may be interested in seeing that "Trade" was #8 of in my article 19 items to prophetically watch in 2019.
For a time, the European Babylonian power will dominate world trade:
2 And he cried mightily with a loud voice, saying, "Babylon the great is fallen, is fallen, and has become a dwelling place of demons, a prison for every foul spirit, and a cage for every unclean and hated bird! 3 For all the nations have drunk of the wine of the wrath of her fornication, the kings of the earth have committed fornication with her, and the merchants of the earth have become rich through the abundance of her luxury." (Revelation 18:2-3).
While 'Babylon' will not fully reign in 2019, with the USA implementing tariffs, increasing sanctions, pulling out of trade deals and/or wishing to change them, steps are occurring that are pushing Europe to dominate trade (watch Trade Wars: Are COG warnings coming to pass?). The Europeans have been working with Latin America, China, Russia's Eurasian Union, and other areas of the world to try to set up its dominance of world trade as well as standards for world trade.
Trade threats by the USA are getting the Europeans to work to try to develop trade in Asia (see EU makes world's largest 'free trade deal' as some see EU moving towards totalitarian fascism and watch China's Silk Road and Babylon the Great) and Latin America (see EU looking to make world's biggest trade deal with South America).
The Bible prophesies the following in the Book of Revelation:
2 … Babylon … 3 For all the nations have drunk of the wine of the wrath of her fornication, the kings of the earth have committed fornication with her, and the merchants of the earth have become rich through the abundance of her luxury. (Revelation 18:2,3)
The above is referring to the fact that nations of the world are prophesied to get wealthy trading with end time Babylon, which will be a European entity. This European power will have religious ties to the City of Seven Hills–the Church of Rome:
1

Then one of the seven angels who had the seven bowls came and talked with me, saying to me, "Come, I will show you the judgment of the great harlot who sits on many waters,

2

with whom the kings of the earth committed fornication, and the inhabitants of the earth were made drunk with the wine of her fornication." (Revelation 17:1-2)

9 Here is the mind which has wisdom: The seven heads are seven mountains on which the woman sits. … 18 And the woman whom you saw is that great city which reigns over the kings of the earth." (Revelation 17:9,18)
Trade will be a factor in what can be called World War III–and this war will be a conflict with Europe (but the real 'shooting' aspect of this will not happen before 2023; for some details, see When Will the Great Tribulation Begin?).
What is going on between the US and China, the US and the EU, and the UK and EU, will ultimately convince the Europeans to take steps that few in the US or UK believe is possible.
Economic issues will be a factor.
Some items of possibly related interest may include:
Trade Disputes: CCOG Warnings Are Coming to Pass Trade tensions and talks of trade wars have escalated. US President Donald Trump has put Europe, China, Mexico, and other lands on notice that he wants to change how international trade with the USA has been going. Tariffs, retaliatory tariffs, and even more tariffs are being implemented. Is this all just happenstance? Are we yet in a trade war? What will Europe do? Has the Church of God been warning about trade disputes and a coming trade war for decades? What about the Continuing Church of God (CCOG)? What has been warned, what has been happening, and what will happen? Will trade disputes be a factor in World War III (WW3)? Dr. Thiel explains what has been taught and what to expect.
Trade Wars: Are COG warnings coming to pass? Trade issues, tariffs, and talk of trade wars are in the news. Can trade wars lead to World War III like they did to World War II? Are the events going on with the USA, UK, Asia, and Europe consistent with warnings published by the true Church of God (COG) over the past several years and decades? Do Germany and China hope to take advantage of trade frictions involving the Trump Administration and the Trans-Pacific Partnership agreement? What about Mexico and South America? Does the Bible teach that Europe will become a major trading power? Will the final European Babylonian trading power be destroyed? Dr. Thiel addresses these issues and more in this video.
19 items to prophetically watch in 2019 Much is happening. Dr. Thiel points to 19 items to watch (cf. Mark 13:37), plus another, in this article. Here is a link to a related sermon: 19 items to watch in 2019.
The End of US Dollar Dominance Is the USA losing its economic status? What about the petro-gold-yuan? A related video is also available: US Dollar being challenged by Gold-Petro-Yuan.
USA in Prophecy: The Strongest Fortresses Can you point to scriptures, like Daniel 11:39, that point to the USA in the 21st century? This article does. A related sermon is titled: Do these 7 prophesies point to the end of the USA?
Who is the King of the West? Why is there no Final End-Time King of the West in Bible Prophecy? Is the United States the King of the West? Here is a version in the Spanish language: ¿Quién es el Rey del Occidente? ¿Por qué no hay un Rey del Occidente en la profecía del tiempo del fin? A related sermon is also available: The Bible, the USA, and the King of the West.
Donald Trump and Mexico's future Mexico has increasingly been in the news because of statements and policies of US President Donald Trump. Many in Mexico are not intending to sit back and accept whatever Donald Trump attempts to force them to do. What will happen to Mexico? Will it make trade deals with Europe? Will it ultimately go to was against the USA? Will the Mexican economy drop at times and then improve? Dr. Thiel answers these questions and more in this video.
US Dollar being challenged by Gold-Petro-Yuan The US dollar has been the world's primary reserve currency for decades. Is this about to change? What is going on with the Chinese yuan and oil and gold? What do the BRICS nations want? What did Venezuela do? Do the Europeans want to dislodge the US dollar as the world's primary reserve currency? Does US debt play any role? Does the Bible tell us what will happen to the USA and its dollar? What happens if the USA loses its status? Will gold outlast the US dollar? Dr. Thiel addresses those issues and more in this video.
Gentile Cryptocurrency Proposal Two Russian leaders have called for a BRICS-wide and/or EAEU-wide cryptocurrency. This is hoped to be used to replace the US dollar for international trade. BRICS stands for Brazil, Russia, India, China, and South Africa. The BRICS nations represent 3.6 billion people. The EAEU includes Russia, Armenia, Belarus, Kazakhstan, and Kyrgyzstan. Will Gentiles rise up? Are there any prophetic ramifications of what these nations are looking to do? This is a video.
World War III: Steps in Progress Are there surprising actions going on now that are leading to WWIII? Might a nuclear attack be expected? Does the Bible promise protection to all or only some Christians? How can you be part of those that will be protected? A related video would be Is World War III About to Begin? Can You Escape?
China, Its Biblical Past and Future, Part 1: Genesis and Chinese Characters Where did the Chinese people come from? This article provides information showing that the Chinese peoples must have known about various accounts in the Book of Genesis up until their dispersion after the Tower of Babel. Here is a link to a version of this article in Spanish: ¿Prueban los caracteres chinos la exactitud de la Biblia?
China, Its Biblical Past and Future, Part 2: The Sabbath and Some of God's Witness in China When did Christianity first come to China? And is there early evidence that they observed the seventh day sabbath?
Asia in Prophecy What is Ahead for Asia? Who are the "Kings of the East"? What will happen to nearly all the Chinese, Russians, Indians, and others of Asia? China in prophecy, where? Who has the 200,000,000 man army related to Armageddon? Two YouTube video are Is China THE Threat to the United States of America? and China: A King of the East.
Who is the King of the North? Is there one? Do biblical and Roman Catholic prophecies for the Great Monarch point to the same leader? Should he be followed? Who will be the King of the North discussed in Daniel 11? Is a nuclear attack prophesied to happen to the English-speaking peoples of the United States, Great Britain, Canada, Australia, and New Zealand? When do the 1335 days, 1290 days, and 1260 days (the time, times, and half a time) of Daniel 12 begin? When does the Bible show that economic collapse will affect the United States? In the Spanish language check out ¿Quién es el Rey del Norte? Here is a link to a video titled: The Future King of the North.
Does God Have a 6,000 Year Plan? What Year Does the 6,000 Years End? Was a 6000 year time allowed for humans to rule followed by a literal thousand year reign of Christ on Earth taught by the early Christians? Does God have 7,000 year plan? What year may the six thousand years of human rule end? When will Jesus return? 2027 or 20xx? There is also a video titled 6000 Years: When will God's Kingdom Come? Here is a link to the article in Spanish: ¿Tiene Dios un plan de 6,000 años?
When Will the Great Tribulation Begin? 2019, 2020, or 2021? Can the Great Tribulation begin today? What happens before the Great Tribulation in the "beginning of sorrows"? What happens in the Great Tribulation and the Day of the Lord? Is this the time of the Gentiles? When is the earliest that the Great Tribulation can begin? What is the Day of the Lord? Who are the 144,000? Here is a version of the article in the Spanish language: ¿Puede comenzar la Gran Tribulación en 2018 o 2019? ¿Es el Tiempo de los Gentiles? You can also see the English language sermon videos: The Great Tribulation from the Mount of Olives and Can the Great Tribulation begin before 2020? A shorter and newer video is: Might the Great Tribulation start in 2019?
The Times of the Gentiles Has there been more than one time of the Gentiles? Are we in it now or in the time of Anglo-America? What will the final time of the Gentiles be like? A related sermon is available and is titled: The Times of the Gentiles.
Armageddon Who is involved and when will this gathering happen? Here is also a video from Dr. Thiel, from Tel Megiddo in Israel: Armageddon. Other videos include: Armageddon Will it come on Trump's watch?, Iraq, Armageddon, & Prophecy, Freemasonry, Armageddon, and Rome, Is China paving roads to Armageddon?, and Jordan, Petra, and Armageddon.
Europa, the Beast, and Revelation Where did Europe get its name? What might Europe have to do with the Book of Revelation? What about "the Beast"? Is an emerging European power "the daughter of Babylon"? What is ahead for Europe? Here is a link to a video titled: Can You Prove that the Beast to Come is European?
European Technology and the Beast of Revelation Will the coming European Beast power would use and develop technology that will result in the taking over of the USA and its Anglo-Saxon allies? Is this possible? What does the Bible teach? Here is a related YouTube video: Military Technology and the Beast of Revelation.
Must the Ten Kings of Revelation 17:12 Rule over Ten Currently Existing Nations? Some claim that these passages refer to a gathering of 10 currently existing nations together, while one group teaches that this is referring to 11 nations getting together. Is that what Revelation 17:12-13 refers to? The ramifications of misunderstanding this are enormous. A related sermon is titled Ten Kings of Revelation and the Great Tribulation.
WTO/TTIP and the Babylonian Beast Will international trade agreements like WTO/TTIP/CETA lead to the fulfillment of end time prophecies concerning the Babylonian Beast power that the Book of Revelation warns against? What does the Bible teach? A related video would be WTO Trade Deal and the Rise of the European Beast Power.
Mexico, Central America, South America, Brazil, and the Caribbean in Prophecy [Español: México, América central, Suramérica, Brasil y el Caribe en la profecía] [Português: México, América Central, Ámérica do Sul, e Brasil na profecia] What will happen to those of Latin America? Will they have prosperity? Will they cooperate with Europe? Will they suffer in the future? What role might the various Caribbean nations/territories play? Two videos of related interest are available: Will Mexico Regain USA Territories? and Donald Trump and Mexico's future.
Anglo – America in Prophecy & the Lost Tribes of Israel Are the Americans, Canadians, English, Scottish, Welsh, Australians, Anglo-Saxon (non-Dutch) Southern Africans, and New Zealanders descendants of Joseph? Where are the lost ten-tribes of Israel? Who are the lost tribes of Israel? What will happen to Jerusalem and the Jews in Israel? Will God punish the U.S.A., Canada, United Kingdom, and other Anglo-Saxon nations? Why might God allow them to be punished first? Here is a link to the Spanish version of this article: Anglo-América & las Tribus Perdidas de Israel. Information is also in the YouTube sermons titled Where are the Ten Lost Tribes? Why does it matter? and British are the Covenant People. A short YouTube of prophetic interest may be: Are Chinese threats against Australia for real?
Will the Anglo-Saxon-Celtic Nations be Divided and Have People Taken as Slaves? Will the lands of the United States, United Kingdom, Canada, Australia, and New Zealand be divided? What about Jerusalem? What does Bible prophecy teach? Are there non-biblical prophecies that support this idea? Who will divide those lands? Who will end up with the lands and the people? Here is a link to a video titled Will the USA and other Anglo-nations be Divided and Their People Made Slaves? Here is a related item in the Spanish language ¿Serán divididas las naciones anglosajonas?
British are the Covenant People What do 'British' and 'Britain' mean in Hebrew? Are the descendants of the Anglo-Saxons people of the covenant? Does the British royal family connect to the throne of David? What does the Bible teach? What does history show us? Is there any DNA evidence related to British-Israelism? When did Christianity make it to the British Isles? Could Jeremiah have made it to the British Isles? What type of Christians made it to the British Isles? Did the last King of England believe in British Israelism?
Canada in Prophecy: What Does Bible Prophecy, Catholic Prophecy, and other Predictions Suggest About the Future of Canada? There are prophecies that suggest involvement with Canada. And many are not positive about its future. A sermon of related interest is also available: Canada in Prophecy.
Australia and New Zealand in Prophecy Do biblical prophecies help explain the wealth blessings for Australia and New Zealand? Might cursings from disobedience come in the 21st century? Here is a link to a related sermon: Australia and New Zealand: Origins and Prophecy.
Donald Trump in Prophecy Prophecy, Donald Trump? Are there prophecies that Donald Trump may fulfill? Are there any prophecies that he has already helped fulfill? Is a Donald Trump presidency proving to be apocalyptic? Two related videos are available: Donald: 'Trump of God' or Apocalyptic? and Donald Trump's Prophetic Presidency.
Trump Presidency Magic 8 Ball or Bible Prophecy? BBC reported that one might as well use a 'Magic Eight-Ball' to try to predict what will happen in the remaining time of Donald Trump's presidency. What is a 'Magic Eight-Ball'? Dr. Thiel not only explains that, but also briefly goes over 10 biblically-based warnings he wrote would happen if Donald Trump were elected that have already began to come to pass. He also goes over something he wrote back in 2008 that the Trump presidency is also helping lead to fulfillment. Should you trust Bible prophecy or not? Dr. Thiel says that Bible prophecy can be trusted, despite the view of skeptics and others that either overlook or despise the Bible. This is a video.
Donald Trump and America's Apocalypse This 188 page book is for people truly interested in prophecies related to Donald Trump and the United States, including learning about several that have already been fulfilled and those that will be fulfilled in the future. The physical book can be purchased at Amazon for $12.99 from the following link: Donald Trump and America's Apocalypse.
Donald Trump and America's Apocalypse-Kindle Edition This electronic version of the 188 page print edition is available for only US$3.99. And you do not need an actual Kindle device to read it. Why? Amazon will allow you to download it to almost any device: Please click HERE to download one of Amazon s Free Reader Apps. After you go to for your free Kindle reader and then go to Donald Trump and America's Apocalypse-Kindle Edition.