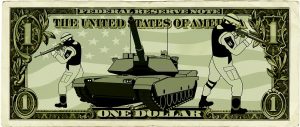 Currency manipulation is in the news:
U.S.-China trade war is now becoming a currency war, too

July 23, 2018

President Trump is laying into China and the European Union as currency manipulators, accusing them in a tweet last Friday of "manipulating their currencies and interest rates lower" in an effort to get an edge over the United States by making their goods and service cheaper to buy in the U.S. He added that American businesses should be allowed to recapture what was lost due to "illegal currency manipulation and BAD trade deals."

Confirming the President's concerns, U.S. Treasury Secretary Steven Mnuchin told Reuters his department is closely monitoring China's currency markets for signs of manipulation. Goldman Sachs analysts on Friday warned clients that the current "trade war is evolving into a currency war."  … a cheaper currency is seen as one potential way to offset Trump's growing list of new import tariffs against China.

And, indeed, the yuan has been weakening lately, falling roughly 15 percent against the dollar since January. Whether this is a conscious policy move by Beijing (China has a semi-managed currency vs. a free-floating currency like the U.S. dollar) or investors acting independently (on fears tariffs will weaken China's economy) is an open question.

Just in terms of pure repricing of Chinese imports into the United States, the yuan's fall would would more than reverse Trump's last threat of a 10 percent tariff on an additional $200 billion in Chinese goods. Which comes after a 25 percent tariff increase on $50 billion in Chinese goods, known as the "Section 301" actions taken in retaliation for claims of forced technology transfers by China against American companies. https://www.cbsnews.com/news/trump-china-eu-currency-manipulators-tariff-trade-wars-hit-us-dollar/
Unlike a military war, a currency war involves no physical violence. Basically, countries will devalue their currency to make their goods less expensive for other nations to buy while also making imported goods cost more. The basic intent is to get keep/more jobs in the country.
Tariffs, such as Donald Trump has implemented and threatened to implement, make foreign goods cost more. So, currency devaluation (which when intentional can be considered a currency war) is intended to reduce the impact of tariffs.
However, there still is a cost to devaluations and this can cause inflation and other problems for the country whose currency is devalued.
China says that it is not devaluing its currency:
July 23, 2018

BEIJING (Reuters) – China said on Monday the value of its currency is driven by market forces and that it has no intention to devalue the yuan to help exports, after Washington said it was monitoring the currency's weakness amid the escalating bilateral trade row. …

At a daily news briefing, ministry spokesman Geng Shuang was asked about comments on Friday by U.S. Treasury Secretary Steven Mnuchin, who told Reuters the yuan's weakness would be reviewed as part of the Treasury's semi-annual report on currency manipulation, which is due on Oct. 15. …

Geng said the value of the yuan was subject to the forces of demand and supply, and that healthy economic performance offered support for its level.

"China has no intention to use means like the competitive devaluation of its currency to stimulate exports," he said. …

Earlier this month, the United States imposed tariffs on $34 billion of Chinese imports. China promptly levied taxes on the same value of U.S. products.

"We advise the U.S side to remain calm and maintain a rational attitude," Geng said. https://www.reuters.com/article/us-usa-trade-china/china-says-it-wont-devalue-currency-to-bolster-exports-idUSKBN1KD0R7
China seems to have been letting the market devalue its currency.
Here is more information about currency wars:
A currency war is also known by the less threatening term  "competitive devaluation." …

Since it is not too difficult to pursue growth through currency depreciation – whether overt or covert – it should come as no surprise that if nation A devalues its currency, nation B will soon follow suit, followed by nation C, and so on. This is the essence of competitive devaluation.

This phenomenon is also known as "beggar thy neighbor," which far from being the Shakespearean drama that it sounds like, actually refers to the fact that a nation which follows a policy of competitive devaluation is vigorously pursuing its own self interests to the exclusion of everything else. …

So what are the negative effects of a currency war?

Currency devaluation may lower productivity in the long-term, since imports of capital equipment and machinery become too expensive for local businesses. If currency depreciation is not accompanied by genuine structural reforms, productivity will eventually suffer.
The degree of currency depreciation may be greater than what is desired, which may eventually cause rising inflation and capital outflows.
A currency war may lead to greater protectionism and the erecting of trade barriers, which would impede global trade.
Competitive devaluation may cause an increase in currency volatility, which in turn would lead to higher hedging costs for companies and possibly deter foreign investment.
Expect to see more trade and currency issues.
Expect to see measures and countermeasures.
There will be more 'unintended consequences' of USA tariff, trade, and other policies.
We are getting closer to the start of the Great Tribulation (see also When Will the Great Tribulation Begin?) and final time of the Gentiles that Jesus spoke of (Matthew 24:21; Luke 21:24).
Gentile nations are looking to take steps that the Anglo-American nations will one day regret.
Some items of possibly related interest may include:
China, Its Biblical Past and Future, Part 1: Genesis and Chinese Characters Where did the Chinese people come from? This article provides information showing that the Chinese peoples must have known about various accounts in the Book of Genesis up until their dispersion after the Tower of Babel. Here is a link to a version of this article in Spanish: ¿Prueban los caracteres chinos la exactitud de la Biblia?
China, Its Biblical Past and Future, Part 2: The Sabbath and Some of God's Witness in China When did Christianity first come to China? And is there early evidence that they observed the seventh day sabbath?
Asia in Prophecy What is Ahead for Asia? Who are the "Kings of the East"? What will happen to nearly all the Chinese, Russians, Indians, and others of Asia? China in prophecy, where? Who has the 200,000,000 man army related to Armageddon? A YouTube video of interest may be Is China THE Threat to the United States of America?
USA in Prophecy: The Strongest Fortresses Can you point to scriptures, like Daniel 11:39, that point to the USA in the 21st century? This article does. A related sermon is titled: Do these 7 prophesies point to the end of the USA?
Who is the King of the West? Why is there no Final End-Time King of the West in Bible Prophecy? Is the United States the King of the West? Here is a version in the Spanish language: ¿Quién es el Rey del Occidente? ¿Por qué no hay un Rey del Occidente en la profecía del tiempo del fin?
Anglo – America in Prophecy & the Lost Tribes of Israel Are the Americans, Canadians, English, Scottish, Welsh, Australians, Anglo-Saxon (non-Dutch) Southern Africans, and New Zealanders descendants of Joseph? Where are the lost ten-tribes of Israel? Who are the lost tribes of Israel? What will happen to Jerusalem and the Jews in Israel? Will God punish the U.S.A., Canada, United Kingdom, and other Anglo-Saxon nations? Why might God allow them to be punished first? Here is a link to the Spanish version of this article: Anglo-América & las Tribus Perdidas de Israel. Information is also in the YouTube sermons titled Where are the Ten Lost Tribes? Why does it matter? and British are the Covenant People. A short YouTube of prophetic interest may be: Are Chinese threats against Australia for real?
Will the Anglo-Saxon Nations be Divided and Have People Taken as Slaves? Will the lands of the United States, United Kingdom, Canada, Australia, and New Zealand be divided? What about Jerusalem? What does Bible prophecy teach? Are there non-biblical prophecies that support this idea? Who will divide those lands? Who will end up with the lands and the people? Here is a link to a video titled Will the USA and other Anglo-nations be Divided and Their People Made Slaves? Here is a related item in the Spanish language ¿Serán divididas las naciones anglosajonas?
British are the Covenant People What do 'British' and 'Britain' mean in Hebrew? Are the descendants of the Anglo-Saxons people of the covenant? Does the British royal family connect to the throne of David? What does the Bible teach? What does history show us? Is there any DNA evidence related to British-Israelism? When did Christianity make it to the British Isles? Could Jeremiah have made it to the British Isles? What type of Christians made it to the British Isles? Did the last King of England believe in British Israelism?
The Times of the Gentiles Has there been more than one time of the Gentiles? Are we in it now or in the time of Anglo-America? What will the final time of the Gentiles be like? A related sermon is available and is titled: The Times of the Gentiles.
Europa, the Beast, and Revelation Where did Europe get its name? What might Europe have to do with the Book of Revelation? What about "the Beast"? Is an emerging European power "the daughter of Babylon"? What is ahead for Europe? Here is a link to a video titled: Can You Prove that the Beast to Come is European?
European Technology and the Beast of Revelation Will the coming European Beast power would use and develop technology that will result in the taking over of the USA and its Anglo-Saxon allies? Is this possible? What does the Bible teach? Here is a related YouTube video: Military Technology and the Beast of Revelation.
Must the Ten Kings of Revelation 17:12 Rule over Ten Currently Existing Nations? Some claim that these passages refer to a gathering of 10 currently existing nations together, while one group teaches that this is referring to 11 nations getting together. Is that what Revelation 17:12-13 refers to? The ramifications of misunderstanding this are enormous. A related sermon is titled Ten Kings of Revelation and the Great Tribulation.
WTO/TTIP and the Babylonian Beast Will international trade agreements like WTO/TTIP/CETA lead to the fulfillment of end time prophecies concerning the Babylonian Beast power that the Book of Revelation warns against? What does the Bible teach? A related video would be WTO Trade Deal and the Rise of the European Beast Power.
The Plain Truth About Gold in Prophecy. How Should a Christian View Gold? What do economists and the Bible teach about gold? Gold and silver may drop in value. Inflation/deflation? What do Christians need to know about gold? A video of related interest may be: Germany, Gold, and the US Dollar.
US Dollar being challenged by Gold-Petro-Yuan The US dollar has been the world's primary reserve currency for decades. Is this about to change? What is going on with the Chinese yuan and oil and gold? What do the BRICS nations want? What did Venezuela do? Do the Europeans want to dislodge the US dollar as the world's primary reserve currency? Does US debt play any role? Does the Bible tell us what will happen to the USA and its dollar? What happens if the USA loses its status? Will gold outlast the US dollar? Dr. Thiel addresses those issues and more in this video.
Gentile Cryptocurrency Proposal Two Russian leaders have called for a BRICS-wide and/or EAEU-wide cryptocurrency. This is hoped to be used to replace the US dollar for international trade. BRICS stands for Brazil, Russia, India, China, and South Africa. The BRICS nations represent 3.6 billion people. The EAEU includes Russia, Armenia, Belarus, Kazakhstan, and Kyrgyzstan. Will Gentiles rise up? Are there any prophetic ramifications of what these nations are looking to do? This is a video.
The End of US Dollar Dominance Is the USA losing its economic status? What about the petro-gold-yuan? A related video is also available: US Dollar being challenged by Gold-Petro-Yuan.
Spiritual Samaritans: Old and New Who were the Samaritans? Do the represent true Christianity or something else? Here is a link to a related sermon: USA in Prophecy: Samaria.
The Eurasian Union, the Kings of the East, and Bible Prophecy Is there a Eurasian union that will be formed? Is one being formed right now? Are any leaders working on that in the 21st century? Does the Bible teach that there will be a Eurasian union? If some type of Eurasian union is formed, who might it benefit and who will it destroy? A related video would be Is The Eurasian Union Rising?
Russia and Ukraine: Their Origins and Prophesied Future Russia in prophecy. Where do the Russians come from? What about those in the Ukraine? What is prophesied for Russia and its allies? What will they do to the Europeans that supported the Beast in the end? There is also a video sermon available: Russia in the Bible and in Prophecy and a video sermonette available: Ukraine in Prophecy?
Is Russia the King of the North? Some claim it is. But what does the Bible teach? Here is a link to a video, also titled Is Russia the King of the North?
Ezekiel 38: For Russia & Iran in Our Day? Is Ezekiel 38 about to be fulfilled? A related video is available titled Ezekiel 38: For Russia, Ukraine, & Iran Now? Another could be Russia, Iran, Syria, & the Bible (Code).
Donald Trump in Prophecy Prophecy, Donald Trump? Are there prophecies that Donald Trump may fulfill? Are there any prophecies that he has already helped fulfill? Is a Donald Trump presidency proving to be apocalyptic? Two related videos are available: Donald: 'Trump of God' or Apocalyptic? and Donald Trump's Prophetic Presidency.
Trump Presidency Magic 8 Ball or Bible Prophecy? BBC reported that one might as well use a 'Magic Eight-Ball' to try to predict what will happen in the remaining time of Donald Trump's presidency. What is a 'Magic Eight-Ball'? Dr. Thiel not only explains that, but also briefly goes over 10 biblically-based warnings he wrote would happen if Donald Trump were elected that have already began to come to pass. He also goes over something he wrote back in 2008 that the Trump presidency is also helping lead to fulfillment. Should you trust Bible prophecy or not? Dr. Thiel says that Bible prophecy can be trusted, despite the view of skeptics and others that either overlook or despise the Bible. This is a video.
Donald Trump and America's Apocalypse This 188 page book is for people truly interested in prophecies related to Donald Trump and the United States, including learning about several that have already been fulfilled and those that will be fulfilled in the future. The physical book can be purchased at Amazon for $12.99 from the following link: Donald Trump and America's Apocalypse.
Donald Trump and America's Apocalypse-Kindle Edition This electronic version of the 188 page print edition is available for only US$3.99. And you do not need an actual Kindle device to read it. Why? Amazon will allow you to download it to almost any device: Please click HERE to download one of Amazon s Free Reader Apps. After you go to for your free Kindle reader and then go to Donald Trump and America's Apocalypse-Kindle Edition.